You can create and design Landing pages using many platforms. They compete strongly with the most professional landing pages of famous companies and brands. Some of these platforms offer their services for free, and others for a fee. Let's take a look at the 21 best landing page builders to increase conversions in the market.
21 Best Landing Page Builders
Try these amazing Landing page builders:
1- Best Free landing page builders to increase conversions: Google Sites
It is one of the applications provided by Google. Although it is completely free, it is very effective, easy to use and best landing page builders to increase conversions.
This app has a limited set of customizable themes, but they all share the same basics and outlines. You can use it on your mobile or PC.
However, the most distinctive feature of this application is that it integrates beautifully with other Google applications. So, you can use the landing page that you designed in Google Sites and fetch a file from Google Drive.
2- Carrd
Carrd is one of the fastest platforms for creating landing pages. Creating an account is not required to create your custom page. However, you will need to create the account when you are ready to publish your site.
The tools available for creating landing pages are fairly easy to use, but they lack flexibility a bit.
These tools enable you to include images, links, and alternative text, and the scripts support Markdown formatting to ensure formatting speed.
There are three levels of subscription to Carrd:
Free subscription: It is valid for three sites. It only has the basic features, and some advanced features such as the third-party tools Strip, PayPal, and Google Analytics are blocked.
Pro-lite subscription: Activates more tools, templates, and templates, and costs $ 9 per year.
Pro Standard subscription: which is the highest subscription, in which all forms, templates, and tools are available. Additionaly, they have third-party tools, and it costs $ 19 annually.
3- Mailchimp
Marketers usually use Mailchimp specifically for email marketing. It has only 10 themes, but they're all great, and they do the job well.
Landing pages designed by Mailchimp are used to collect newsletter subscriptions through email. However, you can also use them to sell products if you link your landing page to your Square account.
There are two levels of subscription:
Free: 2,000 contacts and 10,000 email addresses are available per month.
Essentials: at $ 9.99 a month, it gives 500 contacts and 5000 emails, opens many templates. It also provides some features such as A / B testing.
4- KickoffLabs
Among the best landing page builders to increase conversions, KickoffLabs is the most specialized.
KickoffLabs is linked to the promotional strategy in which you intend to design your ad campaign, but its hydration occurs when you want to award incentives and giveaways.
You have to choose how you intend to collect more potential customers, whether that is by creating a popup or a template for an existing site.
In terms of creating the landing page, it is an easy and fast process that enables you to insert images and videos and edit text with ease. You can also download an HTML version to take advantage of the features of KickoffLabs and use it with any website.
There is no free version here, there is a Hobby pricing plan and the price starts at $ 29 per month, which is the value of one marketing campaign that guarantees you nearly 2,000 new visitors each month.
5- Unbounce
Unbounce is a platform to create landing pages for activities that are moving away from reliance on the web. This includes medical clinics, lawyers, and professional activities such as plumbing and maintenance.
Unbounce awards over 100 specialized templates in various disciplines and activities, such as restaurants, medical facilities, and coaches, in addition to 500 transfers and 20,000 new visitors per month for $ 80.
The return may be a little high, but the advantages you get are many. You have a very powerful editing tool, in addition to A / B testing and the feature of automatically replacing text following what visitors are searching for.
The sheer amount of features and templates that Unbounce gives you prompts you to be patient in using these tools and try to understand all the available tools so that you can make the most of the site, and of course, from the exorbitant monthly subscription.
6- Best landing page builders to increase conversions for free: Wix
Wix provides great services including ​​the creation of landing pages. It is specially popular for creating websites. Besides that, it offers a good number of templates and themes for you to choose from to create a landing page.
If you are thinking of creating a one-page website, then Wix is your choice.
Wix offers a great set of simple-to-use editing tools that enable you to easily create the page, such as formatting and editing text, adding buttons, formatting icons, and embedding multimedia. The most beautiful of all is the ability to undo any change that arises on your page, similar to editing Google Docs Which you may often be familiar with.
Wix's primary goal of creating websites while providing a wealth of tools is an excellent choice for creating a scalable landing page in the future.
Wix offers a free service for a 500 MB website with Wix ads per month. A Combo subscription costs $ 13 per month and allows for a 2 GB site with no ads.
7- Leadpages
Leadpages is the perfect choice for someone. It also works for those who want to create a landing page and aims to advertise and sell a product at the same time.
Leadpages provides the user with all the tools to achieve this, from providing a variety of great templates, the ability to easily include a reservation form, the ability to add a Stripe account to process payments, and much more.
There is a Leadpages standard pricing plan of $ 37 per month for a single site.
8- Instapage
If your needs require building many landing pages, such as you need to target a range of markets, Instapage is the best place to do this.
Instapage provides you with a large variety of tools in the form of blocks that help you to create your landing page smoothly and easily. You can also create your blocks with the ability to update them for use on other pages.
But the exciting thing here is the opportunity for teamwork. If you work with multiple landing pages, you often work in a team. Instapage allows team members to work simultaneously on the page, as it does in Google Docs.
In addition to the above, Instapage offers A / B testing and dynamic text replacement functionality.
There is a fixed subscription to Instapage for $ 199 per month, which gives an unlimited number of landing pages to build, plus the ability to create a team of 6.
Instapage also customizes pricing plans according to your needs and the nature of your business.
9- Landingi
Landingi is a dedicated landing page builder app for professional users, who may want to work with a limited number of different clients.
Various templates allow you to customize a landing page for each client, while providing powerful editing tools, especially providing access to a CSS option for those with coding and programming knowledge, along with visual editing tools.
If customers want to host their landing pages, with Landingi you can export this to WordPress or any other dedicated server, without giving up on the analytics and tracking features.
Landingi offers various pricing plans, starting at $ 47 per month under the name Core, and gives users sub-accounts to 10 different clients.
10- Ucraft
Ucraft is a simple landing page builder that doesn't offer any additional tools, including some great ready-to-use templates.
There are two types of Ucraft subscription, one of which is free, offering 15 pages creation with infinite bandwidth, but with Ucraft's trademark appearing on every page of them, but in return, you will be able to get the SaaS tool.
The higher subscription costs $ 10 a month and gives you an endless number of pages with advanced building features for your landing pages.
11- Best landing page builders to increase conversions: Clickfunnels
Clickfunnels focuses on creating a sales funnel rather than directly on creating a landing page.
There are specific stages to completing the purchase, Clickfunnels creates specific landing pages for each stage, which is implicitly automation of the marketing process.
Clickfunnels offers several useful tools such as tracking and automatic replies.
The most common beneficiaries of Clickfunnels are the Affiliate Marketers who want to manage their sales volume with one tool.
Clickfunnels offers a two-week trial period for free, and if you want to continue, there is a standard rate plan that costs $ 97 a month that pays every year.
If you want unlimited routes and landing pages, there is the Platinum Price Plan, which costs $ 297 per month.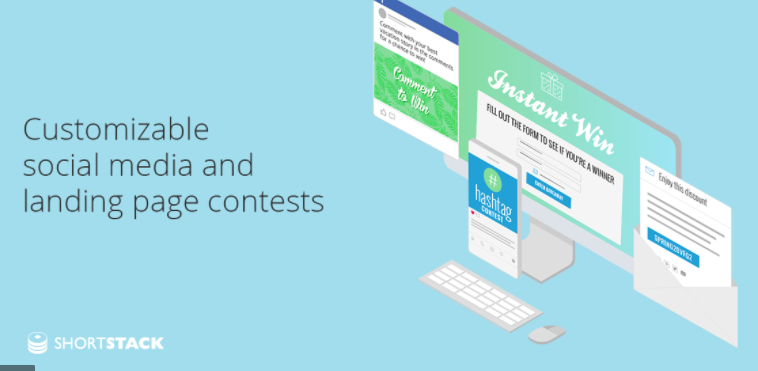 12- ShortStack
ShortStack focuses on creating landing pages that depend on the social media marketing strategy, and the feature allows converting landing pages into games, questions, and contests that motivate customers to subscribe and give them rewards and giveaways.
ShortStack gives users all the customizable templates, with a handful of great tools like analytics and interactions tracking on every platform.
The many features that ShortStack offers include the ability to turn landing pages into games and quizzes, as well as including showcase and source tracking features
Pricing plans for ShortStack start at $ 99 per month, and if you want to use the contests and Retweet feature, you need to upgrade your subscription.
13- ConvertKit
ConvertKit is more than just a full-fledged email marketing platform. This platform is another one of the best landing page builders to increase conversions.
ConvertKit's landing page builder has a neat design and integrates with Unsplash that gives you direct access to over 100,000 ultra-high-resolution images.
ConvertKit also provides advanced marketing automation tools including tools for creating useful workflows.
Despite this, it can be said that ConvertKit wanted simplicity of use at the expense of augmenting features.
ConvertKit pricing depends on the number of subscribers, as the service is offered for free with unlimited traffic of up to 1000 subscribers, but excludes from this pricing plan tools for creating workflows.
If the number of subscribers reaches 10,000 subscribers, the service costs $ 99 per month.
14- Aweber
Aweber is the ideal tool for marketers who do not have an email marketing tool.
The service provided by Aweber is fully featured from the start and offers landing page creation, autoresponder, and email services as a complete package. With marketing automation features, automated campaign creation, and email customization.
But Aweber's unique strength is its drag-and-drop interface with AI-powered tips and tricks.
As with all email marketing companies, the pricing plans depend on the number of subscribers.
Starting at $ 19 per month up to 500 subscribers, and 10,000 subscribers at $ 69 per month.
15- Best landing page builders to increase conversions: Systeme.io
Systeme.io is designed as an email marketing system that includes building a landing page and a sales funnel which also make it one of the most popular best landing page builders to increase conversions.
Systeme.io offers various custom templates that suit the buying process stages including the thank you page, the sale page, and more, with the ability to add marketing automation flows.
The services offered by Systeme.io are suitable for affiliates and small businesses.
Systeme.io's basic rate plan is 27 € per month including 5,000 contacts but without A / B tests and voucher codes, but if you want to include those features, you can upgrade to the larger rate plan of 47 € per month, which also includes an hour-long training session.
16- Elementor
Can a WordPress plugin be one of the best landing page builders to increase conversions? Yes, it can. Elementor is a WordPress hosted landing page builder plugin that offers unique and great features for creating both landing pages and popups.
One of the most notable tools available is the ability to create lists of leads, but that feature isn't available on the base price plan of $ 49 per year per site.
The Plus plan is $ 199 per year and covers 1,000 sites.
17- Divi
Divi is one way to build and create landing pages for websites hosted on WordPress, but Divi is not a plugin, it is a complete, integrated theme full of specialized tools that give you the ability to control everything on your page, including the corners and shadows of the images, which helps greatly Radical design of both landing pages and websites in general.
Divi also offers some important tools like A / B options, conversion tracking tools, and more.
Subscribing to Divi is a bargain that cannot be missed, at a price not exceeding $ 8 per month. You can create a landing page for all of your WordPress-hosted sites, as well as an unlimited number of users, and premium marketing tools like Bloom and Monarch.
18- OptimizePress
OptimizePress is a WordPress page builder plugin that offers an impressive set of 40 custom templates, including loads of tools such as GDPR features and email marketing tools, all of which make OptimizePress an effective way to optimize WordPress sites, with the support of funnels for potential clients.
OptimizePress offers its services with an annual subscription starting at $ 99, which is sufficient for one site only, and the option to upgrade, it amounts to $ 199 annually and covers 20 sites and activates the feature of creating funnels.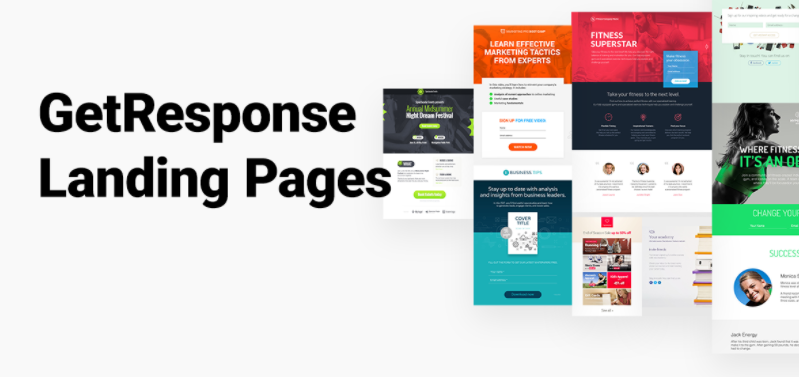 19- Getresponse
Getresponse is one of the platforms that are specialized in creating landing pages among many other interesting features including email marketing. Their dashboard is professional and easy to hold, and that relies on its use on drag and drop technology.
Getresponse offers many powerful tools as well as many custom and ready-to-use templates.
Furthermore, you can start with a free account for one month to test all the features without paying a cent. You'll be asked for your visa details, but you won't be charged till you decide to. However, no one tried Getresponse without falling in love with its amazing features.
20- Lander
Lander is a platform dedicated to creating landing pages. It is noticeable that it has a somewhat traditional user interface, and is old. Despite that, it is still very simple and easy, so most of the users of this platform are novices.
Lander remains among the best landing page builder platforms on our list, despite its simple drag and drop interface. This is because it does include some great features after all.
The platform has more than 100 templates for use and customization.
Support for A / B tests
Availability of Auto Text Replace feature
Message matching feature, which effectively increases conversion rates.
The main subscription to Lander is $ 16 per month and covers all features. But, it is only valid for 5,000 new visitors per month.
20- Weebly
Weebly is primarily a website design platform, but it also offers a landing page builder.
The service for building landing pages contains a limited number of templates as well as an independent email marketing platform called Weebly Promote. Both platforms are connected.
Weebly made a few more features like segmentation and marketing automation.
It offers its basic services in a free plan that does not include email marketing features
When we upgrade our subscription, we're getting to Business Plus which automatically includes Weebly Promote. It costs $ 38 per month.
21- Squarespace
Professionals in the field of designing and creating websites cannot fault Squarespace as one of the pioneering platforms. It has evolved over the past few years to find themselves a foothold in the world of e-commerce.
If we talk about a landing page builder, nothing is relevant except the so-called launch pages.
Squarespace provides powerful page builder tools, which can be exploited with some tweaks to the page design to turn it into a landing page.
Squarespace has included a number of powerful tools such as analytics tools plus Squarespace Email Campaigns. It is its email marketing tool.
As for pricing services, Squarespace separates email campaign plans from hosting services and page creation.
The lowest price plan for hosting and page creation is $ 12 per month, but it lacks analytics and marketing tools.
To take advantage of more features, you should upgrade to a subscription that starts at $ 18 per month.
Purelander: Bonus Landing Page
The best landing page builder which I use is PureLander. It has hundreds of templates of different niches, availability to build your landingpage from scratch and many more features.
You can JOIN Purelander from Here for 25$ only for 6 months, and enjoy all the features.
Are you convinced of these 22 best landing page builders to increase conversions?
Actually, you may like one, two or more of these 21 best landing page builders to increase conversions, but you must try a few of them to decide which one meets your need and help you build the best landing page for your offers.