Copy AI is a writing tool that can save you time and increase conversion rates. Copy AI homepage states that the tool's value proposition will end writer's block and generate marketing copy in seconds. Learn more in this Copy AI Review.
We've already explained how to write a blog post that ranks in Google and how to write a blog post in six steps. Now, we'll explain why Copy AI is a great tool to help you write all your content in minutes.
It can't produce long-form content in seconds like generating entire blog posts in one click, but it can help with creating content like blog titles, outlines, points to paragraphs, blog intros, blog outros, etc.
COPY AI Review: What is COPY.AI?
According to Linkedin, Copy.ai was founded in early 2020 in San Francisco in the United States.
Their goal was to build software that uses artificial intelligence and machine learning algorithms to produce compelling copy for business owners, marketers, and copywriters.
Today, many famous companies like Nestle, eBay, Ogilvy, and Zoho use Copy.ai to create content. AI-content tools like Copy.ai writers are designed to help writers turbo-charge creativity and not replace them.
The GPT-3 software allows you to:
Generate blog intros using the pain-agitate-solution formula
Write greater digital ad copy and bullet points
Create catchy email subject lines
Quickly generate Amazon product descriptions
Create ad copy for Facebook and Google
Moreover, it offers additional features like "Growth Ideas" and "Brainstorming and Startup Tools" that can be helpful when you're stuck in a creative rut.
But the best part of Copy.ai is that it's compatible with multiple languages like Chinese, Spanish, French, Japanese, and Portuguese, so regardless of your region and your language, you'll be able to generate AI content.
COPY AI Review: Pricing
Copy.ai give you get access to three pricing plan which are:
Free plan
The free plan is perfect for users who just want to test this software, and unlike other tools, you don't need to enter your credit card details. You'll access:
Over 90 copywriting tools
10 credits per month
25+ languages
100 bonus credits for your first month
This way, there's no risk to you, but you can't create an unlimited amount of copies.
Pro plan which costs $35 per month or $420 per year
With this version, you can create unlimited blog titles, outlines, ads, topic ideas, and other forms of writing. Copy.ai also constantly releases new features, and with this plan, you'll be the first to use the latest tools.
Custom team plans
If you're a business owner or team leader, The custom plan is the best one for you. Copy.ai doesn't give a set price for this option, but they'll send a personalized quote based on your team size and needs.
COPY AI Review: Who is Copy Ai best for?
Copy AI is best for:
Email marketers
Web copywriters
Freelance content writers
Email Marketers
Email marketing is successful but challenging since you should collect email addresses, catch the attention of subscribers, and offer value. Moreover, you need to create high-quality writing. Here is where Copy.ai can help.
You'll find different tools that'll catch subscribers' attention. Some are:
Catchy email subject lines
Welcome emails
Thank you notes
Confirmation emails
Follow-up emails
In this way, you don't need to develop several different types of emails or struggle with writer's block when launching your campaign. Just enter your company name and a product description, and you're ready to go.
Most suggestions won't be perfect, and you'll need to change a few words and sentences, but it's better than starting with a blank screen in writing headlines, sales emails, subject lines, ads, and other forms of copy from scratch.
Web Copywriters
With Copy.ai, you can create content like:
Calls to action
Event copy
Landing page hero text
Value propositions
Meta descriptions
Social proof text
This makes it essential if you write websites for clients. For example, if you want to create an eCommerce website from scratch and you can't come up with a value proposition, head directly to Copy.ai.
You'll find countless options on the left of the dashboard. Select "Website Copy" and "Value Proposition."
Then, type in your brand name and describe your product and then click "Create Copy," you'll find 10 options below. They might not all be relevant, so you'll just need to change them a little.
Freelance Content Writers
Copy.ai is the best tool for freelance content writers because it produces:
Blog ideas
Headlines
Blog outlines
Conclusions
Listicles
The blog title generator is beneficial for anyone going through a creative rut because you'll save time. The headlines produced are mostly basic, but you may find the perfect one.
COPY AI Review: Features
Copy.ai also has other key features and benefits:
Chrome Extension: which makes it easier to generate copy on the fly in Google Docs and Gmail tools
Multiple Languages: so you can enter content in a certain language but generate content in another on
Facebook Group: there is an active group for advice, support, and talking about relevant content like all things AI content related
24/7 Support: in all pricing tiers
Resources and Tutorials: an extensive resource collection for having the most out of the tool
And as time passes, we expect to see all the AI copywriting features continuously improve and more added to improve the overall experience of the AI copywriting tool
Grammar and Spelling
A lot of effort has gone into improving machine learning algorithms to be able to produce more natural-looking content generation. Although it's not perfect yet, it has gotten a lot better recently.
Grammarly is great for recognizing grammatical mistakes in your writing.
To test how good the Ai-generated copy was I ran the paragraphs through Grammarly, and it did well, scoring a 94% overall rating.
There were some incorrect determiners and punctuation, besides an engagement error, and a small clarity issue.
Although Grammarly isn't the best judge of content quality, it means the content is acceptable. It needs a few changes to your voice or to adapt it to your preferred style of writing.
Plagiarism
For plagiarism with the AI copy, Grammarly detected 17% plagiarism, which seems high if you're used to checking longer blog posts for plagiarism. These usually come back with a 1 or 2% plagiarism rate which is usually from totally unrelated content. However, it makes sense since the tested sample of copy was small.
Another test was made on four other paragraphs generated by Copy.ai and they did with 0% plagiarism.
Accuracy
Accuracy and truthfulness in AI-generated texts can be big issues.
For example, if you write a blog about survival knives, the content may come back with kitchen knives, which will confuse the reader.
Areas For Improvement
There are a few areas in Copy.ai where they can improve.
Long-form content like blog posts, emails, and website copy is the base behind every business but unfortunately, Copy.ai doesn't produce these kinds of posts.
However, it can help since by using the blog outline, it's easier to build an article. But if you're looking for a copy generation tool that can create blog content for you, consider Jasper.
Copy Ai Requires Precise Input Description
For Copy.ai to generate writing, you need to enter your product name and a detailed description of what you do, but if your description is short, the tool may suggest many irrelevant ideas.
Your description should be around 800 to 1,000 characters for optimal results. Fortunately, Copy.ai is a fast-growing company, and they'll introduce an update so that you don't have to write long walls of text just to get a few heading ideas.
Here is a list of some of the pros and cons of Copy AI:
COPY AI Review: Pros and Cons
Copy AI Pros
Easy-to-use dashboard
The content creation process is simple
Generous free trial, and no need to enter credit card information
Fast and helpful email support
Facebook community allows interaction between Copy.ai users
Copy AI Cons
At first, endless templates are intimidating
Not very good for long-form content
COPY.AI Alternatives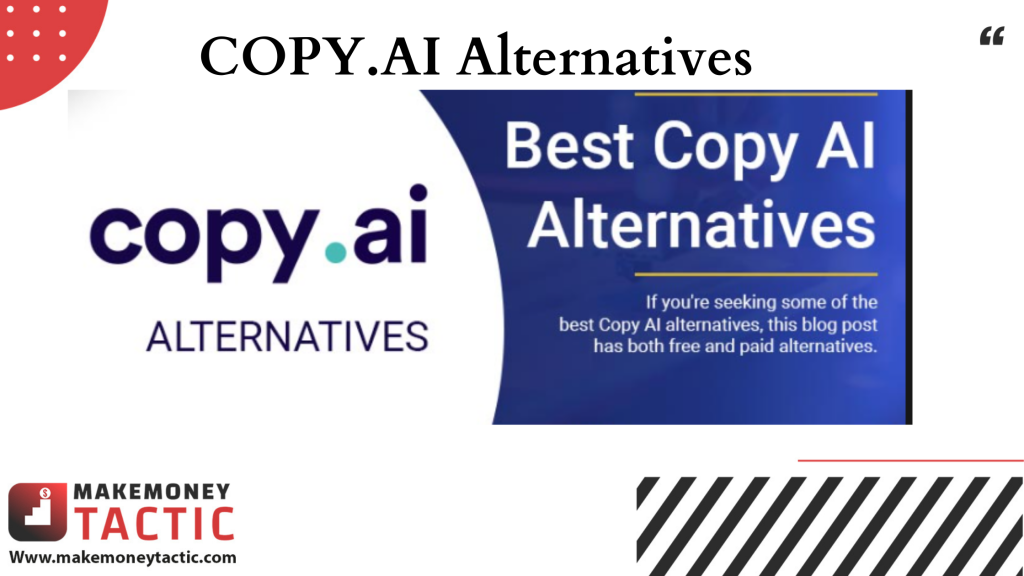 There are plenty of alternative AI software alternatives available for Copy.ai:
Jasper which is another great AI writing tool. Read Jasper review here.
Conversion.AI
Copysmith.ai (best for longer-form blog content)
Writesonic
Copy Shark
All tools relatively have the same cost with similar features, and can also be tested with free trials.
These AI-content tools are just starting to show us what they can do. They are impressive at writing marketing copy and I expect them to get a lot better soon.
For small business owners, it's almost certainly a good idea to become acquainted with these kinds of ai copywriting tools.
They won't triple your output of blog articles, but they will give you a start on how to properly use these tools when their outputs improve in the long term.