CPA is the Cost per Action which is an affiliate marketing model where the affiliate generates a commission whenever a user takes a specific action, and this action can be anything like:
Making a purchase
Filling out a form
Submitting an email 
Signing up for a free trial
Downloading an ebook 
Creating an account
Signing up for a newsletter
Taking a survey, etc.
Ecommerce Sites, application owners, online businesses, etc… around the globe can leverage CPA marketing to create different offers and online marketing campaigns. Then CPA networks promote these offers through affiliates.
CPA advertisers earn a set commission each time a referred visitor completes the action or offer.
How Does CPA Marketing Work? Does CPA marketing Still Work?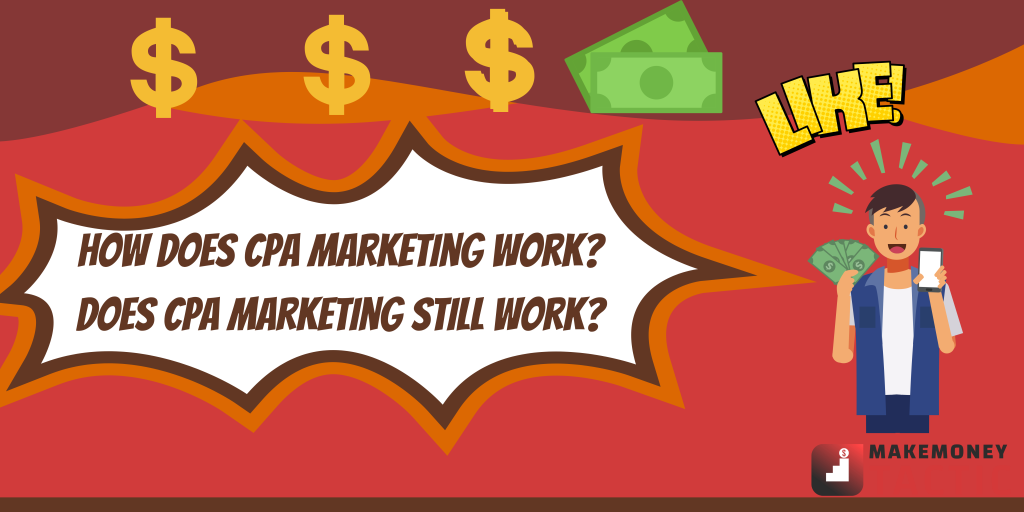 First, we will discuss the terminologies and then a few terms that are related to these terminologies:
CPA Marketing Terminologies
CPA marketing works in a very simple and interesting way, but before getting into the process, let's understand a few terms that are associated with it.
Bloggers, influencers, or marketers who promote their business' products and drive quality traffic to their websites or landing pages.
Businesses seek to advance their products by using the affiliate's network and audience.
Websites that bring the publisher and the advertiser together. Advertisers sign up on these platforms and start with CPA marketing while businesses post their offers.
Audience in which the affiliate promotes the products and helps them earn commissions by fulfilling the Action. 
CPA Marketing Process Explained
Businesses contact CPA networks, providing offers, product details, commission rates, etc. 
Affiliates find those that match their niche and audience, and once they find a suitable one, they start with the respective business through the network. 
So, the CPA network gathers businesses with their audience. 
After everything has been agreed upon, affiliates start promoting the company's product on their website and to their audience. 
Creating content around the product or its niche entices visitors to check out the company's page and take specific actions like filling out a form, giving their email, etc. 
For every action completed by a visitor, the affiliate earns a fixed fee.
Benefits of CPA Marketing
CPA marketing is very successful when you target the right audience (as an affiliate) and connect with quality influencers (as a business).
Compared to other e-commerce marketing channels, the cost per action formula offers many benefits, including:
1. It's easy to start and manage
To get started with CPA marketing, all you need is a website with considerable traffic, and in some cases, you can start without a website by promoting products through channels like Facebook, YouTube, etc. But to do that you need an audience interested in what you share and get your commissions
Although It can take time to understand how it works, once you've established yourself, CPA marketing doesn't require a lot of effort and is simple to manage.
.2. Low risk
You don't need a considerable financial investment to start as an affiliate. 
Businesses only have to pay when the visitor completes the Action. While in the per click or per impressions model, they only pay when a visitor converts.
3. Low investment
CPA marketing is not only profitable for affiliates but also for businesses. Companies advertise their products through their affiliates instead of spending a huge sum on their marketing efforts. The only major cost involved is the commission they pay which is paid after they get the desired result.
4. Pay After the Sale.
You are only paying for traffic that converts.
If an affiliate's referrals continuously offer low-rate conversions, change your affiliates and move your focus to a more successful influencer.
5. High ROI.
Affiliate marketing generates about 16 percent of all online marketing.
CJ by Conversant's Affiliate Customer Insights reveals that customers spend more money when purchasing an affiliate's recommendation.
This means that these types of marketing campaigns drive a better quality of traffic and offer a better value than other traffic sources.
Affiliate marketing produces:
58% higher average customer revenue.
31% higher per customer order average.
21% higher average order value (AOV).
Plus, if you drive more sales you will have more commissions. For instance, the BigCommerce affiliate program starts at a 200% bounty payment and highs up based on sales volume. 
6. Expand Marketing Reach
CPA marketing gives scale and distribution.
Which helps you scale your brand message faster and more consistently to the largest possible audience.
Your brand can be in fashion, electronics, home and garden, pet supplies, beauty, etc, most business verticals use CPA marketing.
Spread your brand awareness by reaching the affiliate's audience to a group you may have never otherwise reached.
7. Integrated Advertising
Another benefit of CPA is that you don't need to spoil your site with Adsense blocks or banner ads.
As you'll see later, you can combine CPA offers into your site, which means that you run a legit branded site while benefiting from out-of-this-world CTR and commissions.
How to get started in CPA marketing? CPA marketing step by step
Here's is a tutorial on how to get started in CPA marketing in a few simple steps:
1. Create a website
Although you can get accepted into CPA networks without a website, having one increases your chances of getting through.
✅See also: How To Start a Blog and Make Money: Step-By-Step Guide
2. Drive traffic to your website
Having significant traffic on your website is what you make successful at CPA marketing. The best way to go about it is to learn Search Engine Optimization and use keywords that target specific audiences in the content you create. This takes time to take off, but you can get organic traffic once ranking for these keywords.
You can also use your social media or create videos on YouTube with a link to your website to promote your website.
✅See also: How to Drive Traffic to Your Website: Learn the 33 Free Methods
3. Choose a niche
Pick a specific niche based on the content you create on your website and your audience. Your niche is the market you want to step into and the kind of products you want to offer to your audience. This niche can be fitness, health, beauty, sports, gaming, etc.
4. Find an offer
Once your website starts getting good traffic, it's time to find advertisers selling products in your niche and to study their recommendations. To do this, you use websites like oDigger and OfferVault.
Remember that not every suitable offer is available for your country and traffic type. Moreover, check out the product and the company's landing page, and check if it looks neat, presentable, and attractive, and more important that it doesn't look shady. 
5. Join the CPA network
After you find an offer you like, you should join the network where it is posted. So, you'll need to fill out application forms, but be honest in your application and make unrealistic claims.
✅See also: How To Join CPA Network: How To Get Approved For CPA Networks For Beginners
6. Build your site around the offer
After you get accepted into the network, you can promote the offer on your website. Market the product in a way that doesn't look very sales and doesn't put off your audience, and avoid banner advertising.
By following the above-mentioned steps, you are ready to start your journey with CPA marketing.
Best CPA Affiliate Networks in the Market
1. CPA Marketing Networks/CPA Marketing Websites
The best platforms are those that can provide knowledgeable affiliate managers, numerous offers, and a competitive payout. These CPA affiliate networks include:
MaxBounty.
Max Bounty offers you trained affiliate managers who focus on merchants' marketing needs.
There are about 20,000 affiliates on the platform, affiliate managers know which partners will better fit businesses and affiliate marketers.
The affiliates offer high-quality traffic to the merchant's site.
Those who have no experience with MaxBounty can access a plethora of training material and the program offers weekly payouts.
✅See also: Maxbounty Review: How Does Maxbounty Work?
Monetizer
Monetizer is one of the best CPA networks offering thousands of CPA offers for almost every country. The network supports smartlinks and offers to make things easier for advertisers. I've been working with Monetizer for more than 3 years, and I noticed their fast support,advanced analytics and variety of offers.
Moreover, their smart algorithms allow them to analyze the visitor and give him the offer that meets his requirements. 
✅See also: Monetizer Review: How to use Monetizer?
Clickbooth.
Clickbooth has been around since 2002 and focuses on making its program easy and innovative for merchants.
There are no costs to join Clickbooth as an advertiser, and as an advertiser, you can view traffic performance from each affiliate, and can manage budgets, payouts, schedule, and campaigns themselves, or charge the work to the Clickbooth team.
Olimob
Olimob smartlink is a new, outstanding CPA network that provides private offer and smartlinks. You join the network for free, get accepted in a few hours and start working.
✅See also: Olimob Review: A Leading Smartlink CPA Network
Peerfly.
Launched in 2009, it is a small affiliate marketing company that was ranked as the second-best CPA network in 2016 and one of the top five for 2018.
The network offers free training for affiliates and payouts weekly or monthly through PayPal, Amazon gift cards, checks, Payoneer, bank wire, and Bitcoin.
Admitad.
Admitad has more than 520,000 publishers and 1,200 advertisers.
It was launched in 2009 in Germany and hosts international offers, giving it a large footprint across e-commerce businesses.
Admitad boasts a client-oriented approach with personalized training and many other learning options.
Affiliates only need a $10 minimum for payouts and can be paid via PayPal, epayments, and wire transfer.
Moreover, it offers anti-fraud technologies, cross-device tracking, and deep linking options.
Adworkmedia
Some networks don't allow beginners o join them or require certain conditions for joining. Adworkmedia meets all the specialities of big CPA networks, but they understand the beginner's needs to start.
I like the offers at Adworkmedia. They are genuin and trusted. 
✅ See also: Adworkmedia Review here.
Or Join Adworkmedia directly here.
W4
W4 reviews publisher applications before approving their accounts, and these publishers can boost their revenue by referring others to this network.[
2. CPA Marketing Trends
Following the hottest CPA marketing trends increase your revenue, and help create a strategic approach for next year's digital marketing plan.
CPA marketing is expected to expand to developing countries in the next few years.
CPA marketing should focus on a copy rather than pop-ups and headlines.
Influencer marketing will begin to overlap with CPA marketing, enhancing many new e-commerce businesses' trust to join CPA affiliate networks.
Ecommerce businesses will shift a part of their budget from traditional marketing to affiliate and performance marketing.
CPA Marketing Tips: Best Practices to make money online
You must invest the time to build a relationship with your CPA affiliates to create a strong conversion funnel to keep improving your conversion rates.
Next are a few tips to drive success through your CPA marketing strategy:
1. Consider joining networks with an Affiliate Manager.
To get the best of your CPA marketing efforts, you need a dedicated in-house resource, which is a person who can recruit new CPA affiliates, communicate with website owners, send them promotions, and drive compatible revenue for your site.
Role of Affiliate managers for affiliates
Affiliate Managers can help affiliates by doing the following actions:
Aware of what types of affiliate links or ads are the best to optimize Evaluate affiliate offers and provide insight into strategic changes.
conversion.
Draw attention to the content that will effectively promote the merchant's products.
Provide CPA affiliates with product updates and new creatives, and high-performing ones with commission bonuses and incentives.
Role of Affiliate managers for advertisers
Moreover, they can help advertisers by taking the following actions:
Connect you with the top-performing affiliates in your niche.
Brainstorm and analyze new promotional ideas for certain products.
Interact with the CPA network by sending consistent brand messages and product updates.
Negotiate contracts with affiliates, oversee ROI, and compare your affiliate program to others to keep you in the competition.
Guide you with creatives that work better with the best affiliate programs and websites.
Deal with taxes and set your accounting services up.
2. Avoid CPA networks with bad reviews.
The dark side of CPA marketing is the questionable networks that have shady practices.
Before you start work with any CPA affiliate marketing network, read the reviews.
Odigger offers network reviews so that you know where to interact.
Click on the Network Reviews tab, search for the one you're interested in, and see what others have to say.
Always remember that no network will be completely satisfying, so one or two complaints aren't a big deal.
The worst negative reviews topics include:
Lack of payment (even highly reputable CPA marketing networks may withhold payment for specific reasons, so review the network's policies before signing on).
Unhelpful affiliate managers.
Difficulty signing up for a network or using the platform.
Don't ask does CPA marketing still work
Some people willing to enter this field keep asking does cpa marketing still work. This is ridiculous as this marketing model is still in his golden stages and it will continue for a long time.
Conclusion
With CPA marketing, both businesses and affiliates win. The former cut down marketing costs and get qualified leads to increase their profits, while the latter get commissions when their visitors do the specific Action. 
CPA marketing is extremely profitable, provided you understand the basics well and get started the right way. 
To learn more about digital marketing and how to make money with CPA marketing, you can check out CPA marketing for beginners: How to make 250$ a day from CPA