If you are wondering how to Create Sales Funnelsl on the best free sales funnel builder which is called Systeme.io, this article will be your hidden treasure.
What is the sales funnel journey?
Sales funnel is the journey where your audience sees a link to your landing page with a description that they will get something when they click here.
If they click on the link, they will be directed to a landing page or squeeze page.
They subscribe with their email, and in a few minutes, they get what they are waiting for, which is something valuable like a toolkit, Pdf, free coupon, or even a free product. However, when putting their email, they become subscribers in your click funnel where you can send them emails any time.
You prepare a few informative emails to build trust with your audience then you can send an offer.  
✅See also: How to Build a Sales Funnel on Systeme.io? 4 Sales Funnel Stages
Systeme.io funnel builder: How to Create Sales Funnels on Systeme.io
Making money online has always been the goal of many people around the world. Guys, gals, young people, adults… Everyone needs money and what can be better than an online business. Moreover, what can be an online business better than a free sales funnel that drives traffic to your business everyday? Let's know everything about this free sales funnel builder as well as how to create sales funnels for free on Systeme.io
Systeme.io funnel builder: The Best free sales funnel builder to Create Sales Funnels
Systeme.io is the best free sales funnel builder which is a totally free platform. It helps you make free sales funnels. You can sign up without paying any fees or using any credit card. Therefore, it is available for everyone from any country.
Systeme.io is not only about sales funnels. This marketing automation system has everything you need to succeed in your journey as a digital marketer. Whatever you are looking for starting from email marketing, building blogs, creating sales funnels, selling products, promoting services, managing your content, automation… can be done on Systeme.io
Don't worry we will discuss everything later in this article.
How to use the best free sales funnel builder to Create Sales Funnels for free on Systeme.io?
Building a free sales funnel on Systeme. io is very easy and doesn't need technical skills. Just go to Systeme.io and complete the following steps:
Step 1: Search for a profitable Niche
Before you start building your sales funnel, you have to choose a profitable niche
Make sure that your niche follows these criteria:
You have a lot of information about it.
You can find products or services related to the niche.
There is a big number of audiences interested in this niche.
In our case, we chose to work on digital marketing because it meets all the mentioned criteria. However, you can pick any other niche like health, wealth, fitness, crypto, etc…
Read this guide about the best 35 profitable niches in the market.
Step 2: Build a lead magnet
What I mean by a lead magnet is anything that would be helpful for your audience and have a lot of links for your products. In this case, both of you will get benefits.
You can build a toolkit, Pdf, or anything else. Please don't complain about building your magnet as this can be easily done on Powerpoint or Canva.
Let's say your Pdf will be about 10 ways to make money online. You will have to talk about each way to make money online like providing freelance services on Fiverr and including Fiverr's referral link.
You can also put links to courses, guides or articles related to your business.
Just copy any article about this topic and change it to Pdf full of images and your referral links not knowing how to write
Step 3: Get your affiliate links
This is the easiest part of the process of building a sales funnel on Systeme.io. Just log in to your affiliate networks and get the links. If you haven't joined any affiliate networks yet, we recommend joining one of these: Impact, CJ, JVZOO, ClickBank, Maxbounty, etc…
Get the affiliate link of all the products and put them in the Pdf.
Step 4: Use a tracker or shortener to shorten your links
Some people use trackers like Bemob or Voluum to track all the links in the Pdf. However, for a beginner, you would like to start with something free or cheap. Here, we recommend shortening the links using bit.ly. This is a free service where you can shorten and track your links. It has limited but useful features, and you can upgrade whenever needed.
Till now, we are just preparing our tools, but we didn't touch any sales funnel's platform. The same steps above can be used with any sales funnels like Clickfunnels, Systeme.io, and many more.
We choose a niche, build our magnet with content and links, and manage our tracking tools. Now, we will start building our money-making machine.
Step 5: Sign up to the platform
To build your sales funnel, sign up to the platform with your email. In this article, we will use Systeme.io. Syteme.io is the best free platform for building sales funnels.
Step 6: Create Sales Funnels
Now, we will start building our sales funnel on Systeme.io by following these steps:
Go to the dashboard and choose Funnels.
To create a new funnel, Click on Create.
Choose a name for your funnel, you can call it anything to differentiate it from others like in our case we will call it "makemoneywaysPdf".
Now, click on Build on an audience.
The last step is to click on Create.
Congratulations, you have a new sales funnel.
.
Step 7: Create the squeeze page (Landing page)
The traffic which we send to build our sales funnel will be directed to a landing page where they submit their email to get our magnet which is our precious Pdf.
In this stage, we will build this landing page which is also called the squeeze page.
Don't worry about not having developing skills, you don't need any.
Systeme.io provides you with a lot of templates. Just click on any of them, and customize the images and content (Titles, headlines, descriptions, etc…)
To create your squeeze page:
Click on the name of your funnel to open a new tab.
Click on the pen to edit the squeeze page and start editing. It is very easy.
After you have finished, click Save Changes.
When you finish, create a thank page.
Step 8: Create Campaigns and Emails for your sales funnel.
In this stage, you should prepare the campaign and write the emails which will be sent gradually to the customers once they subscribe to the squeeze page.
How to create a campaign?
Go to Emails and choose Campaigns.
Click Create Campaign.
A new tab will open here, write a Name and short Description for this campaign.
To save it, click on save the campaign.
Now you have to add the content of the campaign by preparing several emails of content that show the readers that you are an expert in this domain and have a lot to provide.
To write the emails:
Press on the name of the campaign.
Then click on Add email.
Prepare your first email by putting the sender name, sender email address (which you will send from), Subject( to explain the main idea of this email).
Choose between the Visual editor or the Classic editor then press create.
Now, you can customize your emails by adding your titles, headlines, images, etc…
Finish all the emails so your campaign is ready.
Step 9: Automation rules
To manage your lists, go to Automation rules, click on it
In this part, you set the trigger in your first block by choosing the funnel step form subscribed.
In the second block, you choose the action. You can choose more than one according to your needs. Here, you will tell the system to send a certain email, tag the subscriber, subscribe him in the campaigns, etc…
In my case, I will send him the Pdf once he subscribes, and let him join the funnel so I can send an offer later on.
Contacts Section
In this part, you can find all your subscribers.
Stats
This is your secret place to find reports about everything in each of your funnels.
Go to Funnels, choose the name of your funnel then click on Stats. You will see different reports about the number of your opt-ins, conversion rates, and much more.
All the featured mentioned above shows why Systeme.io is the best free sales funnel builder to create a sales funnel.
Get traffic to the landing page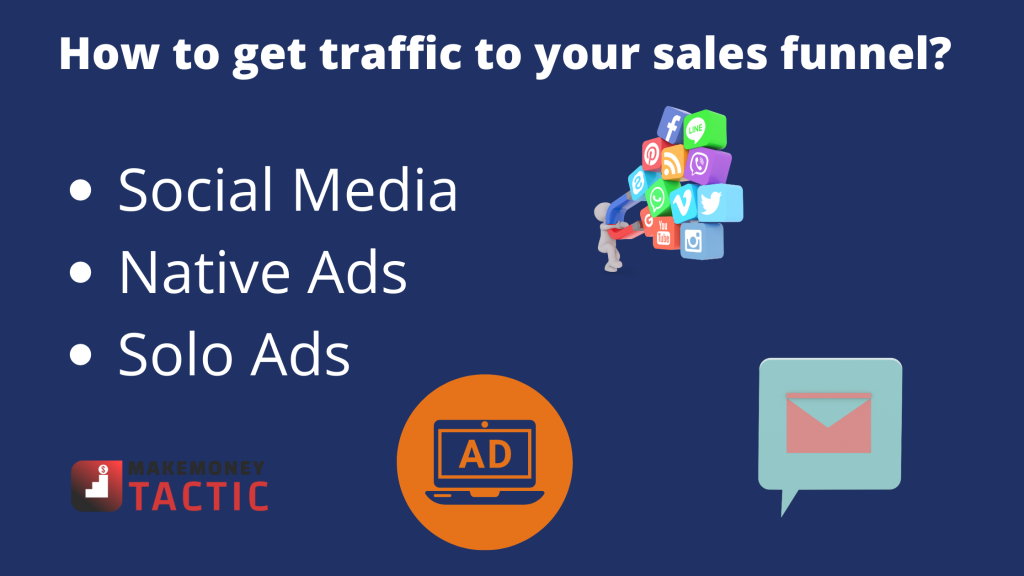 All mentioned above about the best free sales funnel builder (Systeme io funnel) was easy and interesting, but the real question here is how to get targeted subscribers to join your sales funnel.
Actually, there are many ways for driving traffic like:
Social Media
No doubts that social media is the biggest place to find targeted audience for free. Whether you are working on Facebook, Instagram, Quora, Reddit, etc… you can create an account, post valuable content, build your audience then publish a lead magnet. Your audience, who already trust you, will be attracted by your lead magnet and subscribe to your squeeze page. Thus, you got your subscriber.
Native Ads
For people with a good budget, native ads are the easiest way to get traffic for any business, website, landing page, etc… Networks like MGID, Outbrain, Evadav, Taboola and many others have massive, targeted traffic which you can buy and send to your squeeze page to get subscribers to your landing page.
Solo Ads
Solo ads is one of the best ways to get traffic to your sales funnels and build your email list. Go to Udemy or Fiverr, choose a good solo ads buyer with a good list related to your niche. Then give him the content which you would like to send. Make sure to check the reviews of the vendor before contacting him.
You can also check this guide about the 20 ways to promote your landing page, and get subscribers to your funnel.
Summarizing how to Create Sales Funnels on Systeme.io: The best free sales funnel builder
Building a sales funnel is like building a make money machine to generate thousands of dollars every month. Let's repeat the steps:
Search for a profitable Niche
Build a magnet
Get your affiliate links
Use a tracker or shortener to shorten your links
Sign up to the platform
Create a funnel
Then create the squeeze page (Landing page)
Create Campaigns and Emails for your sales funnel.
Set the Automation rules
Eventually, to create a sales funnel on this best free sales funnel builder is a guaranteed way to make more than 2000$ per month for selling products and services through your funnel. After all, you are offering value and building trust then selling anything. This is the key to affiliate marketing.