EssayAILab is one of the best writing assistants in the market. It helps you write content, correct grammatical mistakes, and check for plagiarism. This free Ai writing assistant helps you write long articles in a few minutes. 
How does Essayailab Work? 
Essay AI Lab takes your topic and suggests valuable paragraphs from the internet related to your content.

It rephrases the paragraphs and adds them in the editor/typer, so you can change any words you don't like. 

After adding all the needed paragraphs, you can check your text for grammatical mistakes and plagiarism. 

When you are satisfied with your new content, you can save it or download it to use on your website, social media, or else. 
Essayailab features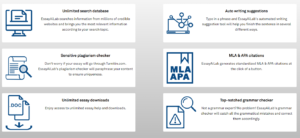 Essayailab has many features that make it one of the best writing assistants, including:
Essay Ai Lab is a free tool: You can use it for free! 

No need for registration: Visit essayailab.com and start writing your topic. 

You have an unlimited search database: Essay AI Lab searches millions of popular websites to provide valuable and relevant information for your search topic.

Auto writing suggestions: Essay AI Lab has an automated writing suggestion tool for helping you write your sentences in various ways.

Strong plagiarism checker: Plagiarism can get you punished by google. That's why all essayailab's texts go through Turnitin.com to detect plagiarism to ensure uniqueness.

MLA & APA citations: EssayAiLab also generates standardized MLA & APA citations to give credibility to your content.

Unlimited essay downloads: You can download unlimited essays for free. 

Professional grammar checker: EssayAiLab's grammar checker will correct all your grammatical mistakes in seconds. 

Essay AI Lab counts your words: The tool also has a word counter to count the words of your essay.
✅See also: How To Start a Blog and Make Money: Step-By-Step Guide
How to use EssayAILAB step-by-step? 
To generate English contents with Essay AI Lab, follow these steps:
Step 1: Visit the Essay AI Lab website
Go to EssayAILab.com
Step 2: Register or not. 
You can either register a new account or not. Both ways are acceptable. 
Step 3: Write the title

You will see a rectangle telling you on the dashboard, asking you to "Tell us your essay title or topic."
Here you should write your topic sentence and click start writing. 
The tool will start Researching your essay
Step 4: Topic confirmation. 
Essay AI Lab will show a small notification may appear saying, "Do you mean (your topic)"?
Click "yes, I meant that."
Step 5: Writing the descriptive paragraph
Here, you can add a descriptive paragraph to help EssayAILAb understand the topic of your essay more.
This step is optional. 
Step 6: Choose your first paragraph
Essay AI Lab will suggest starting with a pre-written paragraph on "your topic" by the tool, or you can click "write your own" to write your introduction. 
It gives you many paragraphs to choose from.
Step 7: Start writing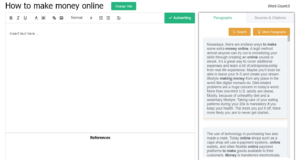 Now, you will be redirected to your editor/typer to write the main article. The page is divided into two blocks.
On the left is your editor where you can write your context and modify the headings, colors, bolds, and more.
On the right, you have the EssayAILab editor/typer, where you have two options: Paragraphs and Sources, and Citations.
In the paragraph section, Essay AI Lab will find credible paragraphs from the net related to your content. You can scroll them to see the samples that fit your content, then ask Essay AI Lab to rephrase and add it to your editor.
In the Sources and Citations section, you will find paragraphs with their resources. You can ask EssayAILab to rephrase and add it to your editor with their reference at the end of the text. 
Step 8: Check the grammar
Once you finish writing your content, you must check for any type for grammatical mistakes and spelling errors. Essay AI Lab will look for mistakes within your content and correct them for you. 
Step 9: Check Plagiarism service
Now, it is time for plagiarism checking. In this step, EssayAILab checks every sentence to make it unique. 
Step 10: Save and download
After all the checkings, it is time to save your work and download it to your device.
What does EssayAILab have for you?
Essay AI Lab is amazing because it has a lot of services for FREE. These features include:
Check Plagiarism

Check Grammar

Save

Download
With EssayAiLab, no need to worry about content anymore. It offers unique auto-writing suggestions to make your content high-quality and stands out among the competitors.
Where does EssayAILab get its information from?
EssayAiLab searches information from online websites on the Internet. Then, it brings you information relevant to your search topic. 
After all, the essay is written to convince the reader of something or inform him about a particular topic. And this AI essay-writing tool knows it works and finishes it perfectly.
This AI essay writing tool searches other websites for your topic, brings relevant paragraphs, allows users to modify it in their text, and run grammar and plagiarism checks. 
Then, you need to create an account on Essay AI LAb and download your essay.
Alternative to EssayAiLab
Other tools are used to write essays for the users. They work just like the Essay Ai Lab tool with more or fewer features. The writer/typer can choose between some of these alternative tools:
Jasper AI (Read Jasper AI review)
Rytr AI (Read Rytr AI review)
Copy AI (Read Copy AI Review)
EssayBot, WordTune, Essaysoft and other apps.
FAQ Questions about EssayAILab
What app writes essays for you for free?
There are many apps that write essays for you for free like EssayAILab, EssayBot, and others.
Is essay AI lab free?
Yes, EssayAILab is free. It helps you generate texts for free.
Is there an AI that writes essays?
There are many apps that write essays like EssayAILab, EssayBot, and others.
What's the website that writes essays for you?
EssayAILab is definitely the best website that writes essays for you.
✅See also:How to Make Money as a Blogger: 5 Ways to Make Money from your Blog
Conclusion about EssayAILab
Essay AI Lab is a fantastic free essay-writing assistant powered with artificial intelligence learning. It helps business owners, teachers and students you write essays, blog posts, and content for your business in a few minutes.
Try EssayAILab now for Free!