No doubt that Instagram is one of the top social media platforms used by people around the world, which also makes it a great place to promote your business online and maximize your customers. However, you need a big Instagram account of thousands of followers to fulfill your goal. How to grow your account on Instagram and get 1000 Instagram followers is not as hard as you think. Actually, it is so easy compared to a Facebook account because Instagram followers are so active with posts and stories. I still remember how my account grew 5K followers in less than a month by the power of HASHTAGS.
Main rules to stay safe on Instagram
Although Instagram is a great place to share and get knowledge, it is also amazing for promoting your site or online business away from spamming. Spamming is the worst thing you can do here as you'll be banned immediately. Instagram is so tough when it comes to spamming the platform, so you have to be serious, give value and use the relevant hashtags.
If you want to learn how to get 1000 followers on Instagram free, use a lot of hashtags and stay away from spamming or you will get banned sooner or later.
How do you Get 1000 Instagram followers for free
Getting viewers to your website or customers to your online business involves increasing the number of followers of your Instagram account. Now you may be asking yourself how do you get 1000 followers on Instagram for free and how much money you need to grow your Instagram account…
Stop thinking too much and check the amazing 7 tips to how to get a 1000 followers on instagram for free:
1- Choose a Micro Niche
Choose your niche and let it be a micro one. People tend to follow micro niches as those are believed to be more specialized in the niche. For example, you can choose diet instead of health, and it is better to choose a natural diet instead of a diet in general. Choose wisely and be restricted in attracting the interested people directly
2- Put an attractive profile picture
Put an attractive profile picture with bright colors, as people love shiny colors like yellow, orange, red, green and blue. Additionally, make sure that your profile picture is related to your niche
3- Direct and clear Biography for free 1000 instagram followers and more!
The first thing which your audience sees after your profile picture is your biography. Therefore, make sure to have a direct, clear biography pointing to your niche with the hashtag symbol before the keywords. It is so easy and helpful to have hashtags in your biography.
4- Daily Story
The stories are an important part of Instagram which a lot of users ignore. To ensure a bigger number of followers and better engagement, so make sure to put at least one story every day to get the followers' attention from first sight.
5- A lot of Posts to get 1000 followers instagram free
You have to post 5-10 posts every day. Make sure to use different kinds of posts like pictures, text, videos, Gifs.. and check which is more attractive to your audience and make it a priority.
You absolutely know the importance of hashtags in Instagram as the search depends on them.
However, what you may not know is that you are allowed to use 30 hashtags with every post. Yeah, you can put up to 30 different hashtags. Therefore, make sure to use the 30 ones to reach the biggest number of viewers. 
This is an
easy way to get 1000 followers on instagram.
✅ See also: How to Make Money on LinkedIn: Make up to 15000$ per year on LinkedIn✅See also: How to Make Money on TikTok: Earn 1000$ from 6 Different Ways
Paid tips to Get 1000 Instagram followers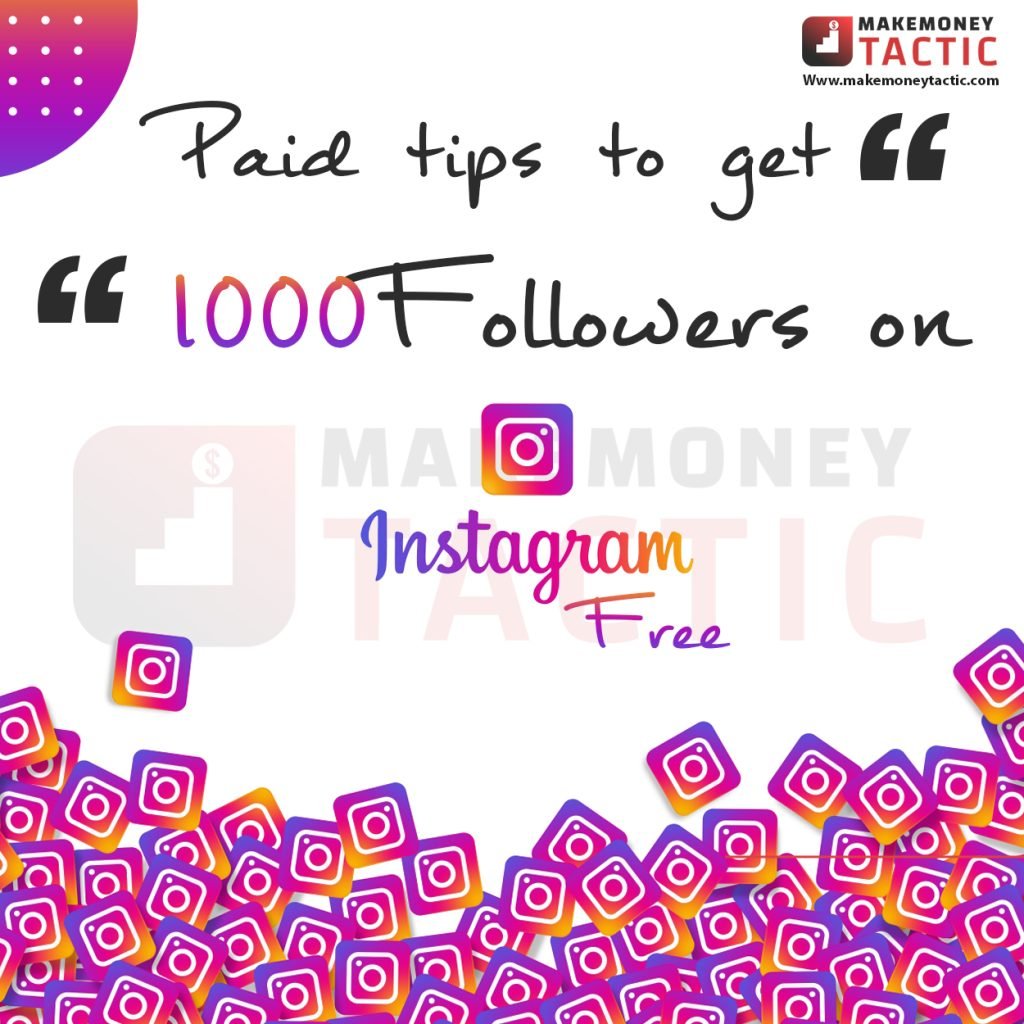 Besides the free tips above, there are some paid tips that can help you get 1000 followers on Instagram faster. If you hate working hard to grow your Instagram account for free or if you simply don't have enough time, you can set a budget to increase the speed of growth. With this budget, you can promote some of your posts by paid ads, or share them on big influencers' accounts.
Eventually, work on these tips for at least a month to grow up your Instagram profile for free in a short time. After having a big number of followers, you can use this Instagram account to get some money by applying one of my best strategies to make money online from Instagram including:
1- Instagram+ Website with ads.
2- Instagram+ Game Locker( the double attack)
3- Instagram+ special Niche ( Double Choices)
4- Instagram + Quiz (Personality and Relation Niche)
5- Instagram + Memes
6- Instagram+ Build email list
Following any of the above strategies will help you make money online without any investment using your Instagram account
For more info about these strategies, join our newsletter to get the last updates.
✅ See also: How to Grow Your Pinterest with Pinpinterest?