Getresponse affiliate program is a profitable affiliate program that helps you make money online. This is one of the ways to make money to help you have a massive source of passive income. Getresponse is a well-known email marketing provider. It is trusted by over 350,000 businesses in 182 countries and is used to increase sales by 200%.
This blog post will share with you information about this attractive form of money:
Classification of the Getresponse affiliate program and benefits from this program.
Instructions for registering to join the Getresponse affiliate are very simple.
Some frequently asked questions, newcomers when learning about Getresponse affiliates.
Getresponse Affiliate Program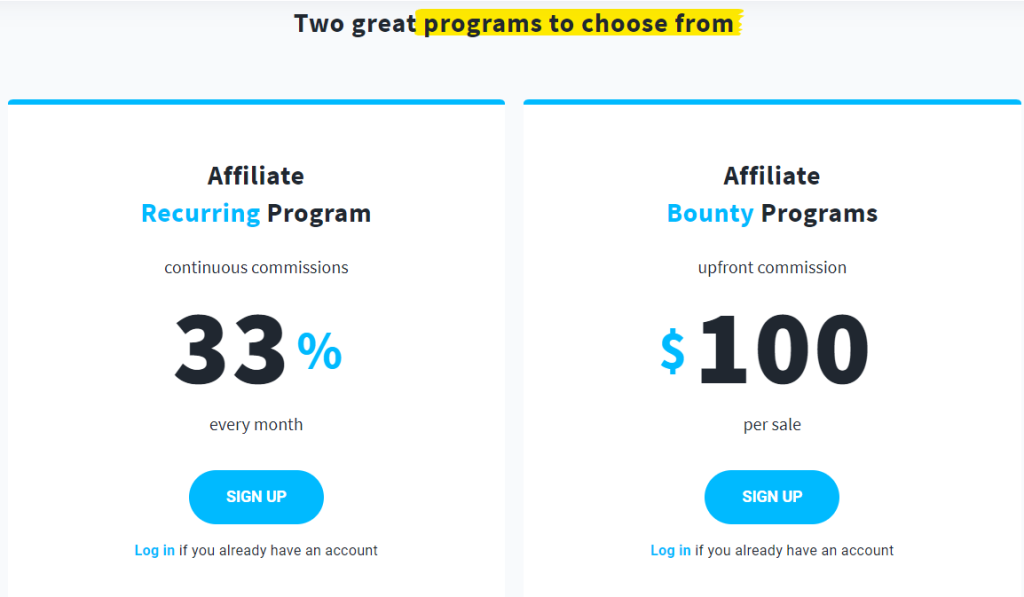 Getresponse has 2 affiliate programs that anyone can join. Its program uses custom affiliate tracking software.
Category: Online services, marketing
Cost per action (CPA): Price per sale
Commission Rate: 33% or $100
Commission Type: Recurring and Non-Recurring Options
Cookie duration: 120 days
Payout Threshold: $50
Payment Options: PayPal
Affiliate Software/Network: Internal Customization and CJ Affiliates
Benefits of the Getresponse affiliate program
Affiliates can earn recurring and one-time commissions. The program pays a 33% recurring commission on its own. Recurring payments are still paid and will last as long as the user remains a GetResponse customer. When customers upgrade to a higher-priced plan, your commission will increase. The CJ Affiliate program pays $100 per sale.
The Getresponse affiliate program has a 120-day cookie and a long cookie duration that supports a 30-day free trial.
The condition for receiving the payment is that your account balance must exceed $50 by the last day of the previous month. The commission period is 15 to 20 days. If this is the first payment, Getresponse may hold the payment for one to three months for anti-fraud checks.
✅See also: GetResponse Guide: Best Marketing Automation Tool
Instructions to register for the Getresponse affiliate program
Getresponse offers you 2 programs to choose from. As mentioned above, the "Affiliate Recurring Program" will pay 33% of the monthly payment of each referred customer (as long as they remain a Getresponse customer). Affiliate Recurring Program $100 for each new sale.
Affiliate Recurring Program
Below are the steps to register for an Affiliate Recurring Program account. Affiliate Bounty Program, you also register the same offline. The registration steps are very simple and easy to follow.
1.You sign up for the Getresponse affiliate program HERE.
2. Click on "Affiliate Program."
3. Next, select "Sign up for free."
4. Next, choose "SIGN UP" for the Affiliate Recurring Program.
5. Getresponse will ask to enter some personal information, enter the required information, and click "I am not a robot" to verify. Then select "Create account" to register.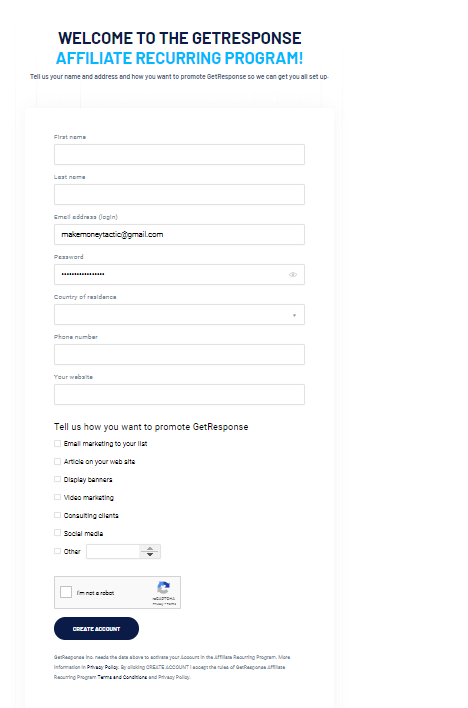 6. Getresponse will send confirmation via registered email. Check your email and click "Activate Your Account" to complete the registration.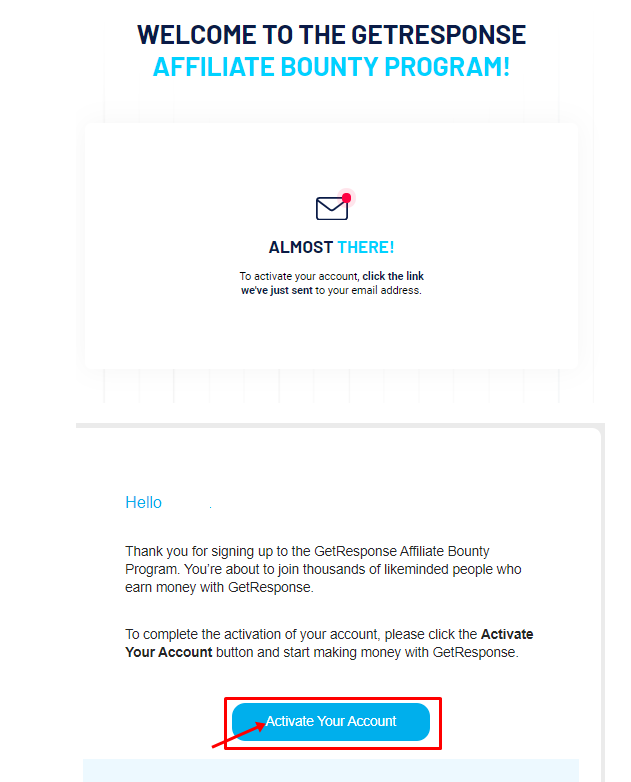 7. Enter the registered email address and password, and select "Login."
8. A link will appear on the main screen after logging in. This is your marketing link.
9. Click the arrow position on the right side of the screen as shown below, then select "My account." On the left side of the screen, select "Tax details."

10. Enter the required information Getresponse:
Select the country "—–," don't select "I am a US taxpayer," nor "I am a US citizen"
Then enter your name and address, then enter the Zipcode where you live.
Stick in the box "I agree with the above statement."
Finally, select "Confirm & Submit."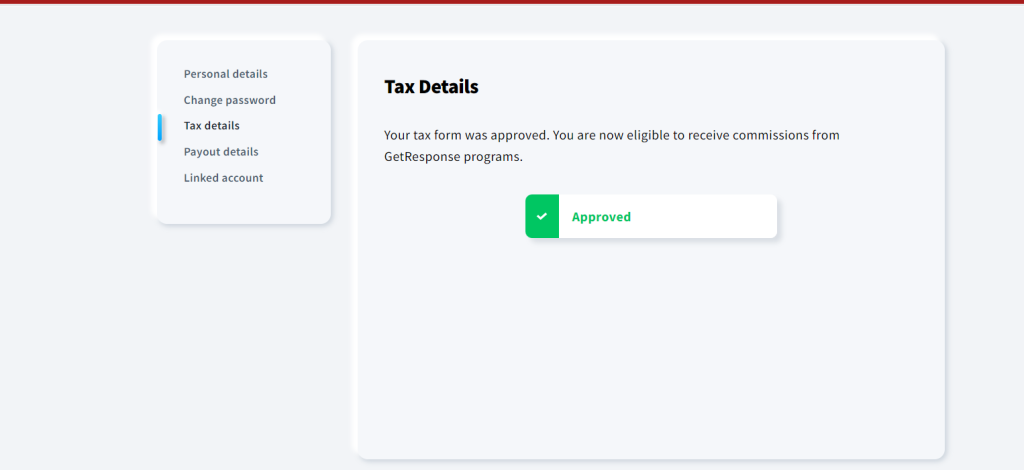 11. Next will be to enter the payment information to receive the commission. Click on "Payout details."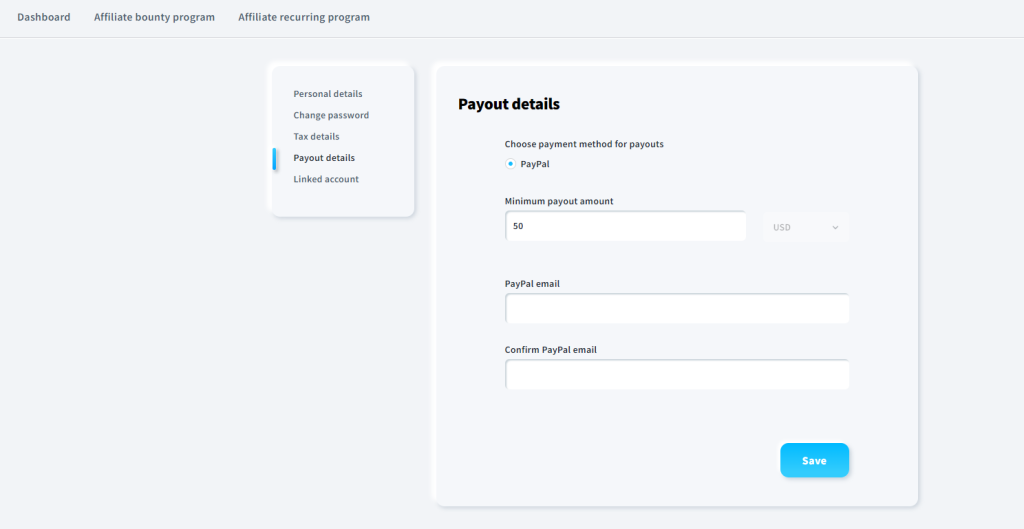 12. Enter your PayPal email and re-enter your PayPal email address to confirm. Then select "Save."
✅See also: 25+ Sources for Trending topics for Article Writing
Frequently asked questions about Getresponse affiliates.
What is the Getresponse affiliate referral cookie policy?
Suppose a referred visitor returns to Getresponse's website after going through your referral link. In that case, you can still earn a commission if they return and activate their account within 120 days, even if they navigate directly to the Getresponse website (and have not cleared their cookies). Last clicks.
Who can I advertise for?
GetResponse is perfect for anyone who needs an online marketing solution. Entrepreneurs, small businesses, nonprofits, or any business sector with an online marketing strategy.
Is there any fee to join the Getresponse affiliate program?
Getresponse affiliate programs are free to join – and you won't have to pay any fees.
How much can I earn from the Getresponse affiliate program?
There is no limit on income. The more accounts you refer to, the more money you make. You get a 33% payout for each referred customer (as long as they're a Getresponse customer) or $100 for every new sale you refer. The commission depends on which commission program you sign up for.
How do I receive payment?
Getresponse pays your monthly commission around the 20th of every month, but the commission lock-in period is different for each Getresponse program. In the Recurring Program, you are paid the month following the account referral month. Commissions in the Bonus Program are paid out from 60 to 75 days from the time of referral.
✅See also: GetResponse Review: Get Free Trial and Reach 300% ROI
Conclusion
Getresponse is an excellent tool many people use, so making money when participating in Getresponse's affiliate program will help bring great profits if you learn how to promote it to the right audience.
Good luck!