Every online and offline business requires customers to give profits. However, 61% of marketers, especially online marketers, complain about the difficulty of getting traffic and leads. How to drive traffic to your website is a big challenge for almost everyone.
Generating traffic is not. impossible, but it needs some time, effort and patience to get good results. Therefore, you see people struggling a lot to get through traffic and surrender in the middle of the journey.
In this blog post, I will cover 33 genuine ways to increase traffic to your website. Happily, I can say that you can start applying them now as most of them are totally FREE.
To make things clearer, I will divide the ways to get traffic to your website into groups… Let's start.
How to drive traffic to your website with content?
There are many ways to drive content to your blog, but the key is your content. With high-quality content, you can drive massive traffic to your website. Even when you use other strategies to drive traffic to your website, you must have high, quality content. As a result, we have to admit that the content is the king.
1- Write Consistently on your Blog
First of all, you must create a blog for your business. You can learn how to start a blog in this step-by-step guide. It is a detailed guide for everything you need to create a blog.
After finishing your blog, you start blogging which means writing content about topics related to your niche.
You can write one blog post every few months and wait to have huge traffic. You should write consistently, like a blog post everyday or even twice a week.
This will show your audience that you care about providing them real value to reach their goals.
Moreover, your readers will wait for your content.
Remember that the more value you provide for your readers, the more readers will return to your blog again.
Do you have any problems with writing blogs? Learn how to write a blog post that ranks in Google.
2- Focus on evergreen topics, not trending ones.
Here we have two kinds of topics:
New and trending topics: This kind of topic can drive a lot of traffic after publishing it, but no one will visit it after the end of the event.
Evergreen topics: Posts around evergreen topics are always interesting and they will accumulate traffic and links.
Therefore, it is better to write evergreen content that continues to drive traffic and make money for a long time.
3- Write irresistible headlines to grab readers' attention
Headlines are an important part of your content. They can boost your traffic to 500% if they are created in a good, attractive way.
Unfortunately, headlines are of the same importance as the content itself, that's why we see very comprehensive blog posts getting low traffic because the headlines are not catchy to encourage the readers to click your post on the SERP. Before asking how to drive traffic to your website, you should learn how to write good headlines.
4- Invite others to publish guest posts on your site
I know what you might be thinking, how would this get traffic? Actually, people who come to publish guest posts on your website will not only write new articles with new perspectives on your website, but they might also share the links of their articles on their social profiles and send them. to their friends and clients.
Just make sure that they write high-quality content without any spammy links.
5- Create awesome visuals that rank
Visuals rank in Google in the image section. Therefore, the images, infographics and other visuals in your blog posts may rank in Google and drive traffic to your blog.
Therefore, make sure to create high-quality images that provide real value.
Again, when other bloggers use your visuals, they will link it back to your website.
You can use professional design tools like Canva to create images. Not only simple designs, but you can also visualise data in your٤ image so that it illustrates important concepts. You can also recreate images of charts, tables and more.
?Click here and Get free access to Canva here! ?
6- Incorporate video into your content
I know that we are bloggers sending traffic to our blog, but some readers like to see videos too. Therefore, you can create videos for your blog and benefit from them to get traffic to your blog.
But, how can you drive traffic to your blog with videos? Here are a few tested strategies:
You can use videos to get more website traffic by following these methods:
Try Embedding videos related to your topic in your blog posts. This will let these videos appear in video search results and drive traffic to your blog.
Create videos related to your topic and publish them on Youtube, then apply YouTube SEO on your channel to rank higher on YouTube, and add your website's links in the description of your videos.
In your videos, add calls to action buttons and send people directly to your website.
7- Have a resource page on your website
Blogging is not about writing content and publishing them on your website. It is also about building an audience, providing value in many shapes, spreading your ideas and more. Therefore, you must create eBooks, infographics, templates, downloadable guides, events, webinars, etc… to attract readers, build a newsletter or anything else.
Such creations are called lead magnets which you use to build your audience and customers.
To attract more visitors, you can collect these lead magnets on a separate page and name them "the library" or "Resources page".
How to increase traffic to your website with SEO?
The above 7 strategies are awesome, but they don't work alone. To know how to drive traffic to your website, you also need to know how to help people find them so they can boost your traffic. All you need is an SEO strategy to help your blog posts reach the first pages on Google.
Optimising your website for search engines is called Search Engine Optimization or SEO. This makes your website or blog posts more visible in the first pages of search results for your keywords.
All you need to do is to apply the SEO basics to your blog posts.
8- Target keywords wisely
When you want to search for something, you type a word or phrase in the search engines. These words or phrases are the keywords.
➡️Target keywords with High Search Volume
Each keyword has a search volume, difficulty and a CPC. For example:
If we look at the search volume of the keyword "how to find a good niche", we will see it gets about 10 searches per month.
On the other hand, if we look at the search volume of the keyword " how to increase website traffic", we will see it gets 100 searches per month.
So, it is better to use the second one to get more traffic to your website and get 100 searches.
Keywords of high difficulty are harder to rank than others, while keywords with higher CPC are more profitable.
➡️Target long-tail keywords
Unfortunately, most keywords of high search volume come with high difficulty, so it is hard to rank. For example, "website" is a keyword with high search volume (143,000) and high difficulty. It is almost impossible to rank for this word.
In this case, you should choose long tail keywords for your blog posts as it is easier to rank for, and you'll get good traffic to your site from them when you do.
9- Place your keywords strategically
The location of your keywords is very important in SEO. It is the meaning of on-page SEO. By optimising your content, the search engine will understand what your content is talking about to rank it in relevant searches.
Your keywords must be mentioned organically in the following locations (you can't just add them randomly without having a complete meaning):
Meta title and Meta description
H1 heading
At least two H2 headings and some H3, H4, etc…
Many times naturally in the body
The first 100 words of the introduction.
Image file names and alt text
10- Optimise your SERP appearance- Meta
To optimise your SERP appearance, you have to do things more than just use the main keywords.
You should also make sure that your meta description is between 155-165 characters, valuable, encouraging and actionable.
Moreover, your Meta title should be 60 characters or less, valuable and attractive.
Remember that your reader will see your meta when searching for the information, so you have to give him something that grabs his attention to click.
11- Link internally for keeping your readers more time
Internal linking is very useful for keeping your visitors a long time on your website, getting more page views and providing more value. So, it is recommended to add at least 3 links to other blog posts in every blog post.
12- Improve your page speed
How many seconds would you wait for a website to load? 5 seconds? 10 seconds? No way to wait for more. Besides being one of the top ranking factors, loading fast can help you not lose a visitor, get lower bounce rates and rank higher.
13- Make your site is mobile responsive
People use their mobiles much more than desktops when surfing the internet, so if they find that they can't scroll it easily, they'll leave it forever.
Therefore, you must make sure that your website is responsive to smartphones, tablets and more
14- Implement Schema markup
Although implementing Schema markup will not affect your traffic positively or negatively, it will help the search engine bots to find your pages easily and index them in addition to resulting in better site snippets.
15- Regularly refresh your content, even your best ones
Content usually loses its lustre over time regardless of its high value. Therefore, it is better to refresh it every few months by adding some extra information, visuals, sources, keywords and more. Tweaking your Metas can also make big differences.
Even your best articles will become better when you refresh them.
16- Get backlinks for your blog posts.
We all know the power of backlinks for SEO and ranking. High-quality backlinks increase your DA and traffic as well.
To get backlinks:
Contact other website owners of the same niche as yours and ask. them for a backlink.
Create big, valuable content like guides and tutorials with deep information that can get organic backlinks.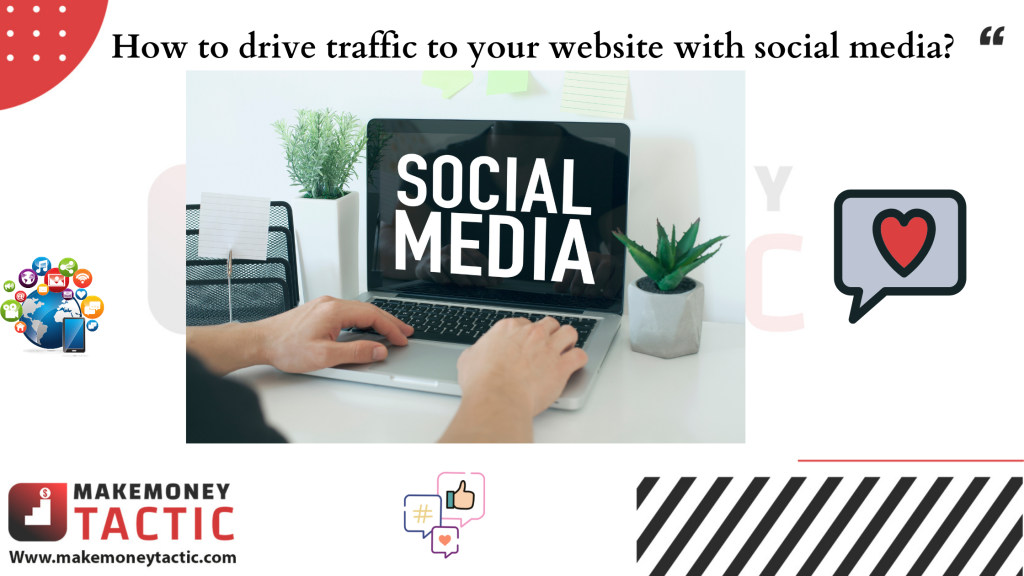 Social media marketing is one of the strongest strategies to drive a targeted audience to your website. Change. social platforms to into traffic generators by following these methods:
Writing It's not enough to get traffic to your blog and make money blogging. You should also promote your content on social media. As more than 65% of people on earth spend at least two hours everyday on social platforms like Facebook, Instagram, Twitter, TikTok, etc… you have to create social profiles for your blog on almost every network and share your content on it.
In the beginning, you should start with providing value only. Don't post links, or maybe once a week as you want to build an audience and gain trust first.
After you start to see a good number of followers who love you and engage with you, you can start posting 2-3 links a week while continuing to post valuable info. to not lose the engagement.
Remember that throwing links here and there won't work, so do it the right way as I explained to not waste time.
Some social platforms like Instagram, Twitter and LinkedIn are hashtag-friendly platforms. Here, it is an effective way to add hashtags related to your topic in your post.
Use this advantage and put as many hashtags as allowed for better visibility.
19- Post native LinkedIn articles that give value
LinkedIn is not a social platform to chat and publish selfies. This one is for intellectual people who actually read, discuss and share ideas important to the world.
Therefore, it would be great to create a profile and share your blog posts. It would also be better if you rewrite some pieces of your content with links to the original blog post and other related ones on your website.
This will provide massive benefits like:
Boosting traffic to your website.
Driving more visitors to see the content of your LinkedIn page which has also other content with links to your website.
Increasing your brand awareness and reputation in the industry.
20- Interview industry thought leaders
You may think that interviews are done with big leaguers, but this is the wrong thing to say. Actually, you'll be shocked when you know how many people would be grateful to interview you on their social platform, YouTube channel or even TV show if you just ask them.
Look for people who do interviews and send them emails. I expect that you'll get big opportunities which will be great for adding more credibility to your name, brand and business overall.
Almost every tip above requires some effort from you except this one. Instead of just sharing your posts on social media, you can add social share buttons so the readers can also share your content on their profiles.
You can also use the click-to-Tweet feature on your website to help people publish your pre-written Tweet in a few clicks.
22- See what the audience is reading
Keeping your eyes on your readers and seeing what they are doing, posting and thinking of is crucial to crafting content related to their ideas and questions
This can help you get massive traffic to your website. Thanks to Quora and Reddit, forums, groups and more platforms interested in your niche, you can see what the audience is asking for and then answer their queries in your next blog posts.
23- Research the competition
With smart software like BuzzSumo, SemRush, etc… you can spy on what your competitors are doing and what kind of content are providing, so you can create better ones and beat them. Does it seem aggressive? No, it is a competition and you have to win.
24- Post at the right time
Like anything else, there is always a good time to post anything. Whether you wanna publish a blog post on your blog, post something on your social profile, etc… look at Google analytics or your social media analytics and see at what time your audience engages the most with your posts and take action.
25- Free business listings
One of the best traffic sources that no one talks about is the business directories. They can drive big traffic to your website if you add your website and optimise your listings. In this way, your website will rank on their respective platforms and get views from people searching about similar topics like yours.
There are a lot of free business listing sites like Yelp, Angie's List and more
For optimising your listings, you have to fill all the sections, add your business category and photos of your business and keep your information updated.
Unrevealed Strategies for how to drive traffic to your website
You might see any of the above ways to drive traffic to your website in other guides, but it is rare to find any other website discussing the below ways to increase website traffic, so I recommend you to complete the reading:
26- Host webinars
People are eager to learn online from their homes, so webinars are a great option. Host webinars and talk about your website, a topic you discuss in your blog or else and put your website URL recommending your viewers to visit your website and read something or participate in something….
Remember to promote your webinars in a social promotion campaign or email campaign if you have an email list.
You can also use SOLO Ads to send invitations for your webinars telling them that it is the "last chance to register".
27- Start an online forum
People like to chat and discuss the subjects they feel passionately about with others who are interested in the same topics. Therefore, building a forum on your website is a great way to gather people on your website to open conversations and discuss issues. Moreover, you'll be increasing traffic to your website. Use a plugin if you are using WordPress and don't forget to accept questions and answers manually to keep your forum safe and avoid any spamming.
28- Participate in other forums, spaces and subreddits
On the other hand, you can join forums, spaces, subreddits, LinkedIn groups and Facebook groups to share your knowledge. Don't start posting links from the first day. Start providing value as well as gain trust and popularity then post one or two links a week for example to drive traffic to your blog.
Keep in mind that you are here for brand awareness so that people start to know you and your business. Don't worry. Interested people will search for you.
29- Submit your content to aggregator sites
Most blogs have an RSS feed. This is used to allow aggregator sites to display the latest content on a particular topic.
In general, we use these aggregator sites to follow our favorite websites and blogs
Moreover, we also allow receiving emails from them.
Although some aggregators might find your feed on their own, some website owners use paid aggregators to benefit the most from this advantage.
You can check some content aggregators here in the Hubspot list.
Starting a newsletter is an amazing way to collect your audience's emails and reach them later when you publish a new blog post.
You don't have to bother your audience with daily emails. Just a weekly email informing your audience about a blog post from the week.
Don't overspend emails and bother your client with too many links.
31- Reach out audience with Solo ads
Solo Ads are email lists that allow you to send emails to the members of the list and pay money for the list's owner.
Usually, Solo ads are interested in certain topics, so you choose an email list related to your niche.
This will help you get traffic to your website or even sign ups for your newsletter.
32- Create a free tool
Besides free content, free tools are the best. Create a free tool and host it on your website to get droves of traffic. Your tool may be an idea generator, keyword research tool, hashtag tool, assessments, quizzes, and more.
Any useful tool works, and it is easy to rank and start driving traffic to your website.
33- how to drive traffic to your website: Advertise
Seo is great and sharing on social media is great too, but both are a bit slow for seeing results. If you have a budget, you can invest in paid ads like Facebook ads, Instagram ads, Google ads and more!
Although you'll pay some money, you'll get good profits from it.
Learn the 33 Free, Tested methods for how to drive traffic to your website with Content, SEO, Social Media, Listings and more free ways then start making money online from your business. Don't forget that some bloggers make over than 1K dollars every month from their blogs, so why don't you learn how to make money from your blog?