How to make money online from affiliate Marketing as a Beginner is one of the fastest ways to gain money quickly without paying a lot of money. You can easily make 25 to 100$ everyday if you just follow the right steps to do it. Here, we will tell you everything you need to know to build your affiliate marketing business.
What is affiliate marketing?
In simple words, affiliate marketing is to promote someone's product. For example, someone has a product like houses, jewelry, cars or even something as simple as a book, shoes, perfume, etc…
Your role as an affiliate marketer is to promote this product online so people can buy it. When they buy it, you get paid.
Steps to make money online from affiliate Marketing:
As any other business, affiliate marketing is a business that needs to be started from scratch, develop step-by-step, grow gradually till it starts giving you money. Here are the main steps to make money online from affiliate Marketing:
Choose a niche: Make sure to choose a micro niche as a start.
Join affiliate network and choose products related to your niche.
Create a landing page or a website to promote your product on it
Get traffic to your landing page or website
Let's explain these steps in detail:
How do you choose the best offers to promote online?
Offers differ according to their niches, prices, commissions and flows. Products are divided according to certain criteria, you can choose your product among a lot of niches. This includes fashion, beauty, health, automobiles, books, shopping coupons, cars, kitchen tools and many more.
Along with physical products, there are also digital ones which are even better for some affiliates than physical ones. These products include e-books, themes, plugins, hosts, domains, Anti-viruses, VPNs, RDP, Netflix, Anghami, and many more.
The prices of these products usually range between 1$ and 1000. Your commission starts with 2% up to 80% depending on the network and the advertiser conditions and terms; however, it is better to choose offers with little prices to work on as beginners. After you choose your niche, All you need to do is to look for legit, honest affiliate networks to sign up and start choosing a good offer.
The Best Affiliate Networks for your Affiliate Marketing business:
There are hundreds of affiliate marketing networks out there that give you different kinds of offers to promote. Each one is a start to answer your question regarding how to make money online from affiliate marketing as a beginner.
Some Affiliate networks are specialized with certain niches, while others are not limited.
Here, we will help you know more about some of the best affiliate networks that are trusted and professional when it comes to supporting and payments.
6 Best affiliate networks to make money online from affiliate Marketing:
These are the 6 best affiliate networks to make money online. They are honest ones with good support, flexible offers and a variety of payment methods. This makes promoting much easier for both beginners and experts. Most of the following companies accept almost everyone. All you need to do is sign up for a new account with your email and answer some questions. They may ask for a small interview on a phone call or skype, then you'll be accepted in a few days. After applying to these networks, you'll not ask "How to make money online from affiliate Marketing as a Beginner" anymore.
1- Click bank
Click bank is one of the top Affiliate networks in this industry having hundreds of offers with the best payout.
Clickbank dashboard is very easy and clear, providing you with an advanced filter. You can choose the niche, flow, payout, gravity and much more. Then you take your link and start promoting.
2- CJ
Commission Junction Affiliate (which is known as CJ Affiliate) is not a startup affiliate network providing some tens of offers. Actually, CJ is one of the powerful networks online with a wide range of unique offers that attract the needs of millions of consumers who make shopping online. it was founded in 1998 and still growing and attracting publishers and advertisers among the whole world. CJ understands the needs of the consumers, so it displays the offers that meet these needs taking into consideration the role of the marketer in this fair, transparent partnership.
3- JVZOO
Another popular affiliate marketing platform is called JVZOO. You earn money on this platform by promoting their offers. Fortunately, this platform has a variety of interesting products at great prices which make it easier for marketers to promote and earn commissions.
Joining JVZoo is easy, just sign up and fill the application to get instant access to thousands of top-selling digital products. The affiliate programs at JVZOO are so profitable as commissions may reach 75%.
4- Cpa Grip
CPAGrip is another amazing affiliate network that provides a lot of offers. They have Pay Per Download (PPD), Cost Per Action (CPA) and other offers on their marketplace. Additionally, CPAGrip has been considered as the best Content Lockers. It allows the affiliate to lock everything you need so the visitors have to complete the offer to unlock your content.
5- Maxbounty
When we talk about the best offers with a fair payout as well as a good acceptance for customers, we definitely mean Maxbouty. For many years, it has been one of the leading companies in this industry.
All you need to do is to sign up and fill the application. The manager will call you on phone and ask you several questions about your experience (the GEOS, affiliate networks, advertising networks..)
6- Adwork media
Some people have a problem with Maxbounty. They try to apply, but they fail because they lack experience. Here, we would like to introduce Adwork Media as one of the best alternatives of Maxbounty.
Adwork Media has a variety of offers (surveys, pin submit, sweepstakes, etc…) for affiliates to promote these offers and gain commissions. And guess what, applying to Adwork media is very easy and you'll be accepted in 24 hours even though you are a beginner.
Most affiliates start working with these networks because they facilitate things for them. They make a bridge between affiliates and the advertiser guaranteeing each one's rights and providing support and insights. However, when becoming an expert, it will be a good option to try contacting the main source of the offer (especially when dealing with famous brands) and make a contract with them. This will give you a priority in promoting the offer and a bigger payout.
You can check Adworkmedia review.
What is the main purpose of a landing page?
Never send your traffic directly to your affiliate links without a landing page.
After choosing a niche, affiliate network and products, it is time to craft your landing page or website. If you are using social media platforms to get traffic to your affiliate link, you'll be considered a spammer and get banned if you don't use a landing page. Furthermore, visitors may not be ready to buy your product or service directly. Therefore, using a landing page can give them more information about your product and increase the opportunity for a conversion.
Knowing why we use a landing page and how to make a landing page are two important topics which we explained in our guide about 21 best landing page builders to increase conversions.
If you have a blog, you can just write a valuable article explaining how your product solve a certain problem, add some images and info graphics then put your affiliate link and promote it.
How to get affiliate traffic to make money online from affiliate Marketing?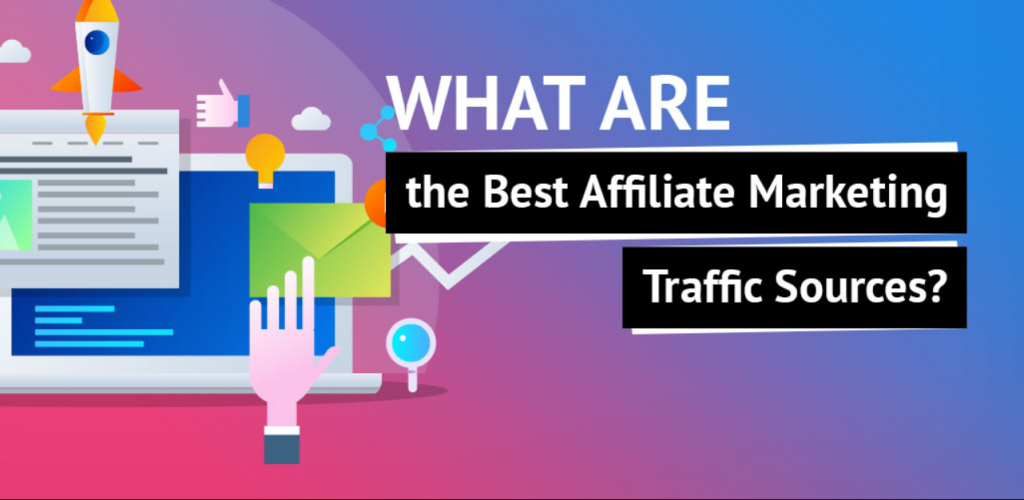 Getting affiliate traffic to affiliate links is not as hard as it seems, as you have many paid and free choices. Let' talk briefly about the best ways to get traffic to your affiliate links and website:
1-Social Media platforms
Social media is one of the best ways to get affiliate traffic to affiliate links and websites too. Here, we mean Facebook, Instagram, Pinterest, Snapchat, Tiktok and more. As some startups cannot afford much money for paid ads, you can start posting your content and links using personal accounts or create groups. Then you can share it online on all platforms for free. After a few months, when you start to see money on your dashboard, you can go for step 2 and make some paid ads on these platforms.
Platforms like Reddit can be wonderful for your English content as 50% of its users are from the United States. However, make sure to give useful information to avoid being banned and to get a good number of followers to grow your business.
?Don't rush for promoting. Start by building audience, providing value, gaining your followers trust then start promoting.
2-Question and Answer Sites
Have you ever heard of Quora and Yahoo's answers? These two sites have millions of visitors every month asking questions about different topics. All you need to do is to make an account and start answering questions related to your niche. By the time, people will trust and follow you, and you'll be able to put your links in your answers and your posts on your accounts as recommendations to read, so you'll get visitors and customers.
3-Sites allowing free publishing
Some sites allow you to publish useful articles and put your affiliate link or your website's link. Medium, Ezine articles, Mix and others allow you to sign up to create an account, then put articles with links to your site. This is done for free. With some patience and hard work, you'll get a good number of visitors from them to your site.
4-Paid Ads
This way for getting traffic to your affiliate link is 100% paid. But, it is guaranteed to give you visitors as most of these sites charge you as the CPC model which means cost per click. Let me explain more, you will make your campaign choosing the CPC model. Then the advertising network will charge you only for the clicks on your links.
Some of the most popular advertising networks are Google Ads, Bing Ads, Propeller Ads, Zeropark, MGID, Outbrain and many more. Most of them have a minimum deposit between 100-200$. They have very low bids starting from 0.001 per click depending on the targeted countries.
Conclusion about to make money online from affiliate Marketing
Finally, you know everything about " How to make money online from affiliate Marketing as a Beginner". Now, you are more than ready to start your career as an affiliate. We also recommend reading How to Promote Affiliate Offers: 20 Ways to make money with Affiliate Offers.
Please feel free to ask any question in the comments. We're here to help you build your business online and get traffic to your affiliate links.