As writing takes time, efforts and budget, people are tending to know how to write article with Jasper AI to write more content in less time. Good writing website content can catch your target audience's attention, make your website memorable, help you win leads, and keep your audience coming back for more. However, it takes time. Therefore, you have to learn how to write content for website using artificial intelligence.
Creating content from scratch can take a lot of extra time that you can benefit from doing other things, besides, there are many steps to think about during creating compelling article like research, SEO Basics to rank in search results , and more. However, AI writing assistants like Jasper AI can help you create high-quality content without consuming time.
What is Jasper AI?
Jarvis or Jasper.AI software is an AI writing assistant that helps you write articles in less than 2 minutes. It takes the minimal information you give it and searches the web to create content relevant to your topic. It was previously known as Jarvis, and It is called Jasper now.
You can create a new, SEO optimized articles by selecting a format, creating a title, and typing a few sentences to let Jasper know what you want your article about. Moreover, you can choose a tone from the tone options that range from informational to "Joe Rogan".
Jasper AI learns more as you use it, adapts to make the blog sound more personal and takes on your voice as it works. Since it uses the web to create, the more widely covered the topic is, the more sources it can extract information from. However, having more information means that more misinformation is available, which makes it harder to tell facts from fiction.
The secret that makes Jasper AI works and provides all the writing services is a well-known linguistics model dubbed GPT-3 aka the third generation of Generative Pre-Trained Transformer. GPT-3 is a network machine learning model trained using internet data.
How to write article with Jasper AI?
Writing content, for both websites or blog posts, can be a manual and time-consuming process. We discussed before how to write a blog post that ranks in Google. But now, we will talk about how to write article with Jasper AI. With Jasper, there's a faster way to create articles without having to sacrifice quality, and it's possible to cut the time you spend creating content in half or more.
Writing original articles can be as easy through several steps which are:
Entering your title
Adding a description
Plugging in your preferred keywords
Choosing a language and tone preference
Jasper includes many website content templates that are designed to help you get a headstart with your website writing efforts, including:
Content Improver
Perfect Headline generator
Website Sub-headline generator
Persuasive Bullet Points
Company Bio
Feature to Benefit
Unique Value Proposition
Continuing with the example of social media strategy, suppose that we want to create a landing page for the best social media scheduling software, and we choose to use the Unique Value Proposition template to create a landing page statement that can grab attention.
To know how to write article with jasper ai, we'll simply want to:
Login to our Jasper account
Click on Templates
Click on Unique Value Proposition
Add a short product description
Choose your preferred tone
Enter your preferred language
Tap on Generate AI content
The best part is our results. Click Generate AI content and Jasper will do the rest for you like it's a subject matter expert. If you don't like a sentence it can be rephrased or checked for spelling or grammar issues.
Top 5 Benefits for how to write article with Jasper AI
Here are 5 main reasons to use Jasper AI in your journey to learn how to write content for website:
1. Jasper creates original content
No one likes duplicate content and creating a unique article takes a lot of time.
With Jasper, you can speed up your content creation process as it helps you quickly write blog articles, social media posts, emails, and more.
Once you give a brief about your article, title, keywords related to your article, etc, it starts generating original content.
To create detailed articles, you should go with the Boss Mode plan since it reads your past 3000 characters (or 500 words) every time before writing.
2. Clean and simple interface
If you are new to AI writing tools like Jasper, it offers a clean and easy-to-use interface.
Here's how the interface looks like:
On the left side, you'll see options including Jasper AI Templates, Jasper AI Recipes, Documents, etc to create articles and blog for your writing needs.
On the right side, you'll see the words generated by Jasper so you can always watch your word count limit.
Jasper offers over 50 copywriting templates to be used to write any kind of content.
Here are some of its templates:
AIDA Framework
PAS Framework
Content Improver
Sentence Expander
Product Description
Blog Post Topic Ideas
Quora Answers
Facebook Ad Headline and more
You always need social media to generate traffic and grow your revenue regardless of whether you're running a website or a small business.
To build an audience you always need to create social media posts regularly.
Jasper does not only help you come up with new ideas, but it also helps you create better posts for social media needs.
Jasper offers many templates to boost your engagement on social media.
4. Jasper AI makes the process of content creation easier
No one has time to create a great article daily. Writing is a creative job so you should choose between spending much of your time writing or not creating much content at all.
Jasper does all of the writing and research and then helps you edit it before saving it as your own. You can go from idea to completion with just a few clicks.
Jasper AI can create an article for your blog, social media posts, emails, and more.
5. Jasper helps in effective email marketing
Email marketing is one of the greatest strategies that help you with high ROI.
It helps you grow your traffic and sales to your website.
Moreover, Jasper helps you to get higher open rates and conversions with emails because it not only helps you come up with ideas for your next email but also comes up with creative subjects to boost the open rate of your emails.
Jasper offers more to know how to write content for website.
How to write article with Jasper AI Content Improver?
It takes a lot of time to master the art of writing EPIC content, and unfortunately, we are not expert copywriters. Here's where you need an AI writing tool like Jasper which offers a useful template called "Content Improver" to help you rewrite the existing articles but make it better. It is a great solution whether you're looking to rewrite a few sentences or paragraphs from your existing posts or planning to revamp your old blog posts.
Using Content Improver from Jasper helps you:
Make your copy better including headlines, old blog posts, descriptions, etc
Repurpose your article
Write great product reviews
Make your copy better
Here are the steps to use the Content Improver template from Jasper:
Go to Templates
Choose the "Content Improver" template
Insert something that you've already written into the "Content" section on the template.
Choose the voice tone or you can ignore it.
Click on the "Generate AI content" button and it will automatically generate your blog.
How to write article with Jasper AI using the AIDA framework?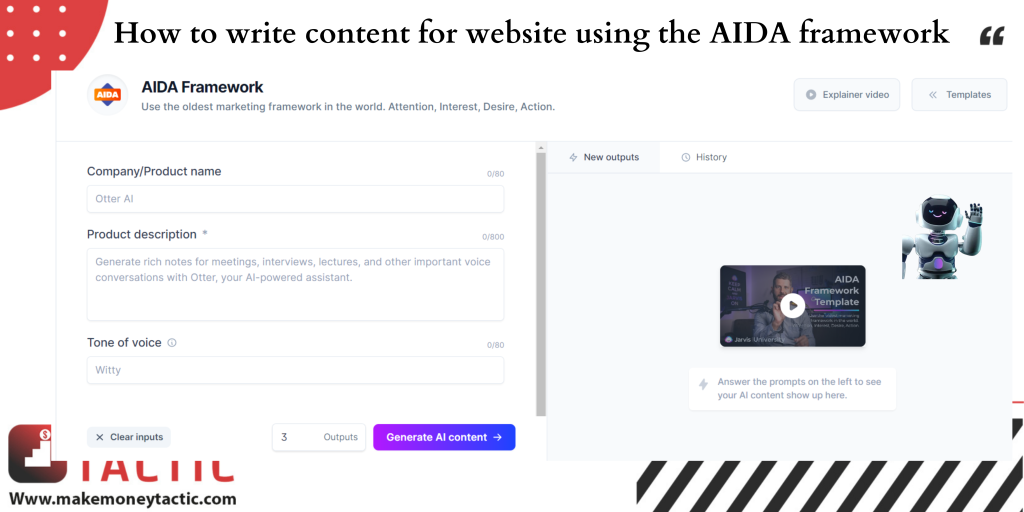 The AIDA framework (stands for Attention, Interest, Desire, and Action) is an effective way to go about creating website content that touches on each point of the buyer's journey.
Jasper provides an AIDA template through which you can craft website content with a click of a button so that you don't have to start from scratch.
To create website content using the AIDA template, follow these steps:
Login to our Jasper account
Click on Templates
Click on AIDA Framework
Enter your description
Choose your preferred tone
Enter your preferred language
Tap on Generate AI content
How to Create Compelling Amazon Product Descriptions with Jasper?
Most bloggers and website owners are using writing tools like Jasper to create product descriptions.
If you're running a niche website to promote Amazon affiliate products and want to create product descriptions automatically, Jasper is your excellent choice.
Jasper offers an exclusive template called "Amazon Product Description" that creates compelling product descriptions for Amazon listings automatically.
Choose the Amazon Product Description template from the Jasper dashboard
enter the product name and include product benefits and features.
Click on the Generate AI content button and Jasper will create compelling product descriptions automatically.
Product descriptions are sometimes weak so you need to give clear inputs in the product title and benefits to get highly relevant and useful content from Jasper.
How to write content for website: Functionality & Performance
Jasper AI is a daily workhorse that can assist you in your writing process and helps you avoid writer's block when creating new content to rank and help others on the web.
Jasper AI: Excellent Writing Assistant but not Standalone AI Content Creation Tool
Some people think that Jasper AI or any AI copywriting tool is a hands-off tool for creating landing pages, ad copy, or blog posts that are ready to go.
Unfortunately, this is not the case. Jasper AI is good at writing copy and producing blog post content from scratch. You can generate a piece of content in just a few minutes if quality and accurate content isn't a big priority for you. Jasper still needs manual intervention to be in the right direction as well as fact-checking via your research of the topic.
Jasper AI pulled from machine learning utilizing a large assortment of webpage content taken a few years back so the knowledge of topics within Jasper isn't that up to date to current times. It will do its best to write a blog post about any topic you want, but sometimes it may miss the mark entirely especially for a more discussed topic like Coronavirus, etc.
⏩You can read Jasper AI Review 2022 here.
Trust The Accuracy of Jasper's AI-Generated Text, but read it once.
One of the largest mistakes that Jasper AI may make is spitting out numbers, names, and situations as facts although they are highly incorrect as it tends to make things up out of nowhere.
That's why all content, articles and marketing messages produced with the help of Jasper AI should be reread and verified to be true before publishing. When you are writing about a subject that you are familiar with, then it is easier to do a quick read-through, but if you are not familiar with certain topics, it can be a difficult process.
There are ways to feed Jasper correct facts like technical specifications for a particular product or service and have it generate content based on that view Boss Mode commands, but this is a more advanced tactic to be learned as you work with Jasper AI and how to write blog/article with jasper.ai. 
Believe me, Jasper commands are magical
Takes Practice to Get Good Consistent Results
Using Jasper is a skill that you learn from watching the associated training and through your usage of the tool.
If you want to sign up for a Jasper AI account, I recommend you take the free Jasper AI Bootcamp training that comes with your account. This training will tell you about the necessary tools and skills required to make the Jasper AI software capable of producing human writer-style blog posts, video scripts, or writing deliciously creative stories.
A user that understands Jasper's power can create high-quality content and will excellently write blog articles when properly directed. Jasper AI Pros can produce long-form blog posts full of plagiarism-free content easily. Now, you know how to write article with jasper AI.
FAQ about how to write article with Jasper AI
How do I write an article in artificial intelligence?
To write an article using artificial intelligence AI:
Step 1-Brainstorm topic ideas with artificial intelligence.
Step 2-Create an SEO-optimized article outline.
Step 3-Do the research with AI for content creation.
Step 4-Draft your article using artificial intelligence.
Step 5-Edit your article
Step 6-Polish your writing with AI writing assistant.
Article writing is easy with Jasper.
How do I use jasper AI?
To write content with Jasper AI:
Go to jasper.ai
Sign up a new account
Click on"Claim 10,000 Words Free" or " Try for free"
Now, you can use Jasper AI to write content with Artificial intelligence. Ask the Jasper commands and it will write blog you'll love.
How do I write a blog post with jasper AI?
To write a blog post with Jasper AI follow these steps:
Sign up to Jasper AI.
Use Jasper Blog Post Recipe for Faster Writing.
Create a new blog post workflow.
Write a description for your desired content.
Write a jasper command to ask it create a blog post Title.
Write a jasper command to ask it create a blog post Intro Paragraph.
Open Blog Post Editor.
Write a jasper command to ask it create a blog post Outline.
Write a jasper command to ask it create a blog post Conclusion Paragraph
Write a jasper command to ask it create a blog post Content
Check Your Grammar
Can jasper AI write a book?
Sure, you can use Jasper, the artificial intelligence writing assistant, to help you write fiction stories, entire books, marketing emails, articles, blog pots, Ads copy, creative stories, and more. Writing posts with jasper AI software competes with professional writers.
Provide Jasper the input with the needed details of your desired blog and let it do the magic fast!