Content is the king. That's why you need to learn how to write content for website to attract readers as only high-quality content ranks in Google and get organic traffic.
Actually, we all know that content is one of the important components of building a perfect, professional website. If you know how to write engaging content, this online marketing process helps reduce sales costs, increase website/blog rankings, improve business efficiency, and build sustainable brands. In this article, Makemoneytactic shares with you how to write content for website that attract readers, let's refer to it right away!
Skills required to learn how to write content for website
Before you start writing content, you need to equip yourself with some skills as follows:
– The right mindset about content: It is a way for you to write with the right focus keeping in mind the right topic, and not in the wrong direction, saving time and getting better results.
– Find content writing ideas for the website: Ideas to write a content article are very important to build complete web content. You can apply the 5W1H method, including Who, What, When, Where, Why, and How to help you craft and write content for website exactly with the topic and idea you want.
– Plan to build content for the website: Make a clear and specific plan to facilitate control, create content quickly and work more efficiently.
– Spelling errors: If there are too many spelling errors, the article will lack professionalism and reduce value. You should be careful with each word, pay attention to the sentence, and check many times after writing.
– Know how to write standard SEO articles with SEO practices: Standard SEO articles will help to get to the top quickly, thereby increasing traffic to the website, serving well for sales, brand advertising, and increasing revenue.

Here are the steps  for content writers to know how write content for the website/blog and attract readers:
Step 1- Determine your audience and Research topics
Determine who your audience is and choose your topics carefully. Write down what you're thinking, and break them down into ideas like this:
– Ideas for further development: "Good" and "bad" topics, stored to build over time.
– Good ideas: Those are potential but less attractive ideas that need to be combined with ideas around to build a better topic.
– Good idea: Conduct research and write articles.
Also, research your competitors on search engines. Once you've completed the research step, link the studies together. At the same time, you can refer to many websites or platforms to get more ideas for your article.
Step

2- Choose structure to write attractive and creative content
Before you write website content think of how to structure your content with an attractive writing formula like:
Structure of writing APP content 
APP is a very easy-to-build, simple, and highly effective recipe template you can apply whenever you have no ideas for writing web content. It consists of 3 specific parts as follows:
– Agree: Acknowledge and agree with the reader's problem.
– Promise: Promise.
– Preview: Display the previously mentioned content.
Structure of writing FAB content
To convey attractive, engaging, and persuasive content, you cannot ignore the FAB content writing structure to structure your content
– Feature: Product features, parameters, components, etc…
– Advantages: Advantages of the product
– Benefits: Benefits of the product
Structure of writing PAS content
PAS is the perfect choice if you want an engaging content recipe for social networking sites. At the same time, you can apply this formula to PR articles, email marketing, flyers, and blogs.
PAS will help readers understand the uses and benefits of products and services they can bring to life. This expression is detailed as follows:
– Problem: Identify the problem
– Agitate: Deepen the problem
– Solve: Solve the problem
Structure of writing BAB content
BAB is to build a bridging model, help readers satisfy search intent, make promises to write website content. This structure is carried out through 3 steps as follows:
– Build a beautiful perspective overview for the reader.
– Reminder in the current state.
– Create a bridge between vision and reality, providing readers with solutions.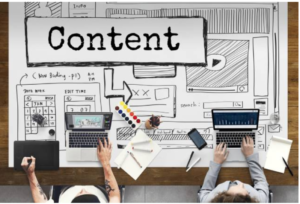 Structure of writing AIDA content
AIDA is a framework – content structure that helps create attraction and curiosity and drives readers to take action. Here's a recipe to help you reach your goals quickly while writing website content for your readers: 
– Attention: Attention
– Interest: Maintain interest
– Desire: Stimulate the reader's desire
– Action: Convert desire into purchase action
Structure of writing 4A content
Improving from the AIDA formula, 4A will provide readers with new, more engaging experiences and stimulate them to act quickly, repeating their actions.
– Aware: Recognizing
– Attitude: Attitude
– Act: Action
– Act again: Repeat the action
Structure of writing 4C content
This is the standard structure for creating effective content that attracts readers. If you are stuck with content, the 4C is the solution you can apply to help create useful articles. This structure consists of four important elements:
– Clear: Clear
– Concise: Concise
– Compelling: Persuading
– Credible: Trustworthy
Structure of writing 4Pcontent
The 4P structure is a popular content creation structure suitable for writing engaging content. This structure includes the following requirements:
– Picture: Pictures
– Promise: Promise
– Prove: Supply
– Push: Push
Writing web content with one of the above copywriting formulas guarantees getting an attractive, engaging content.
✅See also: 15 Copywriting Formulas That Grab Readers' Attention
Step 3- Write the content based on your research and keywords
This is a step for you to create content freely and show off your writing skills. Before writing website content, outline before you start to avoid digression and lack of ideas. When writing content, there are a few things to consider:
– Clearly define the purpose and target audience of the article.
– Create articles with headlines that attract attention. Include your keyword in your headline.
-Write short paragraphs with actionable tone. 
-Do a keyword research
– Make sure that the length of your writing is suitable for the audience, from 1000 words or more.
– Use free keyword research tools to find appropriate keywords especially long tail keywords (keywords made from more than two words) and intelligently incorporate them into your posts. 
– Provide clear and uplifting information.
– Choose suitable format font and appropriate font size to help readers receive easily.
– Attach attractive videos and images to make the article more vivid and attract readers.
-Remember that you are writing for human customers and visitors, not only search engines.
-Communicate with your readers with "You" pronoun along your content.
Step 4- Check the content again 
After completing the article's content, check it again to help you correctly detect spelling, sentence, and word errors. As a result, the article reaches more readers. You can double-check the content by asking friends or someone in the capacity of a reader to comment and comment.
Step 5- Optimize with SEO standards 
Optimize your content with On-page SEO techniques and Off-page SEO techniques to make it SEO friendly. Apply the SEO basics to rank faster.
Step 6- Add visuals
Add media like images, videos, infographics, slides and anything that serves the content to make it more helpful, impactful and engaging.
Step 7- Final Edit
After reviewing the content, editing the errors and making sure it is perfect enough, you'll be done. Finally, you need to publish the article on the website, and you're done.
How to write content for website? 11 Tips for writing engaging content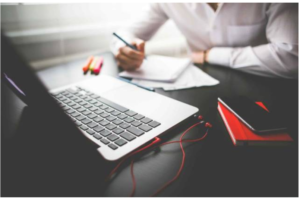 The web is, unfortunately, filled with low-quality content. Most websites don't even rank in the top 100 of Google's search results.
Besides understanding your niche and designing a good website, you should also focus on writing quality SEO content. These simple tips for writing will help you write catchy blog content that attract visitors and rank in search engines:
1- Write for your audience first, not the search engines
Google is looking to provide better answers to the users.
Based on this principle, if you write catchy, helpful content on your website that has a good design and clear navigation, the visitors will be happy. In turn, Google will naturally improve the ranking of your website/blog on its search engine.
Conversely, if your content is complicated and not useful to users and you try inserting keywords into your website to game the system, Google will eventually discover and degrade rankings. Of your web pages.
So stay natural and think about the search intent of your target audience.
Please give them a relevant answer to their question as it is the easiest way for writing great content.
✅See also: Best 15 Free Keyword Research Tools for SEO: Rank on Top of Google
2- Keep it short and concise
Endless articles take a lot of work to read on the web.
People have a short attention span and quickly lose interest in your content if it's too wordy.
Go straight to the point and be as concise as possible. Write an short sentences and use simple words.
Write engaging title, intro and conclusion.
Add headlines to organize the content. Put more than one headline (H2, H3, H4, etc.)
This will make your content more readable and easier to understand.
3- Make sure your content is well documented
A high-quality content writing should be backed by data and evidence.
Research your topic before you write blog, so you can include reliable sources in your blog.
This not only makes your content more credible but also helps to rank higher in Google search results. After all, Google likes websites that are authoritative and provide accurate information.
4- Use visuals to break up your text
No one wants to read a blog post of blocks.
When you write blog posts, add images, infographics, and videos to your articles for breaking up the monotony of plain text.
Visuals are also more likely to be shared on social media, which helps promote your blog content and drive traffic to your website.
✅See also: IMAGE SEO: How To Optimize Images For SEO and Rank Higher?
5- Pay attention to your grammar and spelling
Poorly written content puts users off and hurts your credibility.
Be sure to proofread your articles before publishing them. You can use Quillbot to help you proofread your content.
If you want to go further, you can also hire a professional copywriter to polish your texts. This ensures that your articles are of the highest quality and free of errors.
You can hire content writers from Fiverr or Upwork.
6- Promote your content
Just because you posted an article on your blog doesn't mean people will find it automatically.
You must actively promote your content to your target audience if you want it to be seen:
Share your articles on social media,

Post them in forums,

Distribute it via email or push notification.
The more you promote your content, the more visits it will generate. Learn How to Drive Traffic to Your Website: the 33 Free Methods
7- Update your content regularly
Your website's ranking in Google's search results can drop if you don't update your content regularly.
Keep your articles updated by adding new information, deleting obsolete information, adding internal links, etc.
You must also continually add new pages (or blog posts) to your website.
This shows Google that your site/blog is active and relevant, which helps improve your rankings.
8- Monitor your analytics
Use Google Analytics or another tool to determine how users interact with your website.
This platform gives valuable insights into what works and what doesn't.
Pay attention to your bounce rate, average time on the page, and other metrics. These metrics help understand how users react to your content and what needs improvement.
9- Always learn
The world of SEO is constantly changing.
What worked yesterday may not work today. That's why it's important to always learn and keep up to date with the latest trends.
Read blog posts, listen to podcasts, and attend conferences.
You will stay one step ahead and ensure your website is always optimized for search engines.
10- Pay attention to the main keyword, title and  description
Don't forget to write engaging title and meta description for each article web page content, category, etc. Moreover, make sure that every title and meta description have the targeted keyword.
✅See also: Best 15 Free Keyword Research Tools for SEO: Rank on Top of Google
11- Hire a freelance web writer
Hire a web editor if you don't have the skills, time, or resources to write your content and optimize your website.
It can help you create quality content that is informative, attractive, and above all that, ranks in the results pages (SERPs).
Freelance web writers are also SEO proficient who write and optimize your content. Therefore, they will ensure that your website is visible in the search results. This saves you valuable time, which is useful for focusing on other aspects of your business.
If you need more budget to hire a freelance writer, you can use an AI content writing assistant like Jasper, Rytr, etc.
FAQ about how to write content for website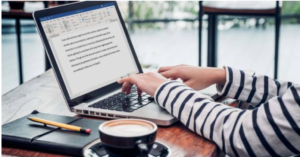 Quality content is important for several reasons. It improves the ranking of your website on search engines, increases user confidence in your business, and improves your overall reputation on the Internet.
How to write quality content?
To write quality content:
Start by planning and researching your topic.

Once you understand the topic well, organize your thoughts and start writing.

Proofread and make your content engaging but also informative.
Producing great content takes time and effort, but it's worth the effort.
What is website content example?
Our website, Makemoneytactic is a good website content example for a website with blog posts, about us page, terms and conditions as well as privacy and policy. That's a good example. 
How do you write a content page on a website?
You should open your WordPress, go to the pages section, choose Add New to create a page, and start writing a content page on a website.
Who can write content for me?
You can hire a web writer to write content for website if you don't have the time or resources to write quality content yourself. There are plenty of freelance writers who know how to produce quality content.
How do I start content writing؟
To start content writing:
Research your audience and topic.
Find low-competition keywords
Outline your article
Write the content
Review it then Publish
Conclusion on how to write content for website
To conclude, writing quality web content is ultimately not rocket science:
Write for the audience and not for search engine crawlers.

Keep it simple and explicit.

Make the visitor want to go to the end of his reading by integrating attractive visuals.
There it's done!
These tips help write unique quality content that will rank well in Google search results and provide a better user experience for the audience.