Is your business already using Instagram in its marketing? If not, it's time to reconsider. With more than 1 billion monthly users, Instagram is officially the fastest-growing social network. Moreover, the conversion rate on Instagram posts is an increasingly important metric, so you must learn how to increase Instagram click through rate to boost your business.
According to Sprout Social, 71% of businesses in the US are using Instagram for marketing. Therefore, start creating a profile and gaining followers for your account. You will have the opportunity to convert these users into real customers.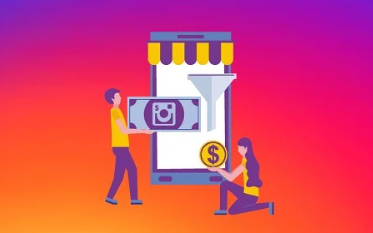 The priority here is conversion. But to do that, you need to find the most effective ways to improve the engagement rate of your Instagram posts first.
You have to understand the users who consume content on this platform: it is scrolling along the displayed news page, just like News Feeds on Facebook. But here, every day, 95 million photos and videos are shared.
If your articles don't "catch" your followers, they'll immediately flip through, and you won't have a single chance of conversion if things go this way.
It's hard to stand out and be different because everyone uses the same platform with the same features. If you only use the filters or live effects that Instagram provides, your content is similar to the billions of other users on the platform. After all, the number of these editing options and post types is limited.
Best Tools that help you increase Instagram click through rate
However, if you want to gain a solid competitive edge and really make your content stand out, you'll need some other tools. And they will help your article become extremely high quality, thereby increasing the likelihood of conversion.
Here are ten tools we would like to introduce to you to make your Instagram posts more "excellent."
1. GIPHY Orange
2. Perfect Video
3. All Hashtags
4. Quik
5. AutoHash
6. Rookie Cam
7. Ask Lisa
8. Hashtagify
9. MIKU
10. Storeo
✅See also: 11 Steps Instagram Marketing Strategy for Small Business
Details that increase Instagram click through rate
Tools make things easier. That's why you have to use some tools to increase Instagram click through rate in a short time.
1- GIPHY CAM
With the growing popularity of animated images (GIFs), GIPHY Cam is a top choice worth considering.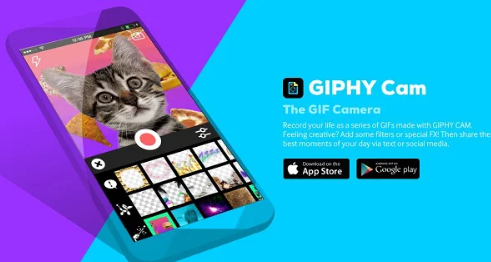 This application has two versions for both iOS and Android operating systems. Your social media marketing team can effectively harness this tool, regardless of the platform, they're using.
The idea of ​​this application is very simple. It allows you to create your own animations by recording content directly through the application.
Once your GIF has been recorded, you can add effects and other elements to improve the post. This is a great way to make your content stand out from the usual photos or videos uploaded to Instagram.
Since animation is not an available feature on Instagram, these posts will give you a relative competitive advantage over posts from other accounts.
In addition, GIPHY also has other applications to help meet your diverse animation needs, such as:
GIPHY
GIPHY Capture
GIPHY Sticker Embed
GIPHY World
2- PERFECT VIDEO ( A great tool to help you Increase Instagram Click Through Rate)
If you are not a connoisseur of technology, Perfect Video is an application that cannot be more suitable because it is extremely user-friendly.
Anyone with no experience in editing or video editing, who is bored with expensive high-end software should try this application. From here, you will no longer need any other software whenever you want to upload videos to Instagram.
It's true that Instagram still has editing tools built directly into the app, but these features limit your creativity with your content. With Perfect Video, you can trim clips and merge multiple videos into one file.
Besides, add subtitles to the video to attract viewers who don't turn up the volume. You can even add a watermark to your video to prevent others from "stealing" your content. Perfect Video's transition effects store is extremely rich. You should also take advantage of this software's background music insertion feature.
After editing is complete, exporting videos directly to Instagram is also extremely easy. In addition to videos, you can also use this software to make slideshows. Another advantage is that this application can be downloaded for free. However, some extended features require users to pay before using them.
3- ALL HASHTAGS
Your Instagram posts are more than just visual content. You need to learn how to write Instagram captions to attract a lot of interaction. And hashtags are part of these captions. Its role on Instagram is significant.
That's why you need to use tools like All Hashtags to Increase Instagram Click Through Rate.
This is a tool to help you generate hashtags to complete your posts. Just type in some words related to your brand, product, or campaign, And All Hashtags will take care of the rest.
In addition to the hashtag creation feature, you will discover which hashtags are used the most right now. This app displays hashtags that are trending daily, weekly and all the time.
Analyze hashtags with this tool and learn about the possibility of ranking and getting more engagement with the hashtags you plan to use.
4- QUIK
Quik is another video editing app for both iOS and Android operating systems.
What makes this tool different is that GoPro developed it. This is an excellent tool for you if you're using a GoPro camera to shoot content for your Instagram page. Importing videos becomes easy with this app.
You can do this from your phone gallery, Dropbox, or Google Photos. Quiks also allows you to import content from devices like GoPro Plus and GoPro Quik Key.
One of Quik's top features is its ability to automatically analyze videos to perform intelligent cropping. In addition, this tool can also recognize faces. All images, clips, and videos will be perfectly framed. You can manually crop the content if you don't want to use this feature.
Using Quik, you will also be provided with 100 free songs to insert into videos or optionally add your own favorite music. And another strong point of Quik is that it allows you to easily synchronize the beat of the video based on the rhythm of the music being used.
5- AUTOHASH
No worries when you can't think of a hashtag. AutoHash is a tool designed with a unique way to help you create hashtags specifically for each photo you want to post on Instagram to Increase Instagram Click Through Rate.
This tool will scan the image and automatically generate the appropriate hashtag. You'll get dog-related hashtags if you post a picture of a dog. Besides, this application will also classify hashtags by popularity in many different industry categories. This will ensure that your post gets the widest possible reach.
You can also save your favorite hashtags to reuse in future posts and upload content directly to Instagram from AutoHash without spending time copying and pasting.
AutoHash also features location-based hashtag generation. Just turn on the GPS on your phone, and the software will automatically generate hashtags related to your location.
✅See also: 13 Creative Instagram Marketing Ideas to Grow Your business
6- ROOKIE CAM
Rookie Cam gives you a more advanced version of the device's default camera. But still very easy to use.
The number of filters here is also much more than on Instagram, and there is also a live filter function, meaning you can see the filters and many other effects on the screen while taking photos or recording video. You will know better what the final product will look like.
With Rookie Cam, you can also create collage frames without having to download another application to perform this function separately. The maximum number of images in a photo frame is 9. Choose different image sizes, create various filters and edit each image in this collage frame.
Rookie Cam's library also has excellent design elements. You can also add text to images with many different fonts and add stickers, picture frames, or icons to increase the eye-catching level.
7- ASK LISA
On Instagram, we all know that the last image posted is one of the most potential choices. If you can't decide which images to share, Ask Lisa is a tool that can help you make informed decisions.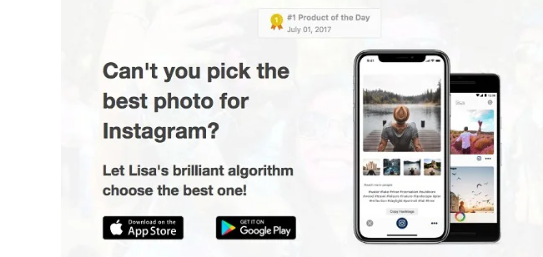 This tool uses image recognition software with AI technology. It is one of the leading technologies that make machine learning reshape marketing. You can make comparisons between two or five images on this platform. To help decide which image will work best, Ask Lisa also integrates the function of creating hashtags based on images for users.
8- HASHTAGIFY
Just like a few other tools on this list, Hashtagify will help you find the best hashtags for your posts.

But not only that, the platform possesses several features that set it apart. You can discover hashtags related to current trends and specific categories. You also have some additional analytics options with the data Hashtagify provides. From there, keep an eye on how your hashtags are performing. Determine the best time to post and analyze your marketing strategy based on the research and information gathered here.
In addition, Hashtagify also helps you discover influencers in the community who are using similar hashtags. You can reach them to expand your reach and gain more presence in this environment. If necessary, use additional social influencers managing tools.
You can easily export these reports into PDF or CSV files to share with the necessary personnel.
9- MIKU
When it comes to editing images on Instagram, you can be overwhelmed by the number of tools available. Every tool offers more filters and more editing options, so which is the best?
It's hard to get a definite answer unless you experience it yourself. When running a business, you probably won't have time to do this. So it would be great to have someone do it for you.
Instead of assigning this job to someone, use MIKU.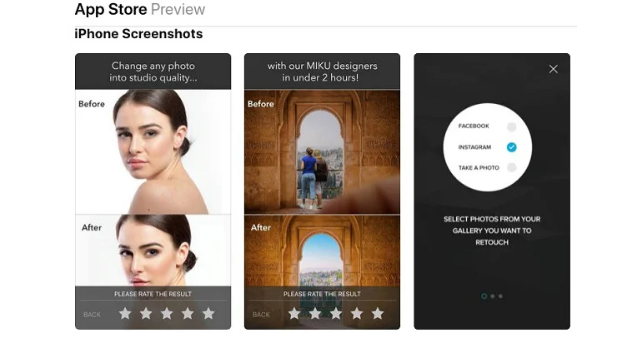 All you need to do is upload the image with a short explanation of how you want the image edited and have a professional handle it for you. The average response time on this platform is 30 minutes, but you should get the returned images within 2 hours.
The price for this service depends on the volume of work. You can pay per image or a wholesale price based on a monthly fee.
For example, you can sign up for a $19.99/month plan, and you'll get to edit 20 images, equating to a $1/image instead of the standard $3.99 price. This is an option worth considering if you use this tool regularly.
10-STOREO
Storeo is a tool to help you improve the quality of content on your Instagram story.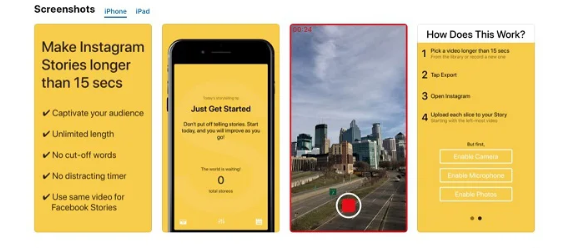 Have you ever encountered a situation: you are recording something to upload to your story directly from Instagram, and then the time limit is over, and you also miss the content you want to shoot.
This really affects the overall quality of your video. Even if you record with your phone before you upload your story, Instagram won't allow you to post clips longer than 15 seconds. You have to manually cut these long videos and add them to the story.
This is annoying and doesn't make for a good user experience. But Storeo solved this problem. With Storeo, you are allowed to record a long video without having to stop to press the record button. It will automatically output this video to your Instagram story as short 15-second snippets.
The story is still "smooth," like a long video, when the user views it.
CONCLUSION about Increase Instagram Click Through Rate
If you want to drive traffic to your Instagram posts and increase your conversion rates, you need to improve the quality of your content. Sometimes, the editing options Instagram offers aren't enough to make your post stand out from a bunch of other content.
Then, you need to exploit the tools introduced in this article. There are many different options depending on the needs of the user. You can flexibly search for software that helps you get creative with images, videos, or GIFs. At the same time, some other software will help you create hashtags, captions, or stories on Instagram.
In short, use whatever tool fits your marketing strategy to make your post boring, fresh, and attractive to users. Only then will you gain more interactions, and conversions will be formed from interactions. And what tools are you using to increase the conversion rate on Instagram for your posts?