Presence on social networks is essential for businesses to survive and compete in the current context. As of right now, Instagram, the social network with the most users on the planet, is an incredibly powerful element that helps perfect any social media marketing strategy of businesses, becoming a leading platform for brands, advertisers, and consumers. Therefore, it is time for you to focus on implementing effective Instagram Marketing activities with the 11 steps Instagram marketing strategy for small business.
Instagram has 800 million monthly users and 500 million daily active profiles. And one more fact that may surprise you: 70% of hashtags on Instagram are brand related.
What does this tell you? If you are not active on Instagram, your competitors are. Or you may already have created an account, but just stopping there won't convert any orders.
11 Steps Instagram Marketing Strategy for Small Business
If you want to drive sales and profit from Instagram, you need to think of a viable strategy. This blog post will summarize the most outstanding practices and techniques you can apply to your Instagram Marketing Strategy. Let's Get It Started!
1- INCREASE FOLLOWERS ( It is a "Must" step of every Instagram marketing strategy for small business)
One of the first steps to a successful Instagram marketing strategy is to grow your follower network. You will have difficulty making your posts visible if this number is not much. And it is not easy to generate sales without followers.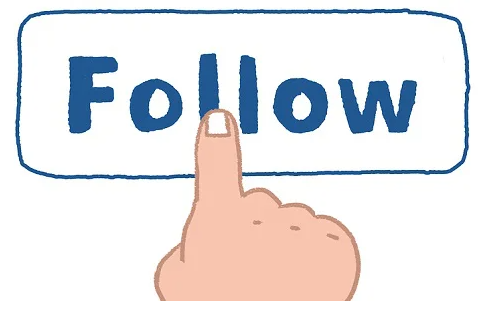 For those who have just created an Instagram account, it can be intimidating to start from scratch. But unless you're a brand new brand, you already have your customers.
And that's where you should start finding your followers. Here are the top reasons why users follow brands on social media (statistics from the company Statista):
Interest in the product/service (73.4%)
Interested in incentive programs (58.8%)
Entertaining & entertaining (51.3%)
There is some motivation (42.2%)
Interested in their field of activity (41.5%)
To communicate with the brand (25.1%)
Friends follow/like their content (21.0%)

As you can see from these metrics, more than 73% of users say that they follow brands on social media because they are interested in the brand's product or service.
If existing customers are interested in your brand, tell them about your Instagram profile and ask them to follow you. You can start by sending information to your email subscribers. Make sure you develop something compelling enough to motivate them to follow.
For example, you might send out emails several times a month. Tell them that if you want to see deals and discounts more often, update them on Instagram. If you use this strategy, make sure you always keep your promises.
You can put the Instagram logo on your website to reach your followers via email. Also, use other social media channels to promote your Instagram profile. After you take these steps, you can do one more thing to get more followers: follow others.
However, be careful not to follow random users. Find followers who fit your target audience pattern. These will be the most suitable profiles to generate leads and increase sales.
So how do you find such people? It will be a bit difficult, and you must put in a little effort. First, find accounts that are similar to yours. "Stealing" followers from competitors is also an effective way; instead, you can look for Instagram profiles that post content related to your field of activity. For example, let's say your company sells camping and hiking equipment. Check out the profiles below. Their names are "adventure enthusiasts":
They have more than 132,000 followers. All of their content is relevant to outdoor locations around the world. You could argue that the followers of this account would be interested in camping or hiking topics. This method will take time, but it is also effective. Once you've found such an account, look at their followers and start following others.
These users will receive a notification and check your page to see who you are. If they like what they see on their profile, they will definitely follow you back.
Once you've gained new followers, it's easier to drive sales with Instagram strategies.
✅See also: 10 Useful Tools to Increase Instagram Click Through Rate
2- FOCUS ON BUILDING THE FIRST IMPRESSION ON THE PROFILE
First impressions matter, both in the natural and virtual worlds. As a marketer, you need to realize this. When writing content, too, the article needs to have an introduction to creating an "irrefutable" attraction.
When an Instagram user clicks on your profile, what's the first thing they see?
They'll see their profile picture, self-introduction, and recent posts. Going back to the idea in part 1 above about following others to grow your followers, users shouldn't have any questions when they click on your profile.
Your profile should fully represent who you are and what you do.
Using the logo as the avatar is the most reasonable. It will make you more recognizable than a random photo of someone or a certain product. Take a look at the example below.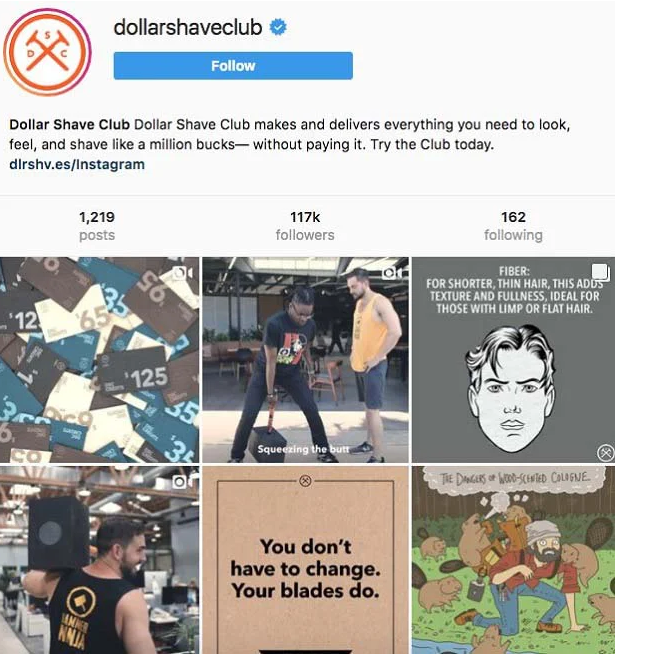 What was your first impression of this profile? It's clear: Who they are. The profile picture is the logo, and the bio below details their activities. They also include a link to their website's landing page to encourage users to sign up for their service.
Basically, if your brand's Instagram page doesn't attract the attention of users, then you have no chance of getting followers. And in most cases, it's best to keep things short, to the point, and professional. Then, you will have a higher chance to promote your products and ultimately increase sales.
The way to make this impression is both challenging and easy. Take some time to research the profiles that make an impression on you first, and analyze what makes an impression on you (content, presentation, photography, composition, colors, dominant tones. Do you use any special elements?…even the layout of Instagram posts makes a powerful impression. You may have seen a photo made up of 9 good Instagram posts in the past. Their profile always has posts intentionally left blank to create a special look). And from there, choose the most suitable options to reapply for your profile.
3- POST CONTENT WITH REGULAR FREQUENCY
Suppose you're updating your profile at one photo or video frequency once a month. That's not an effective strategy. It's not even considered an active profile anymore.
You should make the brand always "fresh" in the minds of your followers. But at the same time, you don't want to invade their feed and be seen as annoying. You need a proper equilibrium here.
You don't have to post more than once a day. If you have a lot of content to share daily, use the Instagram story feature.
So how often should you post? Research shows that the top brands have an average frequency of 1.5 times/day, which equates to about 10 to 11 sessions a week.
The time you choose to post is also essential. Big brands often post content within the regular business week's office hours.
Why? Because about 90% of employees admit that they use social media for entertainment while they are at work.
You need to be aware of this and plan your posting times accordingly. Posting regularly will increase your exposure and the likelihood that as many people as possible will see your content.
4- DON'T BE TOO "OFFERING" (Take care to this step of this Instagram marketing strategy for small business)
Now let's talk a little bit about the content of the posts. You want to drive sales. However, that doesn't mean that everything you post has to promote a certain product. This will annoy the followers and cause the opposite effect.
Mix various styles in your content. You can be funny and post pictures of company employees. Just don't stray too far from the brand's image.
While it's okay to post content that doesn't promote a product, you should avoid topics that can cause controversy, such as religious, political, racial issues, etc.
In short, limit posting too many promotional articles. According to users, this is the most annoying action that businesses take on social networks: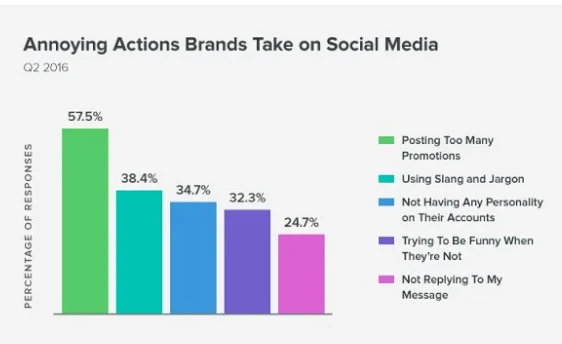 In addition, 46% of users say they will unfollow a brand on social media if they post ads too often. Whenever you post an advertisement, do it normally. You don't have to print all the letters, add many icons like stars, or use quotes everywhere. Keep it short and to the point for things considered offensive.
5- LIVE STREAMING
Instagram has a live broadcast function, and Livestream has always been a "hot" trend since 2018. Users love them, and brands are taking advantage of them, too.
Live videos give you the opportunity to connect with real-time audiences. While you're broadcasting, they can leave comments. Make sure you respond to these comments and do your best to let these users know you're interested. This will help increase engagement metrics.
The opportunities with Livestream are endless. You can showcase a new product, give your audience a tour of the facilities, or even introduce a few of your employees. You should also consider the idea of ​​hosting a Q&A program to create a genuine connection with your audience.
Another way to exploit stories directly on Instagram is to partner with other brands. Instagram is the leading social media platform for brand collaboration globally:
You can try to appear on another profile's live stream to promote your brand. This type of strategy can help you increase your exposure to new customers, increase your followers, and ultimately bring in more revenue.
6- ADD IMAGES AND VIDEOS TO THE STORY (This step of or Instagram marketing strategy for small business is not popular though it is effective)
The story is a great place to post everyday content. You can upload much content to the story multiple times daily because it won't intrude on your followers' feed.
But that's not why you can carelessly post as much as possible. Users won't go through all that content, which will waste both your time and resources. The amount of interaction and views will decrease with each post you add to the story.
You also need to ensure you time your stories properly, as they will disappear after 24 hours of being posted. The suggestion here is that you should use stories to offer discounts, run contests or let people know what happened in your company that day.
The big idea here is to make the brand appear in the customer's mind. If they think about your brand, they are more likely to purchase.
Like live videos, you can use Instagram stories to collaborate with another brand through a profile takeover. You can manage their account, and they can also post content to your account (for a certain period).
Again, this will make reaching your brand to a broader target audience easier.
7- COLLABORATE WITH INFLUENCERS ON SOCIAL MEDIA
Another highly effective way is to use social media influencers to promote your brand, product, or service.
According to the survey, 94% of marketers say that this strategy of using social media influencers is effective for their business. More than 80% of people trust micro-influencers recommendations (small-scale influencers with a small number of followers). And 94% of consumers believe these influencers are knowledgeable.
In general, if there is an influencer promoting your brand, you will get revenue.
Besides Facebook, Instagram is becoming the leading social media platform for the global influencer community.
This is a relatively cost-effective strategy. Most of the cost of an influencer post will be in the range of several hundred dollars. However, this number will be significantly more if you intend to work with celebrities. But this is not necessary.
You should look for influencer microphones with a following of between 10,000 and 50,000. These people have a more authentic engagement with their followers and a higher interest rate. In addition, the cost per post is also less.
8- INSERT HASHTAGS IN THE CAPTION (It is an essential step of our Instagram marketing strategy for small business)
Captions are just as important as the images and videos you post. You should learn how to write captions that help drive interest and engagement.
On Instagram, the use of hashtags is necessary. The research below has shown that the majority of posts by top brands on social media use only a few hashtags:
If top brands are using them, so should yours. In addition, 70% of hashtags on Instagram have branded hashtags. Posts with just one hashtag get 12.6% more engagement than posts that don't. When deciding which hashtags to use, you'll want to use broad hashtags to reach as wide an audience as possible.
But if the hashtag is too general, it won't stand out. On the contrary, if they are irrelevant, no one will look for them. You need to find a suitable equilibrium. Even though top brands don't use many hashtags, studies have found that their engagement rates are highest for posts with nine hashtags.
Another striking result is that hashtags with 21 characters have the highest engagement rate, followed by 24 characters. You don't have to worry about the number of hashtags or characters you apply. Just be careful not to overdo it. It will make you look like you are intentionally spamming.
For starters, you can use an existing hashtag so others can see it. For example, you can choose the hashtag of a certain national holiday.
Or you can also create your own hashtag. This approach will relate to the brand more specifically. You can use your brand name or campaign name as a hashtag. If you want to launch several contests on Instagram, you can use separate hashtags for each of these contests.
You should also use some of the free hashtag generator tools to get more suggestions and increase the metrics of your posts.
9- USE EMOJIS (It is an effective part of our Instagram marketing strategy for small business)
56% of Instagram profiles use emojis, and adding emojis to a post can increase engagement by 2.07%. Emojis will make your posts closer and have a more "human" element. Users will feel like they're seeing a post from a friend rather than some serious big company. The closeness and friendliness followers feel will motivate them to engage with the content more.
You can also ask your followers to leave their favorite emoji in the comments section of your post or an emoji that best describes their reaction to your content.
✅See also: 13 Creative Instagram Marketing Ideas to Grow Your business
10- PROMOTE UGC. CONTENT
UGC stands for User-Generated Content. This strategy can take advantage of what has already been created from hashtag usage to promote the contests above.
This type of promotion encourages users to post brand-related images and videos on their personal profiles. As a result, your brand will be present to all followers who are friends of those users. This type of UGC content acts as a "proposal," suggesting the brand to potential users.
Besides running contests, the most effective way to promote UGC content is to incorporate user images on your profile.
Check out this post from the thule account:
Here is a post from one of their followers. When others see this image, they will be encouraged to share it and submit their own images for a chance to appear on the brand's page.
11- RUN TARGETED ADS
How can you reach people who are not following your account on Instagram? This is the last step of out Instagram marketing strategy for small business.
Some strategies like tagging locations, creating contests, or partnering with social media influencers can help you do this.
However, these strategies don't always get your brand presence in your target market. And the way to do that is to run targeted ads.
Facebook owns Instagram. And the way to set up ads on these two platforms is similar. You can use age, gender, and location criteria to select your ad audience. You can even target them based on their interests or interests.
Here's an illustration for a Tentree Instagram ad:
This ad is the same as any other post on Instagram. The only difference is that it has the words "Sponsored" in place of the location tag, and there is an extra call-to-action CTA button at the end.
But as users scroll through their feed, this post blends in with the other content they're reading. This type of advertising is called a native ad, appearing naturally as regular content, not intentionally intrusive or causing an annoying user experience.
Of course, this will require a budget, and if you don't already have a plan for this, you should follow the rest of the free methods in this article.
And if you can, your business should at least test a few campaigns to see how well it works on the platform. This can be a great way to drive sales by reaching new audiences.