In modern-day content creation, it is very important to write good quality content whether it is ranking a blog post on search engines like Google, enticing email signups, attracting social media likes, or even converting new customers through web pages. Until recently, you had to come up with every word yourself which is boring. Or, you must hire a freelancer to create web page copy or write blog posts for you, which is potentially expensive. Everything will change after reading this Jasper AI review.
Thankfully, there is a new wave of SAAS (software as a service) copywriting tools flooding the marketplace. It is offering AI content generation and writing assistance using GPT-3 technology.
Jasper AI Review: What Is Jasper?
One of the main tools is Jasper AI. Jasper AI is an artificial intelligence software tool for creating content automatically. It uses natural language processing to generate content for you like creating blog posts, social media posts, ads, eBooks, landing page copies, stories, novels, and more.
What's special about Jasper AI is that it creates content better than all other AI writing tools combined. So, if you're looking to automate your content writing or find ways to generate more content quickly, Jasper is your tool.
Who is the Team Behind Jasper?
Jasper's team is made up of a group of friends who are also entrepreneurs and marketers who are interested in helping others break through writer's block via modern technology like AI and machine learning.
The team has years of experience in online courses and software products. And, it is excited to use their knowledge to help people create good content via the power of modern artificial intelligence. The team is based in Austin, Texas, and is committed to providing the best possible service to its customers.
Before creating Jasper, the team graduated through the Y Combinator and developed several successful software products with their most notable being Proof and Payfunnels.
Who Are the Users of jasper?
Jasper can be used for a wide array of cases. Here are some interesting scenarios where Jasper customers use the copywriting tool for:
High School & College Students in aiding educational tasks like writing term papers, essays, and dissertations.
Real Estate Agents in writing up appealing home descriptions for the MLS or realty websites.
Digital Marketing Agency Owner in writing marketing copy like ads for social media, writing catchy captions (it can give you great Pinterest pin titles), and producing web copy.
Small business owners in creating original product reviews.
Email Marketing Specialists in creating catchy email subject lines and body copy to entice your readers and convert them.
SEO Writers merge Jasper AI with SurferSEO to produce SEO rankable quality content. This attracts new readers via search engines like Google and Bing
Screenwriters & Novelists who fight writer's block by generating new creative storylines or dialogue with AI help.
Bloggers & Website Owners in creating blog posts and increasing readability by coupling blog post topic ideas executed with helpful content generated with the use of Jasper AI.
YouTubers in generating new unique video titles, scripts, and descriptions for their videos.
eCommerce Store owners can pump product specifications into Japer. They will be able to write compelling product descriptions with ease
Jasper has endless possibilities, but any of the above roles could experience immense benefits from using the AI service.
✅See also : How to write article with jasper AI?
Jasper AI Review: Is Jasper AI Any Good? Pros and Cons?
Using AI instead of a copywriter proved to be controversial. Although the software gathered a lot of positive reviews, it's not faultless and requires moderation. There are plenty of arguments with and against whether AI will ever be able to replace a copywriter. Let's check some Pros and Cons of using Jasper AI.
Pros
Here are some of Jasper AI's pros:
It is easy to use, and using AI may be intimidating, but the interface of Jasper is simple, intuitive, and can be used by anyone regardless of their copywriting skill. All you have to do is to put some information about the idea and AI will do the rest.
It is quick, it can produce a full blog post in minutes, and for shorter tasks like meta descriptions and ad-copy, it can give results in seconds.
Jasper AI is very effective and plagiarism-free. It can produce accurate copies on any subject without the fear of plagiarism. Run Jasper's output through one of the plagiarism detection tools just to be safe.
It's pretty inexpensive for even the most all-inclusive plans it offers.
It's great for short copies. If you get hung up on writing social media posts, SEO meta titles and descriptions, and things that require character limitations, Jasper is great at manipulating text to fit these requirements.
With the help of Jasper, you can overcome writer's block, give you ideas for blog posts, and create better outlines.
For topics that are frequently written about, Jasper can help do a lot of the heavy lifting. The AI can build out a solid base of content that you can then add your unique perspective.
It is the bEST performing AI & GPT-3 content tool on the market.
Boss Mode offers a lot of content generation for a reasonable fee.
It regularly introduces new features, functionality, and templates.
Supports 25+ languages for those working on international content.
Cons
On the other hand, here are some of its pros:
The writer here is not a person, so your content won't contain any "humanness" or real personality.
It gathers information from all around the Internet without a fact-check. This has led to unspecific information, incorrect statistics, and some content that is just plain not true.
There are no sources provided, so you can't double-check where it got its information from. You will need to proofread everything and verify the information, then edit anything incorrect. This will take up as much time as creating original content and ultimately cost you as much as hiring a copywriter would.
Word count is based on every single generated word. So, Jasper may go off-topic and start talking about things that are completely irrelevant to your business.
Other cheaper GPT-3 competitors do exist but with fewer features & worse functionality.
It is not capable of producing standalone long-form content without the need for editing, besides, it cannot rewrite entire articles.
Unlimited plans are not available for new sign-ups.
Start Plan can be helpful for some, but most people will need to subscribe to the Boss Mode for the features they want. Unused word limits don't carry over month to month, which makes the tool expensive if you're not taking advantage of its full potential regularly.
Jasper AI Review: Jasper AI Pricing
The biggest selling point for Jasper AI is its price which is affordable if you think of the upfront cost, especially when compared to the hourly or per-project rate of hiring a freelancer.
But remember, if you want quality content, you will have to proofread its created content and edit it before you use it. So, you have to account for how much you need to pay yourself (or someone else) per hour to essentially polish the AI and edit the content.
Also keep in mind that the "words per month" listed is applied to generate words. This means all the words that the AI comes up with including the words you may end up editing out.
They have three sorts of packages that include the same basic features with different price points based on words per month, and they are:
Starter – starts at $29 per month. Includes unlimited projects and user logins, and 50+ AI copywriting skills. This plan is best for small projects like tweets, headlines, and product descriptions. You only get 20,000 words generated per month which can be used to create one or two blog posts, but keep in mind this limit isn't based on how long the resulting article is, but on all of the AI generations that you come up with while writing content (whether good enough to use or not).
Boss Mode – starts at $59 for teams, agencies, and professional writers. It offers a base limit of 50,000 words/month, up to 3,000 characters/output, Jasper commands, customizable recipes, SEO Mode, 50+ copywriting templates, and more. You can add bonus word packs of 30,000 words for $30 extra should you reach the initial 50K limit.
Unlimited version – you pay $3,600 per month for over 5 million words generated.
In my view, if you're going to use this software for long-form content, there's no use for the smaller packages. 20K words seem a lot until you're going back through and tossing half of them out in your editing process.
Does Jasper AI Offer a Free Trial?
You can use Jasper for free to write 10,000 words with the help of AI. No need for giving credit card information or being charged. The company understands that some users will not find whether the tool is suitable to their needs. So, Jasper offers a money-back guarantee within 7 days of use and under 20,000 words generated through the service.
This will give you an amount of time and use to test out the AI copywriting tool and determine if it fits your content generation needs. It is not a truly free trial, but it offers you a chance to take a test run without the risk of losing any money.
Moreover, we have partnered with their team to offer an exclusive 10K word free trial account for our readers who want to give the service a test drive before signing up themselves. While 10K won't get you so far in writing a blog post, it will give you a chance to understand the service, its UI, and its potential capabilities.
Jasper AI Review Features List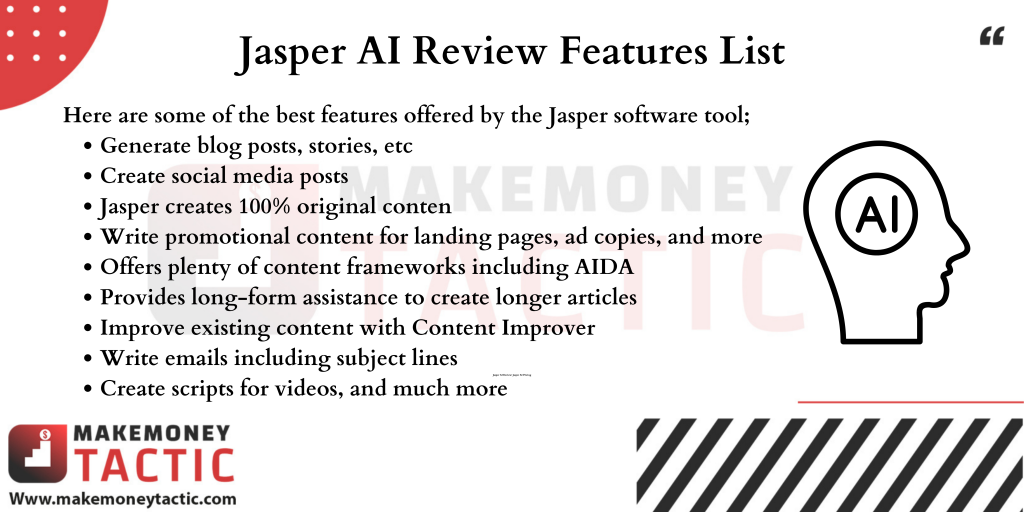 Here are some of the best features offered by the Jasper software tool;
Generate blog posts, stories, etc
Create social media posts
Jasper creates 100% original content
Write promotional content for landing pages, ad copies, and more
Offers plenty of content frameworks including AIDA
Provides long-form assistance to create longer articles
Improve existing content with Content Improver
Write emails including subject lines
Create scripts for videos, and much more
Create SEO content that has all the SEO basics like On-page SEO and Off-page SEO.
Can Jasper AI Replace Your Copywriter?
After reading this Jasper AI Review, the answer became easier. Using an AI tool will speed up your content writing and help you through writer's block. It is advanced enough to replace a qualified copywriter. However, you still need to reread the content and make sure that everything is great. So, it is better to do your work on Jasper then just read it fast.
Learn more about how to write a blog post that ranks in Google HERE.