The main aspect of marketing is communication with customers. In the case of marketing online businesses, writing is the main form of communication we use and the best one for delivering good results if written well. That's why success can be only achieved if you learn to write in order to write well.
What does it mean to learn to write well?
Writing well requires a good writer who knows the rules and follows them. However, content marketing requires high-quality content that:
Has a goal of his writing to entertain readers, educate them, convince potential customers, etc…
Is written clearly with simple words that convey the meaning and deliver the message.
Provides valuable, trustworthy information about the topic.
Doesn't have any grammar, punctuation, or spelling errors.
Learn to write with these 8 lessons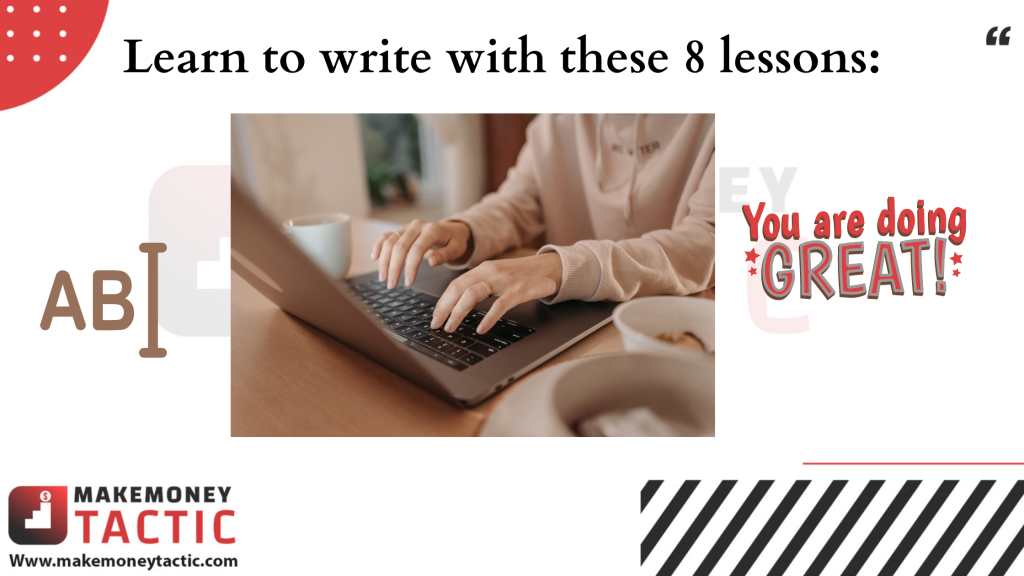 Learning to write well is a goal everyone would like to achieve especially content marketers because it saves some of their freelance writers' budget
However, I see people struggling in learning how to write, so I gathered these 7 lessons to help you:
1- Learn to write by reading
You must be confused about how you can learn to write by reading. Obviously, there are thousands of writing courses and classes that can help you improve your writing skills and become a better writer.
But reading is also important to help you figure out whether your approach and style are effective.
You have to read other writers' work to accelerate your success by comparing it with your writing, learning how to make your writings more effective, replicating elements that improve the pieces of writing, identifying the mistakes to avoid them in the future and more!
2- Don't skip the outline
Even the best writers in the world can go off-topic if they don't have a solid outline that sorts their ideas. We talked about how good writers should have a goal. Now, they must put an outline with ideas that help them achieve their goal.
The outline is simply the main ideas which will be developed in the piece of writing.
If you don't know how to create an outline, or you don't have time to do it, you can get some help from Jasper's Blog Post Outline template. It will help you find the ideas that lead you in the right direction. All you have to do is input the topic and tone of voice you plan to write in.
3- Remember that writing is thinking
Sometimes, you find yourself writing a messy draft that is not good enough for a variety of reasons. That's not a problem at all, it is just a first draft where you are writing what you are thinking about.
Then, you can start arranging the ideas, gathering the good ones, eliminating the bad ones, etc…
The writing process is not always enjoyable. Sometimes, it can be boring or tiring. You just have to complete your journey to becoming a better writer.
4- Understand the role of research
Knowing how to do research is important to learn how to write. Research has many benefits like:
Give you more knowledge about your topic
Give you authoritative resources which build your credibility in your audience's eyes.
Allow you to know more about your audience. you can craft content that interests them.
These 3 benefits will help you learn to write more memorable writings with high credibility.
5- Practising consistently is essential
Everything starts small and then grows by practising and time. Skills follow this rule too. With practice, your writing skills improve, your style becomes more effective and you start writing with a sense of professionalism.
Practise a lot. Begin with 100 words daily, them. increase gradually. You can also try to. write for 10 minutes a day, 20 minutes, etc.
Just set a bar low with easy goals that increase gradually.
6- Seek outside perspectives on your writing
It is not wrong to ask others' feedback on your writing
Actually, it is very helpful to ask someone else to read your writings and give you his opinion and notes.
7- Read some articles that help you write better blog posts
There are a lot of references that help you write blog posts better and faster than ever like:
Read them, take some notes and practice a lot!
8- Get help of an AI writing Assistant
All the above tips are great, but you can also get help from an AI content assistant like Rytr, Copy AI or Jasper to help you finish all your content in less than 2 minutes.
With hundreds of templates that help you write an outline, blog posts, copy ads, bio, summaries, books and more, you can finish all your tasks in a short time. Check their reviews on Our website.