If you're in charge of the company's social media, have you ever wondered how well you run the LinkedIn page? Do you know the LinkedIn business page best practices needed to optimize a company LinkedIn page?
Currently, there is a trend that more and more companies see LinkedIn as essential communication and interaction channel with potential customers, partners, connections and candidates. However, there is a fact that only a few people know how to implement, operate, and optimize, so LinkedIn is a really effective channel.
In a recent LinkedIn study, 50% of people currently following company LinkedIn pages said they were more likely to buy services and products from businesses they've interacted with on LinkedIn. This means that having a well-engaged LinkedIn page of your company can positively impact your business.
Then why don't you want to improve LinkedIn engagement for your business for better leadership?
Below I'll show you five simple ways to boost engagement with your company's LinkedIn followers.
✅See also: How to create the perfect LinkedIn profile to earn from LinkedIn?
✅See also: How to Register Linkedin Accounts for businesses?
5 LinkedIn Business Page Best Practices to Improve your LinkedIn Profile
Here are the top 5 LinkedIn business page best practices to improve your LinkedIn profile and get better results.
#1: Leverage LinkedIn groups to find high-engagement content for your followers
In addition to researching what your business competitors are doing on LinkedIn, you should spend time in the groups your target audience engages with. You will find the reasons why they are interested in those groups.
For example, with any topic, you have to find out which content is getting the most attention of the week. Which discussions are getting the most likes and comments? Take the time to analyze and read what is engaging your target audience. All that discussion will help you explore topics and help you get ideas for what content you'll post on your company's LinkedIn.
Furthermore, you can search for specific topics by specific groups to quickly see what questions and issues attract the most interest and discussion. Find a group your target audience is joining and click the Search tab. You will then see a box on the left where you can search for posts by topic, as shown below.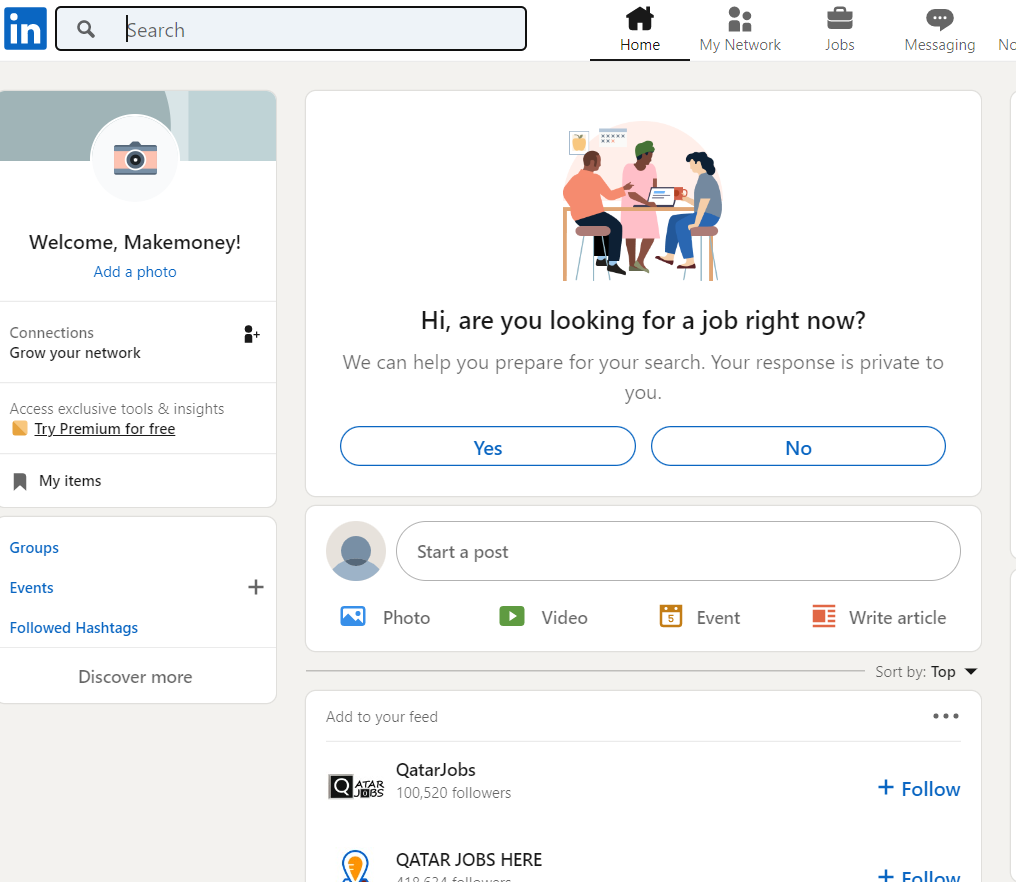 You should create a log of the type of topics, questions, and questions and challenges being discussed by your target audience related your company/business.
By analyzing group activity data, you can search deeper and find the most engaging topics and discussions over the month. Just click the More tab in a group you're in and select Group Statistics in the drop-down menu, as shown below.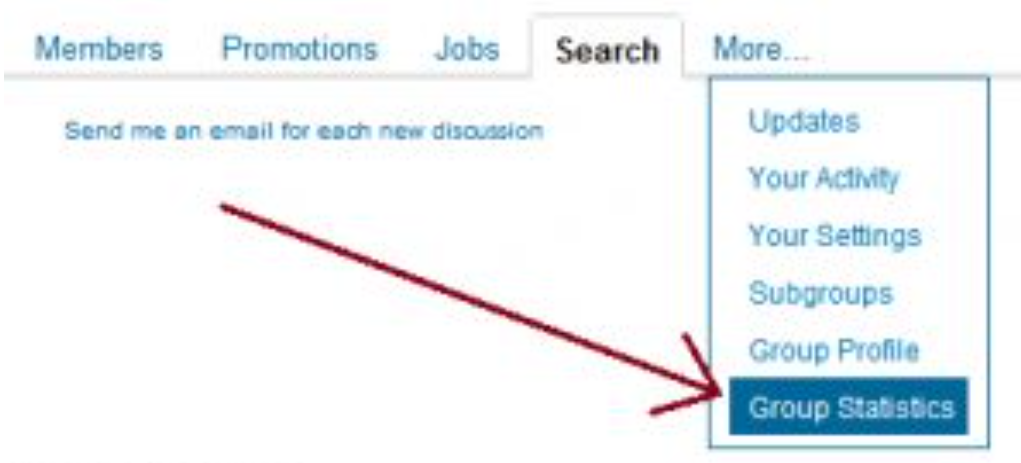 Next step, click the Activity link on the chart navigation bar to see the trends that are performing well and which months get the most comments.
These statistics and in-depth analysis can help you find trends and standout topics that get a lot of attention depending on certain times of the year.
Once you know which periods have high engagement,  review the timeline (back to times)  by scrolling to the bottom of the group discussion thread and clicking the  Go to Archive link. 
This will allow you to find older posts with high engagement.

Scroll to the bottom of the group discussion, and you'll see a Go to Archive link that will make viewing old discussions faster.
Company/business Tip:  Groups are also a great place to try status updates, so you can measure and anticipate the kind of interactions they'll get before you add them to your company page.
 Why do this, since you can't know if a particular post is valuable to your followers? Then the best way is to try the above. It is one of the important LinkedIn business page best practices.
#2: Post regular status updates – especially every morning is a main LinkedIn Business Page Best Practices
According to recent research figures from LinkedIn, posting in the morning is the best time for a business to attract followers. This also shows how important it is to schedule posts during the day to increase post visibility and engagement with people who are in the habit of logging in at the end of the day.
And if you can't or don't have time to update the status manually, then I recommend a tool called HootSuite. This is a tool to post to LinkedIn when you can't update manually automatically. It works great when automatically updating your status on LinkedIn allows you to schedule posts on weekends or when you need to post late at night. At these times, you won't be online. 
One more utility is that it is free & can schedule most of the existing social networks such as Facebook, Instagram, Twitter, Youtube, etc.
However, it must also be reminded that using HootSuite or any other tool to schedule posts does not mean you will batch schedule posts and never log in to check the metrics on the page. You still have to check engagement metrics for each post to see what content is resonating well with your followers and dig into your page's metrics and follower insights to see what's working and what's not.
Company/business Tip: Create a spreadsheet to enter metrics like date, time, post impressions, and engagement stats. This will help you determine what time (date or time) your posts are most likely to reach. And this spreadsheet can also help you determine which topics attract more followers than others or which posts are less engaging. One of the LinkedIn business page best practices is to start with such content.
#3: Add a photo, file, question, link, or minigame in your status update
There's no reason not to try posting photos, files, and text in your status updates. As you know, images make your post "stand out" in the LinkedIn stream, which can help get more attention and engagement with your post.
A link with a status update can help you attract hundreds, if not thousands, of clicks to the link you want your followers to click. So take advantage and drive traffic from your followers to a related blog post with engaging content you've created for your target audience.
The number of likes and comments can indicate a high level of engagement, but the click-through rate can also provide more real-world insights into what content will engage your target audience. (Note: the engagement statistics listed above are not actual data but data from older content)
In addition to posting images, files, or links to interesting related articles, you should also try another form of posting contests, minigames, etc., to help the post attract more followers, get more potential audiences, and collect more money. That's why you must establish such techniques.
For example, the LinkedIn page of Reconverse – a London company – initially had less than 200 followers. However, their first status update helped them get 1,431 likes, 124 comments, and 87 followers for the post's interesting, engaging, and virality.
Test a fun game to see how many likes, comments, and shares you will get, even if you don't have many followers.
Did you even know that with that simple post, they attracted 15 candidates and gained 4 new customers? And in the post that included their second minigame with an iTunes gift card, they even received 318 likes, 11 comments, and 12 direct requests for more information about the services. Reconverse's service.
Company/business Tip: Use LinkedIn's Targeting feature to deliver specific posts to specifically targeted audiences within your group of followers. For example, you post and use targeting to reach only non-employees with a contest or minigame.
#4: Link and promote the LinkedIn page on your own website and elsewhere.
A simple way to increase engagement on your company's LinkedIn page (and gain new followers) is to include your LinkedIn page link, user reviews of your products on LinkedIn, your own website, and email signatures. This will help your fans, and potential customers know about your LinkedIn page, which can help you build credibility for your LinkedIn page and gain more followers.
There is an exciting real-life case where Wild Apricot – a company that manufactures business management software – put customer product reviews on LinkedIn on their website, and thanks. They increased their conversion rate (CR) by 15%. From that real-life case, adding product reviews from real customers (via LinkedIn) helps to add credibility to the product. This helps them get more leads – not including new followers for their page.
Wild Apricot for posting product reviews on the website, helping to increase the conversion rate on the web, increasing the number of LinkedIn followers
Then make sure that by uploading reviews and recommendations from your own LinkedIn customers to your website, you will get more followers and higher engagement on your LinkedIn page. However, there is a small problem if you want to do this, you should first confide in to get the consent of the person who manages the company website because usually the web is managed by the IT department.
Company/business Tip: Try posting long and short product reviews to websites, landing pages, or any other page you want to increase conversions to see what works before simultaneous execution. You can also try another way to post product reviews from different customers who come to your site as first-time visitors or regular visitors.
#5: Use LinkedIn Ads Recommendations is a crucial LinkedIn business page best practices.
LinkedIn Recommendation ads allow you to recommend better/recommend your products and services to your target audience. These advertising campaigns can also help increase your LinkedIn page engagement by bringing in a lot of traffic (traffic) and also because of the recommended product. And whenever someone mentions your product, the ad is automatically shared with that person's followers (which can bring you more traffic and well-conceived recommendations).
Did you know that HP (Hewlett-Packard) has gained more than 20,000 new followers, 2,000 product recommendations, and 500,000 shares, going viral in just a few weeks using LinkedIn Recommendation ads!?!
These tips cover important details and can be applied on individual/personal profiles too and get good result by consistent work. Practice them and see.
How do I optimize my LinkedIn business page?
You can optimize your LinkedIn business page for marketing your business by following these tips:
Upload a professional logo, image, banner and description of your brand for your profile.
Write a compelling , attractive "About Us" section that showcase your strengths and includes relevant keywords.
Publish unique, eye-catching posts and infographics regularly to your Company Page.
Post and engage to grow your audience.
Build a Career Page for your business to become more trusted..
Ensure building a Product Page for your business.
Share your posts and videos on other platforms.
Keep up to date on the LinkedIn algorithm.
Host virtual events on the platform from time to time.
Focus on creating marketing plans better than your competitors in the industry.
Add your team as admins too follow up with you.
Connect and send messages to every interested follower, employee, company on special occassions. Respond to your messages as well and create valuable conversations.
Don't forget you are running an agency LinkedIn business page, so act professionally.
Add CTA (call to action button) to your posts.
What are your top 3 best practices of a successful LinkedIn profile?
The top 3 best practices of a successful LinkedIn profile are building a complete and updated LinkedIn profile, optimizing your profile with keywords and SEO standards, as well as customize your generic profile URL.
How often should you post on LinkedIn as a business?
As a business, you should publish posts two to five times per week on your profile. It is highly recommended to not publish content more than 20 times per month. You can post a caption, image or a video.
Share your posts and content on other platforms too.
How do I get more engagement on my LinkedIn company page?
To get more engagement on your LinkedIn company page, create interesting, high-quality posts for your company as well as engage with every comment to encourage engagement.
Boost engagement with LinkedIn Business Page Best Practices
If you follow these LinkedIn Business Page Best Practices consistently over time, you will definitely help increase engagement between your site and your users on LinkedIn. And from there, they will be more likely to buy products and services from your company.
✅See also: can you earn money from linkedin: 6 ways to earn money on linkedin