What is Google Adsense?
Google Adsense is one of the most popular ways to make money from your blog. You can make money with Google Adsense by placing their ads on your website or blog. You will be paid per click of their visitors on your ads.
However, you will be paid a different rate for every click depending on the CPC of the keyword clicked. However, you have to be aware that the terms and conditions of Google Adsense are very strict. Despite any profit you achieve from that system, any violation of the terms of that system exposes your account to closure and a loss of all your profits. Therefore, always make sure to read the terms of Google Adsense before you decide to make money from your blog.
How to make‌ ‌money‌ ‌with Google Adsense in 5 easy steps?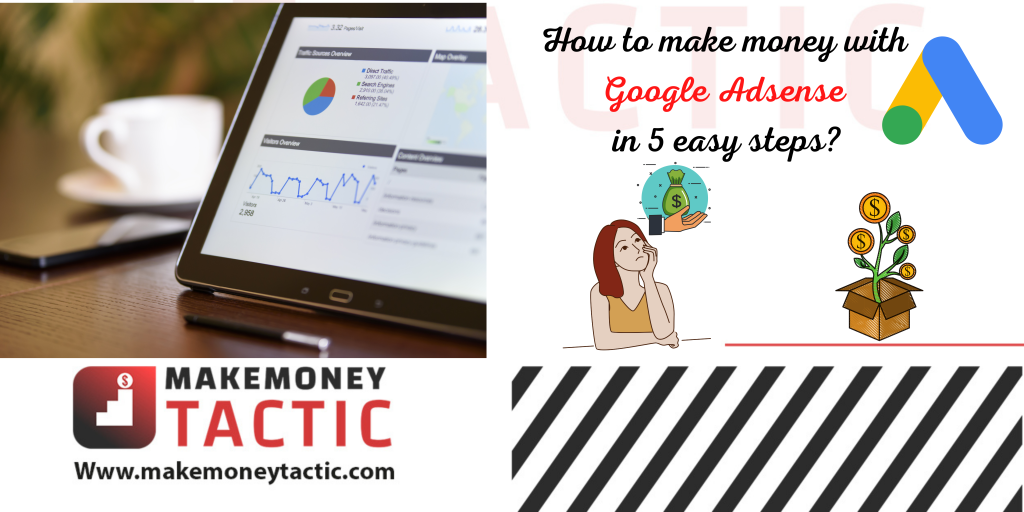 In order to make‌ ‌money‌ ‌from‌ ‌Google Adsense, you have to start building your website and customize it with Google Adsense requirements. Let's check how to do that in 5 easy steps:
1. Choose a good niche
You should choose a niche that matches your personal interests if you are going to write the content yourself.
In the event that you are going to hire freelance writers, you must ensure that there is a continuous source of content for your site.
You should also choose a niche with a good search volume
You can use Google keyword planner to check whether your niche has enough searched keywords. Don't miss this guide about What are The Best Blog Niches that Make Money.
2. Buy hosting and domain name
To make money with Google Adsense, you need a domain and hosting to build your website. Here are many easy options.
You can buy a domain from Goddady or Namecheap for 1$ only. If you are not sure about which of them is the best for you, check this Goddady VS Namecheap comparison.
Additionally, Bluehost, Hostgator and Hostinger offer very affordable hosting packages starting from 2$/month.
However, if you don't have any money at all, you can still start with a blog from blogger or google sites.
3. Create a website
You can ,ake money with Google Adsense by using Blogger or WordPress. If you chose to use Blogger, no need to build anything as it is an integrated tool for creating a website. But if your choice is the advanced and more professional, you must create a website with a paid hosting and domain name. You should refer to this topic: How to build a website from scratch. You will find all the information and important points for creating a professional website.
I will assume here that you have chosen WordPress as the tool for creating your site to make‌ ‌money‌ ‌from‌ ‌Google Adsense because it is easy, professional and creative.
4. Create good, useful and exclusive content for your site
Here we are not talking about any content in order to follow the profit factors from AdSense, but we are talking about content that provides real value to your visitors. It must be exclusive content that does not violate Google's policies and is constantly renewed.
5. Apply for Adsense and place the codes on your website
Now, you just have to fill out the application form in Google Adsense and wait for their email. Once you're accepted, you can open your account and start placing Adsense codes in the appropriate places on your site to start making profits.
We will discuss this point in the following parts.
What are the requirements for AdSense?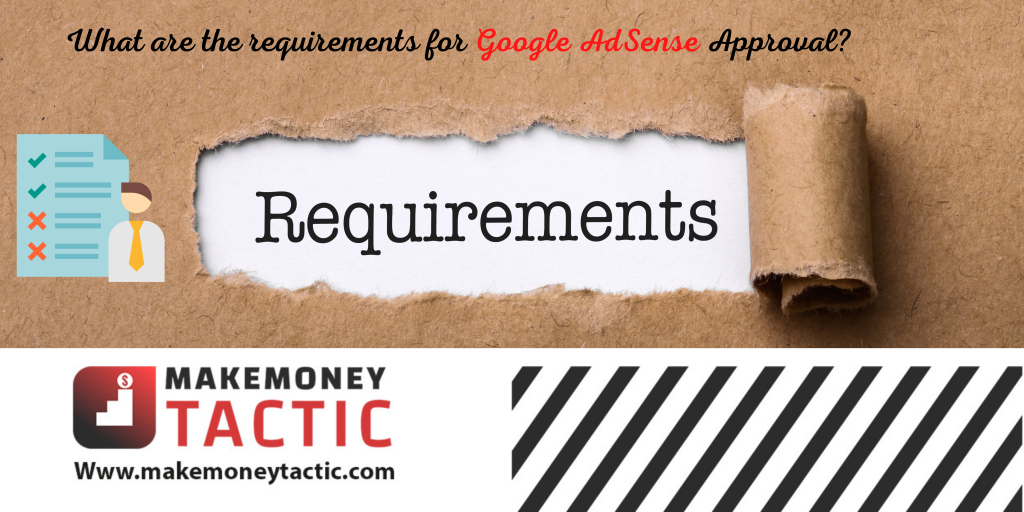 There are many requirements that your site must have before you start to make money with Google Adsense from your blog.
In order to be accepted into the Google Adsense program, make sure that you have a site that meets the following:
1- A site characterized by exclusive and valuable content and compliant with Google Adsense policies.
You have to provide valuable content that really benefits your visitors. In this way, you will get a good user experience which will also help you rank in the first pages in google search.
You must also create content that complies with Google Adsense policies. There are some types of content that are prohibited from participating in Google Adsense.
In quantitative terms, many are wondering how many articles are required in order to apply for a Google Adsense subscription.
This question does not have a definitive answer, but it is preferable that your site contains a good number of articles, say not less than 30 articles. Remember that this element works with the rest of the elements, and cannot be relied upon independently.
2. A well-designed site that is easy for the visitor
As said before, your website must prove a good user experience to be accepted by Adsense. This will be achieved by a good, simple design where visitors can move easily between categories. your website must also be compatible with all devices.
The pages of your site should also be linked together to facilitate the visitor's transition between the pages of the site.
Since we are talking about WordPress here, you just have to use the appropriate plugins.
3. A site that contains administrative pages that serve the visitor
Your site must contain the administrative pages that the visitor needs to make money with Google Adsense. These pages represent the official interface or image of your site.
Here is a list of the administrative pages that must be present on your site to make‌ ‌money‌ ‌from‌ ‌Google Adsense:
This serves the user directly when he wants to contact the site administration.
Terms and Conditions page
This shows the visitor what to follow when using your site.
This shows the visitor how the site deals with its data. It is worth noting here that it should be mentioned in this document that you are working as a publisher with Google Adsense. Moreover, if your site contains affiliate ads, you must also mention that.
This contains the story of the site's creation and the goals it seeks to achieve, through the content it provides.
How to create the administrative pages?
If you feel a little confused about these pages don't worry, the Contact Us page you can get with a simple WordPress plugin like Contact Form 7.
As for a page about the site, you do not have to write it, except to answer the question "Why did you create this site?", and the goals you want to achieve for your visitors.
The terms and conditions page and the privacy policy is a semi-fixed form. Most sites use it with some changes according to the conditions of the site.
I recommend using h-supertools generator to write them.
4- A site that gets a good number of visitors can make money with Google Adsense.
In order for Google to accept your site to participate in the AdSense program, it must have a good number of visitors every day.
This of course depends on the quality of the content on the one hand, and your marketing plan to get visitors on the other one.
How to apply for a Google Adsense account?
Now that you know the most important criteria for accepting sites in Google Adsense, and you are sure that these creteria already apply to your site. Then let's start explaining the steps for registering in Google Adsense.
To register and make‌ ‌money‌ ‌from‌ ‌Google Adsense, follow these steps:
1. Sign in to your Gmail account
This step is a proactive step (we do it now because we will need it shortly), here you need to log in to the Gmail account that you want to use in the AdSense account.
If you don't have one, you have to create a new one.
2. Go to the Google Adsense registration page
Go to the Google Adsense home page and click Start. Then, register a new account unless your account is already opened on your browser.
You will be redirected to the agreement page that looks like this: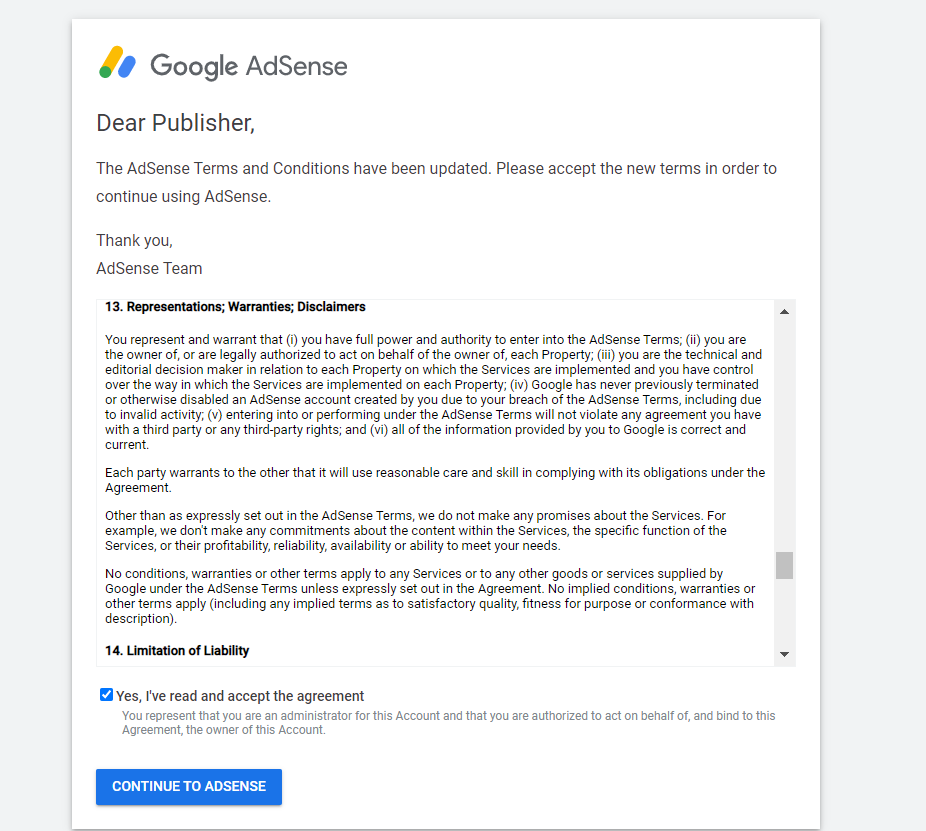 Tick the box to continue to Adsense. You will be redirected to your home page.
3. Go to the sites
You can do this by pressing sites in the dashboard then ADD Site
4. Enter the website link and email
Enter your website link, and your email (which you signed in to in the first step), and choose Yes below (i.e. agree to receive messages from Google with tips and suggestions). Then click the "Save and Continue" button, as shown in the image below. Then, click Save and Continue.
5. Choose the country and agree to the terms
Choose the country, mark your acceptance of the terms, then click the Create Account button.
Note: On the registration page, you will find that Google has detected the account that you logged into in the first step.
6. Enter the detailed address data
After pressing the Create account button in the previous step, your account will be created and you will be transferred to it to complete the data and activate the account.
Note: At first, you may find a pop-up window containing notifications about new features that have been added to AdSense, you can browse these features through the arrows and then click on the start button.
After skipping the notification window, you will find a page with detailed address data.
This is an explanation of each statement according to their arrangement, as shown in the image above:
Account type (you will find it selected automatically, but you can change it to commercial if you want by clicking on the pen icon).
The name (it will be extracted from the user's Gmail account), and of course you can edit it.
Address 1 (Enter your address accurately and clearly).
Address 2 (You can write more details about your address, or leave it blank).
Type the name of the city you live in
The province (choose the province or state in which you live).
Enter the zip code (if you do not know it, search for the name of the city or region and you will find sites that contain a directory of the zip code for each city).
Phone number (an optional step but we highly recommend writing your own phone number.
After filling in the data, click the Submit button.
7. Connect your site to Adsense
After entering your address data in step 6, and pressing the Submit button, you will be taken to a tab with a code to implement in your website. 
This code links your website to your Google Adsense account.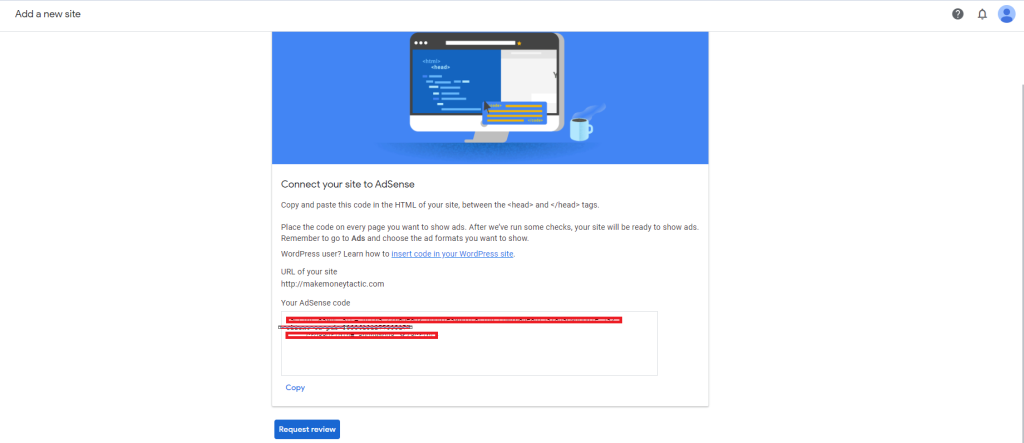 Placing this code on your site is an inevitable step to start evaluating your account and then approving it.
-You can refer to your web developer to do this step (tell them that you want to place code within the HTML of the site, specifically between the <head> and </head> tags.
-If you are using WordPress, you must follow these steps:
When entering your WordPress dashboard, go to the Appearance tab and then to Widgets.
On the widgets page, create a text widget on the article pages in the sidebar.
You can do this by dragging the text widget, and inserting it in the space provided for it to appear in the article pages.
Put the AdSense code in the text widget box and click Save.
Now go back to your account on Adsense, and mark in front of the phrase "I have pasted the code on my site". Then click on the Done button below.
Google Adsense will review your site and send an approval message to your Gmail if it is compatible with Google's terms. Or, you'll get a rejection message will be sent with the reason for rejection. Now, you can use your website to make‌ ‌money‌ ‌from‌ ‌Google Adsense.
The most popular places to place Adsense ads on your site
Now that your AdSense account has been accepted, you should start placing ads on your site.
The most important and most popular places on your site to place Adsense ads are in the header, sidebar, middle of articles and within the content of the article companies.
Note: If you are using a responsive WordPress theme, you should set your ads to be Responsive too.
Types of Google Adsense ads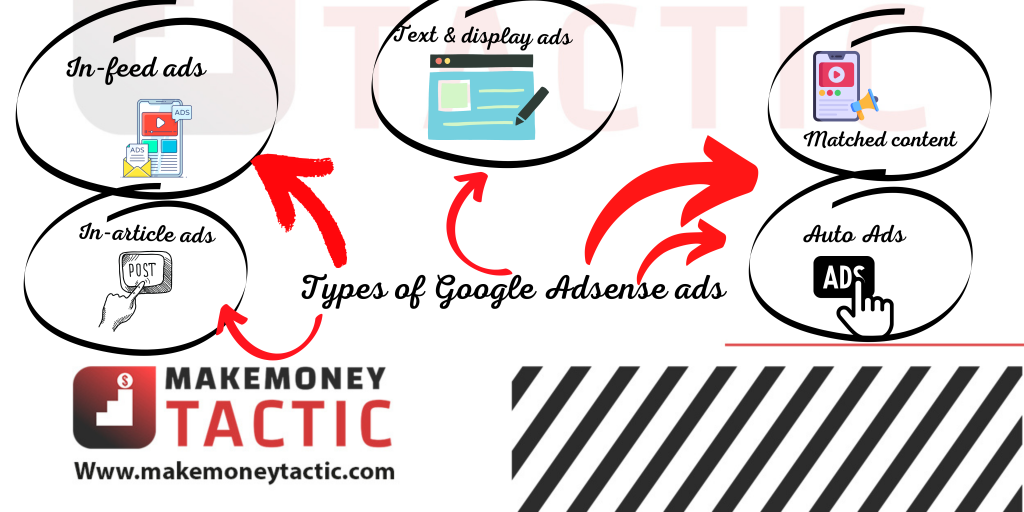 In this part, I will explain the types of ads that Google Adsense allows you to choose from to place on your site.
Text & display ads
Text and image ads are often used under the header, above the footer, and in the sidebar.
As we mentioned a while ago, to get a suitable size for all types of screens, you must choose the responsive option while setting up the ad.
In-feed ads
This type of advertisement is intended to be placed among a list of displayed articles, either on the section page or the hashtag page. And you can make the appropriate settings in size and dimensions, in order to be completely identical to the width of the articles in the list of articles.
In-article ads
This type of ads is intended to be placed in the middle of the textual content of articles. Some of its properties can also be controlled to be proportional to the content.
Matched content
This type of advertisement is intended to be placed below the content of the topics, appearing as suggestions for other topics that the reader may prefer.
It is worth noting here that not all sites participating in AdSense, are allowed to use this type of ads.
To make sure that this type of AdSense ads are available for your site, go to the settings page in your AdSense account.
Then click on my sites and then click on Matched Content. You should find a green checkmark in front of your site name on this page of your account.
Auto Ads
This is a different and new type of ad that can be used on all pages of the site in general. However, it is intended for mobile visitors only. It appears according to a special formula determined by Google Adsense based on the experience of each visitor separately.
To activate it, copy the code and put it in a text widget, in the same way as placing the new AdSense account activation code.
You can access it through My ads and then Auto Ads.
Best practices to make money with Google Adsense
1. When you receive a rejection letter, fix the reasons for rejection and apply again. Even if the latter was rejected as well, improve your site more and apply again.
2. In order to work as a publisher with Google Adsense, you must own a website with valuable and unique content. You must also continue to provide your site with good and valuable content, as working with Adsense is a continuous work, not a phased one.
3. Do not violate Google's policies, even if you find some sites doing so without punishment. The risk here will be sacrificing your account and its balance.
4. Working as a partner with Google Adsense is like any other business, it depends on experience and testing. Do not stop when the level of your profits does not suit the level of your effort. You just have to develop your website, give more value and get more visitors. Your profits will improve in a short time.
5. Invest in visitors to increase your profit rate.
Whenever you find a good channel to drive visitors to your website and make a profit, invest in this channel.
6. Google Adsense will give you 68% of the profits you get from advertisers.
7. Profits are calculated either based on the clicks on the ads, or based on the impression. You will find in your account two types of earnings, one based on clicks, and the other based on the impression.
8. There are a lot of ways to place ad units on your site, and this basically depends on how your site was built.
If you are using WordPress, here are the most important ways to place ad units:
By template (there are plenty of WordPress themes that come with a lot of features to set up and manage your AdSense ad units).
Via widgets
Through add-ons (the best add-on in my opinion for placing Adsense ads is an ad inserter)
9. Google Adsense provides a lot of payment methods, which you can choose from to receive your monthly earnings.
Note: You will get the earnings for the elapsed month on the 21st of the following month. For example, your earnings in the month of January will be sent to you from Google Adsense on February 21st.
What are Google Adsense payment methods?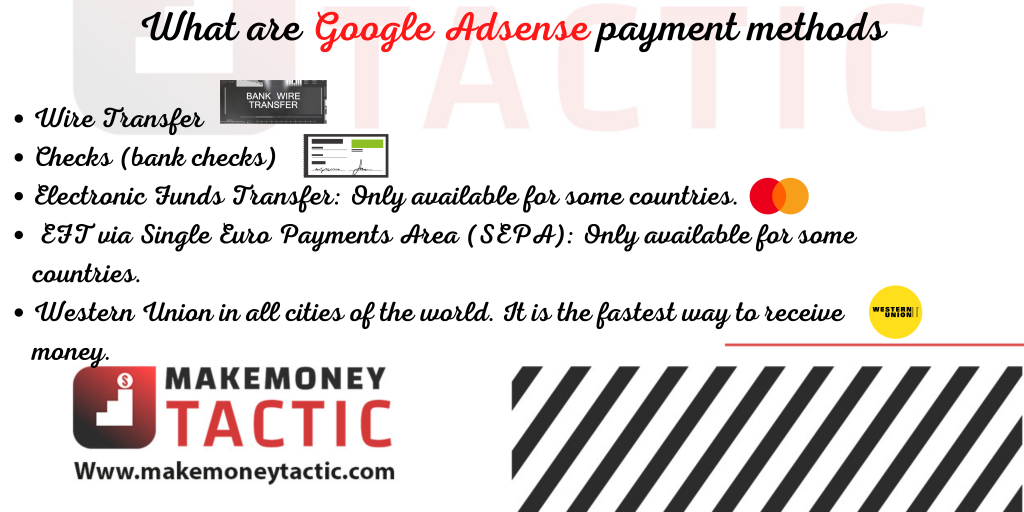 These are the best Google Adsense payment methods provides to pay monthly profits:
A/ Wire Transfer: You must have a bank account to get your earnings through it.
B / Checks (bank checks): It does not require having a bank account, but it takes a long time to cash it compared to other methods.
C/ Electronic Funds Transfer: Only available for some countries.
D/ EFT via Single Euro Payments Area (SEPA): Only available for some countries.
E/ Western Union (Western Union Money Transfer Bank): Western Union is a money transfer bank with branches in almost all cities of the world. It is the fastest way to receive money.
Choose one of these Google Adsense payment methods to receive your payments.
What are factors that determine Google Adsense payment rates?
Google Adsense payment rates depend on a lot of factors, and here I will list the most important ones:
1. Your niche
We mentioned earlier that there is a targeting system that Google follows in placing ads on your site so that the ads fit with the content of your site. Moreover, the price of the click varies from one advertisement to another according to the field.
For example, the level of profit of a site that specializes in providing tips on forex differs from a cooking website. The ads will differ in each site from the other as well as the CPC of keywords.
2. The number of visitors to your site
This is an intuitive point, but we have to mention it here because of its importance. It is obvious that the visitor's element is a pivotal element for making a profit from Adsense. So, you can find many Adsense publishers rely mainly on Adsense arbitrage to achieve the maximum rate with profit.
3. The quality of the content on your site
This results in the average time the visitors spend on the site, which increases the chance of more ads appearing in front of them.
4. Location of ads
This is an organizational process that depends on the design of the site, the nature of visitors, and the nature of the content on the site as well.
5. The number of ad units per page within the site
There are some experts that say that in many cases, the effectiveness of 3 ad units per page is better than the effectiveness of 5 ad units.
6. Geographical location of your visitors
The price of the click of a European visitor on AdSense advertising differs from the click of an Egyptian visitor on the same advertisement.
7. The nature of your visitors
Whether your visitors are males or females, their average age, interests, and education level, etc.. effects on Google Adsense payment rates.
8. Using Allow & Block Ads
This is a feature that Google Adsense provides to publishers, and through it you can block some ads from appearing on your site. You can block ads that pay less or are inappropriate for your visitors. Instead, show ads that pay more or are more relevant to your content, that will increase your earnings.
9. Percentage of clicks out per total page views with the ad CTR
CTR or Click Through Rate: It means the percentage of clicks obtained by ad units from the percentage of total views of the pages where the ads are located.
This percentage is not fixed, as it depends on many factors, including the visitor's stay on the page. Tis includes the extent of the relationship between the advertisement and the content of the page. However, in general, this percentage ranges on average between 1 and 3 percent.
In the end, in order to give you an answer in numbers, the price of a click in Arabic content ranges from 2 to 6 cents. This is the average price of a click, which is affected by all the factors I mentioned above.
A practical example of Google Adsense rates
An illustrative and practical example to answer the question of how much do I earn from Adsense:
You have a website that talks about the world of fashion and gets 10,000 total page views every day.
Your site's CTR is 3%.
The average click price for your website is 4 cents.
Based on these data, your total monthly earnings = total daily page views of your site multiplied by the CTR multiplied by the average click price multiplied by the number of days of the month (30 days).
Applying this equation to our example, the total monthly profits for the site will be: 10000 * 0.03 * 0.04 * 30 = 360 dollars
Note: This is an approximate example to illustrate the idea, but in fact, the results differ according to many variables. Even sites that talk about the same field and get the same visitors can achieve slightly different results, according to other factors such as the quality of content or where ads appear… etc.
The most important tips to make money with Google Adsense and keep your Adsense safe ..
and always make sure not to click on your ads.
Don't click on your ads.
Do not create more than one account, you are allowed to create only one account.
Do not place ads that follow the same pattern as Adsense ads because this action is against their terms.
Don't mess around with your ad code so your ads won't get blocked.
Stay away from illegitimate pressures because Google can easily detect these methods.
Make sure to read the AdSense terms of service well to avoid closing your account.
.