You might be asking yourself what is a good Meta Description, and What is Meta description used for. Actually, the meta description is considered to be the "ignition" that sparks emotions and stimulates potential users to click on your webpage. So what is the meta description, and how to write meta descriptions for SEO so that the user just looking at the first line wants to click to read it right away? Let's learn this topic together with Makemoneytactic.
What is a Meta Description Used for??
The meta description is an HTML tag used to describe the content of a webpage. This description appears below the page's title and URL when displayed in search results. The meta description should only be about 140 – 160 characters to display fully on Google.
<head> <meta name="description" content="When writing a meta description, keep it between 140 and 160 characters so Google can display your entire message. Don't forget to include your keyword!" ></head><br/><br/>
✅See also: Types of SEO Content that Rank in Google: Hack the SERPS
Meta descriptions for SEO: Why they are important?
Why are meta descriptions important? The meta description position is right below the title and URL on the results page, so it significantly influences the click-through rate (CTR). Many studies have shown that inserting keywords into the meta description signals relevancy for search engines to rank for you.
In search results, meta descriptions have more "army land" when displaying two lines instead of one, like title and URL. Therefore, take advantage of the meta description to convey meaningful messages to users, and stimulate them to click on search results, but do not stuff keywords indiscriminately.
Meta Descriptions for SEO: How to write Meta Descriptions for SEO?
Since CTR is seen as a potential ranking factor, the most effective way to make meta-description SEO-friendly is to write to get as many clicks as possible.
Imagine your search results like a traditional magazine ad. This type of print ad uses headlines and taglines to encourage users to call or visit a store to purchase a product.
With search results, your title is the headline, the meta description is the tagline, and the URL is the address to go to. To create the most attractive meta description, you should use active language to encourage users to click on the result.
Main factors of a successful Meta Descriptions for SEO
How to write a description that accurately conveys the unique selling point of the website? Ask yourself why your results are better than all the others. Don't be afraid to breathe emotion into the message you want to convey because emotional advertising is inherently successful when it hits customers' emotions.

With the above example, it is easy to see that this company provides air conditioning repair and installation services. But more importantly, they "provide comfort and reliable advice when customers need it most." Imagine that when customers are frustrated and annoyed in the hot weather, who will they come to and trust the most?
Research from the University of Glasgow's Institute of Neuroscience and Psychology in 2014 found that human emotions fall into four categories:
Fun
Get upset
Angry/Disgusted
Scared/Surprised
Apply these emotional elements to the meta description. Indeed you will be surprised by the effectiveness of these emotional levers.
Tips for writing meta descriptions for SEO
With an area only enough for 1-2 lines (160 characters), your task is to properly integrate reasons to convince users to visit the webpage through a clear call-to-action, touch the right emotions or offer specific benefits to visitors. Try to connect emotionally with the customer in up to 2 sentences.
The following two cases should be avoided:
The meta description is too long: Google will cut it, making it impossible for users to grasp the message you want to convey fully.
The meta description does not make sense: Users will not care and choose to click other results with clearer messages.
Each webpage should have its own meta description. Research on on-site SEO from SEMrush shows that nearly 30% of websites have duplicate meta descriptions, and 25% have pages that don't have meta descriptions.
✅See also: How to Write a Blog Post that Ranks in Google
Ideal length of meta description
To encourage users to click on results and visit your website, you need to meet a few criteria for meta description length:
Should only include 1-2 sentences (140 – 160 characters)
Always contain keywords
Add call-to-action if appropriate
Avoid duplicate meta description
Rich in meaning, matching the content in the webpage
Touching user emotions
How to use multiple meta descriptions for a webpage?
John Mueller – a representative from Google, answered a question about using multiple meta descriptions: "If you use a second meta description for a page, we will treat it as an 'expanding' action for the first meta description. There are no extra points for using the second meta description tag."
The SEJ report also quotes John Mueller, said that Google will still accept additional titles and meta descriptions for pages. Still, writing only one meta description and title tag is best.
In general, using multiple meta descriptions is still acceptable. The reason is that Google has more options when displaying meta description information that properly responds to the search query from the user.
Purpose of using multiple meta descriptions
This goal is to satisfy search engines with the right meta description tag, thereby increasing CTR.
For example, with a post that explores the topic of "keyword research," we will target the following two phrases:
What is keyword research?
Keyword research tool
It is clear that these two clusters refer to two different search goals, but they are related. The goal of using multiple meta descriptions now is to have two separate but related descriptions for each cluster.
Therefore, if a user searches for the term "what is keyword research," the search engine will display a meta description written specifically for that term. Similar to the phrase "keyword research tool."
However, it should be noted that there is no 100% certainty that the rarity engine will choose to display the correct meta description you want.
How to use multiple meta descriptions for one page?

The way to do it is very simple. You just need to add the second meta description in the middle of the <head> tag as above. The meta description must reflect the search intent of the highest search volume keywords the page is ranking for, helping search engines choose the right meta description that best matches the user's query.
Should I use multiple meta descriptions?
It's still best to use a meta description unless you have the purpose of "dominating" the search engine results, as listed above.
✅See also: What are Heading Tags AND What is the Purpose of Heading Tags AND How to use it for SEO?
Meta descriptions for SEO: Online tool to check meta description – Semrush Site Audit
This tool shows a list of problems you are having, such as missing or duplicate meta descriptions at any location.

Semrush on-page SEO checker
The tool helps to check if you have keywords in the title and meta tags, suggests keywords to use, and suggests optimization tips specific to each page on the website.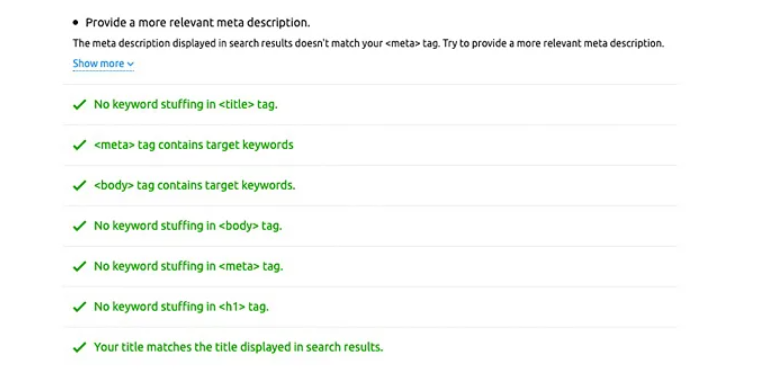 Portent
This tool allows pre-testing the display of meta descriptions on search results pages. In addition, you can also check the pixel length of the title, the number of characters in the description, etc.
We have just learned what meta description is and how to write an effective meta description to maximize CTR for the webpage. Wish you will be successful when applying some valuable tips above.
✅See also: How to Drive Traffic to Your Website: Learn the 33 Free Methods