When it comes to choosing the best domain name deals and hostings for your website, Namecheap and GoDaddy are the best two networks as they are popular for providing domain name and web hosting, but these two networks are not as similar as you think. Because choosing a domain name and web hosting is the first and the most important decision you take to build your website, we will discuss here everything related to Namecheap vs GoDaddy, and decide which is best for domains & hosting in 2021.
To be honest, I see no sense in asking whether Goddady or Namecheap is the best as both of them have a lot of features to offer.
For many reasons, Namecheap is considered easier and cheaper to deal with as it offers a seamless managed WordPress platform, in addition to other important features like SSLs.
Although the price of purchasing a domain is cheaper on Godaddy than Namecheap, the latest is still considered cheaper than Goddady when it comes to renewing domains and getting bigger plans.
For many people, especially me, Namecheap is better when choosing a domain and a host for many reasons, but we can't also ignore that GoDaddy has got its benefits too, and it is preferred by a lot of users. To know everything about each one, you have to read more.
Domain Names
Namecheap and Goddady offer cheap domains for the first year, but what will happen after one year?
Let's start with comparing the best domain name deals and hostings of each. You're making a new website and you wanna buy a domain name. You will be confused about which is the best site to get it from. You will recognize that the same domain name, with the same extension will probably be found on both platforms. Usually, Godaddy will have less price, so you will buy it from there directly. Let's look at this domain: fggcgd.xyz. If you check it on Godaddy and Namecheap, you will find it for a low price. However, did you look at the renewal price? Here is the core of Namecheap vs GoDaddy battle.
GoDaddy's domain name prices VS Namecheap's domain name prices
For the domain mentioned above I got a low price on both Namecheap and GoDaddy, but when I looked at the renewal fees, the difference was massive. GoDaddy offered a price 40% higher than that on Namecheap. I guess we all must check this issue before buying.
Additionally, this is not the whole story as Namecheap offers its customers a free custom nameservers and free WhoisGuard ( WhoisGuard is important to hide your personal information and not leave it public for everyone when you register a certain domain name). On the other hand, GoDaddy charges extra money for nameservers and WhoisGuard.
I don't know if you heard about it, but GoDaddy's DNS (Domain Name System) was hacked earlier this year. This makes me worried about waking up one day to see that hackers had set up fraudulent subdomains on my websites. Fortunately, this security breach was totally fixed, but I can still imagine it happening again.
First Round: Namecheap is the winner for having a lower renewal domain price as well as privacy protection.
Interface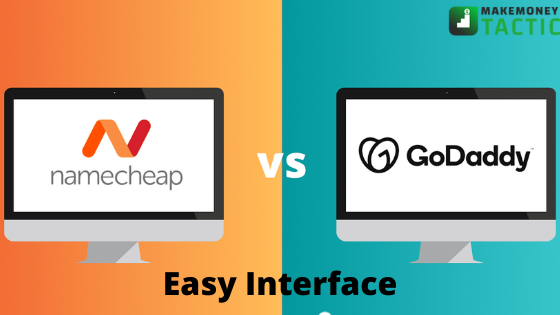 Namecheap also comes out on top when you look at the domain name interfaces.
When dealing with such a platform, we need an easy domain name interface as well as an ability to navigate between all pages easily and fast. That's why Namecheap tends to keep its interface as clear and easy as possible, preventing any unnecessary things from bothering the user.
On the other hand, no need to talk about GoDaddy's complex domain name interface as we all know it.
Second Round: Namecheap is the winner for having a clear and easy domain name interface.
Monthly & Renewal Pricing
Hosts are Cheaper on Namecheap than on GoDaddy
ًWhen checking platforms that offer hosting services, we see them offering enticing prices to lure you, and when it's time to renew your plan you pay higher prices.
However, this fact is much away from Namecheap. If you choose to pay monthly, you'll see that the prices of the hosts stay the same when you renew. On the other hand, you get a special offer with annual payments as you save up to 50% on your first year of hosting, then you pay the standard expenses the first year. Do you think the renewal rate is massive? No, it's still a fraction of GoDaddy's renewal rate.
To be honest, GoDaddy's renewal prices aren't so high compared to the introductory rate. When you renew your GoDaddy plan, you pay the first price plus 25%. This price is considered low compared to many popular hosting companies, but still more than Namecheap.
Unfortunately, to get the best prices from GoDaddy, you must sign up for three years. Actually, I can say it out loud that I don't recommend GoDaddy's monthly plans because you'll have to pay over 3x more than Namecheap's monthly plans.
Third Round: Namecheap is the winner because it offers cheaper hostings than GoDaddy and provides the option of paying better monthly fees.
Advanced Features
ًFeatures which are important to your website may not be of the same importance for others:
It is too complicated to compare hosting as each one has different features. Some provide free domain names while others give more storage, so we tried to make it clearer and make a table to show you all the details you need:
| | | |
| --- | --- | --- |
| Feature | Namecheap | GoDaddy |
| Storage Space | 20 GB, 50 GB, or unlimited, depending on the plan | 100 GB to unlimited, depending on the plan |
| Money-Back Guarantee | 30 days | 30 days |
| Free Domain Name | Yes, a .website domain for one year; all other extensions have a fee | Yes, for one year, with annual plan |
| Automatic Backups | Yes, twice weekly on all plans, plus the AutoBackup tool on all plans except the most basic | No, backups are only available as an add-on or with GoDaddy WordPress hosting |
| Free SSL Certificate | Yes, up to 50 free SSL certificates | Only on Ultimate plan and above |
| Bandwidth | Unmetered | Unmetered |
| Free Site Migration | Yes | No |
| Email Accounts | 30 to unlimited, depending on your plan | One free Microsoft 365 account for one year |
| One-Click Application Install | Yes | Yes |
Compare the best domain name deals and hostings
Fourth Round: Namecheap is the winner if you are not looking for the biggest storage space, especially that the storage space given is more than good for most users. Yeah, that's right as namecheap gives you free SSL certificates, free website migration and at least 30 email accounts no matter what plan you choose. However, if your priority is a large amount of storage space, then you might prefer GoDaddy.
Performance
In general, every platform claims that it has a 100% uptime guarantee on its sales pages, but is it right?
For Namecheap, we've checked out the service-level agreement (which is also called SLA), and found that it is just a 99.9% uptime guarantee. Then we checked again many times to see that their uptime has been below 99.9% in recent months which must also be considered when choosing your plans.
On the other hand, GoDaddy also has a standard 99.9% uptime guaranteed and it doesn't drop below this number achieving much less downtime than Namecheap.
Fifth Round: Goddady is the winner! It finally got a chance to win, providing a more impressive uptime record than Namecheap.
Support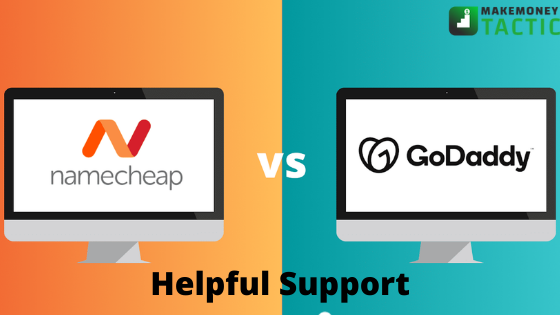 In addition to comparing the best domain name deals and hostings, the support is one of the main features needed for a successful online business. Your host carry your site and it is crucial to find help when you need it. After our experts' tests, we found out that Namecheap's Support cna be reached 24/7 On the other hand, GoDaddy claims that customer support is available 24/7, but it is a bit not true as the chat support is not available on the weekends, and you tickets are not available at all.
Sixth-round: Namecheap is the winner for having customer support 24/7, fast live chat responses and a good ticketing system.
Namecheap Is Better for Domains and Hosting
Although it still has some tiny problems, Namecheap is the winner here for the best domain name deals and hostings as it has have acceptable renewal rates as well as free backups and SSL certificates. GoDaddy only has a better uptime record which is not the most. important thing in the game.
Did you buy Your domain and host? Now let's build our website. Check this tutorial about How To Build A Website With WordPress From Scratch