SEO tools are an essential part of making it easier and simpler for SEOs to optimize website performance, as well as manage and track their rankings on search engines. In this article, I will show you theTop SEO Tools for Digital Marketing in 2022 that we have selected and evaluated according to our own criteria.
What are SEO tools?
SEO Tools is search engine optimization software that helps webmasters improve visibility on Google. The content mainly involves assisting SEOs with keyword research, analysis and link building, SEO Technical, and keyword ranking monitoring.
Most SEO tools are software created as a service application that can be used online for a monthly fee or free. With Google's ever-changing algorithm, it's impossible not to have a few different SEO tools for each specific job purpose.
For example: If you build content for your website, you can use Ahrefs to research keywords and Majestic to analyze backlink profiles.
Also, according to the foreign literature I consulted, only 10% of websites on the internet receive Google's organic traffic. Choosing and using the right tool for your SEO strategy is extremely important.
Top SEO Tools for Digital Marketing: The best paid SEO tool 2022
Ahrefs – One of the best SEO tools for keyword research
Advantages:
Huge web link index.
Rich documentation and complete user support guide.
Easily track and analyze backlinks.
Integrated advanced filters for advanced users.
Get a free experience as soon as you sign up for a new account.
Defect:
Not available on mobile apps.
High fee of 2 million VND/month for the Lite package.
Since the release in 2011, Ahrefs has quickly attracted many interested and used SEO users. This tool boasts the most extensive backlink index, with over 295 billion indexed pages and over 16 trillion backlinks.
Ahrefs is a collection of tools to help you discover and grow your website. It gives you a visual view of each project's rankings, traffic, and backlinks.
According to Mr. Ajmal – Grow Marketing Manager at Ridester, shared:
"Ahrefs is our favorite tool for various aspects of SEO like keyword research, rank tracking, competitor research, SEO audit, viral content research, and more. That will be the domain comparison tool." Those are the main reasons you should use Ahrefs as the best SEO tool for 2022.
SemRush – Best SEO tools for competitor analysis
Advantages:
Intuitive and detailed competitor metrics analysis
Easy-to-use dashboard with lots of essential information
The toolkit has a comprehensive feature set with many types of data (traffic, display ads, recommendations, topics, etc.)
Defect:
There are many complex terms.
The Pro subscription fee is high.
The SemRush SEO tool retrieves detailed summary keyword analysis reports for whatever domain you manage. Best of all, it allows you to compare the performance of your pages with your competitors, which can also tacitly assist you in building links for your website.
Not inferior to Ahrefs, SemRush also owns a vast data store, specifically nearly 17 billion diverse keywords, and is constantly updated every day. The price for the Plan package to use this tool is more than 2 million VND/month.
Majestic – one of the Top SEO Tools for Digital Marketing:
Advantages:
Easy-to-use interface, powerful analysis reports
Keep a close eye on your competitors' SEO efforts
The TF and CF metrics are helpful, representing the actual value of the site.
Defect:
Backlink Explorer does not include all links.
Some business records are excluded.
APIs for large companies sometimes don't provide enough actual data.
Not effective for keyword research.
Majestic is the best SEO tool rated by many people with 2 pretty or "legendary" words. This tool mainly helps you build links for the page because it provides the complete "authority" aspect from quantity to quality backlinks pointing to a page or the entire website.
The price paid for this tool in the Lite package is more than 1 million VND.
Moz Pro – A great SEO tool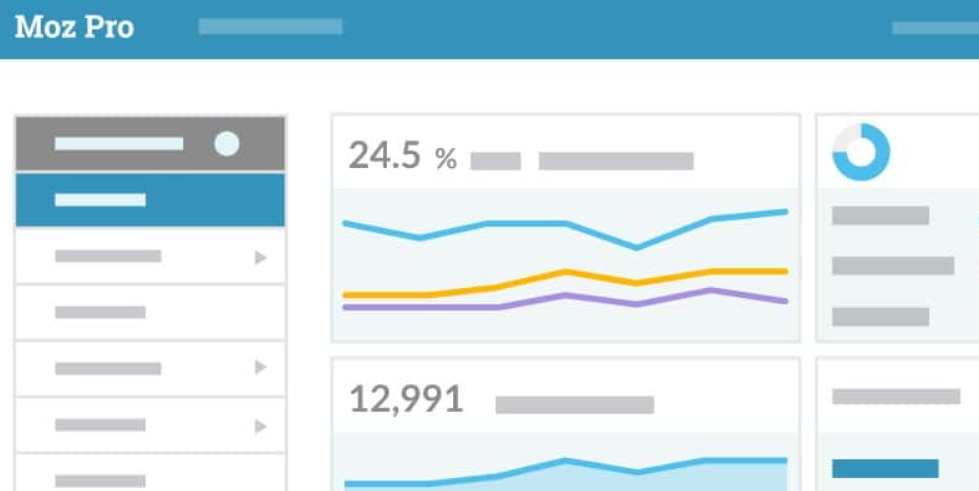 Advantages:
Own a toolkit that integrates many unique features
Crawl more pages in a website audit campaign.
Strong ability to consult and market products and services.
Defect:
Limited research queries (150 keywords to analyze per month upon subscription).
Moz is a top SEO tool that helps you increase traffic and visibility on SERPs. Its main function focuses on testing the website, retrieving data highlighting potential problems, and recommending solutions.
Kyle David Group Marketing Manager, Ms. Keri Lindenmuth, also commented on the Moz tool:
"The favorite feature of this tool is the on-page optimization feature. It tells you exactly what steps you can take to improve the SEO of every page of your site."
KWFinder – SEO tool for keyword research
Advantages:
The interface is beautiful and intuitive, with support for searching in Vietnamese with accents.
Powerfully aggregated data for keyword analysis
Own a convenient data filter.
Defect:
There is a paid trial plan with limited time and a number of searches.
Not ideal for competitor research.
Affected when the Internet connection is not stable.
Choosing KWFinder for SEO is ideal for beginners because it helps you find long-tail and low-SEO keywords. In addition, you can also use it for search results page analysis, link profile analysis, and rank tracking.
Keywordtool.io – SEO tool for keyword research

Advantages:
Easy-to-see interface, easy to operate by users.
Support searching a large number of related keywords.
Defect:
If you use it for free, you will be limited in analyzing competitors' keywords.
There is a fee.
KeywordTool.io is a tool that suggests new topics when you run out of ideas. Thanks to it, you can expand your potential customer file and support perfect long-tail keyword searches.
Screaming Frog – Top SEO Tools for Digital Marketing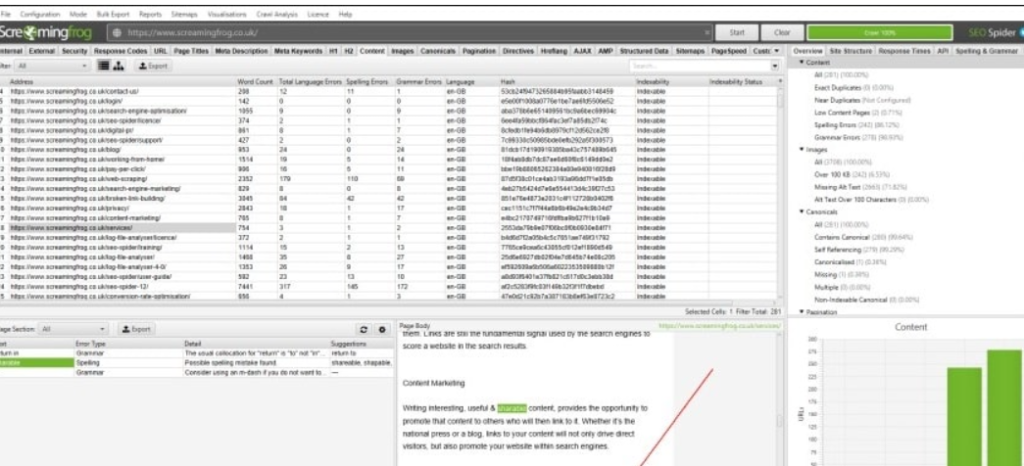 Advantages:
Provide many support tools for online marketing campaigns.
Crawl broken links quickly.
Find temporary or permanent redirects and loops.
Efficiently connect with Google Analytics API to get data like traffic, bounce rate, etc.
Defect:
Dense interface layout.
Few paid plan options
High cost compared to rival software.
The main use of ScreamingFrog is to track broken links in a certain website. Above all, it provides SEOs with many extremely useful information for different purposes, such as improving website structure, content, HTML tags, backlinks, etc.
Top SEO Tools for Digital Marketing and Blogging: 5 best SEO tools 2022 for free
Google Search Console
Advantages:
The tool informs webmasters of any crawl errors on the site.
Structured data error message.
Track links to your web pages.
Defect:
Difficult to use for beginners.
It's hard to contact someone to solve a problem or find instructions on fixing the errors reported by the tool.
SEOs consider Google Search Console as a search engine optimization software solution provided by Google. This is a great free tool to track keyword positions, impressions, clicks, and CTR… Best of all, it helps you quickly update your sitemap and remove pages that are no longer valuable in the search Results.
Greg Dugan, director of Creative Design Group, also made the following assessment: Google Search Console helps me keep my sites up-to-date and discoverable on the web. I have connected Google Search Console to Google Analytics.
Google Trends – A Top SEO Tools for Digital Marketing
Advantages:
Allows you to view and analyze the search data in a certain location.
Lets you know information related to trending topics.
Can be compared with multiple keywords or search terms side by side.
Easy to use, simple intuitive interface.
Defect:
Limit analytical data on search trends
No integration with other Google products yet.
Google Trends is the best SEO tool for beginners to identify popular keywords. Above all, it is extremely useful for Google advertisers, helping them to initially plan the campaign and research the right keywords to optimize the account.
Google Keywords Planner – Amazing SEO tool for keyword research
Advantages:
Ad group recommendations and geo-targeting combined by keywords.
Maximum CPC of keywords and competition.
Search volume
Integration with Google Analytics provides an ROI tracking mechanism.
Defect:
Do not provide negative keyword lists for Google Ads campaigns.
Do not recommend long-term keywords
The keyword density check option is not available.
This tool is suitable for all business categories, from Google Ads to keyword research. Depending on the campaign's situation, you will need to rely on it to achieve the set plans, such as communication goals, including estimating keyword bids to support SEO.
Google Optimize – Top SEO Tools for Digital Marketing
Advantages:
User-friendly interface, easy to use
Run A/B Tests
Website optimization, making the landing page more user-friendly.
Improve conversion rates on the web
Defect:
There is no built-in reporting substitute for use with Google Analytics.
It is difficult to set some rules according to the needs of each person.
Not likely to work for mobile apps.
True to the tool's name, it helps us to know whether our website is performing and has been optimized or not. On top of that, it also gives you issues to help you improve your site for better conversions.
Google Analytics – Top SEO Tools for Digital Marketing
Advantages:
Intuitive user interface
It allows you to monitor live user traffic, including IP location, browser, device, language, etc.
Lets you see how your site is performing.
Increase website visibility through Google index ranking.
Defect:
There is no help guide from Google.
A bit of a hassle to set the range by date.
Most webmasters use Google Analytics as an SEO tool to monitor and measure the website's overall performance. It addresses the focus on user traffic patterns, including visitor information and what they are doing on our site. Most businesses, large or small, use it because it helps them analyze data and generate helpful customer reports.
Google PageSpeed ​​Insights
Advantages:
Assess page speed in an intuitive and easy-to-understand way.
Assess page speed on desktop and mobile devices.
Accurately respond to website problems to improve site speed (CSS, JS, and images).
Defect:
Many technical proposals are confusing for non-IT SEOs.
Some of the proposed requirements are a bit difficult to meet.
This tool satisfies users in addressing the focus on site speed or performance. Thanks to that, it is easier for us to find solutions to improve user experience and accessibility.
SeoQuake – Top SEO Tools for Digital Marketing
Advantages:
It provides a lot of basic SEO information right in one interface, easy to search through with one click.
SEOquake is an easy-to-use extension tool that you can visit multiple websites to check out.
The domain comparison feature is quite interesting
Diagnose how some features on the site work and suggest suggestions for improvement
Defect:
The design is a bit rough and hard to read.
There are not many in-depth features for SEO strategy research.
SEOquake is a useful option for those who want to quickly find something in their browser to analyze some information related to a web page. However, to go deeper, you will need the additional support of other suitable tools.
✅See also: SEO Basics: The Best SEO Guide for Beginners and More! 
Conclusion of Top SEO Tools for Digital Marketing
Hopefully, this article helped you know the right SEO tool that will serve your website SEO more effectively. If you have any questions, please comment below the article, and we will try to respond as soon as possible! Thank you for reading the post!