Black-Hat SEO uses tricks, software, and tools to rank in searcher results quickly, but these techniques are not recommended and accepted by Google. In addition, the most dangerous thing is that it has many potential risks for your website.
Before starting to learn, readers should note that this article is for informational purposes only. Any practice following these techniques is discouraged. With the knowledge about black hat SEO, readers can actively deploy SEO activities safely and effectively. All the SEO techniques presented have a very high risk of being penalized by Google and may even involve legal issues.
✅See also: SEO Basics: The Best SEO Guide for Beginners and More!
What are black hat SEO techniques?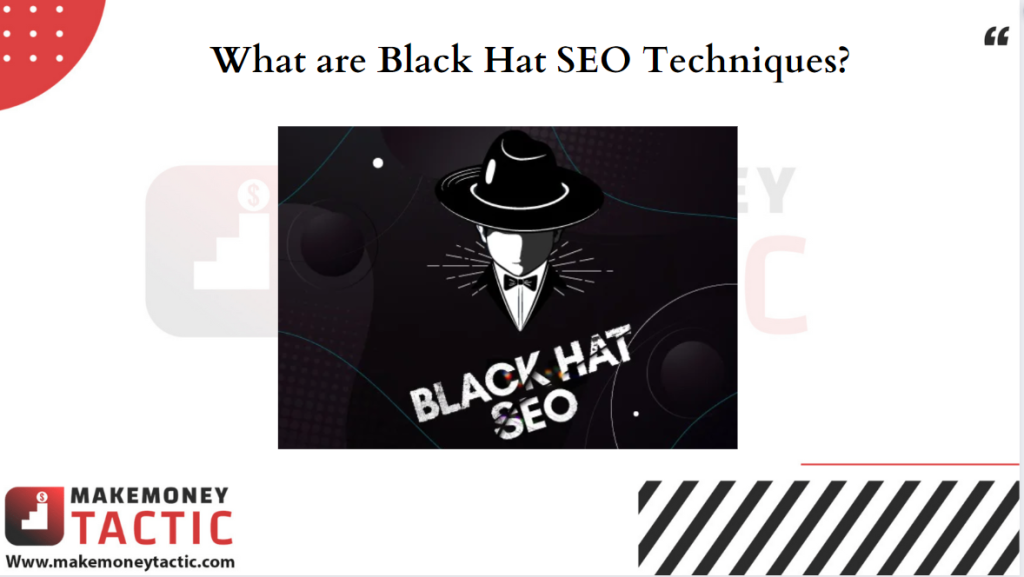 There are a lot of black hat SEO techniques that website owner use to improve their rankings. Some of these techniques can be discovered by Google, so they don't work anymore. While, others are still effective. Let's learn about them:
What are black hat SEO techniques: Using PBNs (private blog networks)
How does PBNs work?
PBNs are networks of many websites owned by the same entity or individual. These websites are used to generate content containing links to the websites the entity is trying to rank appropriately. These links have a similar topic to the industry/field related to the content that those blogs publish.
How to recognize PBNS?
PBNs are not difficult to recognize. Simply enter the website in question into the tools SEMrush.com, Ahrefs, or Open Site Explorer and check that site's link profile. If you see a lot of links pointing to websites that have a DA score between 10-30 and have unnatural domains like plumbingblogus.com or blog(keyword).com, check it out and check out the content on these pages.
Some factors to check include (all of which can be checked via the SEMrush tool):
Grammar issues
Inappropriate linking content
A website without an author (site author)
No contact information
No social profiles
Low interaction or traffic on the website
Note: Some PBNs can be very cleverly constructed and difficult to detect. However, you should start asking questions if you see a local website or a new website with links pointing to blog sites. In case you think someone is trying to use PBNs, you can report it to Google.
How to build a secure PBN?
The process requires much work and expertise if you still choose to deploy and build a PBN. If you want to implement the PBN technique successfully, the following key points should be kept in mind.
Using unique domain names with Whois data (Whois is a form of looking up information about the owner of a domain name, usually including data about names, addresses, emails, hosting, etc.)
Update content regularly. Content must be well-written and linked in a context-appropriate manner. Building an internal linkage system through a strict and reasonable SILO structure is also necessary.
Use interconnected human profiles and the same information as the author's data on the website, complete with contact info and an introduction to the author's body (bio setup).
Use social media accounts with automation settings.
Use automated email marketing campaigns for backlinks.
What are black hat SEO techniques: Keyword stuffing
This technique that many people successfully "circumvent the law" and is also one of the oldest black hat SEO techniques.
Keyword stuffing signs
Keyword stuffing is easy to spot. Often you will see a lot of words or blocks of text with content around main keywords, LSI keywords, and synonym variations of these keywords.
Keyword stuffing like?
Implementing this technique is not recommended in the current context unless you have to be very lucky. Otherwise, you will be severely penalized by Google. If you go for this technique, search for writers or use sites like writeraccess.com to get lots of cheap articles, then enter your main keywords into a tool, such as LSI Graph, to see all the variations of those keywords. Next, put the variations you found in different Heading (H tags), bold or italics, and insert them into internal links/links external links. Finally, use a tool like seoprofiler.com to check the ratio between keyword density and content to see if it's over-optimized.
✅See also: Best 15 Free Keyword Research Tools for SEO: Rank on Top of Google
What are black hat SEO techniques: Use paid links
Paid links can be bought and sold through PBNs, guest posts, or simply by DA/PA. You can purchase links in many ways without necessarily using black hat techniques. Here are the differences between black hat link-building techniques and gray hat/white hat techniques.
Black hat technique: ask for links from a website or go to Google, find sites that buy and sell links and buy from them.
Gray hat: Request a link exchange or offer to exchange a product sample for a link. In addition, guest posting techniques also more or less fall into this group.
White hat technique: Reach out and recommend one of your web pages to someone else's website as a relevant resource.
How to buy links?
If you decide to buy links, then think again. You're better off doing white hat techniques and spending a fortune on press releases or trying to get your content to appear on blogs with lots of traffic and Interactive
✅See also: On-page SEO Techniques: How to Increase Website Traffic?
✅See also: Off-Page SEO Techniques: How to Rank on Google?
.
What are black hat SEO techniques: Social signal hacking
While this is not strictly a black hat technique, social media can be heavily manipulated. Social signals are clearly a ranking factor in today's landscape, and there are some truly unbelievable methods you can use to manipulate your social media signals.
You don't have to be a social media expert. You can automate the process with the tools below to generate massive engagement on shared content.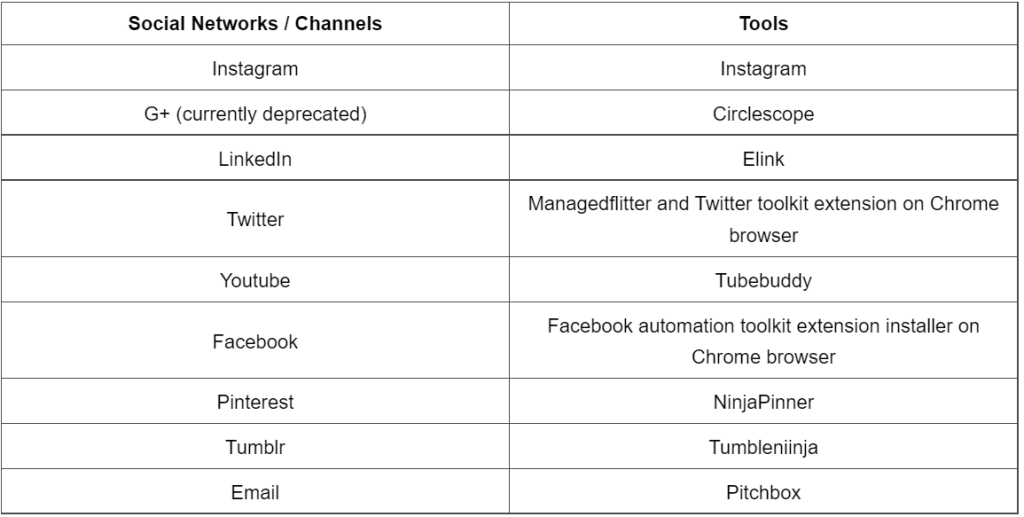 What are black hat SEO techniques: Buy reviews – comments (reviews)
The rankings and conversions of businesses can significantly increase if the business has a lot of reviews. Here are the black hat techniques to get reviews from many people.
Black hat technique for creating reviews
Some ways to do this include:
Buy reviews from external sites like Fiverr or Upwork.
Offer offers, discount codes, or bonuses for reviews on GMB (Google My Business), Yelp, or Facebook pages.
Automate outreach to similar businesses and request an exchange of thoughts.
Offering free products or services with the mandatory condition that they review through a third-party website.
What are black hat SEO techniques: Reusing content from reputable sites (content scraping)
Content scraping is a term used to refer to the use of content from other, more reputable websites to quickly increase the amount of content on the page. This technique is still used to rank many websites because we can easily rank something as long as it has no duplicates. Here are the most commonly encountered black hat content scraping technique:
➡ Copy content from more reputable sites using the wayback machine tool
The Wayback Machine tool can help you discover websites and their content history, even if these pages have expired or no longer exist. You can search for expired websites using sources like justdropped.com and import them into the Wayback Machine tool, copy the content and paste it into the CopyScape tool to see if the content exists elsewhere on the Internet.
✅See also: COPY AI Review: How to Write All Your Content in Minutes?
✅You can See also: https://makemoneytactic.com/rytr-ai-writing-tool/
✅See also: How To Write Content for Website Using Jasper AI
What are black hat SEO techniques: Open graph data manipulation (og data hacking)
OG Data or Open Graph Data is a type of data that allows you to declare what information you want to share on social networking sites. Information or meta tags are inserted into the website to indicate to social networking sites what content you are sharing. The website will be treated as an object with certain properties, and these properties will be set by code or plugin. For example, with the data in the Facebook Open Graph, Facebook can understand, collect and summarize the data displayed about a website via a shared link. Some common properties of Open Graph can be mentioned as Og:title (title for content), Og:type (type of content such as images, videos, articles.), Og:description ( content description), Og:image (select image as a thumbnail), Og: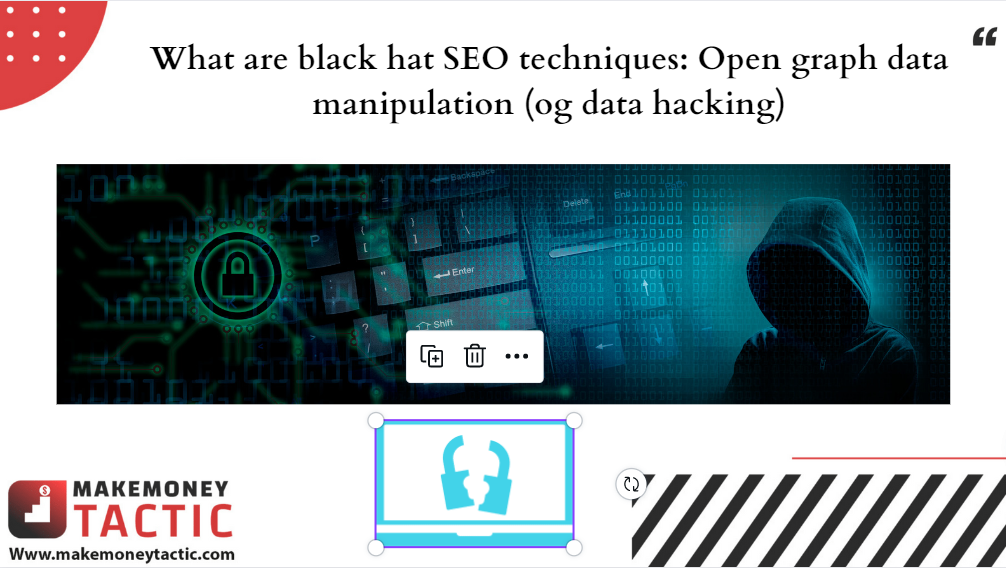 By constantly adjusting this data, there is a way to help you get a huge amount of engagement on your shared pages on social networks.
While not 100% black hat, this technique is undoubtedly dishonest. All you need to do is install a plugin like SSO Pro for WordPress or change the OG Data manually. You can change the titles (titles), pictures (pictures), descriptions, videos, and audio and continuously update the shared page with new information. In other words, you can change the OG Data multiple times, make them look like completely different articles on social media platforms, and reshare the article after each change. This will allow you to share a page as often as you want with different data and send social signals back to Google.
With the API approach, sharing articles on social networks will be connected. Also, sharing a piece like that many times will increase the likelihood of a lot of interaction, and the page will be promoted thanks to the high share rate quickly.
What are black hat SEO techniques: Comment spam on blogs (blog comment spam)
Blogs' comments generate links or NAPW citations (containing information about Name – Address – Phone Number – Website) pointing to a page to help that page rank higher. This technique used to be very effective, but now it is almost entirely a waste of time with no positive results.
What are black hat SEO techniques: Paid indexing sites
Paying to have your website listed on another website is essentially the same as buying a link. Don't do it this way. However, if you have a local business, use that money to get your website listed on local indexing sites like Moz Local, Whitespark, or Yext.
What are black hat SEO techniques: Referral spam
Referral spam is a type of spamdexing (a term used to refer to spam behavior to get indexed and manipulate results on web Search engines). This technique involves generating repeated website requests from a fake referrer to a website that the spammer wants to promote. Websites publicly post access logs (data that record user access to the website) containing statistical data about such referring pages, which will inadvertently point back to the spammer's website. Search engines will index these links as they scan through the access logs, helping to improve this spammer's website rankings. Except for "noise," the statistics,
In 2014, a new type of spam variation appeared on Google Analytics. Spammers generate fake visits and use random tracking ID strings without visiting the affected website. This technique makes spammer URLs appear in a website's Google Analytics statistics. Such pages are also known as Ghost spam pages because they can spam your website without having to visit or have any interaction. Although it is possible to create multiple visits to the website simultaneously, all of those visits are virtual and invalid.
Referral spam in Google Analytic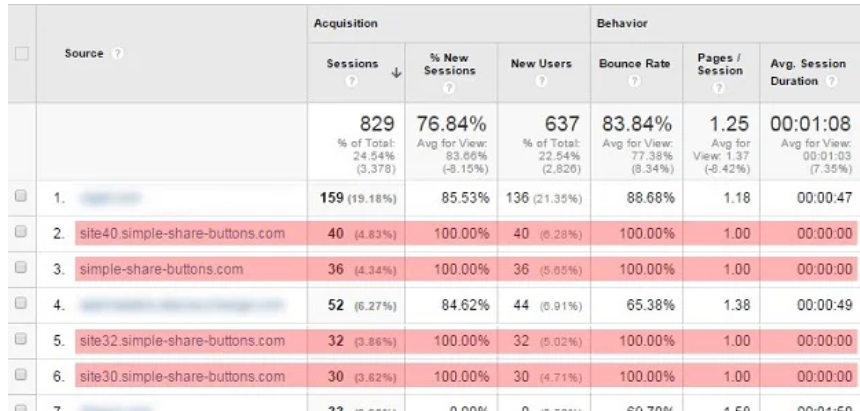 This mainly keeps the administrators curious and motivates them to visit the site to learn. These pages will likely forward the user to another money page with a certain affiliate code when visiting here.
In terms of statistics, these spammy referrer sites will skew metrics, like a higher Bounce Rate.
On the other hand, the Average Session Duration will decrease, especially for websites that don't have a lot of traffic.
Signal:
Unnatural domain names are often accompanied by currencies, such as site30, site32, etc.
Pages in the list of ghost websites or referring pages
Visitors from these pages have very high (almost absolute) exit and bounce rates, the number of pages in a session (page(s)/session) is usually 1, and the duration is usually 1. session average access time is 0.
However, metrics from some referring sites, such as free-share-buttons.com, may vary. Analytics metrics are more organic, average uptime in a session may differ. But because this is a Ghost spam site, there is no valid hostname, and these visits are still virtual.
In addition, "referral spam" refers to the behavior of affecting the Analytics data of a certain business by repeatedly accessing their website with different IP addresses from a domain that you are trying to promote or promote. To perform this technique, you will need to register a service like HMA (Hide My Ass). This tool provides a virtual private network, can change many different IPs, and register a domain name to use even though it risks being blacklisted by Google.
What are black hat SEO techniques: Ddosing & Malware Injection
If you don't want to take big risks, don't do these techniques. DDOSING is the use of botnets to attack a target website or a group of websites and "crash" it by making multiple server requests.
And Malware Injection is hacking into a website to perform an illegal manipulation. Malware (including viruses, trojans, worms, spyware, etc.) can be malicious code, a program, or a file. Malware attacks manipulate search engine results so that the attacker's web pages will be ranked higher than legitimate web pages.
Summary about black hat SEO techniques
Above are your answer about what are black hat SEO techniques when doing SEO. Although dangerous and fraught with risks, there are many cases where the practice has been effective and successful. As mentioned at the beginning of the article, any behavior that follows the techniques presented here is discouraged. SEO is a long-term strategy so that the immediate results can be fascinating and stimulating, but growing stronger in the future requires more sustainable solutions. Anyway, all of the above techniques are black hat techniques unless you have to be very clever or lucky. Otherwise, chances are, at some point, you will encounter penalties from Google. And once you have a "convict," all your actions later will require more effort, and SEO work is also much more difficult.