We hear a lot about profit through clicks and digital marketing methods. In a lot of terms, I hesitate when we talk about this area, such as clicks, targeting, legitimate traffic, traffic, and landing pages. ََQuestions go on till we start asking what is a landing page and how does it work.
However, many terms can be understood from the meaning of the utterance or the context. But the landing page needs an explanation.
So, in this article, we will talk in detail about the landing pages. The explanation will be long, the examples are a lot. But, try to continue reading to the end to know exactly what is a landing page and how does it work. Trust me, you will not regret it.
What is a landing page and how does it work?
Landing pages are the pages that the user turns to after clicking on a link to an advertisement, such as ads on search engines, websites, social media ads, or ads that arrive via e-mail.
This page is designed for one goal, which is (invite the visitor to take A planned procedure (Call To Action). This includes registering for a service, purchasing a product, or filling out a form to obtain free content as an e-book, etc.. Additionally, this procedure is verified by converting the visitor into a beneficiary or an actual customer of the organization.
Taking care of landing page's design achieves two main goals. The first is to achieve a spread of the site or the brand. The second is the ability to achieve a direct goal that serves the business, which is what we mean by the phrase Call to action.
The importance of the landing page design is evident in how effective the page is in the ability of the page to achieve the desired goal. If the landing page is not ready to receive the visitor, it will be swinging. You will end missing the opportunity to convert the potential beneficiary into a beneficiary.
If you don't get the idea, don't worry.
To clarify the idea, we can liken the arrival of visitors to the landing page that lacks good design to the passengers of the plane who find the airport lounge is not ready to receive them after they land on it. Can you imagine that? It can be likened to the visitors who were left at the door of the organization without adequate guidance.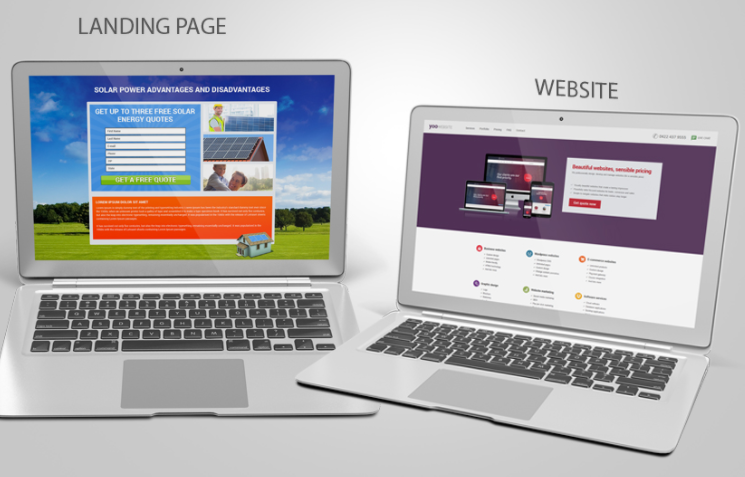 What is the difference between a landing page and a website?
Let's answer this important question. Landing pages are not like any other web page but are prepared for a specific marketing campaign, intending to convert visitors into actual beneficiaries of the organization. So, the information in them must be sufficient in itself to achieve a response. It must not need other channels for communication, despite their participation in this general goal, but it has sub-goals of landing pages are:
Directing users who click on your ads: Having a specific landing page that contains all the details will save the visitor's time trying to learn how to buy the product or get the service.
Information acquisition: obtaining information of new beneficiaries to communicate with them later.
Split offers: If you sell more than one product and offer several services, the landing page can be a great opportunity to confirm one of your offers, for example, a free book, a discount for a certain period.
Linking the user to the product's payment page. The landing page provides enough information to push the customer to buy, then link it to the payment page. This type is widely used in e-commerce, subscription services in applications, and the like.
How many types of landing pages are there?
You may still remember that the primary goal of using landing pages is to achieve a specific goal, even though the landing page is an element of an advertising campaign.
Depending on the objective to be achieved, we can distinguish two main types of landing pages:
Lead Generation
This type of page aims to collect visitors' data and to convert them into actual customers in the future. This page is usually simple in form and components and contains the definition phrase, and specific fields for data. It requests contact information with the visitor and motivates him to present it by making a specific offer As a free e-book, infographic, or discount coupons on a specific product.
Click Through
It is a page that provides comprehensive information about the intended product. Then the visitor turns to another page to complete obtaining it. It must contain a lot of persuasion elements to give the visitor a real incentive to obtain the product. Examples include registration pages for conferences, and downloading of electronic applications.
How To Create A Good Landing Page
Up here, we have understood the importance of landing pages and learned about the types. And here comes the question. How do we take care of the landing page to achieve its purpose?
Here are these four tips:
Put yourself in the shoes of the beneficiary. Before preparing your landing page, think about the problem that the recipient faces and can solve through what you provide. Then, you can then think better about how to present your product/service to him, and formulate the appropriate message to convince him.
Good words, say, less. A recent study from Unbounce found that landing pages containing more than 800 words had an average conversion rate of 33% less than landing pages with shorter word numbers less than 200 a word.
The least is the most responsive. Pay attention to getting rid of links that do not achieve your goal on the page. Keep the visitor's attention is directed towards the action button. Moreover, reduce the required input fields from the visitor as much as possible. Studies indicate that the rate of closing pages without performing any action increases with the increase in the input cells. On the page, it is very important that you only request the necessary information.
There is no objection to making adjustments. Always be prepared to modify or redesign some parts of your landing page. You may be surprised that a small amendment may make the difference in the rate of converting visitors into actual beneficiaries. It also monitor visitors' inquiries, messages, and comments about what you offer them.
Conclusion
While we use mobile applications or deal with websites, we undoubtedly encounter many of these notifications that refer us to the landing pages of major companies such as Windows, Apple, and others.
And here you might be wondering, should you own a large, well-known company to have an elaborate and great landing page? The quick answer is: No.
There are many landing page builders that can help you build a professional landing page. Actually, we recommend reading our amazing article: 20 Best Landing Page Builders to Increase Conversions. You'll find that building a landing page can be very easy.
Now you know what is a landing page and how does it work, don't waste more time and start working.