Canva is one of the most popular graphic design tools in the market. however, many people dare still asking themselves what is Canva app, what makes Canva an amazing tool for creating blog graphics and is Canva good for graphic design. All this and more will be answered in this blog post.
What is Canva App?
Canva is an online graphic design tool, an online graphic designer for all users, from general users, students, and students to professional graphical users like designers. Canva can help you create any graphic design, from tables, ad designs, CVs, brochures, presentations, infographics, and customized video effects designs.
If you need to find an online design tool that is convenient, stable to use, has a rich library, supports Vietnamese well, and has a lot of design templates available for you to customize.
I don't say I've experienced all the online design tools. Still, after experiencing nearly a dozen "worse" design tools like Canva, I concluded that: Canva is the most effective online graphic design tool today.
You don't need to sign up for a paid plan (Canva Pro). The free Canva package is enough for you to use "hybrid" for a whole year without touching. And when you upgrade to the Canva Pro package, you can access this substantial online graphic design repository.
This is the next post in one of a series of articles sharing experiences of using Canva and Canva Pro to design graphics for different purposes. Read our Canva review, What is Canva, how to make money with Canva as well as step-by-step tutorials to create Images for website(blog graphics) , thumbnails, logos, quotes, business cards, landing pages, etc.
What is Canva App: the best online graphic design tool
Canva is awesome and here are the things that make me like Canva:
▶ Canva works stably
Canva works very stably. The operation is accurate, compact, and definitive.
This is a crucial element of any design tool. Let's not talk about richness, images, and other related factors. The most important thing is that no matter how good the design tool and software are, it must run stably first.
Moreover, the Drag and drop operations, changing design objects, changing colors and accessing design elements are great. Canva works very smoothly in all popular browsers without installing additional plugins. Any additions to the browser. I have used Canva on Chrome, Coc Coc, Firefox, and Safari, and all have the same experience: smooth.
This is really great. I use Youzign (lifetime), but to use it, I need to install flash for the browser. Or Crello is a competitor of Canva, but the operation is not as "light and precise" as Canva.
▶ Easily sign up for a free Canva Pro account.
You can quickly sign up for an unlimited Canva Edu or Canva Pro (experience) account for 30 days.
If you want to use a Canva Pro account for a long time, it can be challenging to find, but if you only use it for about a month, you can easily find a place to share Canva Pro for free on blogs, forums, or groups.
✅ See also: Canva Review: Learn How to Make Up to 245$ from Canva
▶ Very rich design library, lots of templates
Rich design library including images, videos, vectors, designs, gradients, etc.; Canva has many ready-made designs on all sorts of famous and less popular themes these days. Just type in the search box, and you will immediately see a series of lists of topics or designs on the topic you are interested in. Especially you can find these available designs in Vietnamese.
The library of stock images, items, and background images on Canva is rich. I shared it in another post so that I won't copy it here again.
▶ The sharing and backup features are effortless to use
Easily share designs with friends, and workgroups as Canva supports the team very well. It's easy for everyone to quickly collaborate on designs, sharing them in real time. For example, if you are working with a content team, it is very convenient to share, evaluate, and support via Canva.
▶ Canva has an easy-to-use design interface.
The interface is simple and clear; you can easily find your desired design through the powerful Search function.
Canva has a very easy-to-use user interface. The functions are clearly separated and located along the left side of the design screen; you can hide-show these functions at any time.
Once you've finished designing, you can download it in various formats, as an image (supports background separation – transparent background), as PDF, MP4, SVG, or GIF.

Canva's Content Planner
Canva has many great features that you may not have used yet; I want to introduce to you the automatic post feature on the most popular social networks today.
What is Canva app Automated Social Posting Tool?
This feature is only available on Canva Pro, Canva for Business, and Canva for Nonprofits plans. Therefore, if you're using Canva Team, the feature is only available when you have a Template Designer or Team Admin membership. Unfortunately, you won't be able to use this feature with a regular membership,
Canva – Automated Social Posting Tool
Auto-posting to social networks is a feature in the Content Planner section, available on Canva.
On a computer, to use the feature, do the following:
– [ ] On the menu of the Canva homepage, click "Content Planner." If you want to schedule a post, click the + icon.
– [ ] Select an existing design or create a new design. Schedule existing designs: In the Recent designs list section, select the design you want to schedule for publication in Canva. If it's not there, click Your Projects to search for it. Click to select it.
– [ ] Create a design to Schedule: Click Create a design. Select the design you want to create or use the Search Bar. Click the Share button on the menu above the editor and select Schedule.
– On the schedule window next to the date, you can change the date and time, edit the design, and for more options.
– [ ] Click Select channel and select the social media account to which you want to schedule posts. If the account isn't already connected, click Connect and sign in to the social media account you want to use. Select the pages you want to publish if your design has multiple pages. The number of pages and the design publishing size are subject to the limitations of the social network.
– [ ] Write a caption if you want and click Schedule Post to finish.
Canva currently supports auto-posting to the following social networks:
– [ ] Groups and Facebook Pages
– [ ] Instagram (Business Accounts)
– [ ] Twitter
– [ ] LinkedIn
– [ ] Pinterest
– [ ] Slack
– [ ] Tumblr
– [ ] Facebook upload limit
Supported file types: PNG, JPG, MP4, and GIF
Image file size maximum: 4 MB (for PNG and JPG)
Video file size maximum: 250MB (for MP4 and JPG) GIFs)
– [ ] Google upload limit
Supported file types: PNG, JPG, PPTX, and PDF
Maximum attachment size: 200 MB
Maximum number of attachments: 10 attachments (JPG and PNG)
Max pages per design: 100 pages (PDF and PPTX only)
– [ ] Instagram upload limit
Supported file types: JPG and MP4
Maximum image file size: 8 MB (for JPG)
Maximum video file size: 100 MB (for MP4)
Video length: dark min 3 seconds, up to 60 seconds
Maximum uploads: 25 uploads per 24 hours per IG business account
Maximum hashtags: 30 hashtags
Note: This content planner is for personal use, not your team (Currently, Canva does not support it).
Brand Kit – Canva
Use the Brand Toolkit with Canva Pro: If you're a single shop owner or simply want to logo all your designs in a unified way or represent a brand you represent, reflect your brand in all your designs with just a few clicks. Moreover, you don't have to search for fonts, arrange icons, choose a suitable color scheme and font style, etc. With the Canva Pro Brand Kit, you can keep all your brand information in one place for easy access and reuse for your designs.
What is Canva app Pro Brand Kit?
The Brand Identity Kit in the Canva Pro package is a set of graphic elements you can customize to match your brand. Here are the design elements you can save on the Canva Pro Brand Kit :
Your brand logo:
Specific color pallets represent your brand.
Upload and save your fonts to use on all your designs
Customize your subheadings and paragraphs with the right colors and font sizes.
The most important part of the Canva Pro Brand Kit is creating new designs consistent with the brand image positioning you want to convey across social media or print. With a Canva Pro account, you can create up to 100 brand kits.
Here's Canva's introduction to the feature: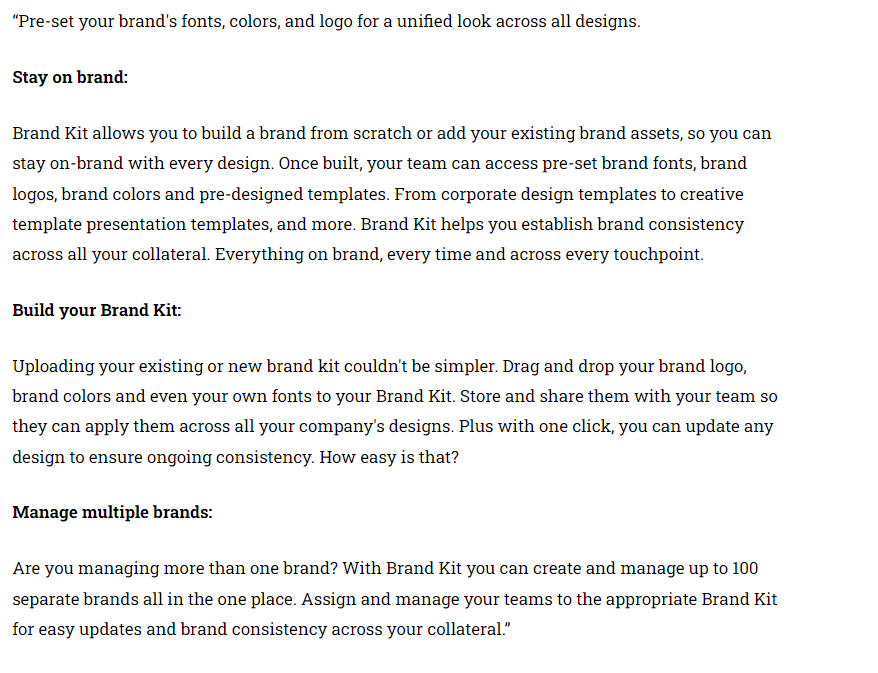 What is Canva app User Guide?
Some may not know that Canva has an entire Canva design school for users. The video lectures are clear and easy to understand, led by design experts.
You can access this library of tutorials by following the link: https://designschool.canva.com/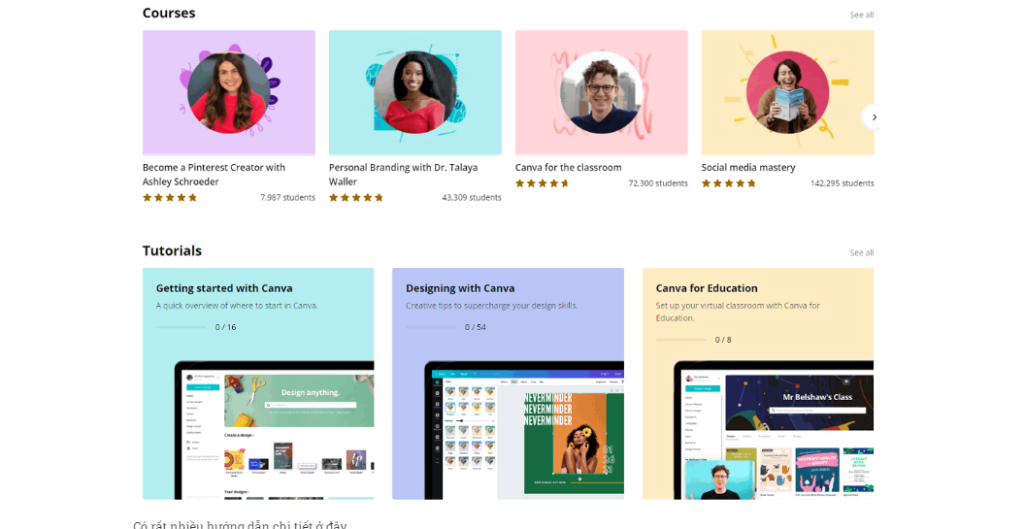 Many courses are available to teach you how to use Canva for design purposes.
I have experienced a few courses here and found that the instructions here are elegant (with subtitles that Google can translate) and direct. Each video tutorial is just under 2 minutes so it won't take up too much of your time.
Happily, I'm sure this Canva tutorial will be very helpful for you if you're using Canva for your blog, sales, Facebook, and graphic design projects.
Useful Canva Secrets That You Probably Didn't Know
✅ How many languages ​​does Canva support?
Canva says all designs on the platform are available in over 1,000 different languages ​​(fonts for these languages ​​are available on Canva).
✅ If you can design a PowerPoint slide show with a continuous loop (for example, set a PowerPoint presentation to a constant loop), you can also do this with Canva with autoplay.
✅ You can post directly to LinkedIn, Pinterest, Facebook, Twitter, and Slack in Canva's design, without downloading photos and then uploading posts to social networks. Select the "Export | ." button Export," then select the social network to connect to publish the post.
✅ Canva's innovative new Animator feature lets you instantly turn your designs into animated videos. Canva's Animator (from now on, it is called Animator) allows you to instantly transform your designs into animated images and videos. Canva currently has 14 premium animation styles. Once the design is finished, download the video as a GIF file or movie to share on your favorite social networks, embed on a website, or share it with friends and family.
✅ You can easily create a Website with Canva. Exactly like that, Canva can develop/build a website quickly, in addition to rich graphic design capabilities. Canva has a whole course on how to design websites using Canva in the Tutorials section, called "Create websites with Canva – Create and publish responsive websites from scratch or using a template with Canva Websites." Note: if you have a domain name, you can connect directly to your domain name (Domain) without using Canva's domain (like WordPress, Blogger.)
✅ The ability to use keyboard shortcuts in the design is very good. If you have used graphic design software, you probably understand the power of keyboard shortcuts, saving time and effort. Additionally, Canva supports many keyboard shortcuts in the design process.
There is still a lot to say about Canva. In the framework of the article, I only briefly introduce the features I am very impressed with this online design tool. My team and I have been sharing detailed Canva tutorials, as shown below.
Furthermore, this list of articles (tutorials) will grow more and more so that you can get acquainted and use Canva fluently in just a short time.
Is Canva Good for Graphic Design?
After everything said about what is Canva app , you must not ask yourself is Canva good for graphic design. The answer is obviouly yes.
Whether you have design skills or not, you can use Canva to design graphics for blogs, social posts, Fiverr gigs and more.
Moreover, you can start canva for free, then upgrade later.
Don't miss any article of our Canva Series:
✅See also: Canva Review: Learn How to Make Up to 245$ from Canva
✅See also: What is Canva App? Is Canva Good for Graphic Design?
✅See also: How to Create Images for Website in 30 Seconds with Canva?
✅See also: How to make money with Canva: Canva Contributor & Canva Creators
✅See also: Canva YouTube Thumbnail Maker: How to Make Good Thumbnails?
✅See also: The Best Online Quote Poster Maker: Create Quotes in Minutes
✅See also: How to Make a Free Business Card Online in Canva?
✅See also: What is Canva Used for & How to Make Logos in Canva?
✅See also: How to Create a Landing Page in Canva in 2 minutes? Fast and Easy