What is Evergreen content? If you're not currently using evergreen content to generate continued growth, chances are you're missing out on valuable traffic through user searches.
There's no denying the importance of content in SEO strategy, and it was previously confirmed as one of Google's 3 ranking pillars – along with Backlink and RankBrain. But when it comes to driving organic search growth, not all types of content are created equal.
Still, evergreen content is often the foundation of a successful strategy. In today's article, Makemoneytactic will tell you the concept of this important content type, why creating evergreen content is necessary, and build a process that can be scaled up in terms of content. So you can use it and create a resonant growth in organic search traffic.
What is evergreen content?
Evergreen content or "evergreen content" represents topics that have a sustained and sustained level of interest over time, and user demand for such content is not significantly impacted by seasonality.
Regardless of the news and the time of year, people always want to consume content around these topics. The information in evergreen content is always fresh to readers who need answers to their questions or want to learn more.
Think about topics such as:
How to start building a Blog site:

The best types of savings accounts:

Although interest can gradually increase or decrease over time in the long run, they are not affected by seasonality.
This is the opposite of seasonal content – ​​with topics such as:
Christmas cake recipe:
Results of the Super Bowl event:
When a topic is of constant interest, it is an "evergreen" topic. Knowing how to harness evergreen content as part of your SEO strategy effectively can be a great tool to drive continued growth with every piece of content you post.
✅See also: COPY AI Review: How to Write All Your Content in Minutes?
✅See also: Rytr Review: Write Blog Posts in 2 minutes with Rytr AI Writing Tool
What type of content is not evergreen content?
People often wonder what content should be classified as evergreen content and which content does not. When creating a content strategy, it is important to identify the right type of content to create to drive effectiveness is extremely important.
Evergreen content is not :
News and articles
Product announcements
Outdated statistics and trends
Seasonal content (related to Christmas, New Year, special events, etc.)
Content about current trends
If a piece of content is expected to decline in interest and relevance after a fixed time (such as when an event or holiday ends), it is not a regular piece of content green.
We can imagine evergreen content covering topics that don't have an "expiry date," – meaning interest in these topics won't drop any time soon.
Of course, this does not mean that seasonal content has no place in your strategy. It's just that these assets will serve a different purpose and have different mining techniques than evergreen content.
Common formats of evergreen content
Above, we took a look at what is not evergreen content. Here are the most common formats of evergreen content, including:
How-to guides
Articles presented in the form of a list (listicle)
Top tips (top tips)
Product reviews
Informational long-form guides
Pillar pages
Videos
Interviews (interviews)
Buying guides
Glossary tables
Questions and answers (FAQs)
Real-life situations (case studies)
Research studies
List of items to be implemented (checklist)
Customer testimonials (testimonial)
Calculation tools (tool & calculator)
It's important to remember that evergreen content can be presented in many different formats, each of which can serve a specific purpose within your more comprehensive strategy.
Other than that, what is given above is merely formatting. You must identify relevant, industry-relevant evergreen themes and decide on the most effective formats. Ask yourself: "Will interest in this topic dwindle any time soon?".
If the answer is no, then it's likely a good evergreen theme that can help drive sustainable results for you over time.
What is evergreen content: How important is evergreen content for SEO?
Evergreen content helps you implement a ranking strategy for keywords that compete on the SERP and generate sustained traffic. It takes a while to rank for something on the SERP. Great content alone is rarely enough to make it to the top spots (unless we're talking long-tail topics or content posted by a reputable brand with a credit/authority).
For most businesses, they also need to actively build backlinks pointing to their content and promote it to an audience. It will take time for a piece of content to increase visibility and maximize effectiveness. In addition, evergreen content also often generates more links because you can continue to promote this content in the long term. Make your content rank in the top positions, and you will benefit from it in the long run.
Ideally, this is the growth scenario that evergreen content would generate. While different content will bring different results, this should ultimately be our goal, where every article you publish drives traffic and leads for your business.
✅See also: How To Write Content for Website Using Jasper AI
What is EverGreen Content: 3 Examples of effective use of evergreen content
You can easily find hundreds of examples of excellent and effective evergreen content. But here we're going to go through three great examples so you can better understand what you can do when you produce content that delivers results around a topic of constant interest:
Amerisleep – Restart Biological Clock And Adjust Sleep Schedule
All over the world, there are still people who have trouble sleeping. That's why Amerisleep has created a great how-to content that offers a solution for those struggling with restless sleep problems.

You can see that over 14,000 people are searching every month with just 3 variations of the main search term "how to fix sleep schedule." By creating content around improving sleep habits and answering sleep-related questions, Amerisleep has made effective evergreen content that answers the big question (big problem) set by the user. This content will stay relevant, help build their reputation, and support organic growth.
Healthline – the Keto Diet: a detailed beginner's guide
We mentioned earlier that in-depth informational guides are the perfect format for evergreen content, and the following from Healthline is an example.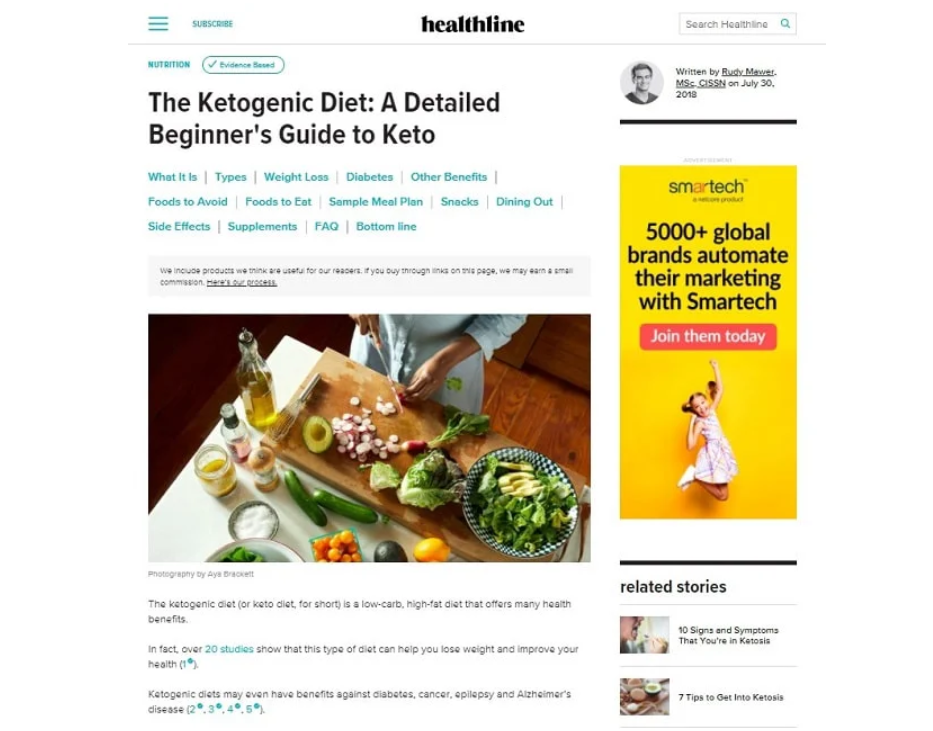 This 2,500-word tutorial (you can even make it longer) provides beginners with detailed information on the Keto diet. Checking its performance, you can see that this article is getting more than 800,000 organic visits per month and generating 13,500 backlinks—an extremely impressive number.
Bankrate – calculation of mortgage
A few people think of calculation tools, and applications are great evergreen stuff. The need to use these tools is not going away. The Bankrate mortgage calculator above, for example, is a prominent example. It is a resource that every user wants and uses regularly.
Bankrate recognized the need and opportunity when there were thousands of searches per month for the keyword "mortage calculator." That's why they created this tool. In addition, it also provides a solution for users to serve a practical purpose.
And the result: Up to 2.4 million Bankrate visits come from search every month!
✅See also: SEO Basics: The Best SEO Guide for Beginners and More!
What is EverGreen Content: The process of creating evergreen content to scale
By this point, we already know what evergreen content is (and what isn't "evergreen"). You'll also learn through several effective formats for creating content around high-life topics. To drive business growth, let's look at a scalable, evergreen content creation process.
From finding topics and content ideas to promoting evergreen resources, you can use this process to consistently create compelling pieces of content and drive natural growth for the website.
Looking for content ideas
Every successful piece of content, evergreen or not, starts with a good idea. You must constantly find various ideas to launch a powerful strategy that drives growth.
So, where do we start?
Topic Research
There are many different tools, but today's article will show you how to use SEMrush's Topic Research tool. You can identify topics around the core features of your products and services in minutes and gain complete insight into the type of content your audience is searching for.
Just enter a keyword and click "Get content ideas" you will get a series of topic suggestions sorted by different priority, such as volume, the difficulty of keywords (difficulty), or efficiency (efficiency).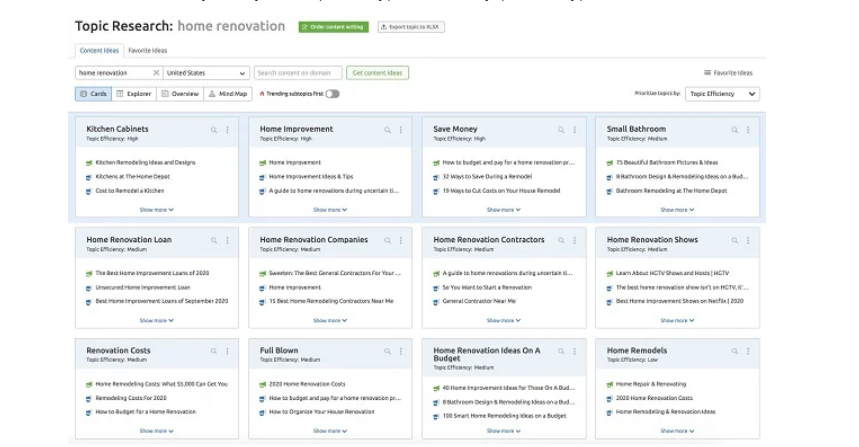 After this step, you will get a lot of potential ideas. However, the most effective evergreen content requires the extra step of understanding both the primary and secondary keywords being targeted and how these keywords work together in a broader SEO strategy.
Keyword Research
Keyword research allows you to gain insight into the size of the opportunities generated from your content. Similar to the above, you can use many familiar tools such as Ahrefs and Google Keyword Planner. Besides, Keyword Magic Tool is also a very suitable tool.
Suppose you have identified "renovation costs" as a good topic for "home renovation" after the "Topic Research" step above. Now enter this keyword into the Keyword Magic Tool to get a range of keyword ideas, from long-tail keywords to related questions and suggestions.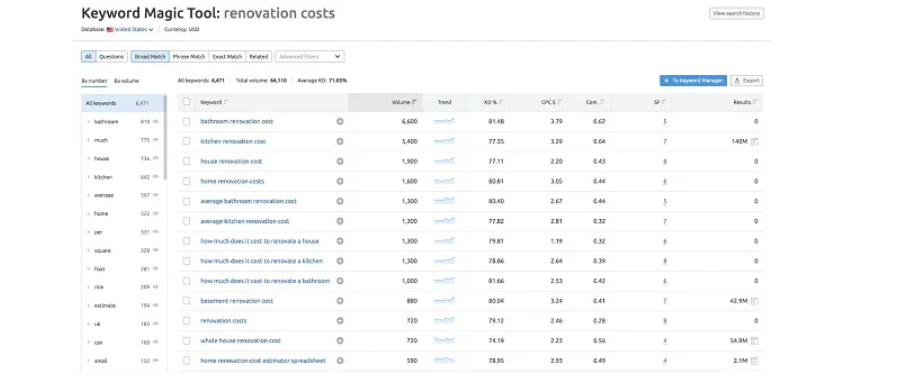 Without this step, you could easily have "fallen into" selecting and creating content targeting the "top-level term" renovation costs. But as we dig deeper, you can refer to search volumes to target specific keywords in this content. Another alternative is to use the Keyword Gap Tool to discover keywords that your competitors are ranking for, but you don't have yet.
Keyword research helps shape the scope of the content we're building, and from the research above, you can see we need to ensure we deliver key content around the costs involved in kitchen and bathroom renovations.
In fact, these pieces of content may in and of themselves be evergreen content. If you skip this step, you could miss out on huge opportunities to get traffic from your content.
Take the "Topic Research" step to identify broader topics and dig into these topics to find the right keywords; from there, you can find a title as well as how to structure your content outline.
Layout evergreen content
Once you've chosen a topic and title, you must start planning your content outline. Besides, when it comes to content creation, you need to focus on building the best content on that topic to satisfy the searcher's intent.
It's best to analyze the web pages that are ranking highest for the main keywords being targeted to understand exactly how the content should be structured.
And you can use the SEO Content Template Tool at the address below to help do this:
https://www.semrush.com/seo-content-template/
For example, let's say we will build content on the topic "how much does it cost to renovate a house?" (how much does it cost to renovate a house). Enter your target keywords such as "'how much does it cost to renovate a house," "house renovation cost," "home renovation costs,"… and click "Create SEO Template."

This tool will analyze the top 10 highest ranking web pages for these keywords and build a template you can use.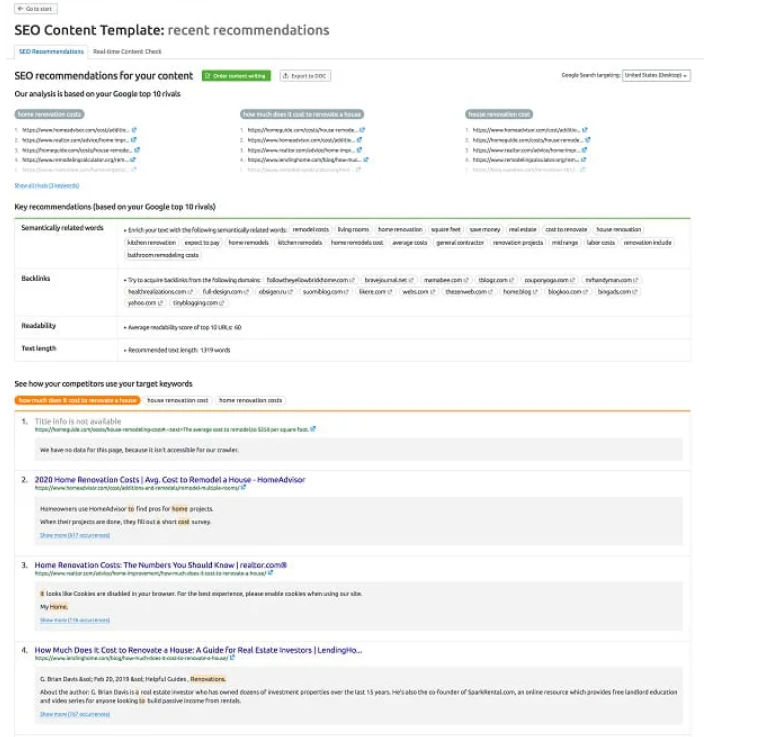 With the results of the analysis above, you will create a complete summary for your content writing team and make sure you have specific requirements for:
Word count
Semantically related keywords
Words placed in the title of the page, the H1 tag, and inside the content
In addition, you can also export these results to a .doc file to share if necessary.
✅See also:How to Make Money as a Blogger: 5 Ways to Make Money from your Blog
The best suggestions for producing evergreen content
When writing content, you need to understand what users expect to get from your content.
In the above SEO Content Plan statistics, you will see that it also includes a list of the top 10 web pages with the highest ranking for the target keywords. Let's check and analyze these competitors, especially the top 3 competitors.
At the top are the Home Advisor page results for the keyword" 'how much does it cost to renovate a house?".

Digging deeper into this page, you will notice the table of contents in the upper area:
This is the section to help you visualize the benchmark against which you are competing. Your content should be at least as good as the #1 content (or even better); otherwise, you will have difficulty getting their "place."
But don't just look at every single page.
If you go to the 2nd ranking page, you will see much shorter content – ​​only 729 words with a standard article format.
(Source: Internet)
Obviously, there is a difference in the depth of the topic between 1st and 2nd place. You need to know how you are competing against your competitors. You can then start creating content that is equally, or even superior, to your competitors' content.
One thing to keep in mind when building evergreen content is always to pay attention and consider:
Establishing internal linking
Outbound links
On-page SEO factors (title tag, meta description …)
Images and other multimedia resources
Call-to-action (CTA or Call-to-action) element
Please don't ignore the fundamentals of content creation and on-page optimization. Apply them to evergreen content as well as to any other content.
Content promotion
Once evergreen content has been posted, it doesn't stop there.
A lot of content fails and doesn't bring many results because of a lack of promotion. You don't just post content and expect people to see it, share it, or link to it. To do that, we need a strong promotion strategy, including many different tactics such as:
Link building (link building)
Social media promotion
Email marketing
Use paid amplification
If you want to be successful, you cannot ignore the importance of a solid promotion strategy. It is an integral part of the overall SEO performance.
Why is it important to check and update evergreen content on your website regularly?
There is one thing that we need to make clear. Just because your content is "evergreen" doesn't mean you don't need to update it.
You should regularly visit existing evergreen content on your site and check and update them. The reason is that while topics may be "evergreen," the details in the content are likely to change over time.
Interest in home repair costs is always present, but actual costs will vary from year to year. If you don't "equip" your articles with the latest information, they will quickly become outdated and no longer relevant.
Reviewing and updating content should be a recurring category and the difference between the most effective content and the content that never really attracted people.
Only evergreen content is not enough
Of course, evergreen content brings a lot of value. Many people love it too, but we need more than that in most cases.
An effective content strategy should strike a balance between different types of content that are likely to meet the goals of an overall marketing campaign. Reliance on a single category rarely yields the same results as tapping into relevant and topical topics. By creating evergreen content while keeping up to date with new industry news and trends, you can develop a compelling content strategy to drive organic growth.
✅See also: How to Drive Traffic to Your Website: Learn the 33 Free Methods
Summary of what is evergreen content
Combined with an overall content strategy, evergreen content can help you create incredibly powerful SEO power. But to do that, you first need to determine what content is "evergreen" for your target market. You then need to set up a scalable and repeatable process that you can use to drive a resonant growth effect after each piece of content is created.
We hope that the content in this article can help you create effective, evergreen content for your website!