Most affiliate marketers suffer from wasted traffic which don't qualify the requirements of the advertiser. To increase the revenue, networks implemented a new tool called smartlink. In this article, we will explain What is Smartlink CPA and how to see which Monetizer offer from a smartlink converted to use it in another single campaign.
What is Smartlink CPA?
Affiliate marketers tend to create several offers in several campaigns targeting several countries and test each one of them for a few days till finding a winning campaign. However, the new tool which is called smartlink has made things much easier for an affiliate marketer. With smartlink, the affiliate marketer can create a single smartlink and promote it instead of wasting his time in several campaigns.
How does Smartlink work?
Smartlink is really very smart as it automatically recognizes all the features of each user in your traffic. It also shows the best performing offer according to its country, operating system, browser, OS, connection type, language, etc…
This technique is very useful to eliminate wasting time and budget while testing and help you in monetizing your traffic.
For example, let's say you have a good campaign that is converting in a good way. Of course, not all traffic qualifies the requirements of this offer, so you're must be wasting a lot of traffic here.
To use this traffic, you should set specific filters inside your tracker to redirect the unqualified traffic to other offers which suit each user's properties (geo,operating system, language, etc..)
However, instead of redirecting all traffic types which will take much time and efforts, you can just set up a Monetizer Smartlink which will do the hard job and find the offers for each traffic type.
In this way, smartlinks will guarantee that you gain the maximum revenue of your traffic regardless where it comes from. Be sure that you will get some profits from traffic which doesn't match your main offer.
Monetizer has a powerful algorithm capable of determining the country, language, operator, and more of the users targeted by your campaign. These algorithms will keep sending your traffic to the best performing offers and stop displaying offers with low conversion ratio. Beside the best performing offers, Monetizer's algorithms can generate the highest EPC by selecting the highest offers combo as well as the best converting landers.
SmartLink Vs Individual offers Links: Roi 25% more
Individual offer links are links that lead to one offer with a certain target ( country, browser, language, device, etc…). Therefore, when you send traffic to a certain individual link, only qualified leads are counted in the affiliate network.
On the other hand, SmartLink is a link that contains many offers with different targets. So, if you send traffic to a SmartLink, they will all be redirected to the correct offer. This redirection is based on their Geo, language, device, etc.
Thus, you can utilize your traffic and ensure that every single click will be monetized. Therefore, you won't waste anyone along the way due to an incorrect language, browser, operating system, geo, etc…
For example, you are promoting Iphones for the USA. Any click that is not from the USA, will not convert and you won't gain any money from it. However, SmartLinks provide an offer for each target. Whether your traffic comes from the USA, UK, Africa, Asia or else, they will be redirected to an offer that meets their target.
Additionally, SmartLinks have shown a 25% ROI increase compared with individual offers. They compared different offers and different targets. We have to admit that you can optimize the overall traffic much better with SmartLinks especially from popular networks like Monetizer.
Best traffic for generating conversions with SmartLinks
If you don't have remnant traffic from your website or any traffic you use, you will find it so good to use push and pop-up traffic for many reasons including:
Push and pop-up traffic doesn't have very strict rules like other platforms like Facebook ads and Google Ads.
This traffic has a big volume and low price.
You can analyze push and pop-up traffic on a regular basis.
You can identify your Whitelist and blacklist sources easily with push and pop-up traffic.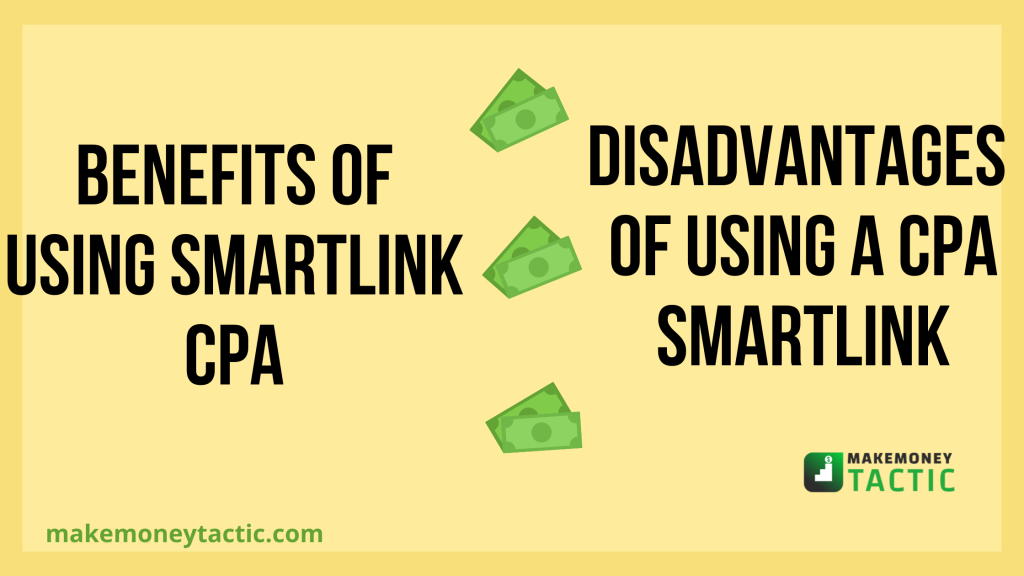 Benefits of Using SmartLink CPA
As mentioned before, SmartLinks is composed of many links in an attempt to optimize every single visitor to a conversion. Therefore, there are a lot of benefits for using SmartLink CPA including:
No need to create different campaigns with different offers, you can send the whole traffic to a single SmartLink.
You can use SmartLink to test the available offers and find the best converting offers.
Monetizer allows the users to launch new campaigns quickly in a few steps.
SmartLinks is the first level in the CPA journey which makes it a good way for beginners to make some money while learning affiliate marketing.
Disadvantages of Using A CPA SmartLink
By now, you may be thinking that CPA SmartLink is the best choice ever. You may think that everyone must be running SmartLink campaigns. However, this is not totally true. Although you can easily earn money by monetizing low-cost traffic, there are still some disadvantages like:
Most offers provided by SmartLink CPA networks have a low payout.
You cannot control the way your traffic is optimized by SmartLinks.
ِAs SmartLinks has different offers, some of these offers have aggressive landing pages which makes it hard to be accepted by all traffic networks.
Why is Monetizer the best SmartLink Cpa network?
There are a lot of SmartLink Cpa network like Clickdealer, Mobidea, IMOnetizeIt, and more. However, the recent statistics and surveys showed that Monetizer is the best SmartLink Cpa network available for affiliate marketers for many reasons because:
It gives you the list of converting offers and non-converting ones.
If your offer doesn't convert, it provides alternative solutions like pop-under script with the main offer as well as back button redirection. When enabling the back button redirection, the visitor will be directed to another offer that meets his Geo, device, etc… when he click the back button
Monetizer SmartLinks accept almost any traffic, especially Pop-up and Redirect traffic which is usually cheap.
You can find different types of offers on the Monetizer platform like carrier billing, pin submits, leadgen, sweepstakes, pin submits, mobile content subscriptions, etc…
In the Monetizer dashboard, you can choose among Aggressive SmartLink, mainstream SmartLink, and adult SmartLink for your campaigns. Your choice depends on your traffic.
How do You Use Monetizer's Smartlinks?
You generate smartlinks in Monetizer just like direct ones. Then you run your campaign with this smartlink and let Monetizer do the hard work for you while you are just getting conversions.
You'll notice that there are conversions of different offers having different payout. Don't be surprised as Monetizer's algorithms are sending each user to a suitable offer.
How to See Which Monetizer Offer from a Smartlink Converted ?
Don't start optimizing your campaigns before getting at least 10 conversions. You must have enough details about the well performing offers.
To see which Monetizer offer from a smartlink converted, follow the following procedure:
Go to the leagues section and choose the league having the smartlink campaign.
Press the circle before the link name.
A new tab will open, press on offer and you'll get the id of all converted offers.
Take each id and go to the Marketplace-Smartlink offers.
Put the offer's id and press filter.
You'll see the offers that are converted with you, and you can try them later in separate campaigns.
Using smartlinks in your campaign is an amazing way to test traffic sources as well as to monetize your remnant traffic. However, you should keep your eyes on your campaign as not all offers at smartlink have the same payout. You may be getting a 200% ROI then suddenly becoming losing money.
Monetizer's smartlinks are a good way to get fast money with fewer tests and optimizations. Ready to start earning money? Let's signup in Monetizer.
You can also know more about Monetizer in our Monetizer Review.