Are you looking to join free online learning opportunities to learn coding and other tech topics? You may or may not have heard of Pluralsight courses. However, reading this article means that you are at the right place.
Pluralsight courses is a learning platform that offers free and paid courses, learning paths, webinars as well as assessments by some of the best experts in the tech industry.
Experts in different subjects like data, security, software development, machine learning, and many more are here on the platform to teach the students everything they need to know about these skills.
What Is Pluralsight? Join free online learning opportunities
Let's first say that Plural sight is an online, learning platform. Here, you'll find a lot of things to learn video courses to learn tech skills, webinars, guides about almost all tech niches, interactive courses (some are public while others are for premium users only) , assessments, and much more.
Is Pluralsight worth it?
As said before, if you are interested in tech skills, Pluralsight is the best place for you. The experts on Pluralsight cover a wide variety of tech topics
They teach almost everything related to tech, tech only, starting from machine learning, data, software development to cybersecurity and more.
Recent statistics proved that more than 1500 experts and partners are paying all their time and efforts on the Pluralsight platform to offer the best courses.
Many partners like Microsoft, Adobe, Google, Oracle, etc… trust Pluralsight and see this platform as the bridge to a strong future, as the demand on technical skills is increasing day by day.
Determine your level with a test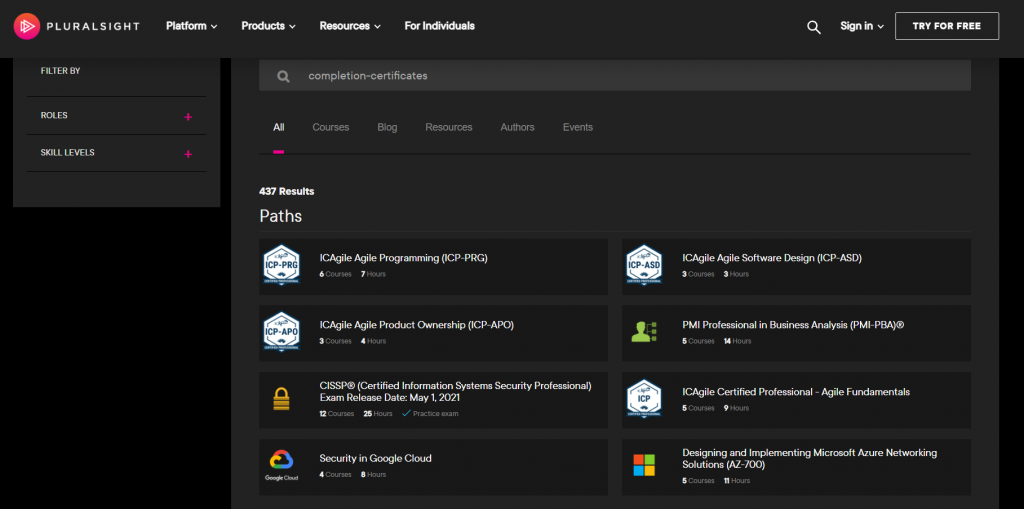 Taking a course which doesn't meet your level can be disappointing. Therefore, you take a test of 20 questions before you choose any of the Pluralsight courses. This test can tell you if you're beginner, intermediate, or advanced in a particular skill. After determining your level, you can decide whether course is the right one for you or not.
Pluralsight courses help you reach your goal
After all, we take courses to prepare ourselves for industry certifications. Whether you are preparing for CompTIA, ITIL®, PMP® or any related certificate, a Premium membership Pluralsight can help you do that easily.
That's why Pluralsight is worth it. This can set them apart and lead them to be one of the top learning platforms!
Furthermore, everyone knows that most companies like, VMware, The Home Depot, HelloFresh,, and others ask Pluralsight to train their team. This is direct evidence of its ability to teach a tech skill from A to Z.
Pluralsight Review: Pros and Cons of Pluralsight courses
As any other learning platform, Pluralsight has pros and cons, so before deciding to join free online learning opportunities, you should explore everything related to this platform. Let' start with the pros then the cons:
Pros of Pluralsight:
The library of Pluralsight is huge, containing 6,000+ courses.
Approximately 80+ new courses of different topics are added every single month.
The platform has mobile and desktop apps, so you can easily view the courses offline.
You can take short, self-paced quizzes to test your level in a certain skill.
Premium users are given extra features like guides, prep materials for professional certifications and many more.
Expert instructors are teaching on the platform
Pluralsight takes your learning journey seriously and offers a several ways to organize your experience
There is community to support you from as you learn
Cons of Pluralsight:
There is no lifetime access, so you can't access after you stop paying.
It is a subscription pricing model, so you subscribe and get access. for all courses. You can't buy just one course
No refunds of money after paying.
Note: I don't. know if this is a pro or con, but Pluralsight has a lot of courses for beginners. However, there are a lot more for intermediate/advanced users.
Topics Taught on Pluralsight
If you decide to join free online learning opportunities as Pluralsight, you will find courses related to dozens of topics related to tech can be found within Pluralsight courses. These topics include:
A variety of Business skills (e.g., podcasting, management, communication)
Data analysis
Some Creative topics (e.g., 3D animation, game dev, VFX)
Software architecture
IT ops
Paths
Machine learning
Data science
Information and cybersecurity
Sandboxes
Software development
AI and cloud computing
Manufacturing
These are just a few topics found on the Pluralsight platform, and there are many more. Actually, you can find courses related to any topic that comes to your mind as well as a lot of certifications prep.
Browse their course library here and explore everything you need to know about your desired skills and programming languages.
Pluralsight Pricing
Join free online learning opportunities with +50 Free Courses on the platform. If, just if, you couldn't find what you are looking for in the free library, you can apply to one of Pluralsight's paid subscriptions. What I like about Pluralsight is being a subscription-based service. Therefore, you subscribe for a month and have access to thousands of courses without limits for all the subscription period.
These are the plan options offered by the platform for monthly or annual billing:
Monthly = you pay $29/month and have access for one month. Then you can renew your subscription if needed.
Annually = you pay $299.00/year billed annually. This means that you pay it every year.
Premium = $449.00/year billed annually. This plan comes with super features.
If you have a business and wanna make your team take courses on Pluralsight, you may be interested in Professional and Enterprise plans.
If you have a monthly plan, you can easily change it to a Professional or Enterprise plan and let your team join the platform and take a few courses to level up their tech skills!
Note: Whether you are thinking of a paid subscription or your budget doesn't allow such fees, subscribe to the platform for free as they make special free offers every couple of months.
You wouldn't like to miss it.
Features of the Pluralsight Platform
Pluralsight courses are the best place to join free online learning opportunities as well as paid ones for having a variety of important features. Some of the best features are:
1- Cross-platform support:
Whether you are offline or online, you can reach the courses from any desktop and mobile device.
2- Discussions:
Sometimes, we need to ask about certain points in a course, so you can interact with other students on the platform to ask and answer questions. There is a whole community for you.
3- Short quizzes and tests
Learning without practicing is boring, so you can find a lot of short quizzes and tests to practice while you learn and evaluate your progress.
4- Challenges, projects, guides and more.
If you are serious about it, then Pluralsight is offering you many coding challenges, guided feedback as well as related projects.
(Premium, Professional, Enterprise only)
5- Certificates
We understand the importance of certificates like CEUs (which is the abbreviation of continuing education units) or CPE (which is the abbreviation of continuing professional education) credits and their big impact for CompTIA, PMI, ISACA, and (ISC)2.
After completing a certain video course, you get a certificate of completion.
Check how you can generate a certificate of completion.
6- Get a free access to Qwiklabs
Applying what you learn leads you to success. Therefore, you get access to Google Cloud Platform and Amazon Web Services if you decide to take Google Cloud-authored courses.
7- Visual Studio Code (VS Code) extension
This extension provides you with many code-specific content recommendations to find solutions for your coding problems. Without asking Google, it provides you with the needed guides, paths and courses.
8- Role IQ
IQ is a standard feature used to measure success in roles related to tech. If you wanna see if you have certain skills that make you ready to learn a certain level of courses.
Therefore, when you pick a role title, you get an assessment to complete. Pluralsight, according to the results of this feature, will determine your level and tell which course you need to fill your skill gaps.
9- Prep and practicing exams:
Most students take courses to prepare for professional certifications. Here, you can find what you need for the preparation process.
10- Join free online learning opportunities
You don't actually need to pay to learn. You can join free online learning opportunities as there are more than 50 free courses by some of the best experts in their fields.
Pluralsight's friendly dashboard
Pluralsight's dashboard is user-friendly, easy and clear.
Let's see how can you navigate and find your demand:
When you open the site, you start with the home page, you can easily hover over the courses tab in the menu to browse them by topic. You'll find different topics like software development, IT ops, data professional, etc…
You can also view all Pluralsight courses as well as learning paths and assessments.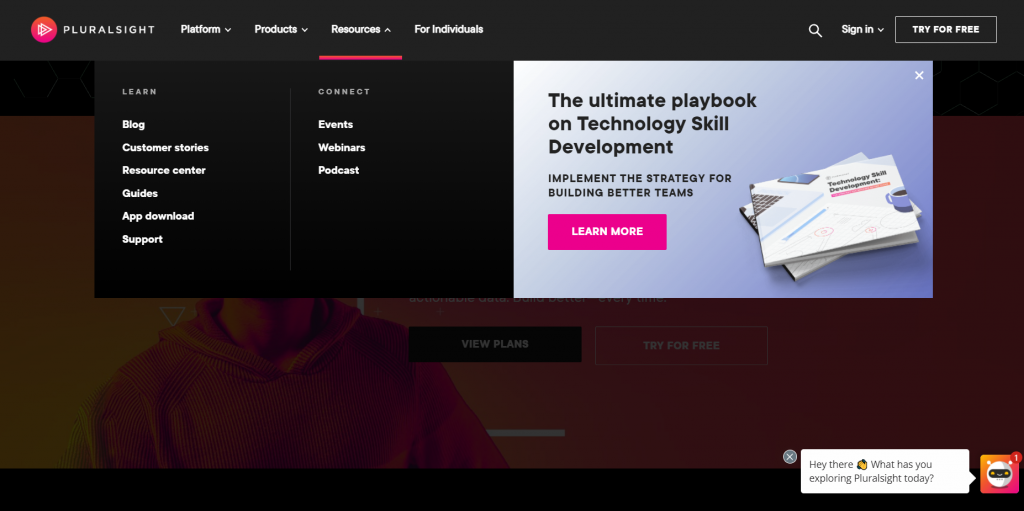 There is a helpful search bar where you can search for specific keywords and find all the courses that match your criteria.
There is also a filter which is amazing to filter your results by dividing them into resources, courses, levels, blogs, authors and roles. Unfortunately, sorting courses based on ratings is not available.
To know everything about a certain course, you just have to click on it to see the basic information, author, description and a summary about what you'll learn.
Watching the videos is very easy as you see the video on the left while you can find the playlist of lessons on the right after you join free online learning opportunities.
If you are interested in making money online you may like to see this guide about the 50 Best Ways to Make Money Online from Home
To help you organize your learning process, Pluralsight has channels to put your custom playlists of videos and courses. 
To make things more comfortable and friendly, you can set up your Skills profile where you set your favorite avatar and connect social media profiles.
After the first look, it may seem overwhelming. However, Pluralsight courses' platform is clear, professional, and easy to navigate.
Pluralsight Content Quality
Pluralsight provides the best quality only. They have standards for accepting courses. According to their team, they publish three out of every 1,000 content proposals because they only care about quality.
Courses created by Pluralsight must meet two conditions:
High-quality videos with clear audio and this is always applied as most of them are made inhouse.
All instructors are experts in their subjects and have been working in their domain for years.
Who Pluralsight Is Recommended For
Anyone thinking of learning a technical skill, can join Pluralsight courses.
On this platform, there are a lot of free courses as well as paid ones. You can also find tons of content for all levels. Whether you are a beginner, intermediate learner, or having advanced skills/experience, you will find what you need.
However, people with certain skills and aiming to enhance their skills and abilities will find a lot of content than others.
Pluralsight Courses Alternatives
After joining Pluralsight platform for free, if you didn't find what you need, you can visit one. of Pluralsight alternatives like:
Udemy
What is adorable about Udemy is having courses of many on a variety of topics (not just tech like Pluralsight). However, the content is not as high quality and rich of experience as Pluralsight.
Furthermore, Udemy is not subscription-based. You pay for each course you wanna buy.
Team Treehouse
This platform offers content of high quality as all their courses are produced in-house by experts, and almost the same price as Pluralsight. But they have a limited number of courses.
LinkedIn Learning
Here, you can find high-quality courses made by industry experts. The platform has more than 16,000 courses ( which is 2.5* Pluralsight courses which are around 6,000).
They offer their courses for almost the same prices.
Coursera
Professors at top universities are the instructors in Coursera. Big names are found there like Yale, Stanford, Google, IBM, etc.. .
However, their courses cost around $39-$49 per month which is a bit more expensive than Pluralsight and Udemy.
Pluralsight Review: Final Thoughts
Whether or not you are willing to join free online learning opportunities like Pluralsight and learn their free courses or to subscribe to their paid ones doesn't mean that you can ignore this opportunity.
Every year, the platform offers free subscriptions to its paid courses. Therefore, subscribe for free, surf the site, and keep updated with their new offers.
Join Pluralsight courses here.