If you think that LinkedIn is intended only for obtaining jobs or creating a communications network, you are wrong.  Linkedin can be a job in itself if you learn how to make money on LinkedIn.
Yes.. To make money on LinkedIn is very affordable if we know the basics and ways. 
In this article, we will reveal the secret to making money on LinkedIn. 
How to make money on LinkedIn: 6 Different Ways
 Studies show that 1 million LinkedIn users are top influencers, and another 40 million users occupy decision-making positions. This can give you an idea that LinkedIn is not just a site to find the job of your dream. Actually, it's the dreamland itself. 
It is worth noting that there is a LinkedIn educational platform that contains professional courses in many of the disciplines required in the remote labor market, which you can rely on to develop your skills, and work to better qualify yourself for your dream job
There are also a lot of opportunities to make money on LinkedIn, you just have to see the big picture and widen your thinking. 
Here, we will let you know the best 6 ways to make money on LinkedIn:
1. Earn from LinkedIn by getting your dream job
In general, getting a job is relatively easy, especially for someone who is willing to make some compromises.
On the other hand, if you don't want to give up your dream job and are looking for a position that benefits your potential, there will be some challenges. 
This is the fact in real life but not in the presence of a wonderful platform like LinkedIn. 
The LinkedIn platform provides you with the opportunity to appear in front of thousands of recruiters and owners of international companies.
On this platform, the first and most popular way to make money on LinkedIn is to get a dream job.
Yes, it is not a way to make money directly from LinkedIn, but it is a way to make money from your dream job which you will find through LinkedIn.
How to stand out from all competitors? 
First start with your profile on the site. Make sure to have a professional profile mentioning all your personal and professional details. 
Enable the open to work tab across the site so that job owners can find you.
Show your skills and previous experience in detail in your profile.
Share stories of your successes and other stories of the hardships you faced in your previous job.
Write about your educational experiences and don't forget to contact a number of people in your field of work. The network of relationships will increase your chances of getting a good job.
How are the salaries of jobs found on LinkedIn? 
The salaries of those who got jobs on LinkedIn vary according to the diversity of the fields in which they work, and the diversity of the institutions they work for.
LinkedIn Pro-finder
Signing up for LinkedIn Pro-finder will also boost your chances of getting a job. It is an advanced professional job market, and most employers are looking for experienced professionals there.
2. Profit from LinkedIn by providing consulting services
If you have experience in a specific field, make sure to tell the people you connect with on LinkedIn that you provide consulting services.
In fact, many people earn a lot of extra money each month by offering their job experience in the form of consulting.
The market price for providing consulting services ranges from 50 to 150 dollars per hour, and the price varies according to the type of consulting services and the level of the consultant.
Your LinkedIn page
You can benefit from your LinkedIn page to provide more profitable consulting advice.
The advisory service provided, if relevant, will make more people want to do business with you than other generic content creators.
The consulting service must be characterized as providing solutions. 
The experienced consultant can present the problems he encountered with previous clients with the proposed solutions to them, without revealing the clients' secrets.
A good advisor should always be on the lookout for legal and policy changes, different client preferences, trends, new technological developments, etc… and provide help in times of crisis.
Secret Strategy to make money on LinkedIn from consulting:
Continue to provide your audience with the information and resources they need to help them solve their problems, and from time to time announce that you are ready to provide professional and practical consulting services to anyone who wants, and you will find many people contacting you to request your consulting services.
3- Profit from LinkedIn through affiliate marketing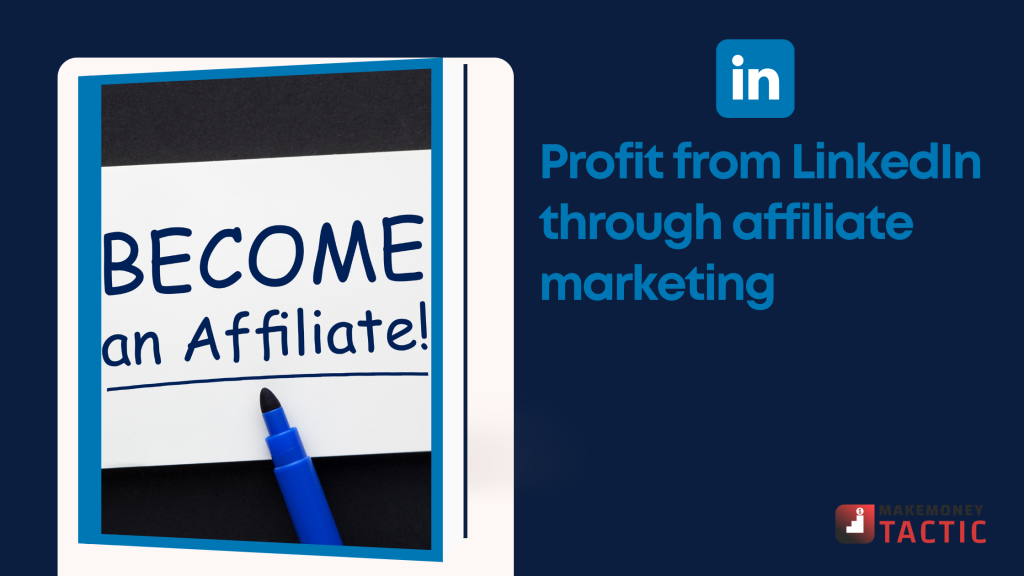 Affiliate marketing is one of the best ways to earn from LinkedIn. 
The method of profit from affiliate marketing is determined according to the situation you are in, so we can divide this method into two ways to achieve profits.
Here is how to make money on LinkedIn via affiliate marketing:
A) Profit from affiliate marketing as influencer
If you are an influencer and have followers on LinkedIn, you can make money on LinkedIn easily. 
Simply this method works by gaining the loyalty and trust of your followers, and then starting to nominate products and services to them. You will get commissions on each sale.
Example on affiliate marketing as an influencer
You work in video editing and you have a large number of followers. You constantly share information, educational resources and important tips for everyone who works or wants to work in the field of video editing.
In this case, you can subscribe to affiliate programs for the tools you use in the montage. Then nominate these tools to your followers, and give them your affiliate links. 
b) Find influencers to market your products for commissions
In this method, you will take the role of the owner of a company that wants to market itself by sharing profits with influencers. Therefore, you will use the LinkedIn platform to search for influencers in your field. Then start communicating with them and make deals about marketing your products or services for a commission.
Example on hiring influencers
Suppose you own a tool specialized in video montage, here you will communicate with those who work in montage and have a big number of followers. 
Ask them to nominate your video montage tool to their followers, and give them commissions on each successful sale.
Helping others promote your brand for a specific commission will increase your sales. You can benefit from promoting this within your groups too.
✅See also: How to Make Money on TikTok: Earn 1000$ from 6 Different Ways
4. How to make money on LinkedIn: paid ads (for business owners)
We have mentioned before that LinkedIn is a large platform for business owners and recruiters. Hence, it is a great advertising platform where you can take your business to a new level.
LinkedIn Paid Advertising is one of the top marketing channels that have proven to be effective, especially for companies whose clients are other B2B businesses.
You can easily go to the LinkedIn advertising platform, and start creating your first advertising campaign on the platform. 
Note: LinkedIn ads are characterized by their high price, but compared to their quality, they represent an excellent choice for many types of business, especially those targeting those looking for jobs or targeting companies.
5. Profit from LinkedIn by uploading videos directly to the site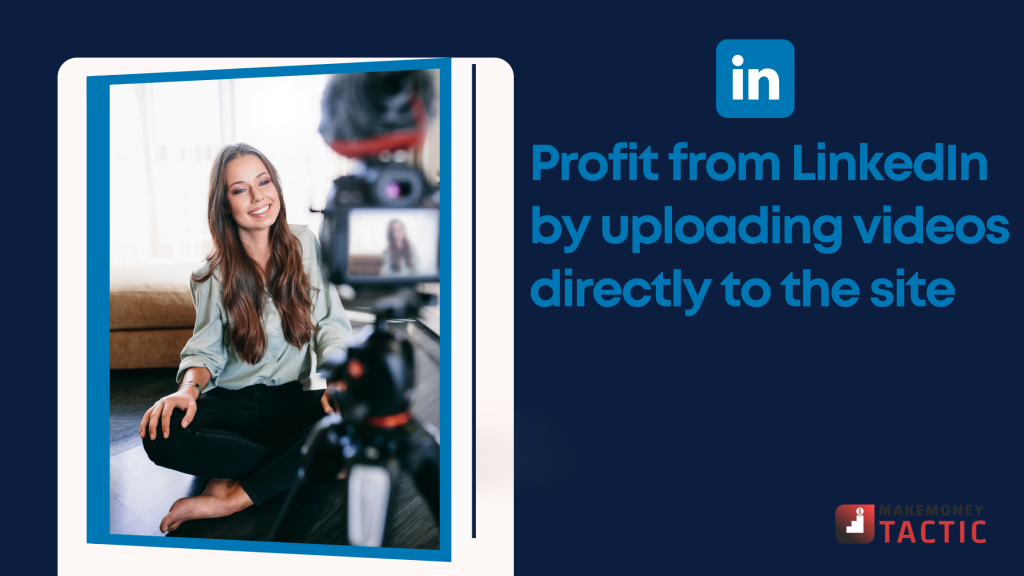 There are different types of videos on LinkedIn, including:
Embedded clips, which are mainly uploaded on other sites and added to LinkedIn.
Direct clips, which are uploaded directly to the site, and these have more access privileges to followers than the previous one.
As clips, which guarantees reaching many times more followers than the previous two.
Embedded videos VS Uploaded videos
Videos uploaded directly to LinkedIn earn 3 times more visibility and engagement than text posts, and recent studies have shown that uploading videos directly to the site increases the likelihood of conversations between followers of this activity more than 5 times.
Uploading videos to LinkedIn instead of adding links to these videos on other sites such as Facebook or YouTube, would double the number of views. Linkedin's algorithms serve the clips of the site more than the intrusive links on it.
Using the word "video" in promoting your clip can greatly increase the number of clicks. Interacting with comments also increases engagement. 
How to profit from LinkedIn Videos? 
This was all about the effectiveness of LinkedIn videos. But how can you make a profit from it? In fact, there are many, many ways in which you can generate excellent revenue through LinkedIn videos, including:
Marketing your products or services.
You can do affiliate marketing for a product or service that your target audience is interested in on LinkedIn.
Market the products and services for other companies by making promotional videos and publishing them to your followers for specific amounts of money.
The ideas here are endless… you just have to think outside the box a little.
6. Make money on LinkedIn by selling digital courses
LinkedIn users are among the most users of digital products, especially courses and educational books. 
bThis is simply because the majority of LinkedIn users are young people looking for a job, or seeking to develop their skills and acquire new skills to get more chances in the labor market.
One piece of the clear evidence that educational courses are a very popular subject among LinkedIn users is that LinkedIn itself owns an educational platform that contains a lot of educational courses.
You, my friend, can also make money on LinkedIn by creating your own educational course, promoting it and selling it to your network on LinkedIn.
In fact, this method of profit from LinkedIn is a treasure if it is implemented successfully. 
Yes, it is not suitable for everyone, as we are not all teachers, but whoever fits it can make a fortune through it.
To profit from LinkedIn by selling your digital course, follow these steps:
a) Proficiency in a field
From my point of view, in order to teach a course, you need more than just information and knowledge. You must be a professional in the field in which you want to publish a course.
The wonderful thing here is that the world of the Internet with all its courses is in your hands. You can learn as you like to have what you need to do your course.
b) Build your LinkedIn fan base
Building a follower base is the basis that you will rely on to promote your course later. You don't have to build a base of followers from all sides, but rather you have to build a base of followers who really care about the material that you will talk about in your course.
c) Promote the course and start making profits
Never invite your followers to buy the course directly in your posts. Start by providing your followers with good and useful content. And just mention that you have a special course of advanced information from time to time.
✅ See also: How to Grow Your Pinterest with Pinpinterest?
Important tips and points to help you know how to make money on LinkedIn:
After discussing the 6 ways to make money on LinkedIn, I am glad to give you a set of tips that will enhance your chances of earning money through this site.
1. Create an attractive profile
You must present yourself in the best image through your profile. Remember that your profile answers the most important question on your followers' minds about you. 
You must choose a suitable image and a good short for your profile in order to build a successful brand.
Notice that when people search for your name on Google, your LinkedIn profile will appear to them. Therefore, don't neglect working on your profile to avoid missing out on good earning opportunities.
Also, be sure to constantly adjust your profile, as it is an important thing that will bring you professional contacts and a good network. 
In short, your profile is the most important preparatory step on the way to achieving profits.
2. Use the strategy of surprise and out of the ordinary
Twitter is famous for being the platform where everyone can drain their energies away from the eyes of family members or managers! What would happen if we moved Twitter's strategy to LinkedIn? and how's that?
Ask questions that are out of the ordinary in order to get a good number of contacts, for example "Name the most boring questions in job interviews?", "Have you ever answered these questions in an unconventional way?" and "Why are most of the world's top business leaders and mega-corporations only men?"
All of these controversial questions that raise unconventional ideas are useful in expanding your audience and drawing the attention of business owners and customers to your brand. 
3. Create your own groups
Participating in LinkedIn groups that have the same specialty as your brand is not enough to make a profit. The owners of these groups may impose some marketing restrictions on you. Therefore, you should be interested in creating your own groups that serve your profit goals.
Don't make your group just a store that sells products only! Even if making a profit is the primary goal of its establishment. Rather, it should make it a place to connect with the public.
Ask questions, hold contests, post your opinions and ideas about the job market. The cartoons are fun, the videos are good and the articles too. These tools will help you build a loyal audience.
4. Study the competitors
Studying competitors is very important if we aspire to profit from LinkedIn.
 Read their profiles, job responsibilities, previous jobs and the pages of the companies they work for. 
You will get great insights about each competitor and how you can benefit from their own experience.
Finally, we can only say that the ways to profit from LinkedIn are numerous and endless. Moreover, the world's most famous recruitment site opens the door wide for you on LinkedIn. 
So all you need to do is study and know exactly who your winning horse is. Realize. what method is best for you and your circumstances, and what your capabilities are.
✅ See also: How do You Get 1000 Instagram followers for Free