With more than 700 million users, Linkedin is the world's leading platform for connecting candidates with employers and Monetize LinkedIn followers is essential. Through this platform, not only can every candidate find a job, but headhunters also find unsuitable profiles for businesses. In this article, we will learn what is Linkedin used for and how to monetize Linkedin followers!
What is Linkedin and LinkedIn packages?
LinkedIn is a social networking site founded by an American businessman named Reid Hoffman in December 2002.
LinkedIn targets users who are businesses and individuals with recruitment needs, looking for job opportunities or simply expanding relationships with other professional users that's why you need to monetize LinkedIn followers.
Thus, from small business owners and CEOs to accountants, designers, programmers, etc., everyone can use LinkedIn to join a network of experts and companies inside and outside their industry.
On LinkedIn, connections are divided into 3 levels, including:
1st-degree: Includes individuals already in your network. This means that you and your partner have accepted each other's "Connect" invitation;
2nd-degree: Includes individuals who are already in the network of the 1st-degree group, but you and the other party have not yet "Connected" to each other;
3rd-degree: Includes individuals who are already in the network of the 2nd-degree group, but you and your partner have not yet "Connected" to each other.
With connections at 2nd-degree and 3rd-degree levels, you can send them "Connect" invitations (if you want). When the opponent agrees, they will be in your network.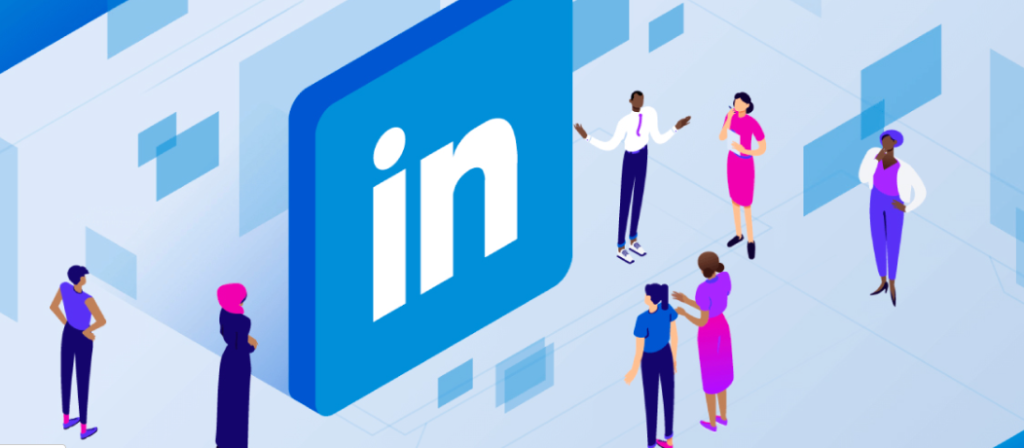 Currently, LinkedIn is providing users with 2 account packages: Basic (free) and Premium (paid). However, before making a decision on which account plan to use, you also need to register for an account and set up a personal profile, including your name, biography, academic qualifications, and previous work experience. 
Most users on LinkedIn use the Basic plan. The Premium plan is usually for businesses and headhunters. With a Basic account, you are allowed to do the following basic features:
Build profiles;
Connect with other users on LinkedIn by "Connecting" with them. This feature is similar to the "Add Friend" feature on Facebook;
Send direct messages through LinkedIn Messaging to people already in your network;
Search and follow profiles of other LinkedIn users;
Know up to 5 users who viewed your profile.
Particularly with the Premium package, LinkedIn divides into 4 different service types depending on the user's intended use: Premium Essentials (talent search), Premium Pro (job search), Sales Navigator Core (sales), and Recruiter Lite (increasing candidate accessibility).
Thus we can see that LinkedIn's operating mechanism is relatively similar to the working mechanism of the largest social networking platform on the planet – Facebook. But, the question is can you monetize LinkedIn like you do with Facebook.
✅See also: 25+ Sources for Trending topics for Article Writing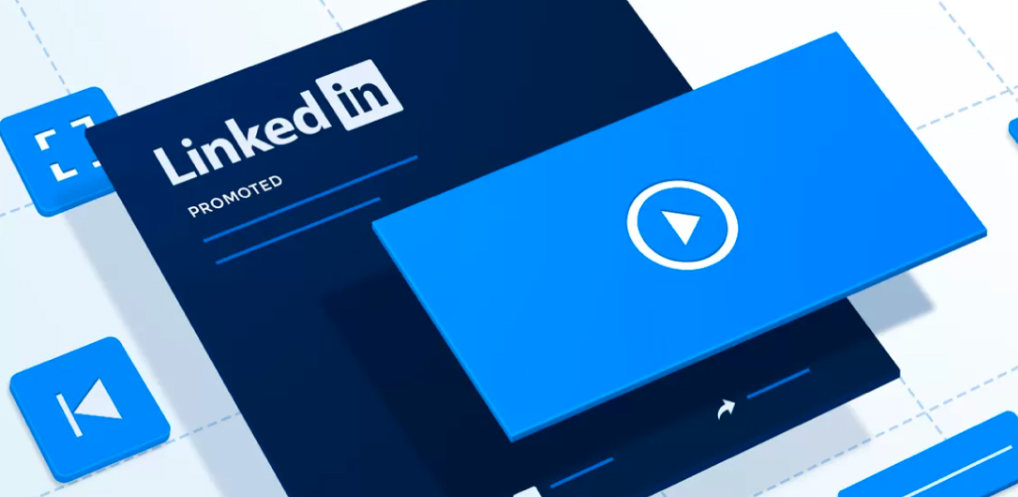 Why should you use linkedIn and Monetize LinkedIn followers?
The answer of why you should monetize LinkedIn followers is simple. You should optimize your LinkedIn profile effectively to monetize LinkedIn . Even if you are not looking for a new job, you should still create a profile on LinkedIn. And here are four reasons:
Help you develop a professional network: Individuals in your network can help you find an internship, provide information about a potential employer, or write you a letter of recommendation for another business. ,…So use LinkedIn effectively to build, manage and develop your network;
Help you build your personal brand: When applying for a job or internship, sometimes employers will search for candidate information on Google to see if this person is reputable or not. And if your profile appears at the top of search results, employers and anyone else will sense your experience and talent. To do that, your LinkedIn profile needs to be endorsed and recommended by people;
Make your profile stand out: According to the Pew Research Center, only 26% of college students use LinkedIn. This means that your name will stand out from the rest of your peers simply by creating a LinkedIn profile and establishing a professional network;
It's a great tool for company research: During the application and interview process, doing company research is an important step. LinkedIn can do that. It only takes 5 seconds to enter a company's name into LinkedIn's search bar, and all the data related to that company will appear immediately. You will find everything from HR status by gender, former employees, current employees, headquarters, and representative offices of the company. In addition, you can also look up the information of the person who will directly interview you on this platform to mentally prepare yourself for the upcoming interview.
✅See also: How to Grow Your Pinterest with Pinpinterest? Get 10K followers per monht
How to monetize LinkedIn followers accounts?
Experienced HR and headhunters only need a few minutes to scroll through LinkedIn profiles to conclude whether you are a professional candidate or not. Therefore, take the time to take care of your profile and monetize LinkedIn followers to make money with the 9 tips we suggest below to have an impressive profile.
1. Change URL to optimize LinkedIn
When you first create a profile on LinkedIn, you'll see that the URL associated with your profile is usually, by default, a very long string of numbers and letters, like: 
Now you need to shorten this URL so that anyone who wants to search your profile will quickly find it. 
To change the URL, you just need to do these 3 steps:
Step 1: Click on the right corner of the profile;
Step 2: Select Edit public profile & URL;
Step 3: Click on the pencil icon in the Edit your custom URL section and proceed to edit. You better change your name!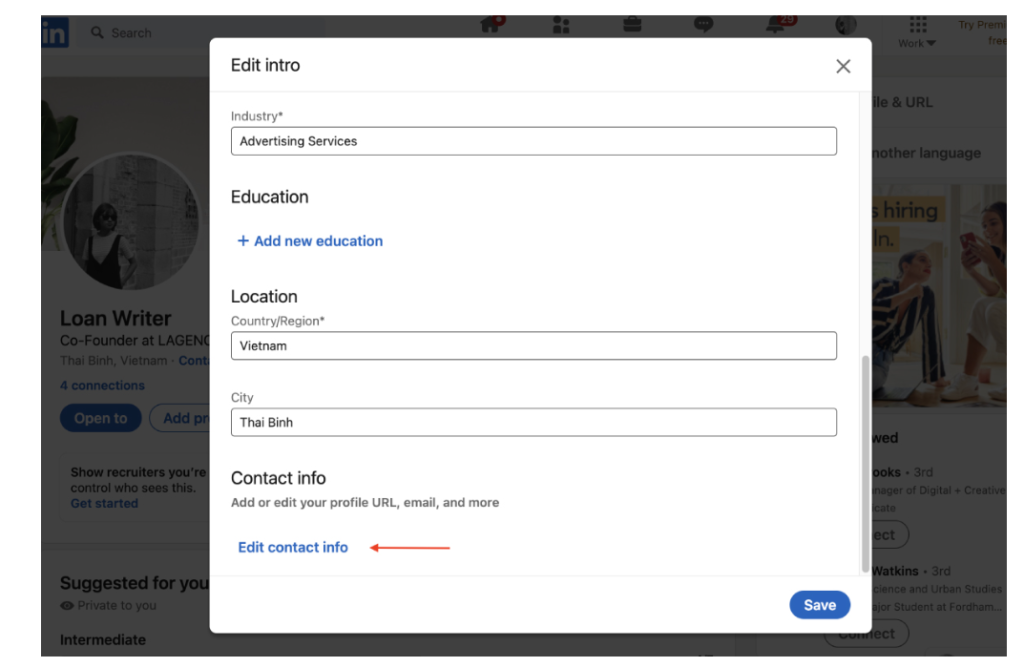 2. Choose professional portraits and cover photos
Portraits are one of the first things people see. It represents your personality and seriousness towards work. Therefore, if you want to use LinkedIn to search for jobs, ensure your profile picture is professional and friendly.
So how can a photo be called a professional?
The photo must be the same as you in real life: You can use the app to edit your face to make it brighter slightly, but absolutely do not abuse photoshop so much that no one notices;
The photo was taken within 6 months;
Close-up photos take up about 70% of the frame: You don't have to use a photo card. You can choose any photo you like but make sure to see the face clearly;
Simple background, not too distracting: If you are not proficient in Photoshop, we will introduce you to 2 useful websites, especially 100% free. There are removed.bg (It helps you remove bad background) and canva.com (It helps you remove and re-insert a more eye-catching background).
You can also download a cover photo to make your profile stand out. However, your profile picture will be much more critical, as it's one of the things employers see before clicking on your profile.
3. Write an attractive profile title to attract LinkedIn Followers
Like your profile picture, your headline is also one of the few things that catch people's eyes first before even clicking on your profile. Therefore, you need to write a catchy headline to get countless connections from recruiters and other candidates on LinkedIn. 
You can apply 1 of 2 impressive headline formulas as follows:
Position | Specialize in a particular job/skill;
Position | Specialize in a certain job/skill + help someone with a problem.
Example: Professional Editor | Specialized in editing TikTok videos (Professional Editor | Specialized in editing TikTok videos).
Particularly for HR people, you can take advantage of the title on LinkedIn according to the following formula to attract candidates to know the position you are recruiting:
Position | Current position + 3 special benefits.
Example: Professional HR | Currently recruiting Web Developer with high salary, foreign environment, attractive project. 
4. Write an impressive Profile Summary
The Summary or About section on LinkedIn is an opportunity for candidates to freely express their personality and achievements to employers without following stereotypes. However, you must still be restrained in your style, avoiding excessively polishing your name. 
There is also a special way to make your profile more "genuine" in the eyes of employers, which is to use the Summary section to tell a story about the journey to pursue your passion. However, this method is not popular because not everyone's story leaves a deep impression. As a result, people often choose the safer way to present their strengths and achievements, with a portfolio (if any).
If you've read this far and you still can't figure out how you should write a Profile Summary, please refer to the profiles of individuals with unsuitable networks or individuals holding important positions in the business to learn. Ask and apply for yourself.
5. Write your work experience as a result/achievement
When presenting the work experience section on LinkedIn, you do not need to list the details of daily work at each company like in your CV. What you need to include includes:
Position;
Working time;
Company name: Should add a link to the company's official website to increase the credibility of your profile;
Achievement: Assuming 2 years of experience as a Customer Service Officer at Company X, don't just say, "Responsible for answering customer questions." Instead, say, "I used to successfully handle 150 customer requests via hotline per week with a satisfaction index of up to 99%". Surely that will help your profile stand out a lot. 
6. Show off your skills to monetize LinkedIn
One highly appreciated feature of LinkedIn is allowing users to display outstanding skills. This is seen as a simple and effective way to build your brand and expand your network.
LinkedIn will suggest a lot of skills (up to 50 items) on your list of connections. However, you should only select the 3 skills you think are most important for the position and pin them to the top by clicking on the pencil icon on the right side of the screen so that viewers can easily see it to recognize them.
These skills often appear messy and out of sequence. So you can rearrange the order in which your skills are displayed or hide them from the skill list if you want. 
After adding a certain skill to your LinkedIn profile, individuals on your 1st-degree networking list can claim the skill. These are called Endorsements, which are completely different from Recommendations. The more Endorsements you get, the more reputable your profile and increased connectivity.
Employers are constantly searching on LinkedIn, viewing each skill as a keyword. For example, suppose the HR of company X searches for the keyword "Creativity," and you have listed "Creativity" as one of the top 5 skills. In that case, your profile will be displayed in the search results of company X. 
If you don't know which skill to choose, consult the LinkedIn profiles of reputable industry colleagues and apply for your own profile. Influencers and everyone is getting revenue from LinkedIn, so why don't you?
7. Update contact information
"Sorry, my side is in urgent need of recruitment, so I just closed the interview schedule with another candidate."
If you don't want to receive answers like this, proactively publish your contact information in your LinkedIn profile so HR can easily communicate directly with you. 
There are 2 places that you can use to update contact information: 
Right at the cover photo: Just visit the website canva.com. It's not difficult for you to design a super cool profile banner containing your contact information; 
Right at the Profile Summary section: Use the following sentence pattern "If you want…, please contact me immediately via…"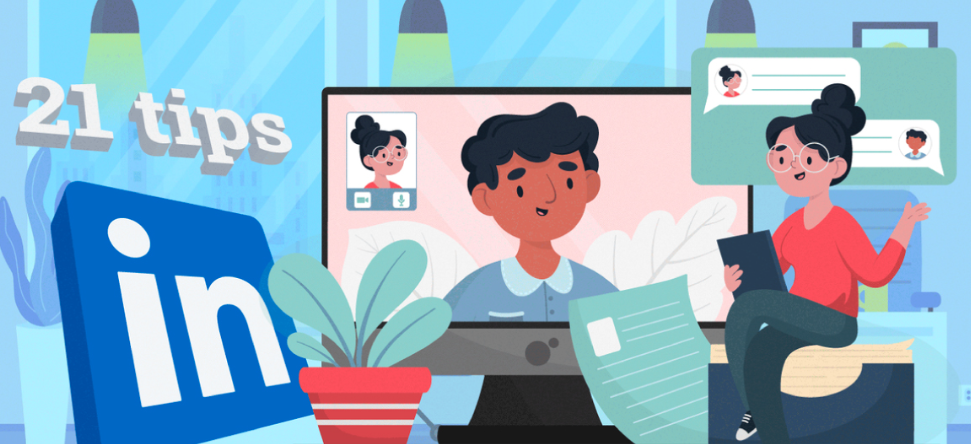 For example: If you need to recruit Content Marketing for Social, please contact me via SDT 0123456789 or email aaaaaaa@gmail.com.
8. Get suggestions (recommendations) to monetize LinkedIn
One of the best ways to make your resume stand out and impress employers is to get a few recommendations from other individuals.
These individuals could be your previous manager, a colleague you worked with, or even someone you trained, managed, or supervised. If you're a freelancer, you can ask for a recommendation from a client you've worked with.
If you are a recent graduate or new to the profession, you can ask for recommendations from faculty members who have worked with you on a research project or colleagues during an internship.
However, it is not natural for these people to provide recommendations on your LinkedIn profile. You have to open up to ask for help actively, and don't forget to send a thank you or a small gift to them after finishing the proposal.
Please contact them politely via LinkedIn or email using the following form:
"Hi……. I'm working on improving my LinkedIn profile, and one of my goals is to get a few recommendations from colleagues who already know my previous work well. Could you write me a few suggestions on LinkedIn this week to help me improve my profile? I can do the same for you if you want. Just let me know."
9. Update profile regularly to monetize LinkedIn
Whenever you achieve impressive achievements, get promoted to a new position, or even move to another field, update them on your profile regularly. This will indirectly demonstrate your ability as well as your level of promotion at work. And, of course, every employer wants to be connected with such excellent candidates.
When you want to update your profile, you need to click on the pencil icon next to the word "More" and fill in more information. 
The rest of the notes in the work experience presentation have also been stated very clearly in Section 3.5. Please scroll up to review if you are unsure how to do it.
10. Post regularly
Posting regularly on your personal account will help you reach more people on LinkedIn. You can:
11. Follow and engage with people in your industry for monetization
Search for people in your industry and follow them. There is a big chance that they will follow you too.
Moreover, like their posts, add interesting comment and engage in every possible way.
How to create a quality network with Linkedin to monetize LinkedIn?
We can't deny the fact that: The more connections someone has, the better their chances of getting access to "genuine" jobs will be. 
Let's say you have about 100 level 1 connections, each of which has about 100 other connections. So your list of level 1 and level 2 connections can expand to 10,000 people. Out of these 10,000 people, as long as you have access to 100 job opportunities and out of these 100 job opportunities, just being successful with 1 deal is enough.
However, do not arbitrarily connect and create engagement with others if they cannot help your work. Let's build and develop a quality network on LinkedIn with the following 3 groups of people:
The person working in the same position as you in the old company;
The person who is working at the company/corporation that you dream of;
Recruiter.
So you understand now what LinkedIn is and the 9 steps to an impressive Linkedin profile, right? I hope you find the right job with LinkedIn soon and don't forget to follow our website for updates on recruitment articles.
Remember that you can sell products, work as an affiliate, become influencer, work on your business growth, share links, become content creators, build contacts list, spread the word about your brands and hashtags, get traffic to your YouTube channel or community, boost your career, increase subscriptions, run ads to promote a niche, offer, product or service, work as a digital marketer, or else to make income on LinkedIn as we saw in this blog post: How to make money on linkedin 2022: Earn up to 15000$ per year
FAQ about how to monetize LinkedIn
Can you monetize LinkedIn followers?
Sure, you can monetize LinkedIn followers.
Do LinkedIn influencers get paid?
It turns out LinkedIn does not pay for views. There is no direct monetization system on LinkedIn.
How do I monetize my LinkedIn group?
To monetize your LinkedIn group, sell products, services or courses, promote CPA offers, grow your business, etc.
How do you monetize followers?
To monetize LinkedIn followers, sell products, services or courses, promote CPA offers, grow your business, etc.