QuillBot has just launched a free Citation Generator tool allowing the creation of citations and references according to popular international standards for scientific essays or reports. It also helps you write, paraphrase, and summarize blog posts and articles in no time. Read this QuillBot Review to know everything you need about Quillbot.
Recently, new features have been added. You can see my review and instructions for using the plagiarism check feature on QuillBot in the following article: QuillBot Plagiarism Checker Review: Become a Copy-Writer Today
What is QuillBot?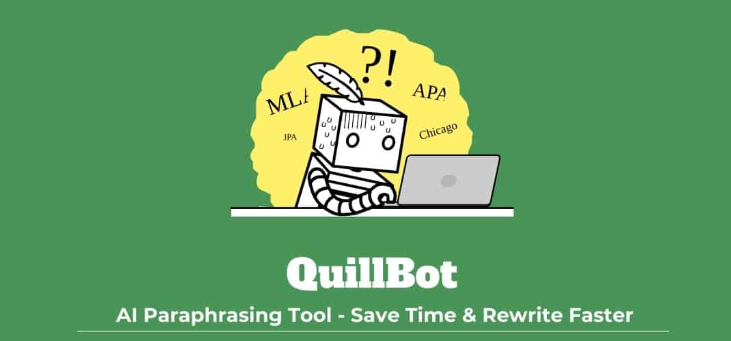 QuillBot is a tool to reinterpret and summarize English sentences or paragraphs using artificial intelligence technology. In other words, QuillBot can create a new text with the same content as the existing text by changing sentence structures, synonyms, antonyms, etc.
It can be considered, QuillBot is a "paraphrasing tool" and a "summarizing tool."
Currently, QuillBot has 3 main features, which are paraphrasing in many styles and levels, text summarization, and grammar checking.
On this blog, I have shared a lot of detailed articles about QuillBot (including user manuals, installation instructions, tips for using QuillBot to avoid plagiarism errors, how to check plagiarism with QuillBot, comparing QuillBot, etc.). You can check out the articles below:
1- Quillbot Review: Citation Generator AND Co-writer
2- Quillbot Paraphrasing Tool Online Review: Be Content Writer
3- Quillbot Grammar Checker Review: It Fixes Your Writing!
4- QuillBot Plagiarism Checker Review: Become a Copy-Writer Today
5- How to Use Quillbot on Word – Google Docs – Chrome and Android
QuillBot Review: Review of new features Citation Generator
With essays or reports, citing sources and references is extremely important and should be done correctly to avoid problems of plagiarism or copyright.
What is QuillBot Citation Generator?
In mid-2021, QuillBot launched a new free feature called Citation Generator.
This feature supports quoting content sources used by users for their documents, essays, or reports as bibliographies and reference lists.
QuillBot Review: Citation Generator User Guide
Define citation style
First, you must determine the source citation type that is right for your essay to get the most accurate, consistent results.
I often cite references according to the APA standard – this is also the most commonly used standard among universities and graduate schools in our country.
QuillBot's citation tool currently supports 3 types of citations: APA, MLA and Chicago. These are the most commonly used styles, which can be used in several basic areas, namely:
APA (American Psychological Association – American Psychological Association) is most often used in scientific disciplines such as Psychology, Education, Business, Engineering, and some sciences.
APA-style citations are usually listed above in the References section (at the end of the essay).
MLA (Modern Language Association ) is commonly used for citations in the Humanities such as History, Languages, Literature, and Philosophy.
In essays, MLA-style citations are often listed under Works cited.
Chicago-style citation is commonly used in Fine Arts, Anthropology, the general sciences, and humanities, as well as for publishing and editing manuscripts.
Enter citation information
The first step in creating a properly cited source is to have complete information about the source being cited.
However, you must ensure the source cited is reliable and has complete information about the author, time of writing/posting, place of publication, etc.
The source is often cited from published titles and reported and recognized essays for important theses and dissertations. That is not to say that sources from websites are not acceptable, as people have established their own rules for these sources.
First, in the Citation Source section on the left, select Website and link the article used for reference into the Enter URL box, then press the Cite button to go to the detailed information entry:

You can also click the Compose button to go to the detailed information entry:

At this point, the dialog box on the right of the interface will display a complete citation based on the information you provide about the source:
The system will default to using the APA standard for citation. You can click on the Citation Style section to change it to MLA or Chicago style.
This is the most frequently used source in essays. The requirements for input information are also more detailed with the website source.
There are two ways to cite a source from a book title. The first way is to directly search for the title of the book in the search bar:
The system will produce results about published titles of the same name. You just need to find and select the right book (publisher, publication year is correct with the source you use for reference) and press Cite.
There may be some missing information that you need to add, such as the place of publication (required) or the volume number, series, version, etc. (if any). At this point, you need to click the Edit button to add this information.
For titles that the system cannot find, you can directly enter information by pressing the Compose button :

Sources of newspapers and magazines:
This source is also often used in essays, but the citation is different from the type of book or website citation. To make a citation, you need to click Compose and select Citation Source as Journal, and then fill in the cited source information: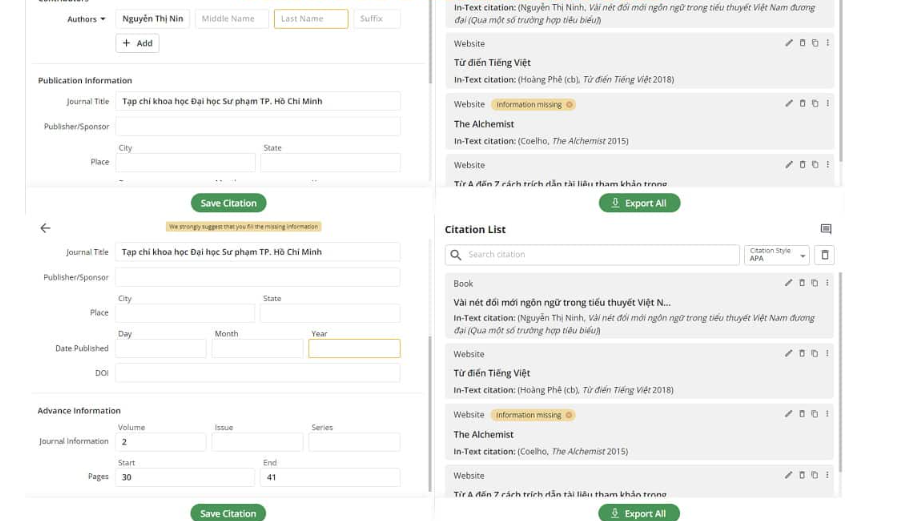 In addition, the text shown in the quote to the right is an abridged version only. In case you need a complete quote, correct punctuation, and full information, you can click on the content to have QuillBot display a detailed version:

QuillBot Citation Generator vs. Citations & Bibliography (Microsoft Word 365)
My major has a lot of exposure to books and newspapers, so in almost every subject, we have to do essays, scientific reports, etc. Thanks to that, I am pretty knowledgeable about how to write references, as well as how to write references. as some supporting tools.
One of the tools I used before I knew QuillBot's Citation Generator was Word's Citations & Bibliography feature. The way these two tools work is similar. However, because they are used to create documents, Word has many advantages over QuillBot:
Regarding professionalism, Word outperforms QuillBot in the number of citation styles and sources. However, the normal learning and working environment do not require too high a reference source or the standards for writing references.
Therefore, I still find QuillBot's Citation Generator worth using because it is an open tool that anyone can use for free. The sources and citation styles it supports are trendy and easy to use without taking too many steps, like Word.
QuillBot: Save Time & Rewrite Faster
The new feature Citation Generator is a handy tool for university students, graduate students, teachers, and lecturers who often have to perform and interact with essays.
Currently, QuillBot is still working on perfecting the Citation Generator toolkit so that it can add source and citation types. I hope this feature will be increasingly optimized to serve users' needs.
(Updated January 2022)
What if all the existing features of QuillBot, along with some specialized content functions such as search-data analysis, text customization, etc., were gathered in a single interface? Check out QuillBot's (testing) Co-writer and co-editor!
QuillBot Review: Co-writer feature
QuillBot has recently tested (beta) the new Co-writer on its official website.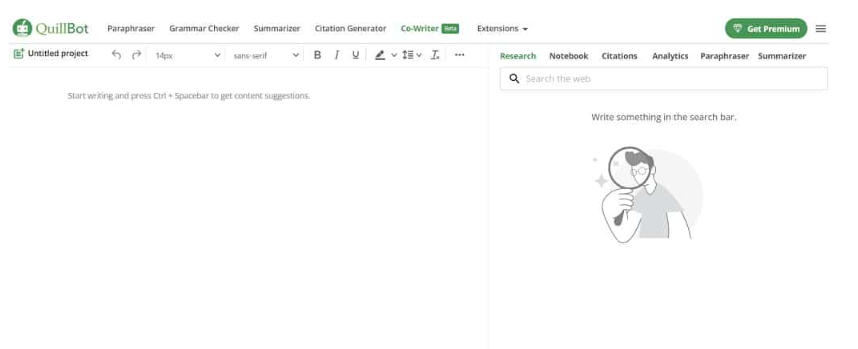 This is considered a "package" toolkit that combines all the announced features of QuillBot, in addition to some content-specific features such as research, data analysis, and text customization…
QuillBot Review: How to use QuillBot Co-writer?
When accessing the Co-writer (next to Citation Generator ), you will be navigated to the interface of this feature and the project management – a manipulation dialog box will appear:
You can create or upload personal files (limited to 2GB) and download or delete projects depending on your needs.
Here are the new tools built into Co-writer :
Editor
When you create a new project, you will be navigated to a blank interface with the editor on the left. You can also directly upload existing documents and continue to edit and manipulate them:
I am pretty impressed with Co-writer's editor. It has quite the full features of a content editor (adjust the size, font, alignment, text color, and even a text counter, automatically saves in real-time, error checking, etc., similar to Google Docs).
Research
This is also an impressive tool and extremely handy when you are writing but are at a loss, unsure of what you are writing, or whenever you need to find more information or documents.
Co-writer's Research tool acts as a data collector. It can help you find articles related to the keywords you are looking for, then analyze and provide the necessary information. So you can use it for your posts.
Notebook
In the process of finding more information, if you find exciting information or content with the Research tool, you can bookmark that news to store it in Bookmarks in this section.
Analytics
This section belongs to a reasonably professional category for advanced content writers with the ability to statistics and analyze information and data from your articles:

Based on this statistical information, you can adjust the article to suit the purpose of writing, making your content more complete and achieving higher engagement.
Available features of QuillBot
And finally, how to adjust the article accordingly? Paraphrase tools, Summarizer, and an error checker will help you. Paraphrasing can convert many different tones, Summarizer can summarize too long content, and Grammar Checker will correct your grammar and expression errors.

To change the tone, summarize or add a source to a paragraph, you need to highlight and right-click on the section. Using the Paraphrase and Summarizer tools is similar to QuillBot's standalone Paraphrase and Summarizer features.
QuillBot Co-writer is a highly convenient feature.
In short, a Co-writer is a highly convenient feature because it combines all the inherent features of QuillBot, plus some helpful content-writing tools. I hope this feature will be optimized and officially used soon.
QuillBot Review: Is Quillbot Legit
QuillBot is genuinely a great language tool. The team is constantly improving and adding new features. If you are asking is Quillbot legit, the answer is yes. Actually, QuillBot is currently ranked as the top tool.