QuillBot plagiarism checker feature for English documents is good news for those using QuillBot because QuillBot is a multi-language tool. 
Many users choose this Paraphrasing Tool because of its good "quality" and relatively cheap fee (although recently, the fee has increased to only 10%).
Let's experience this feature quickly.
Review the QuillBot Plagiarism Checker
In addition to automatically rewriting the text, creating citation sources, and checking English text grammar (similar to Grammarly), QuillBot now also has a plagiarism checker feature, a language tool. All-in-one is excellent. But is it that good?
Previously, I compared the ability to check English text grammar between QuillBot and Grammarly. The results showed that QuillBot's grammar-checking proficiency is acceptable.
✅See also: Quillbot Grammar Checker Review: It Fixes Your Writing!
Embracing many features is not a good choice for users (although from a service provider perspective, adding features can attract more potential customers, but if the experience is not good, it annoys the customer). I have experience with Rank Math, a WordPress plugin. This tool is perfect at the time I use it. For many of you, maybe Rank Math is enough. But this plugin is getting heavier and heavier, although it's still good, especially when it comes to expanding other text features. I "bye-bye" Rank Math to come to SEOPress, and I am pretty satisfied with this plugin.
Back to QuillBot – Plagiarism Checker. Is this feature any good?
✅ If you need a quick answer, then QuillBot – Plagiarism Checker is good. It didn't disappoint me. You can use it if you need to check some documents or use it for groups. The good reason is that QuillBot uses the service of CopyLeaks.com, a leading plagiarism checker brand today.
What does QuillBot say about this plagiarism check feature?
QuillBot's plagiarism checker scans your documents for plagiarism from billions of data sources.
This feature will also ensure authorship and guide you in creating proper citations: QuillBot's plagiarism checker will analyze any content elements in your text for comparison. The source of the content published on the web or in a book, research paper, academic article, or news source. The results of plagiarism will show up as a clear report.
QuillBot can scan text for plagiarism in more than 100 languages, including English, Spanish, French, Portuguese, Arabic, Russian, German, Greek, Chinese, and Japanese.
QuillBot Plagiarism Checker User Manual
Conditions for using the plagiarism check feature on QuillBot
To use the Plagiarism Checker feature on QuillBot, you must upgrade to the QuillBot premium package.
QuillBot premium users get 25 free plagiarism-checking pages per month, which means you can check for plagiarism 25 times a month for a document up to 250 words in length. (You didn't misread that, 250 words to be exact). Compared to other plagiarism-checking tools, such as Turnitin, perhaps the number of 250 words for a plagiarism check is minimal.
After checking 25 times, QuillBot users can buy more, $7.45 for 25 pages, $24.95 for 100 pages, and $49.95 for 250 pages.
Supported test text file formats: html, txt (UTF-8 encoded), csv, rtf, xml and htm, pdf, docx, doc, pptx, ppt, odt, chm, epub, odp, ppsx, pages, xlsx, xls and LaTeX.
Does QuillBot save plagiarism check text? QuillBot says it will store the contents of your test text to generate plagiarism check reports so that you can access your plagiarism check results reports in the future.
 QuilBot uses a third-party service (via API), CopyLeaks, to perform plagiarism checks. QuillBot ensures that CopyLeaks does not store your content. Also, QuillBot will never share your content with any third parties outside of CopyLeaks.
✅See also: Grammarly Free Online Writing Assistant
Instructions for using QuillBot – Plagiarism Checker:
Login to your account, then select the plagiarism check menu.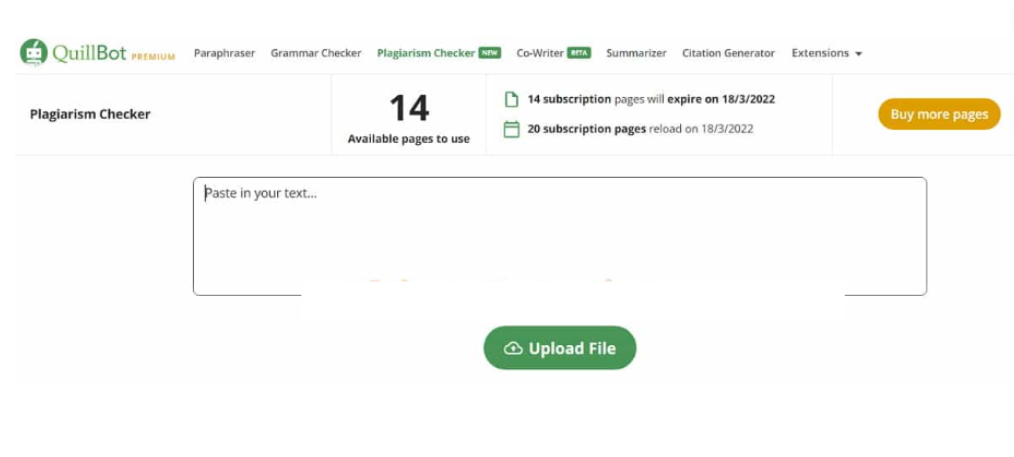 Paste the text you need to check or upload the text. Note that the text length is limited to 250 characters for one check.
Select Scan to have QuillBot start scanning the text.
Wait a while and click View Report to see the test results.
Report plagiarism check results:
As you can see in the picture, I have discovered 2 pages that copy the content of the ChiasePremium website.
Why did QuillBot add the QuillBot Plagiarism Checker feature?
QuillBot said that the company advocates integrity in learning and research activities, whereby, QuillBot users:
Be honest
Cite the source clearly
Show responsibility
and author recognition
QuillBot is committed to promoting and protecting academic integrity. Plagiarism Checker, QuillBot's Citation Generator, is built to educate students on best practices for avoiding unintentional plagiarism.
✅See also: Quillbot Review: Citation Generator AND Co-writer
✅See also: How to Use Quillbot on Word – Google Docs – Chrome and Android
Golden Tip: Even reinterpreted text needs quoting. Ideas can be plagiarized as easily as words, so citing the source is essential if you're taking someone's idea and revising it. By changing the language, trying to translate someone else's idea into your own is as unethical as cutting out a quote. It is not essential, but it is better to cite your sources.