Continuing with the 11 Steps Instagram Marketing Strategy for Small Business blog post, let's explore 13 Creative Instagram Marketing Ideas to Grow Your business
13 Creative Instagram Marketing Ideas to Grow Your business
There are a lot of Creative Instagram Marketing Ideas to Grow Your business. You just need to be serious and apply them all or at least most of them for best results. These ideas are:
1- LAUNCH CONTESTS AND GIVEAWAYS (the best Creative Instagram Marketing Ideas)
Contests and giveaways for brand promotion are two of the most popular strategies to attract the attention of a broad audience on social media.
Contests are a great way to increase brand exposure, raise awareness, and drive engagement rates dramatically. It will encourage user-generated content. Create a separate hashtag for each contest. This tool allows you to track and manage all your followers' entries. And this unique hashtag is also a way for others to see your brand and its popularity. The more people see, the greater the ability to interact, follow, and take action.
Another popular type is giveaways. If you can learn how to run a profitable giveaway, the effort and value you put in will lead to more revenue.
Many people may wonder, how can we make money from giving away free products to customers? Take a look at an example below, where Lander used this strategy in an Instagram post:
The company is running a giveaway that rewards an intelligent box, power bank, phone case, and lightning cable. This will help increase the visibility of the page. It gives people a reason to follow profiles and engage with brands.
You may also notice that this giveaway differs from what you've seen. Lander collaborated with other brands to sponsor this giveaway.
Again, this strategy will drive more users to their site. These other accounts will also post information about the giveaway and instruct users to follow Lander's account for a chance to win.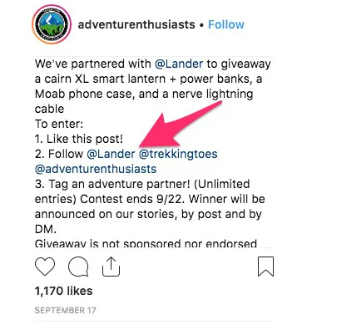 You can be creative in many different ways with this form. Instead of giving random products to your followers with the simple request of liking and following your account, you can build a more structured contest and claim to have some skills.
Contests that encourage user-generated content work best. Ask your followers to upload a photo and tag your brand to participate. This strategy will expose your company to these users' followers.
If someone sees their friend promoting a brand, they are more likely to follow the brand's account and enter the contest.
Once you've got these users interested in your product, you can use other strategies to get them to buy. Even if they are not the winner, the product you gave away in the giveaway is still on their mind. This will also help you to how to get 1000 followers on Instagram.
✅See also: 11 Steps Instagram Marketing Strategy for Small Business
2- TAKE ADVANTAGE OF THE "SWIPE UP" FEATURE (SWIPE UP TO SEE)
"Swipe up" is a feature that brings many new changes to businesses.
For years, you may have struggled to get Instagram users to navigate your website from a specific link. You will post a piece of content and then instruct the user to click on the link in your bio.
But this approach has many disadvantages.
First, the user has to take more steps. They have to navigate to your profile page and then make one more click. And users usually won't want to "lose effort" like that.
Also, what if you want to promote two different landing pages? Or maybe 3? Is it four pages?
You should not put many links in your bio. It will confuse the reader.
And the "swipe up" feature will help eliminate these problems. You can now use Instagram stories to drive direct traffic to specific landing pages. Here are some examples.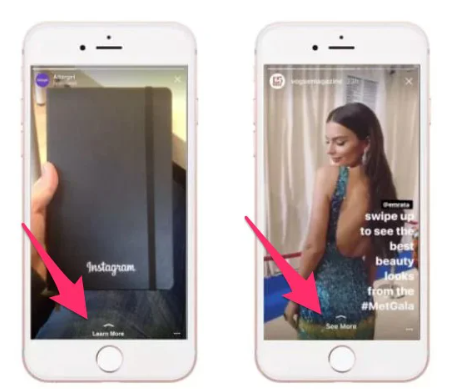 Note that only when your business has a 10,000 followers profile will you have access to this feature. You can then promote a product or service on the story and add a "swipe up" function with a link to the corresponding landing page.
If you're promoting a product, the right landing page should be the product description page on your website. There, users can view more images and add products to the cart.
This approach can be considered a lead magnet (potential customers) and is a great way to generate more traffic to your website with the ultimate goal of increasing conversions.
3- USE SHOPPABLE POSTS
If your brand has an e-commerce site, you must exploit and leverage shoppable posts (posts containing products or services that users can shop directly from). This strategy allows you to sell products directly through the Instagram platform.
This approach is so popular because it increases the odds of getting existing and potential customers to buy something.
Currently, you rely mainly on customers navigating your website to buy products. This customer can come from organic traffic, paid ads, or direct navigation. The problem is that these people may not do it every day, but they all use Instagram daily. According to statistics, the number of daily users of Instagram is 500 million. Here is an example of a shoppable post from the brand Patara Shoes:
The content is also quite simple. This post is just a casual image of one of that brand's products. You also see on the picture there is a product tag containing the name, price, and a link to purchase. They have to click on that tag, and they'll be taken to your website.
This is easier than manually searching for a product from the browser. These shopping-enabled posts also help increase conversions.
Also, check the captions. Try to create a FOMO (Fear Of Missing Out) effect by telling users that the product is only available in limited quantities or for a limited time… to urge them to buy.
It is an amazing way for how to get a 1000 followers on Instagram for free and make money from Instagram.
4- REPOST THE SAME PRODUCT
If you only post a product once and don't re-promote it, people may not remember it. Think about user behavior on Instagram. They scroll through the bulletin board very quickly.
The first time they see the product, they may not have a reason to buy it. But if they see it more than once, it can pique their interest.
According to a study from Sprout Social, more than 60% of people need to see something on social media 2-4 times before they make a purchase.
But that doesn't mean you should post the same image multiple times. This is extremely boring and can cause people to unfollow you.
Be creative. Start with a post that only includes images of the product. A few days later, you can share another image of the product on your story. Next week, launch a campaign to promote that product. A few weeks later, you can share a video showing how to use the product.
Posting the same product multiple times can increase viewership.
5- RESPOND TO COMMENTS AND MESSAGES
Responding to Instagram followers is essential, even if it can be frustrating or take time.
By replying directly to the comments below your posts, you'll make your brand more "human" and personal, which is something people really appreciate.
This activity is especially important if customers ask questions or voice complaints about your business. Please respond to these comments as quickly as possible to provide prompt action. It also shows other users your feedback and knows that the brand genuinely is interested in customer service.
Customers will be willing to pay extra for good service. With effective communication with customers on social media, you can expect sales to increase.
6- USE STORIES TO INTRODUCE PRODUCTS
The content mentioned above posting content to Instagram stories. You can now use this story feature to sell products like you can with shoppable posts.
In June 2018, Instagram introduced the purchase feature to stories. Below is an example from the Madewell brand: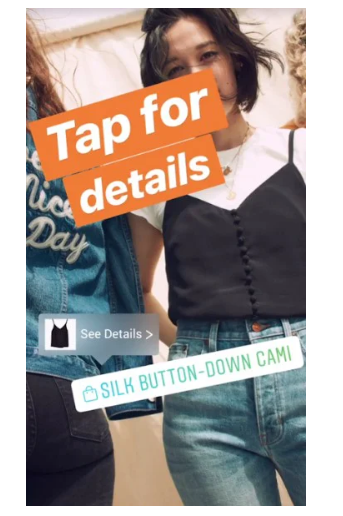 You can see that this story is promoting the product "Silk button-down cami," Since the story purchase feature is still new, the brand has inserted a line of text letting users know they can click.
You will be redirected to the brand's website if you click the button as instructed. Here you will be able to purchase the product that appears in that story:
If you have an online business, use this strategy. As mentioned earlier, people need to see a product on social media before making a purchase. Add shoppable stories to the list of activities used to promote your products.
7- CONNECT FOLLOWERS TO FAN PAGE ON FACEBOOK ( This Creative Instagram marketing ideas will boost your Facebook page too)
If your company has an Instagram profile, you also have a Facebook fan page. These two platforms have the same ownership unit so many features can be synchronized. You can connect your Instagram followers to your business Facebook page.
Once this process is complete, you can use the chatbot in messenger to "nurture" these users. There are over 300,000 monthly active chatbots in Facebook Messenger. Obviously, other businesses have also been applying this strategy.
Be quick to deploy before your competitors rob your customers.
By extension, to get more followers, you need to promote your Instagram profile across all distribution channels:
Insert links pointing to Instagram accounts in emails sent to customers
Share information about Instagram posts on the website
Blogging about it
Use other profiles on multiple social media platforms to promote Instagram content
This will also help you get 1000 followers instagram free.
8- OFFER DISCOUNTS TO FOLLOWERS
Everyone loves incentives. Share discounts with your Instagram followers to encourage them to buy.
Instagram is a great platform to run flash sales. Since your story disappears after 24 hours, you can share a discount code with this post type.
This will make followers feel like they are getting a favor others don't know about. That sense of exclusivity will also encourage them to make a purchase.
Here is an example:
Do you notice a difference here? This example was chosen because it also uses another strategy presented in this article. This is a targeted ad.
I don't think discount codes should be limited to profile posts or stories. Combining that offer with targeted advertising can be extremely effective. That's because your ads will include a call-to-action (CTA) button that leads users to your website.
If someone clicks the "Shop Now" button in the ad above, they can immediately use the discount code. This will be easier than having to open a new window.
9- ADD SUBTITLES TO VIDEOS ( This
9- ADD SUBTITLES TO VIDEOS ( This Creative Instagram marketing ideas work with Youube and Tiktok too)
You probably already know the video format that can help bring more engagement. If you use video content, add captions to your clip. Subtitles will increase watch time by 12%. There is also a notable metric: on Facebook, 85% of videos are usually played without sound. And since people who use Facebook are also more likely to use Instagram, there are similarities here.
10- GOLDEN TIME TO POST
To get more engagement, you must ensure your audience sees the post. Therefore, deciding when to post is very important. Here are the results from a CoSchedule study:
They found that Monday and Thursday are the best days to post during the week, the index of the rest of the business days is quite similar, and Sunday is the lowest. It could be because everyone will be going out and busy with their plans for the weekend. They won't have much time to go on social media.
The time to post is also decided based on your target audience. For example, your brand is targeting customers who live in the US. One thing to keep in mind is that 80% of the US population is concentrated in the Eastern Time Zones and Central Time Zones.
✅See also: The Best Times To Post On Social Media to Get the Best Engagement
11- TAKE ADVANTAGE OF TAKEOVERS( I love this one of the Creative Instagram marketing ideas)
Social media influencers are also a suitable subject for account takeover. Influencers may allow you to take over their accounts for a certain period. You can post content to their story or even broadcast a live video.
Or conversely, the influencer can take over the brand's account. Here is an example from Shopify: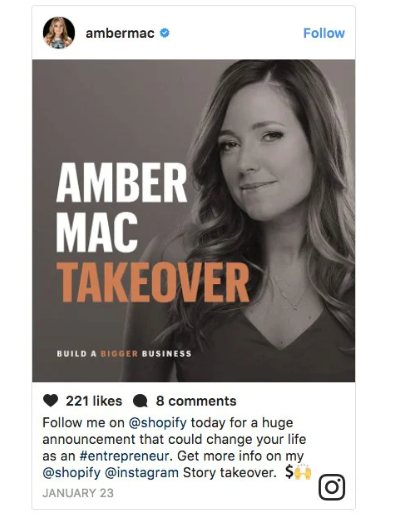 Amber Mac not only took over Shopify's account temporarily but also advertised the event on her profile. And Amber Mac's followers will be curious to visit Shopify's profile to see what she's up to there. This will boost engagement metrics during the time the account is taken over.
In addition, if these users are interested in the content you post to other people's accounts as guests, they may follow your page.
✅See also: 10 Useful Tools to Increase Instagram Click Through Rate
12- POST PHOTOS/VIDEOS OF REAL PEOPLE
You need to know that you have to post content regularly, but what types of photos should you post? Many people are suggested to post photos of real people's faces because they will get 38% more likes than other photos. Take a look at how Nike applies this practice on their Instagram profile: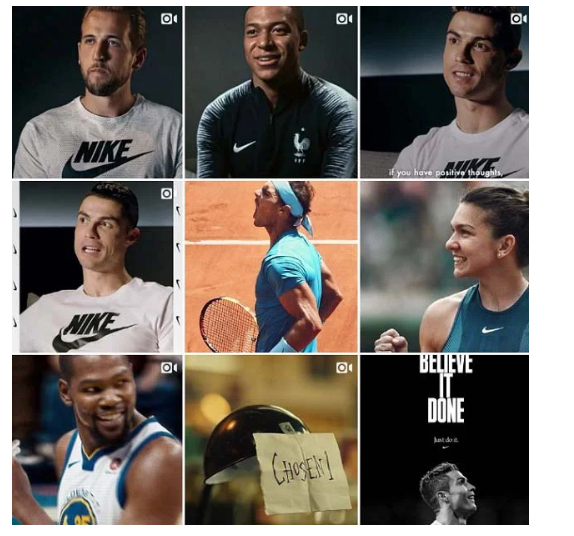 However, don't misunderstand that you should only post this type of image. But when you don't know which image to choose, try sharing a photo of someone's face.
13- PLACE TAGGING
Before you post your images, geotagging them is an excellent idea. Studies have shown that posts with location tags get 79% more engagement. You can still attach a location tag even if you're not there. Here is an example from the Lululemon brand:
14- NOTIFICATION OF NEW POSTS IN THE STORY (Extra Creative Instagram marketing ideas)
You must learn how to exploit stories to promote minifig's brand effectively. When you add a new post to your account, notify your story. This will increase your engagement metrics faster.
First, you will get a view and impression of the story. The user will then be stimulated to click to view the new post. You can then encourage them to like or leave a comment by implementing the other strategies outlined in the article.
CONCLUSION about the advantage of these Creative Instagram marketing ideas
To sell products, you don't just depend on website traffic. Take advantage of other distribution channels. And social media is a place that can influence consumers' purchasing decisions. And since Instagram is currently a highly fast-growing social network, using this platform as the primary means of promoting sales is a reasonable choice.
Also, as you can see in the content above, Instagram has features that allow businesses to sell products directly through their platform. Check out this article if you need more suggestions to perfect your Instagram marketing strategy. All of the above methods will help you increase the appearance of your brand and thereby increase sales for your business. Did you try any of the above Creative Instagram marketing ideas before? If yes, tell which one.