How to create a YouTube channel for business? What do you need to maintain and develop a YouTube channel? How to make YouTube for beginners? How to grow a YouTube channel fast from scratch? If you are planning to develop a YouTube channel and have similar questions, do not rush to skip the following article.
How to create a YouTube channel?
Before talking about How to grow a YouTube channel fast, let's see how to create a YouTube channel, follow these steps:
1. Create an account
To create a channel on YouTube, you first need to create an account by following these steps:
– Go to the YouTube homepage, and select "Sign in."
– Click "More," then select "Create an account."
Next, when you receive the form from Google, you provide your username and password to get started.
– Select "To manage my business." Note that you should create an account for a business instead of a personal account because a business account allows more people to access it and makes it easier to customize the YouTube channel.
2. Go to youtube
Use the Google account information above to register and access your YouTube account by selecting "Sign in" in the top right corner of the YouTube homepage.
3. Go to settings
Select the profile icon in the top right corner.
When the drop-down menu appears, select "Create a channel."
(Image source: Internet)
4. Select a channel
Select the "Use a custom name" channel.
Then name the YouTube channel.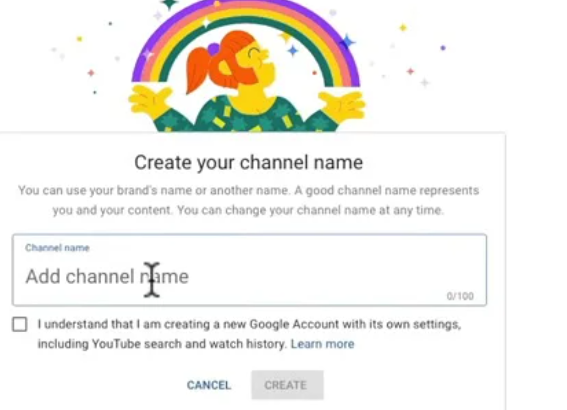 5. Create channel art
Channel art is an essential element for a YouTube channel, serving the purpose of branding, similar to a cover image on Facebook or LinkedIn. Choose a photo that comprehensively represents your brand's values, creates an excellent first impression, and makes the channel more memorable in users' eyes.
To post a banner image, move the mouse over the banner image to appear in the "Add channel art" option.
The ideal size is 2,560 x 1,440 pixels. Make sure the cover image you choose is compatible with all device screens.
Display on TV: Aspect ratio of 16:9 (2560 x 1440 px)
Display on mobile:
For support on layout formats across platforms, you can use YouTube's Channel Art Template (PNG and PSD formats) and Canva (providing diverse, beautiful designs).
6. Add channel icon
Hover over the profile picture to appear the "Edit channel icon."
Here are a few suggestions from the Google guidelines:
– Image file JPG, GIF, BMP, or PNG file (no GIF selected)
– Size 800 X 800 px
– Square or round photo with size 98 X 98 px
– Do not use photos with nudity, celebrity, or copyrighted images, because it will violate Community Guidelines.
– You can use the Brand logo.
7. Post a video
Next is to upload content to the YouTube channel. To post a video to a YouTube channel, follow these steps:
– Log in to your YouTube account
– Select "Create a Video or Post" in the top right corner of the screen
– Select "Select files to upload" and post the content you want. Don't forget to select "Public" mode so everyone can see the content.
– While waiting for the video to be uploaded, add a video description including the title (up to 100 characters) and the description (up to 5000 characters).
Then click post video. That's it!
8. Create trailer for youtube channel
Channel trailers are the bridge between your brand and unsubscribed users. The trailer needs to summarize the channel's content in an attractive presentation to encourage users to subscribe to the channel.
Here's how to create a trailer for a YouTube channel:
– Post the video you want to use as a channel introduction trailer

– Go to your channel
– Select "Customize channel."
– Go to the "Home" tab
– Select the tab "For new visitors."
– Click "Edit"
– Select "Change trailer" or "Remove trailer" to change or delete
According to guidelines from Google, you should:
– Assume the viewer has never known you
– Create short trailers
– Impress viewers from the first few seconds
Show, don't tell (for viewers to experience visually, without using too many words).
How to optimize youtube channel for SEO?
Focus on user behavior index
As YouTube marketing expert Luke Sherran emphasized in a discussion on YouTube Optimization in 2020, YouTube algorithms focus on behavioral metrics instead of search traffic. For example, nearly 70% of traffic comes from recommendation engines on YouTube, not from searches.
Behavioral indicators you need to pay attention to include:
Watch times: The number of times a user watched or interacted with your video ad.
Percentage watched: The percentage of content users who watch your video. Typically, you want them to watch at least 50 – 60% of the video.
Click-through rate: To increase the click-through rate, you need to optimize video titles and thumbnails.
Keyword research
You can take advantage of YouTube's auto-suggest function to find keyword ideas. When you type a keyword into the YouTube search bar, you will be suggested related keywords, similar to when you type a query on Google.
In addition, Google Trends is also a tool for you to screen for trends.
Insert the main keyword into the video file name
Ensure you insert the main keyword in the file name before posting the video to the channel. YouTube can read file names to identify the type of content you post.
Add a link to the YouTube channel banner.
Adding a link to a YouTube channel will help increase the chances of users interacting with the brand.
These links can be websites or social media channels, appearing in the bottom right corner of the channel art.
How to add a link to the channel's banner art:
– Go to the channel and select "Customize channel."
– Select the "About" tab, then select "Links" from the drop-down menu
– Select the pencil icon to add a link
✅See also: Best 15 Free Keyword Research Tools for SEO: Rank on Top of Google
Search engines can scan closed captions, benefiting YouTube channels in terms of SEO. More importantly, closed caption affects the number of viewers – a factor that YouTube pays attention to.
Make sure the subtitles match the content. You can edit subtitles with YouTube's automatic caption generator or create your own.
Create a logical channel structure
After uploading a few videos to YouTube, you need to set up the structure for the channel to provide the best user experience. For example, you use keywords to optimize content and group videos to navigate viewers. Creating a playlist is the first step to a more orderly channel arrangement.
How to create a playlist on YouTube:
– After logging in, select "Customize channel on your channel page."
– Select the "Playlists" tab
– Select "New playlist."
– Create titles for playlists
– Select "Create"
Add channel keywords
If you want to increase the presence of your content, you should add channel keywords to make it easier for users to find you by following these steps:
– Log in to your account, select the profile icon in the top right corner
– Select "Creator Studio"
– Select "Channel > Advanced"
– In the "Channel keywords" section, add keywords that match the content
Optimize description and tag
Inserting the main keyword in the description is very important for YouTube SEO. Users will then find your video based on the keywords they use, and the description will summarize the video content and provide information about the video.
Don't try keyword stuffing. Only relevant and natural keywords should be inserted, accompanied by related phrases.
With a detailed description containing appropriate information, the YouTube algorithm will quickly identify the topic of the video, increasing the likelihood of appearing on the list of suggested videos for users.
Add embed feature
Adding video embedding will encourage users to post your video on their blog or website. Here's how to do it:
– Go to "Video Manager"
– Select "Edit" below the video you want to add embed feature
– Select "Advanced settings."
– Tick on "Allow embedding."
How to grow a YouTube channel fast from scratch?
To learn how to grow a YouTube channel fast from scratch, read and apply these tips:
Produce quality video content
Creating quality videos is just as important as quality writing on your website. To do that, you should focus on the video production process (lighting, sound, camera angles) and identify the right audience.
✅See also: Invideo Review: The Best Video Editing Software for YouTube and Tiktok
Optimize title and thumbnail
For content on YouTube, you must prioritize creating attractive titles and optimizing thumbnails to catch the eye, making users want to click on your video immediately.
✅See also: Canva YouTube Thumbnail Maker: How to Make Good Thumbnails?
Encourage viewers to comment
Encouraging viewers to comment on the below videos is a great way to create discussion and increase user engagement.
Reasonable time
There is no standard length for all videos. Video length depends on the type of content you produce.
However, according to a 2019 report from Pew Research Center, the average length of videos (statistically over 250,000 channels) is 13-14 minutes.
Get subscribers
Research from Backlinko shows that there is a correlation between subscriber count and rankings. However, you should not imitate the content of high-subscriber channels but need to determine what your audience needs.
To drive subscribers, don't ask yourself, "How long should my video be?" but ask the question, "How long can I keep them?" depending on the ability to decide the duration.
Content reliability
Sprout Social found that relevance is 1.6 times more important than video quality in the eyes of users. So, to keep your audience engaged, you need to produce accurate content that makes viewers see themselves in it.
Channel promotion
There are several ways to promote a YouTube channel, such as email outreach, collaborating with other channels, and running ads (skippable is considered the most effective form)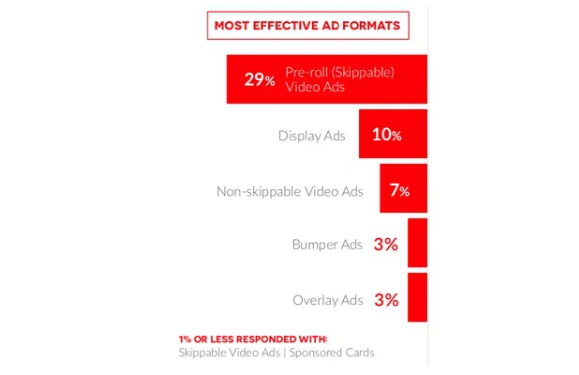 Add end screen feature
End Screen is a YouTube feature that allows you to add video cards or playlist cards to the last 5-25 seconds of the video so that users can continue watching the videos you want.
(Image source: Internet)
Post videos often (How to grow a YouTube channel fast)
Regularly posting videos on the channel helps to increase the brand's reputation in the field you operate in. The higher the quality of the video with valuable information, the more regular viewers will convert to subscribers.
✅See also: 25+ Sources for Trending topics for Article Writing and videos.
Follow your opponent
Through competitor tracking, you'll know what your competitors' customers interact with and which competitor content is most successful.
Tools like SEMrush Social Media Tracker YouTube will help you keep a close eye on important metrics like subscribers, likes, dislikes, and comments of 20 YouTube channels at once.
Creating and developing a YouTube channel requires skills in managing and optimizing user-facing content. The success of a YouTube channel depends on many factors, such as video quality, conveyed content, attractive titles, and thumbnails. Effectively exploiting these factors, you will quickly gain millions of views daily. Here How to grow a YouTube channel fast.