Today, designing images became easier than ever with Canva, and creating videos is also easier than ever with Invideo. Invideo is a superb tool that helps you create videos in seconds. Don't you know how? You need to read this Invideo review.
What is Invideo?
Invideo is the best video editing software tool that helps you transform content and ideas into videos, and then share them across social platforms and websites. It is used by media companies, small businesses, brands, and entrepreneurs who want to strengthen engagement, and as the company said, it now has about 100,000 customers including AT&T, Sony Music, CNN, Reuters, and CNBC from 150 countries.
Professionals can customize templates by changing colors, animations, transitions, social media posts, shapes, emojis, and more. InVideo allows users to add voiceover and includes automated text-to-speech functionality, and to create, edit, preview, and share videos with team members. Besides, the editor allows employees to add media files or choose files from the library. Invideo has 5000+ unique design templates, 9M+ premium media, and a large audio library that fits every mood and every genre. 7M+ users from 195+ countries have made millions of videos in 100+ languages.
Invideo review: Pros and Cons of Invideo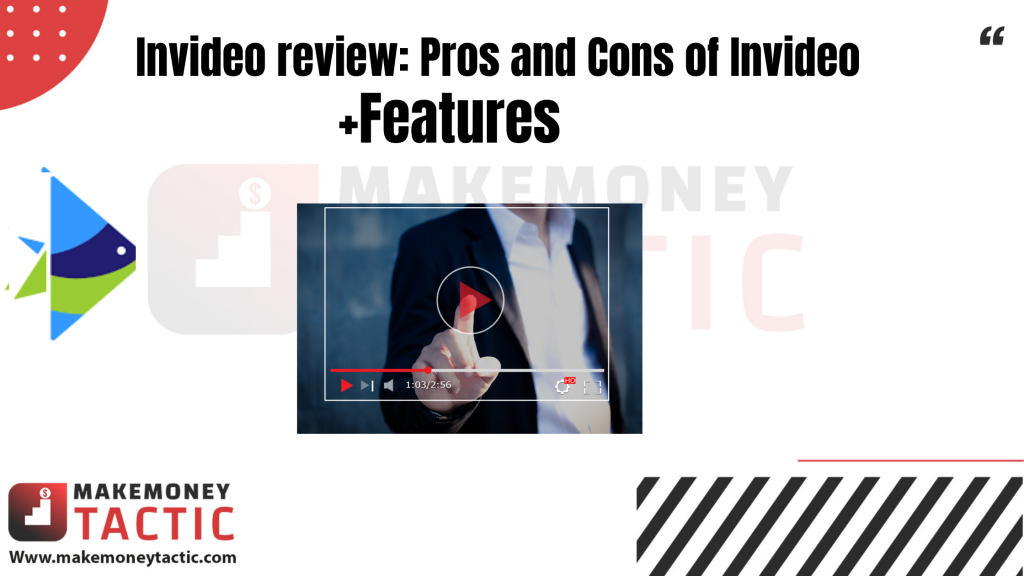 Invideo, the best video editing software, is like any tool has pros and cons, here are some of them:
Pros of Invideo
Invideo is the best in many cases like:
Complete control over your project.
Search content for highlight word
Change your tweets and Instagram posts into videos.
Their Youtube channel has a lot of instructional videos and tutorials, which are also available within the program interface in the support section.
Your created videos have no restrictions so you can sell them, show them, share them, and use them for whatever.
You can upload and use your media or the items from the library which contain over a million stock video clips, images, and music. As well as stickers, text animations, and filters
You can record audio inside the app.
Easy to use interface designed for non-techies
All languages available
24/7 customer support
Text to speech automatically
Access to InVideo.io Facebook Community for support
Cons of Invideo
InVideo can improve in some places as it has the following cons:
Can't switch between templates so once you choose a template, you're stuck with it, and if you change your template you're gonna have to recreate the video from scratch.
Limit of 50 scenes, which is a problem if you're doing a long post, but it's always better to keep your project under 30 scenes.
If you're making a promo video, it should be about 5-8 scenes, but if it's a blog post you can use about 30 scenes.
Previewing and Exporting is somehow time-consuming
A project with less than 10 scenes will process much quicker than one with 50 scenes. Your browser handles some of the work but the majority of the video processing happens on remote servers.
There are 5 layout choices (Question, Headline, Story, Quote, and Social), so If you choose a layout and then you want to change it, you lose your setup with the text and have to start over.
Until now, InVideo doesn't have a Mobile App.
Invideo review: Features of Invideo
Additionally, Invideo has many features that qualify it to be the greatest in the domain, these features are 
Audio Tools   
Animation
Add team member
Brand Overlay
Bulk Uploading
Closed Captions
Collaboration Tools
Customizable Branding and Templates
Drag & Drop
Media Library
Mobile Screen Support
Social Sharing
Split/Merge
Speed Adjustment
Supports HD Resolution
Text Overlay
Video Capture and Stabilization
Unlimited Character Length
Access to all Stickers and overlays
Special Text Boxes
Advanced Editing
60-day money-back guarantee, no matter the reason
✅See also: Invideo Intro Maker: Create Professional Videos in 5 Minutes for FREE!
Invideo Pricing: How much does Invideo cost?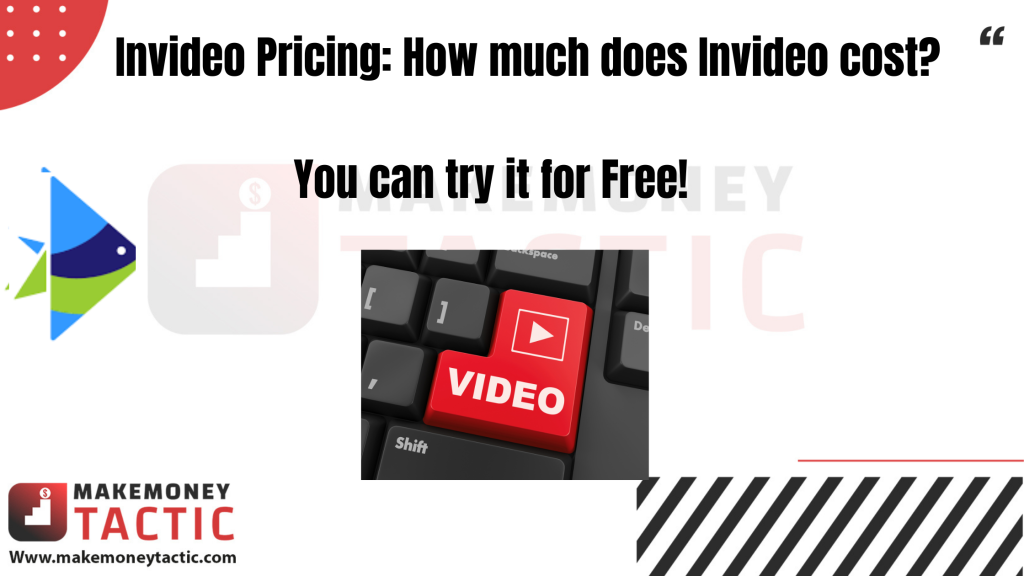 Compared to how useful this best video editing software is, and how good its features are, Invideo pricing is convenient. When you are an Invideo user you can pay monthly or yearly, and it offers two pricing tiers.
First is the InVideo Business: $30/month (or $180 when billed annually – equivalent to $15/month) for 10 iStock photos & videos per month, Unlimited premium photos and videos per month, unlimited premium templates, and 60 HD video exports per month. 
Second is the Invideo Unlimited: $60/month (or $360 when billed annually – equivalent to $30/month) for 120 Stock photos & videos, unlimited premium photos and videos, unlimited premium templates, and unlimited video exports. 
InVideo buyers are either an Agency, a media company that creates marketing collateral for social media marketing & video Ads or is a business owner, and they all have to create videos for their own business.
It makes sense to go with a yearly plan because creating video content for a Digital Business is a continuous thing. If you go with the monthly plan you will have to pay +50% more of what you pay in the yearly plan, that's why the Unlimited package is more recommended than the monthly package.
Besides, a Free Plan is also available and includes the export of up to 60 videos per month, with a watermark.
✅See also: Invideo free trial: Text To Video Maker | Auto create Video from Text
Invideo review: Types of Videos you can make with InVideo
The premium video template gallery on InVideo includes all the possible formats or types of videos you may want to create. Whatever kind of video you want to create, Invideo is your best choice, with its video editor can create great videos for platforms like:
Facebook
Youtube
Twitter
LinkedIn
Snapchat
Invideo for For facebook
Today, Facebook is the trendy website for brands to get a big audience. This best video editing software, Invideo, will help you boost up your brand image, and be the first in the best online race.
InVideo's Facebook ad creator is the best online video editor. By using hundreds of Facebook ad templates provided by InVideo, you can become a Facebook video ad creator in about 10 minutes.
With InVideo, you don't need to hire professional video editors who will help you in saving money and time.
With changing times, modes of entertainment have also changed. Facebook has over 2 Billion users with increasing numbers every day, which makes Facebook the best place to promote a brand name.
The best part about Facebook is that you can choose your target audience so that your ad is shown to people who can be potential buyers, which saves time and money.
InVideo helps you give life to your Facebook video ads and help you create content that makes your brand more familiar.
Notes for Facebook Ad Templates Can Uplift Your Brand's Image.
Here are some notes recoomended by this Invideo review:
Brand should be mentioned within the first 3 seconds.
Make sure the Facebook video ad title is click-worthy.
Applying CTA's in videos to increase engagement.
Ensure it's mobile content.
How to Create Special Facebook Video Ads In Minutes
Log into InVideo's Facebook video maker.
Click on the "Quick Videos" section and select Facebook ad templates to get a pool of Facebook ad templates to choose from.
Choose images and videos you want to use in your videos by uploading them or selecting from InVideo's library.
Edit the selected Facebook ad template to your heart's content to make video ads catchy.
Click on export, download it, and you are a video ad creator now!
Invideo for Instagram
Use Instagram Story Maker to Attract your Audience
Instagram is the best place for digital marketing. It contains more than a billion users which makes it the hottest place for millennials and Gen-Z and the best place to create new long-lasting consumers. 
InVideo's Instagram video editor does all the heavy lifting for you, so that you don't have to stress about anything, and frees you into creating amazing videos. It converts your ideas into reality by adding smooth transitions, exhilarating music, and more.
How To Increase Your Engagement Using Instagram Video Editor?
Our Instagram video editor provides a diverse range of video templates that you can select according to your needs. Create short and crisp, craft attractive IGTV videos for Instagram stories, or make videos for your Instagram feed.
Besides, the Instagram video editor provides you with iconic images and mesmerizing videos to be included in your Instagram video. Also, you can add a background track, or use exciting transitions.
And next is a small toturial,
Log into InVideo.
Go to the available templates section and select 'Instagram Video Editor' templates.
You can add media by uploading your own or by choosing from our wide range. 
Click "export" and download the video.
Create Instagram Story Videos in Minutes
Use attractive background and text colors.
Use more images and videos, and less text.
Keep videos short and punchy.
Make it more engaging and less informative, you want to excite not bore them.
Invideo for Youtube
What Kind Of YouTube Videos Can You Make Using InVideo?
Nowadays, video ads are the best way in marketing, so everyone needs to promote their brands on a platform like YouTube, but how to ensure a stand out with millions of videos being uploaded every day? By creating inspiring YouTube intro videos! To do that you need our incredible and free YouTube intro maker- no watermark.
Pitching? Then you need to convey your brand message by making your deck based on videos. Impact your audience with our free YouTube intro maker that allows you to make videos without watermarks! Telling your viewers your story and hook them from the first second with a powerful intro.
Got Vlogs? That's great! Planning to start one? Even better! But you should keep your viewers' attention hooked by making a fantastic intro. Got an intro in mind? Our YouTube intro maker can bring your vision to life and unleash your creativity. A great intro will help you have a strong following and stay top-of-mind for your viewers.
Invideo review: Invideo tutorial To Create Your First Video for Free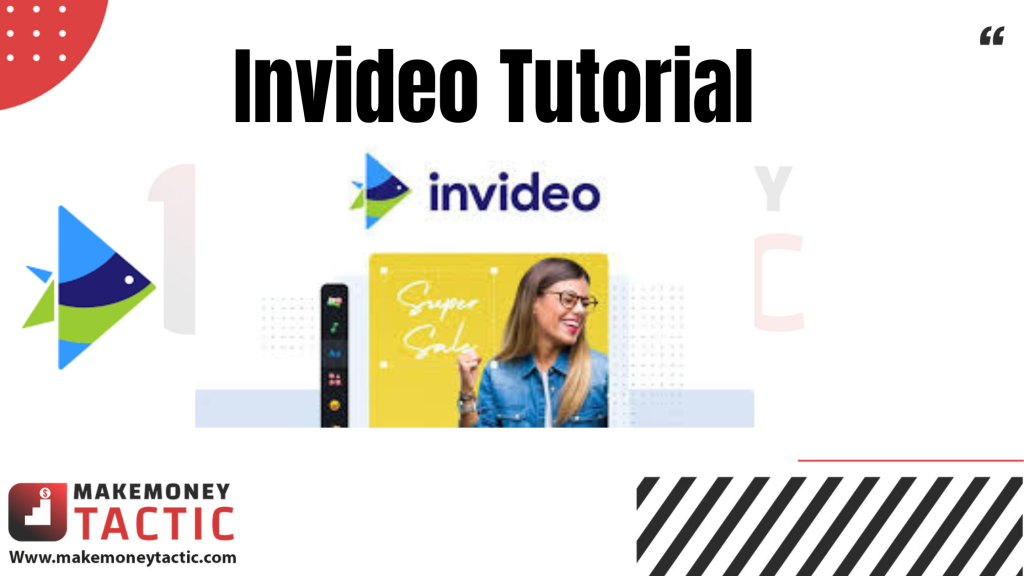 Log into InVideo.
Pick a template from our wide range or start one from scratch that fits your brand.
Add your text to your chosen flexible and fully customizable templates.
Add media, amazing animations, and rocking soundtracks.
Export your final YouTube intro video, and begin your campaign
There are pre-made templates that ease your job and are across diverse categories like 
Brand
Products
Ads
Presentations
offers/ coupons
COVID-19
Invitations
Motivational quotes
Webinar promos
Bite-size ads
Video Testimonials
Greetings
Listicles
Snackable videos
You can create professional-looking videos for all these categories and there are various templates available for each of these categories. This feature to use templates and themes is an incredible time-saver, otherwise, you will have to put them together piece by piece for creating every video.
This tool is for every industry, so It doesn't matter what kind of business you are into. The wide selection of categories establishes the fact that you can create any type of video.
Once you get pro at using these templates in creating videos then you can make use of the blank template to let the creativity flow & create unique videos.
Invideo review: Step by Step InVideo Tutorial
Using this best video editing software is easy.
1. Select the platform & its placement
In the first step, we will choose what kind of videos you wanna create. Choose between Pre-made Templates, Text to Video or Blank Canvas. Then, Select a dimension to get started.
2. Select the theme for the video
To save your efforts and time, there are templates categorized according to the themes for which you might want to create the video.
If you don't find the aspect ratio you want, you can search for your theme.
3. An Invideo review of the top options in the tool to create the video
I. Media Library
There is a media library that you can access to find millions of photos & videos available for the video effects that you want to create. You can see the transition that you can prepare as per the need of your video design that you have in your mind. Its advanced video editing features are on another level.  
II. Music library
If you want to make things exciting with some music, there is a music library that already contains a lot of audio which you can use for the video. There is no restriction, if you don't like any of the music there is an option to upload your audio which you can use for the video.
III. Text/ Font library
There are various available font styles, but what's more interesting is it also has calligraphy templates. Besides, you can find a ready-made text box having texts with many colors and animation effects. A great option for a promotional video.
IV: Sticker library
There are 1000+ stickers available with animation effects that you can use in the video, including stickers that you can use as a CTA for your video.
V. Animated effect library
There is an animation effect library containing many effects which can be added as an overlay over your video.
4. Export the video
Check the video duration & sizing, then there is an option in the top right "Export" and once you click that option, you can choose to save the video in 720P or 1080P video formats.
And this doesn't end here, InVideo updated help documentation and tutorials regularly so that it educates its customers on how to make the most out of this tool.
How to make money from Invideo? 
You can make a lot of money every month from InVideo, as I do! It is not a big deal and you don't need to have any skills. InVideo offers you many options like editing one of their templates, turning an article into a video, creating a video from scratch, and more. 
Moreover, you can use InVideo as a making money machine by following any of these strategies:
1- Create promotional videos and sell them
InVideo allows you to create promotional videos from scratch or edit one of the provided templates to meet your needs. You can change everything like text, colours, music, etc… and add or remove scenes. Then, you can sell these videos on Fiverr, Upwork, Facebook groups, etc… 
2- Create YouTube and TikTok videos
One of the best ways to make a good income is affiliate marketing. You can create videos about products, post them on YouTube and TikTok, and then put your affiliate links in the description. So, you will earn a commission for every sale generated from your link. 
You can also monetize your YouTube channel with ads and gain extra income. 
3- Create Instagram Reels
Instagram reels are the best now! We all watch reels, engage with them and share them. What if your reels are promoting something? Create promotional reels to promote an affiliate product, your product, a service, an application, etc… options are endless. 
4- Promote InVideo affiliate program
InVideo has a great affiliate program where you get a commission for everyone joining InVideo from your link. This sounds great and profitable, so what are you waiting for? 
These are just a few ways to make money from InVideo. You just need to join InVideo and try its amazing features. 
I hope you enjoyed this Invideo review. Whether you need Invideo for your business or not, I recommend signing up to Invideo platform and make a tour to see its features. You will like it.