InVideo – professional online video creation software in just 5 minutes, compared to Powtoon or Promo.com, Invideo Intro Maker is the best in terms of design speed and library of video templates.
With InVideo, you don't need to install heavy software, nor do you need to learn how to use complex tools or features. Because InVideo is an online application that creates attractive and beautiful videos and saves a lot of time, even if you are not good at technology or do not know how to use professional video creation software.
The current trend of users is gradually turning to watching videos. Therefore, if you are a marketer / business owner, you should take advantage of videos to reach your target customers and increase sales.
You can start
✅See also: InVideo Review: The Best Video Editing Software for YouTube and Tiktok
What is InVideo intro maker?

InVideo is an online video editing and editing platform similar to Powtoon , Promo.com. Currently, this platform has more than 4,000 templates and more than 50 diverse themes with many different themes. Thanks to these built-in templates, you can create professional, eye-catching videos in under 15 minutes.
If you are a creative person, then from these templates, you can easily edit in many different ways to fit your own brand or personal touch. InVideo also provides Blank templates (completely blank) for you to start turning your ideas into engaging and engaging videos.
InVideo has more than 4,000 templates and more than 50 diverse themes
Currently, more than 1.5 million people are using InVideo. This application helps you design and edit videos, with many features, easy to use. When you finish the video and download it, your video will not have any watermark from InVideo.
One of the advantages of InVideo is that this application owns more than 9 million resources from media stores of iStock, Shutterstock, Pixabay, Pexels. InVideo also includes the same features found in Screenflow or Camtasia. Instead of using separate video editing software, you can now integrate and use many features on InVideo.
InVideo is really helpful in helping you create a variety of content in the shortest possible time. If you want every YouTube video to have a different intro/outro, or you want all your Instagram posts to be in video format…, then InVideo is the best choice for you.
For example, it only takes you about 1 hour to create all the posts in 1 week for Instagram. InVideo's templates include 3 video sizes in proportion (16:9, 1:1 and 9:16) suitable for many different platforms.
You can completely convert the post format to another format to post on the story of Instagram, Youtube, Linkedin. This is a huge advantage of InVideo compared to professional design software.
You only need a computer with a web browser to start using InVideo.
Updated June 2022: InVideo intro maker has just upgraded its ability to edit videos in the timeline. As follows:
The video editing process can sometimes be complicated, making video creation difficult. With the ability to edit videos in multiple timeline layers, editing videos on Invideo has become easier and smoother. Now you have detailed control over the video editing process without having to spend days mastering the skill (as it is with desktop video editing tools). Adjust timeline pitch, trim clips easily, add multiple audio layers, edit frame levels, and much more.
Each clip you add to the timeline is automatically assigned a new layer for you to distinguish easily, edit, and crop clips. You can also easily arrange as many clips as you want in a single layer for a clearer timeline and more seamless workflow.
Now you can drill down into each shot to clarify every detail. Just use the zoom option at the top left, make edits and zoom out the timeline to continue editing. With this upgrade, Invideo.io makes it extremely easy to split clips. Simply place the finder at any point in your clip, click the little scissors icon in the top left, and remove unnecessary parts of your footage in a flash.
✅See more: Canva Review: Learn How to Make Up to 245$ from Canva
InVideo intro maker Reviews | InVideo review
InVideo account user interface
InVideo's interface is very easy to use. Right on the homepage, there are 3 sections for you to choose from: Pre-made Templates , Text to Video and Blank Canvas .
In the search box, you type the topic you need to find so that InVideo returns the most relevant results, and you can also choose 3 sizes of the video: horizontal, square and vertical.
In the upper left corner, the Learn section helps you choose videos for different purposes. The Content section, especially the Blog section, will guide you on video-related tips. Particularly, the Tutorials section will be more of a FAQ – frequently asked questions about InVideo.
The Favorites section is where your favorite templates are stored.
When you come across a beautiful template, you just need to click on the heart-shaped icon to save it in the Favorites section. The Projects section is where the videos you've made are saved.
The Favorites part is above when you choose your templates.
✅See also: How to Make Money on TikTok from your videos: Earn 1000$ from 6 Different Ways
Template selection – Rich and catch the "trend" well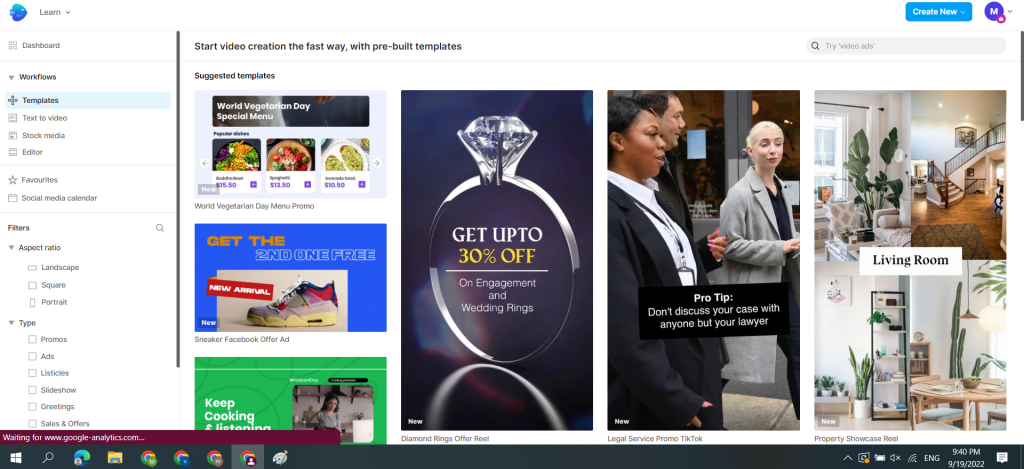 To create beautiful videos in no time, you should start with Pre-made Templates first. In the search box, enter any topic or content you are looking for.
When I try to search for the content "Intro Logo", InVideo returns more than 100 different results for each format, my job is just to watch these videos, choose the appropriate format and the template I like best.
Search for the content "Intro Logo" with more than 100 different results
As soon as I click on the template, the entire content of the video will automatically run. At the same time, I can also know how long the video is. You can completely customize the length/shortness of the video in the editor.
Even InVideo's homepage suggests you the most popular templates in the What's Hot section, or choose from the newly added templates in the Recently Added section.
Video Size – Easily Adjusted
Each template will have 3 sizes: horizontal, square and vertical. You click on each size to see how the content, images, effects are arranged. However, some videos only have a certain size, so if you want to change to other sizes, it will not be possible.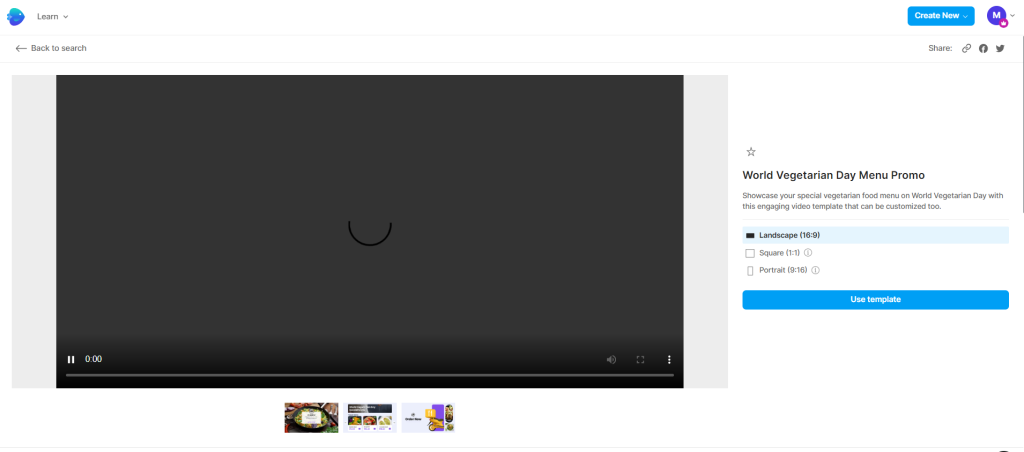 InVideo's editor – similar to Canva
InVideo's editor consists of 3 parts. The left part includes the toolbars, the middle shows the timeline of the video and the right part is the layer layers in the video.
How to upload files with InVideo intro maker?
There are two ways for you to upload files. The first is by the Uploads icon in the toolbar on the left. This method is suitable when you need to make videos quickly, upload files immediately.
The second way is in the Folders icon of the toolbar, you create a new folder and then you can upload files. If you use InVideo regularly with many different projects, you should create folders to store and retrieve/upload files more quickly.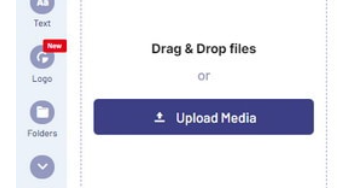 Music – music
In the music section, there are many songs arranged into many different themes. After choosing a song you like, just click Replace music, and that song will immediately become the background music for the video.
One note is that you can only apply 1 music to the entire video.
InVideo helps you design quality videos in no time, so the features are less complicated so you can only insert 1 music track. I think the videos in InVideo are quite short, so if you use a lot of music for one video, it's not really necessary.
Text – Letters
InVideo offers a wide variety of text templates and styles. In the timeline of the video, you just need to select the Scene you want, then add text and edit until you are satisfied.
InVideo offers a variety of text templates and styles

In the Timeline section, click Scene 1 or Scene 2 to add text to the video
A good point of this Text section is Social Media Credit. InVideo has all the icons of social networks with outstanding effects for you to insert into videos.
Stickers and Shapes
The sticker section of InVideo is currently not divided into any category. So you search for the right sticker based on the keyword in the search section.
In addition to the text stickers, InVideo also has 3D stickers that make me very impressed.
InVideo also has impressive 3D stickers
If you want to highlight some points for the video, you can use Shape to do it.
Overlays – Effects for videos
The Overlays of Invideo can be seen as a filter in the image. Overlays will make your video come alive, beautiful, mysterious… based on the Overlays you choose.
However, this section is also not divided into category groups, so choosing Overlays will take more time. Although there is a search bar above, I am not familiar with keywords that specialize in Overlays, so finding Overlays by keywords is quite difficult.
Overlays will make your video come alive, beautiful, mysterious…
Create Animations with just 1 click
When selecting each component to add to the video such as text, sticker, shape … some will have built-in animation effects. However, you can completely choose another effect that you find more suitable, or if there is no effect, you can also add it.
In the Layers section on the right, just click on that layer, immediately related tools / features will appear.
The Animate section is where you choose the animation effects for each layer.
Collages and Masks
The Collage feature allows you to create large videos from different sub-videos, these sub-videos are arranged according to the available art frames: 1 image, 2 image, 3 image.
At the beginning of the article, I mentioned that InVideo provides 3 video formats: landscape, square, and portrait format. The Masks feature will help make the video more creative by the more beautiful shapes.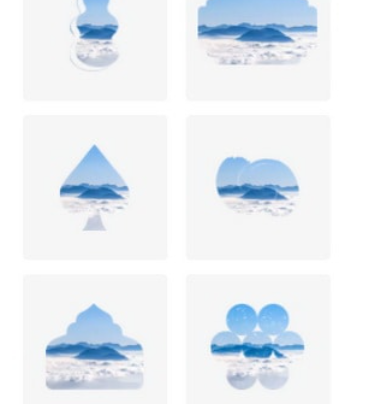 Layers
The main layer is the order in which the image, text or video appears. If you have ever used professional image / video design software, or online design applications, you will also encounter Layer a lot.
You use the mouse to move up / down the position of the layers to change the order of appearance. The pencil icon is used to change the layer name, for example when you have a lot of overlapping images with the names Media 1, Media 2, Media 3 … it will be difficult to remember and manage.
So rename the layer to make it easier to manage files. The padlock icon is used to lock that layer, you will not be able to move or adjust any effects on that layer anymore.
Other highlights about InVideo intro maker:
Adjust the Timeline for the video – a bit like Filmora
In the Timeline section (right below the video), clicking will show the time of each scene. In each scene, there will be the time period of each component (logo, text, image…).
You just need to use the mouse to stretch out (increase the time) or shrink (decrease the time) the appearance of that element. I was amazed to be able to edit each scene in detail with InVideo with just a few mouse clicks.
Remove background for images
This is a feature that allows you to remove the background of the image, then use the background image to bring into the video to continue editing. For smooth background images, InVideo recognizes and cuts the background very well! You just need to upload the image you want, then click Remove background to remove the background.
For images with a complex background, InVideo has not been completely cropped, the image will be partially lost.
Insert Logo into video easily
This is a new feature that has just been updated by InVideo. Specifically, you just need to upload your logo, then click on the logo. Immediately all scenes will display your logo with the same size, the same position.
InVideo review

:

Should I register to buy an InVideo intro maker account?
Through this article, I introduced InVideo, an overview of the interface, features and tools to help you quickly create outstanding, beautiful and attractive videos.
Surely if you use InVideo regularly, it will save you a lot of time and money when it comes to designing creative videos.
Compared with professional video creation software, it will take you a lot of time to remember the tools/features, time to practice to be able to create basic videos. As for InVideo, after reading this article, you can already remember the main features.
If you often use Camtasia to insert subtitles into videos, you can now use InVideo's text feature to insert subtitles for each scene. Therefore, I think there is no reason not to experience this amazing InVideo intro maker. Please create your first beautiful video at InVideo.
You have to register a new account to buy an InVideo. However, you can start Invideo for FREE!