You probably already know what Canva is, right? Canva is becoming more and more powerful. Perhaps, if you're reading this, you've at least heard of Canva or are using a free Canva accoun. But, the real question is how to make money with Canva as Canva contributer, Canva creator or else.
Yes, you can. Actually the platform is about to have a money-making program for creative users? I will share the details of this program right below.
First, let's see if it's really possible to make money with Canva.
How to make money with Canva as a Canva Contributor & Canva Creators?
From the perspective of a graphic designer, who loves graphic design and has little talent or simply wants to make money from graphic designs on Canva, you can refer to the ways below. (already many users):
Sell ​​templates designed specifically for Instagram.
Create and sell Ebook/Print. For example, you sell a nicely designed rhyming book that is easy to understand for children, or maybe an interesting Ebook to learn English vocabulary.
Set up a website that sells custom designs.
Graphic design for Website or graphic design, design for product packaging, application.
Selling a course on Canva.
And one more way is to join Canva's own program for content creators.
This is the next post in one of a series of articles sharing experiences of using Canva and Canva Pro to design graphics for different purposes. Read our Canva review, What is Canva, how to make money with Canva as well as step-by-step tutorials to create Images for website(blog graphics) , thumbnails, logos, quotes, business cards, landing pages, etc.
Register to join the program: https://form826027.typeform.com/to/AqPMQUwN
Sign up for Canva Creators (in English)
According to Canva, the way to make money in this form is as follows:
Create design templates: the design should show your potential customers the "design style," the unique point of your design, or your company (if it is a graphic design company).
Do you see that the three steps above are too-familiar, right?
Canva Creators has great potential because Canva already has a large user community.
However, you can check out some of the creators' mockups (their design booths) right now at: https://www.canva.com/creators/
to register a a Canva creator, go to Canva Creators then click "Register your interest"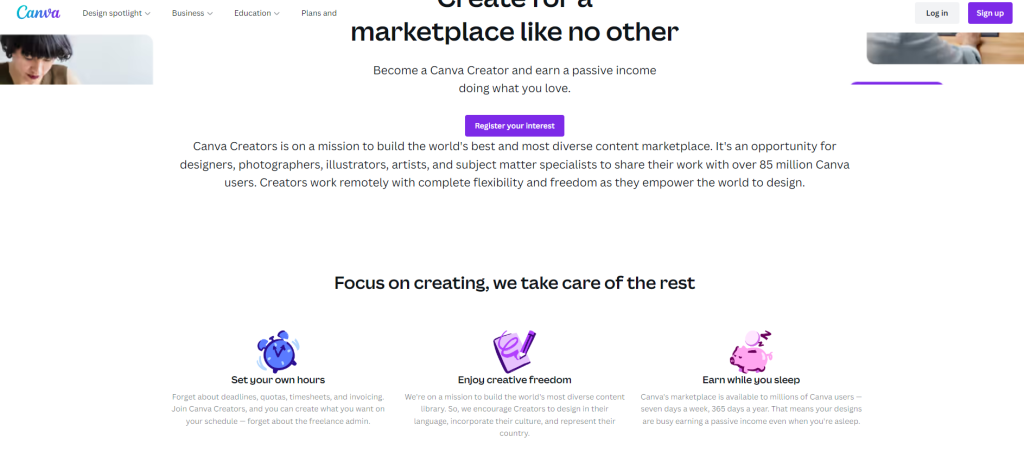 You'll be redirected to a form where you must write your name, email, country, etc.
Fill it and submit. Wait for Canva reply.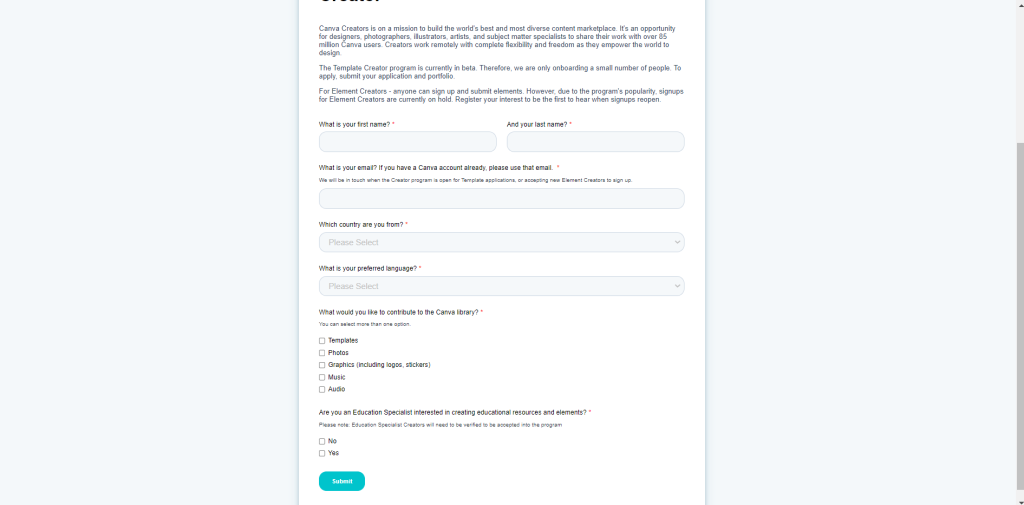 ✅See also: ✅See also: Canva Review: Learn How to Make Up to 245$ from Canva
Canva Contributor
Unlike Creators – you control your sales process, including designing + promoting to potential customers. Canva Contributor will Monetize every time other Canva users use your design product.
The main steps to participate in this program include:
Register Become a Contributor.
Upload your design to Canva as a single design or collection and wait for Canva to review and evaluate it. And if accepted by Canva, we will move to stage 3 (monetization).
You earn money when (paid) Canva users use your designs.
What designs can you sell to Canva (as a content distributor)?
Photos
Graphics
Stickers
Videos.
Basically, everything Canva needs you can sell.
Registration link: https://www.canva.com/contributors/upload
How will you receive the money?
Canva says you can receive money through Paypal, Skrill, and Payoneer and that new payment options will continue to be added in the future.
What are the conditions to make money with Canva?
You are 18 years old or older (or the minimum legal age in your country of residence).
Have read and understood the Canva Contributor Agreement, License Agreement, Terms of Use, and Privacy Policy.
Canva recommends that you check Canva's Quality Guidelines before submitting your design (before uploading) and that the design must not violate prohibited content.
Details: https://www.canva.com/help/article/contributor-application/
How to make money with Canva other than Canva Contributor & Canva Creators?
Even if you are not interested in making money with Canva as Canva Contribtor or Canva creator, you can still make money from this softaware. Try these options:
▶▶ Sell You Canva Templates
Selling Canva templates is a great way to make money online. Actually, this awesome platform helps its users to create high-quality graphics. You can create blog post images, banners, logos, social media graphics, resumes, infographics, business cards, and more for different kinds of businesses and individuals. You can even create presentations on Canva.
Just design a template in any category, join the Canva Creators marketplace and sell your templates.
▶▶ Your Design Service
Whether you are a professional designer or not, you can design graphics for social media, slides, presentations, resumes, eBooks, and othersو, then sell your designs.
Believe me, there is a significant demand for visual content in the digital marketing field.
You can sell your designs to marketers, bloggers, social media influencers, etc., or you can create a gig on Fiverr.
You don't need any design skills to use Canva.
Just read my articles to learn how. to use it. I will leave some links at the end of this blog post.
I am not a designer, but I made more than 2000$ for selling designs I've created in Canva to my customers. Creating designs on Canva is easy, and anyone can do it!???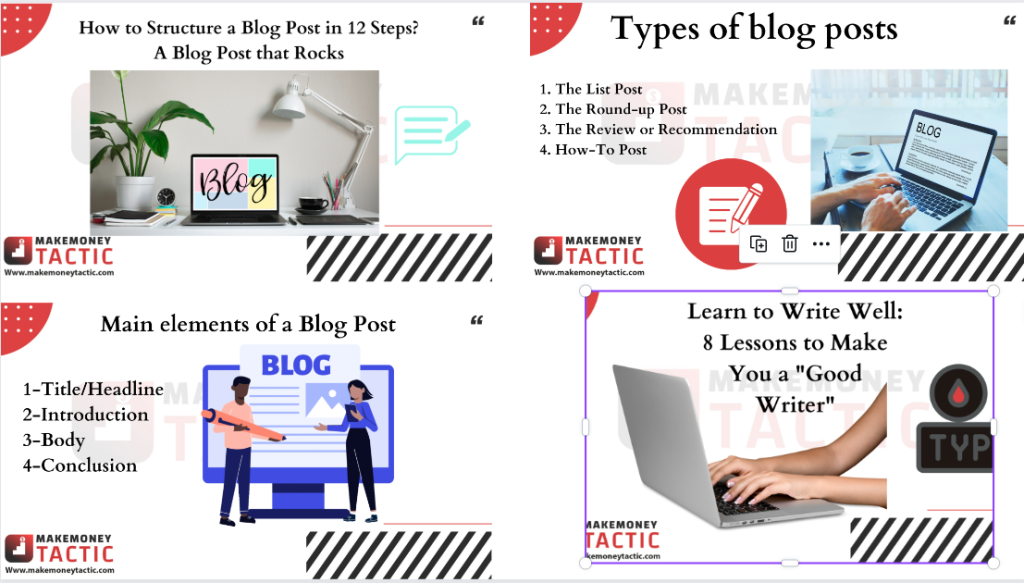 ▶▶Sell T-Shirt Designs
Thousands of people design custom T-shirts on Etsy, Shopify, and other platforms. So, why you don't try it?
Create exciting designs that people find incredible. It is easy. Just search for things that appeal to the public's tastes and add your touch.
Then, either leave it to Canva to sell your T-shirts or upload your designs on other platforms and promote them to get sales.
▶▶Teach Canva on Your Blog and YouTube
Canva provides a great affiliate program where you gain money from referring people to Canva.
Create a blog, write content about Canva (guides and tutorials), then add your affiliate links.
Optimize your conent with SEO, share it on social media, or run paid ads to get traffic to your blog and make money from the affiliate links.
You can do the same with YouTube videos where you add affiliate links to the description.
Conclusion about How to make money with Canva as a Canva Contributor & Canva Creators
Surely Canva will "open the market," so you can really make money on Canva.
With a large and rapidly growing user community, and the new features offered by Canva every few weeks, you can use this platform to make a lot of money.
For example, Canva is gradually perfecting its video design capabilities to help people create videos for TikTok and YouTube. I will share details about the Canva videos in another article.
Therefore, it is better to join now while the Canva market is new and learn to create designs using it.
Whether you are a Canva contributer or a Canva creator, you'll win with Canva.
Don't miss any article of our Canva Series:
✅See also: Canva Review: Learn How to Make Up to 245$ from Canva
✅See also: What is Canva App? Is Canva Good for Graphic Design?
✅See also: How to Create Images for Website in 30 Seconds with Canva?
✅See also: How to make money with Canva: Canva Contributor & Canva Creators
✅See also: Canva YouTube Thumbnail Maker: How to Make Good Thumbnails?
✅See also: The Best Online Quote Poster Maker: Create Quotes in Minutes
✅See also: How to Make a Free Business Card Online in Canva?
✅See also: What is Canva Used for & How to Make Logos in Canva?
✅See also: How to Create a Landing Page in Canva in 2 minutes? Fast and Easy