Do you know you can make money online by sharing your internet connection? I know you won't be rich from this, but at least make a few bucks without doing anything. Read this Traffic Monetizer ( TraffMonetizer) review to learn how.
You just have to install the Traffic Monetizer application on your device, and you will start making money from the bytes of your Internet connection.
Traffic Monetizer

review: What is TraffMonetizer?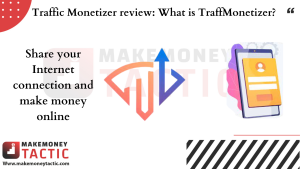 Traffic monetizer is an awesome application developed by a professional team with a long experience in the marketing data industry. It is a great application. That's why we chose to write this Traffic Monetizer review.
The aim of building this application is to connect advertisers that want a distributed connection to the network with people who want to sell a part of the Internet connection that they don't use.
You, as a user, will be selling the unused Internet only.
Why would TraffMonetizer
pay for your traffic?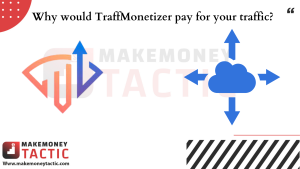 Marketing and advertising agencies display their ads on customers' websites. These agencies need to visit these customer websites from different locations to make sure their ads are properly displayed. They also want to check the results to optimize them accordingly.
For this reason, these agencies pay MonetizerTraffic to collect data across different locations. In return, MonetizerTraffic pays its users for using their internet traffic to collect the required data. This is a simple win-to-win deal.
Traffic Monetizer

review: How does TraffMonetizer
work?
Most of us get unlimited Internet traffic bundles from our Internet Service Provider and pay a fixed monthly fee.
However, we are not using the Internet for 24 hours, so the connection is wasted for nothing.
Therefore, why don't we sell a part of this unused traffic to make money online without doing anything?
You can now earn passive income after setting Traffic Monetizer on your device in four simple steps:
1. Sign up to Traffic Monetizer to get an access token. (the access token will be displayed on your dashboard)
2. Install the Traffic Monetizer app on your device. (Computer, mobile, or Ipad).
3. Don't do anything, as the MonetizerTraffic will do everything without any interference from you. It will use a small part of the unused Internet connection.
4. Track the sold traffic from your account dashboard to see how much you are selling and how much money you are gaining.
The results are fabulous. We witnessed that ourselves when creating this Traffic Monetizer review.
Which devices accept to Install TraffMonetizer?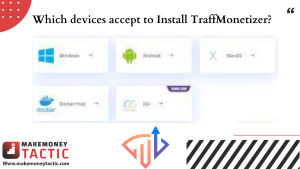 MonetizerTraffic works with Windows, Android, macOS, and Docker Hub to turn traffic into money.
This internet connection can pay your bills. It is the easiest way to make passive income.
After all, we use less than 10% of the Internet bandwidth we pay for monthly, so we have to benefit from it and make some passive income.
The Traffic Monetizer app is a money saver that helps you get back some of the money you pay for your internet provider and get a passive, effortless income.
Join 350K Happy Users of Traffic Monetizer and Start Making Passive Income By doing nothing.
Install it now!
✅See also: 50 Best Ways to Make Money Online from Home: Earn 1500$ Every Month
Traffic Monetizer
review
:
How to withdraw the TraffMonetizer money?
There are a lot of ways to withdraw the money you earned from Traffic Monetizer, including PayPal, Payoneer, Payeer, Skrill, Bitcoin, and wire transfers.
What is the minimum payout for withdrawing?
The minimum payout of Traffic Monetizer income is 10$ for each payment method except Wire transfer.
Notice that you have to request the payment in advance to get paid.
Read More about Is Traffic Monetizer Legit? Make Money without Efforts on TraffMonetizer
Is it safe to sell my traffic?
There is no need to worry about your safety and security, as TraffMonetizer is very safe and secure. You will sell a small portion of your traffic that doesn't harm you, your Internet connection, or your device.
Additionally, your traffic will be sent to pre-approved traffic destinations that are 100% legal and compliant with US and EU regulations.
How to Increase your profits from TraffMonetizer?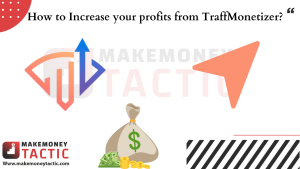 I have two good News: You can get 5$ immediately and 10% profits from people who join from your referral. Here is how you can do it:
1- Sign up now from this link to earn 5$ immediately Sign up and Get 5$
2- After you join from the link above, go to the affiliate section and sign up to get an invite link.
Send the invite link to your friends and family to earn 10% of their profit.
✅See also: How to make money online from affiliate Marketing as a Beginner