Everyone is looking about CPA marketing for beginners and how to get approved for CPA networks for beginners, but it is not easy as it may seem. Here, you'll find the secrets of how to get approved for CPA Networks. Such tips have never been written before in such a complete step-by-step course, but they have only been available in paid courses. Stay tuned and let's reveal these secrets together.
What is CPA marketing?
Everyone is asking about CPA… this is not a secret. CPA means the cost per action or acquisition. 
CPA marketing is a process that combines 3 parties: the advertiser, Cpa network, and the promoter. The promoter signs up to the network, and chooses an offer displayed on the network. Then promote this offer to get a commission per each action. The action can be a click, call, message, sign up, purchase, etc… This is determined by the advertiser of the offer. 
How Does CPA marketing for beginners Work?
To explain this more, let's divide the CPA model into three parts to see how it works to achieve its goal. The CPA model consists of:
Affiliate or Publisher: is the one who will promote an offer or a product and get conversions. He might be an influencer, blogger, media buyer, etc… 
Business or Advertiser: is the owner of a product, website, application, etc… who want certain action like visits, clicks, sales, leads, or any other kind of conversions.
Network: The network is the platform that combines the publisher( who owns the product) and the advertiser( who will promote the product). 
✅See also: CPA Marketing For Beginners: A Step-By-Step Guide
CPA marketing PROs and CONs for publishers
CPA Marketing PROs
Additionally, CPA marketing has many Pros, including:
It doesn't need to generate sales to get paid. The conversions needed are usually leads, clicks, and other simple actions
You can get a high payout for promoting a casino website or a BTC exchange platform if you get good leads. 
You can find CPA offers in almost every niche. 
No need a website and a big budget to start working. Even free traffic may work. 
CPA Marketing CONs
Like everything in this world, CPA marketing has pros and cons. Here are the cons of CPA marketing for beginners :
If you are a beginner, you may not be accepted in the top CPA networks like Maxbounty and Clickdealer. However, you can still join other popular networks like Monetizer, Adworkmedia and Olimob. 
Some high payout offers are allowed in the US only. 
Things are not easy as in the past, especially with many media advertisers promoting CPA offers. Therefore, you have to be creative and think out of the box. 
Tips about how to join cpa marketing for beginners!
It can be a little tricky to get approved at Cost Per Action networks, especially if you are a newbie in online marketing or in the cost per action marketing industry.
You need to understand that CPA networks are making profits by delivering results, so they don't want to waste their time or efforts with unprofessional affiliate partners.
But in fact, it's not hard to look like a professional (even if you are not yet) in order to get approved at CPA networks, you just have to prepare your tools and keep some important points in mind while applying to the CPA network.
✅See also: How To Join CPA Network: How To Get Approved For CPA Networks For Beginners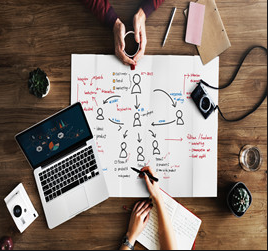 How to Get Approved for CPA Networks for beginners: CPA Marketing step by step
By following these points, you increase your chances to get approved for CPA networks and start the CPA marketing for beginners journey:
You must have a Website
When applying to a CPA network, there's a big chance that you may be asked about your website. No need to be a professional website, but at least a simple domain and host with some content. Just to show them that you know what you are doing.
Notice that having a website with some optimized content will be much better.
If you already have a website, optimize it a bit to meet your niches and use it in your application. A website with a certain age will show that you're not a beginner which will increase your chances of getting approved by CPA networks.
Just if you don't have enough budget, use free websites like blogger, Tumble, Wix etc…
✅See also: How To Start a Blog and Make Money: Step-By-Step Guide
You need a real Phone number
In most cases, you need to enter a valid Phone number when signing up for a CPA network. Be sure to be reachable for at least 2 days after applying as some managers at CPA networks interview their potential partners for a few minutes. Again, they only want to be sure you are knowing what you do in internet marketing.
A professional Email address
You need a professional email address to sign up. Please don't use email accounts like loverly-roro@ or dhdhsh@ here, but try to choose a more professional email containing your name, nickname, etc… Additionally, it is better to set up a new email address just for CPA work.
Have a Skype and Linkedin account
Recently, CPA networks have been asking new affiliates to make an interview on Skype and sometimes on Linkedin; therefore, it is better to have an account to contact them. Moreover, having a good relationship with your manager on Skype is very helpful, as you will have a chance to ask your manager about the best offers which are converting on their platform as well as any additional tips for more successful campaigns.
✅See also: How to create the perfect LinkedIn profile to earn from LinkedIn?
Get more knowledge about CPA
When applying to a CPA network, as well as when you are having an interview with your manager, you'll be asked a few questions about the traffic sources you use, offers you usually run, Geos you work with, other CPA networks you work for, etc… So, you have to read about these things before applying to give good answers showing that you know what you're doing.
Major questions asked in your CPA application
What is your Website URL?
More than 75% of CPA networks would ask you about your website URL in the application. 
If you don't have a website, you can build a simple website on WordPress. Check this guide to know how to build a website step by step. 
Then, you have to add a maximum of 10 articles just to show the network that you have content. 
You can use a free system like blogger, Weebly or Wix. They have limited features but good enough to get accepted by a CPA network. 
What's your Affiliate marketing experience?
All CPA networks will ask you about your experience in this field. You must be honest but tricky at the same time. 
If you don't have any previous experience in this field, just say it. But add to your answer all the digital marketing courses that you took before to show them that you know what you will do. If you have experience in affiliate marketing, tell them that. 
If you have experience in CPA marketing, talk about it in detail. Mention all the networks you've worked with, the offers you promoted, the GEOs you've targeted, the platforms you've advertised on and put some screenshots of your earnings. 
How would you like to promote the CPA offers?
Every network would like to know how you wanna promote their offers and on which platforms. Whether you are going to use free or paid ads, tell them that you are going to promote using paid advertising on popular platforms like Google Adwords, Propeller Ads, Facebook ads, Snapchat ads, etc… 
What Kind of Vertical are you Looking for?
The vertical in CPA is the niche of your offers. Would you like to promote offers related to gaming, fitness, health, software, food, etc… If you wanna learn more about verticals and discover where the best place to find each vertical, you can visit the Offer vault 
Is this Account For incentive traffic?
Incentive traffic is traffic coming to take a coupon, gift card, money… not for reap offers. 
Whenever you are asked about your traffic, never say it is incentive. After all, affiliate networks don't need promoters who deceive their traffic with money and take them to the offers. 
Now, you know the basics of CPA marketing for beginners and how to get approved for CPA networks for beginners. Complete these steps wisely, and you'll definitely get fast approval.