Frase is a tool made to help you create SEO Optimized content depending on the right keywords and questions for your article. I am using Frase for a year now and created 100+ documents, then I decided to write this Frase Review today.
Research-backed questions generated by Frase are one of the remarkable features.
This review talks about the powerful features of Frase and some areas that need to be improved.
Besides, you'll learn how to create better content and rank your articles using Frase.
What is Frase AI Writer? Is Frase any good?
Frase began in 2016 and has its headquarters in Boston, United States. It is an advanced SEO tool powered by Artificial Intelligence and can create SEO-focused content in no time. Besides, it can generate and optimize relevant answers to your target audience's questions.
Frase is a powerful content research tool and is expected to grow in the coming years.
How does Frase AI work?
Frase is one of the first SEO tools working depending on AI. It makes use of Machine Learning Techniques and Natural Language Processing to understand, interpret, and learn the content from the web.
This allows it to generate relevant content summaries with high efficiency.
So, if you want to search for a keyword on Frase, like 'Digital Marketing', say the word and it will scan the Internet and:
Finds relevant topics and questions to your keyword
Generate article summaries
Create detailed content briefs
Highlight the statistics noted in different articles
This information is very perceptive when you need to research and create content for your website.
Frase AI Writer Main Features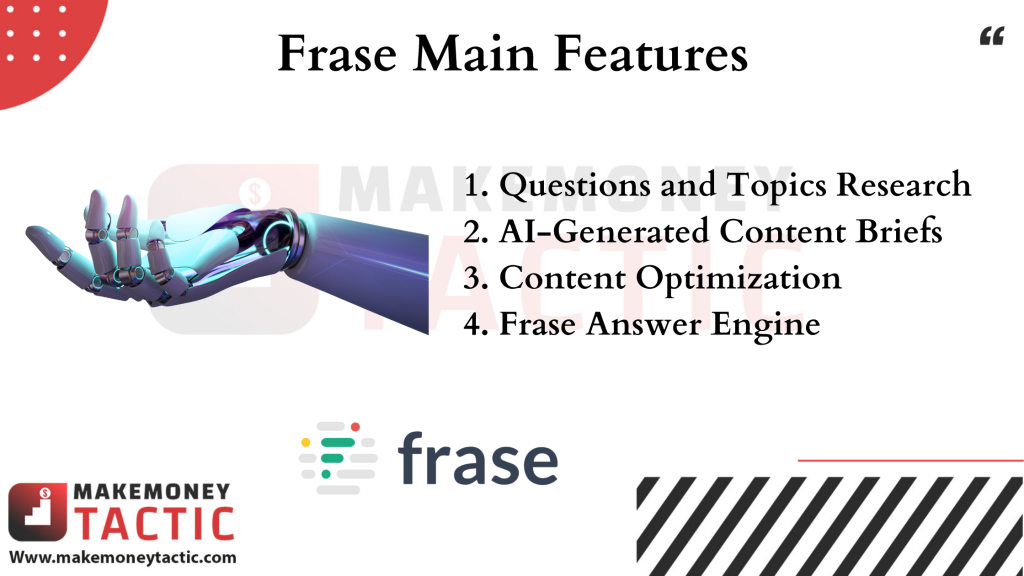 Frase has exceptional features that can save your time and help you create beautiful, detailed, and SEO-focussed content. Now let's go through its major features.
1. Questions and Topics Research
Content creators and content strategists know how hard it is to perform keyword and topic research and how much time it takes. In this situation, Frase comes as the savior since it can truly help you automate the research process.
Besides, it helps you understand your audience's questions so that you can create better articles.
This feature is also helpful if you want to add an FAQ schema to your article.
When you type in your keyword, Frase generates a list of relevant questions compiled from various sources like people's questions on column, Quora, Reddit, Search Autocomplete Results, etc.
What's interesting is that besides the list of questions, it mentions the sources of the questions and the monthly search volume of that keyword.
It's an effective tool for identifying the keywords in demand.
You can select multiple questions and create a document, save them to edit later, or start editing by using the buttons available beside the questions.
The Excel button on the top right downloads all the topics' data in an excel file, which is very convenient to save all the keywords together. It's good to have export options.
2. AI-Generated Content Briefs
Professional companies should follow a brief while drafting their articles. Frase makes designing content briefs easier and in less than 2 minutes.
Frase includes lots of factors in your content brief like:
Overview
People Also Ask section
SERP
Topic Clusters
Top 20 topics
Headers
Questions
Statistics and
External Links
Besides, Frase allows you to create your brief by adding sections as per your preference or by automating the content brief.
Unlike MarketMuse Frase allows you to create unlimited content briefs.
You just need to click on the 'Workflows' tab and select 'Automate Content Brief', then select all the sections and hit the 'Insert Brief into Editor' button.
Finally, you can click on Export to send this brief to your content writers as an editable/read-only link, PDF, or plain text.
3. Content Optimization
Frase allows you to create fresh SEO-focused content. But what's better is that you can optimize your published content for a specific keyword.
So, if someone wishes to optimize a published article on his website, then all he needs to do is type in a keyword and then enter the URL of the content to import it into the Editor.
Then, it will compare his article with the top 20 ranked results on Google and suggest edits for improvement like
Average word count
Times a keyword should be mentioned
Extra topics that can be included, etc.
Keep on making the suggested edits to increase your topic score. This helps your content to appear more than the rest and increases your odds of ranking #1 on Google Search.
I run my article in a content optimization tool after writing it which helps me fill the content gap and cover all the topics.
4. Frase Answer Engine
Frase's Answer Engine is an AI-based Chatbot. It enters your website to interpret and learn content and then generates an intelligent knowledge base to answer all users' queries.
It is easy to set up the Frase Answer Assistant on any of your websites.
After clicking on the Answers tab, specify a website crawl (URL), and click on Extract Pages. Then, you can edit the appearance and other settings of your assistant from the 'Assistants' tab.
Finally, add a line of code in the header section of your website, HTML to connect the site and the chatbot. After that, the icon would be available on our website page.
Now, if a user asks a question to our bot, it will show them the relevant results from our blog posts.
Frase Review: Customer Support
The Customer Support of Frase is very good. It provides Email and Live chat support to its users. The email replies arrive within 1 business day, and their live chat support is available from Monday to Friday from 9 A.M. to 6 P.M. (EST).
They also have a Help Center that features short and crisp articles covering all the important topics. But their knowledge base is still limited but I hope they work on enhancing it soon.
Another exciting feature is Weekly Live Product Demo. It allows anyone to register for their webinar to get a tour of their products – Frase Content and Frase Answers.
They also share many tips and tricks for using their platform so you can grow your search rankings and increase organic traffic.
Frase Review: Frase AI Writer Tutorials
Frase is the best when it comes to user-friendliness since it provides educational videos and detailed guides on how to use Frase to the fullest.
There are informative videos on some major topics like:
Learning the basics of Frase
Creating content briefs automatically or using templates
Optimizing your content, and more!
This feature is super helpful in understanding the functionality of the Frase SEO tool.
Frase Review: Frase AI Writer Pricing 
Frase offers three plans: Basic plan, Growth Plan, and Enterprise plan.
1. Basic Plan
Costs $45/month
Single user only
Lets you create 30 Documents/month
Allows 250 users to engage with Answer Assistant/month
Basic Integrations including Google Search Console
2. Growth Plan
Costs $120/month
3 Users
Lets you create unlimited documents per month
Allows 250 users to engage with Answer Assistant/month
Advanced Integrations including HubSpot CRM and Google Docs
3. Enterprise Plan
Allows a custom pricing
For Users
Lets you create unlimited documents/month
Allows 250 users to engage with Answer Assistant/month
Provides premium support
Frase doesn't have a free version but offers a Free Trial with all its paid plans.
The Free Trial allows you to:
Create or optimize 5 documents in total
Research unlimited questions
Enter Google search console once
Test one answer engine for 30 days
This is a good deal for a free trial since you can test out all the major features of Frase and then decide if it is worth purchasing.
Frase Review: Pros and Cons of Frase AI Writer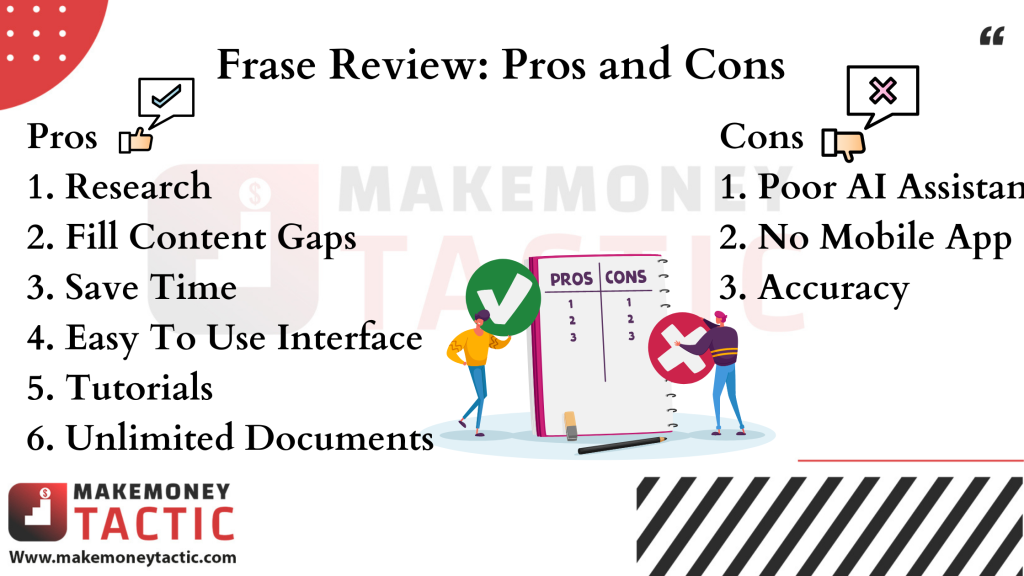 The Frase AI writer has many pros but also has some Cons including:
Frase Pros
I found Frase to be an original and intelligent SEO tool. It offers advanced and impressive features.
With Frase you can:
1. Research
Create well-researched and organized topic briefs in minutes.
You can create, and optimize your content and boost your search engine rankings.
2. Fill Content Gaps
It can help you identify and fix topic gaps in your content.
3. Save Time
Save some of the spent time researching content from multiple sources
4. Easy To Use Interface
Have a super-simple and easy-to-use interface.
5. Tutorials
You can get detailed video tutorials on how to use Frase efficiently.
6. Unlimited Documents
With the Frase Growth plan, you can go with unlimited documents and queries which makes Frase stand out. While other Frase Alternatives like MarketMuse limit the queries and are expensive.
Frase Cons
Although Frase is a revolutionary tool, it has some flaws. It is new to the market compared to other SEO tools, so it still requires some improvements.
From my experience, these are the major cons:
1. Poor AI Assistant
AI Assistant is not the best yet but it sends the link to your articles.
2. No Mobile App
It doesn't feature any mobile and desktop applications. You can access it in the web version only.
3. Accuracy
Compared to other tools such as MarketMuse, Frase lacks accuracy in keyword suggestions sometimes.
Frase Review: Should you use Frase AI Writer?
Frase is a fantastic digital tool for anyone whose work is around content.
It is like a magic wand for content writers, copywriters, content strategists, marketing agencies, bloggers, etc, and helps create relevant SEO-based content briefs and FAQ schemas in a small time.
YouTubers, Podcasters, etc can also make use of Frase in researching relevant content and questioning their target audience to be able to create better content.
Frase Review Conclusion
I use Frase in Researching my content on blog & YouTube and optimizing articles with relevant topics. It saves a lot of time for me.
Frase has some cons, so I use other tools like MarketMuse besides Frase. But since Frase doesn't restrict queries, I use Frase in producing all my content.