As one of the most popular website design platforms today, WordPress for website creation can help you easily create and manage a website. Today's article will summarize the most basic information about this tool as well as its advantages and disadvantages. 
If you are wondering whether to use WordPress or not, please refer to the article below!
✅ See more: How To Start a Blog and Make Money: Step-By-Step Guide
What is WordPress for website creation?
WordPress is an open-source content management system for publishing websites for free without the need for programming knowledge and tools. This system is written in PHP with MySQL database, very easy to use, and extremely popular – this is one of the pretty standard definitions of WordPress, every time you search for the word What is a WordPress key?
However, I find that the above definition is quite confusing, and not suitable for beginners.
To me, WordPress is the simplest, most popular way to create your own website or blog. In fact, WordPress powers over 43.3% of all websites on the Internet (updated May 2022). If you visit 5 websites then it is possible that at least one of the 5 websites you visit is capable of using WordPress.
From a technical perspective, WordPress is an open source content management system licensed under the GPLv2 license, which means anyone can use or modify the WordPress software for free. A content management system is basically a tool that makes it easy to manage important aspects of your website – like content – ​​without knowing anything about coding.

The end result is that WordPress makes it possible for anyone to build a website – even for non-coders (no coding required).
The predecessor of WordPress is a blogging tool called b2/cafelog, developed in 2001 by Michel Valdrighi – a French programmer. By May 2003, the first version of WordPress was officially released by Matt. Mullenweg and Mike Little.
✅ See also:  How to Write a Blog Post that Ranks in Google
Websites of world famous brands such as Microsoft, Coca Cola, Sony Music, BBC America, CNN, MTV News, etc. are all using WordPress.
With WordPress, users can create websites with multiple purposes such as e-commerce sites, portals, portfolios, discussion forums, blogs, and more.
Difference between WordPress.com and WordPress.org
WordPress.org (commonly known as self-hosted WordPress) is a free, open-source WordPress that helps users create their own websites. Meanwhile, WordPress.com is a paid service and has limited flexibility compared to self-hosted WordPress
Some features distinguish WordPress.com and WordPress.org:
Should I use WordPress.com or WordPress.org?
WordPress.org, commonly known as

self-hosted WordPress

, is free open source WordPress software that you can install on your own web host to create a 100% your own website.

WordPress.com is a paid service, provided by WordPress.org. WordPress.com is simpler to use but also not as flexible as

self-hosted WordPress.
From the mentioned feature limitations, it can be seen that WordPress.com is suitable for bloggers, individuals and businesses to use the website for non-commercial purposes.
If you are in need of a web development platform for commercial purposes, then WordPress.org will provide a more optimized experience and features. If you want to truly own your website, self-hosted WordPress.org is almost always the best choice.
✅ See more:  How to Structure a Blog Post in 12 Steps?
WordPress for website creation

Reviews
Advantages

of Using WordPress
One of the most prominent advantages of WordPress is its ease of handling and operation. 
Intuitive user interface with features and settings arranged in a systematic, easy-to-understand and user-friendly manner, enabling users to create, edit and publish websites without any prior knowledge. In-depth programming knowledge.
You can optimize SEO for your website comprehensively from posts, pages, internal links, comments, etc. at WordPress. Besides, WordPress also supports plugins and specialized marketing features to help boost SEO efficiency and increase conversion rates for e-commerce websites.
Vietnamese language support
Another significant advantage of WordPress is its multilingual support, including Vietnamese. This makes WordPress even more popular with users of all ages and professions, because it does not require too much knowledge of the language and expertise.
Provide available templates
If you don't mind having to create every step, every detail for your website, WordPress also offers a time-saving alternative to using pre-designed templates.
Not only can you use the available themes for the entire interface, you can choose templates for each type of page, post or just a part of the page (header, header, footer, contact, …) to combine and customize into a website of its own.
Since there are so many individuals and organizations that use WordPress, you can find a lot of articles that share how-tos, tips, and unique features of WordPress.
✅ See also: Traffic Monetizer Review: Download TraffMonetizer and Make Money without investment
Disadvantages of Using WordPress
Select and install the plugin

carefully
Since it is an open source platform, you can integrate many plugins to extend the functionality of WordPress. However, the installation of plugins needs to be cautious, avoiding errors that cause conflicts when using.
Not only that, because there are so many plugins and templates (free and paid), choosing and using them is also a matter of careful consideration.
Processing performance is not optimal
Since WordPress can be used by anyone, the platform's data processing capacity is average. For businesses with high server capacity, the processing performance is quite low.
However, that does not mean that WordPress is only for individuals and small businesses. Big brands still use WordPress as a website to promote brands and update official information from businesses.
✅ See also: 
5 Reasons to use

WordPress for website creation

: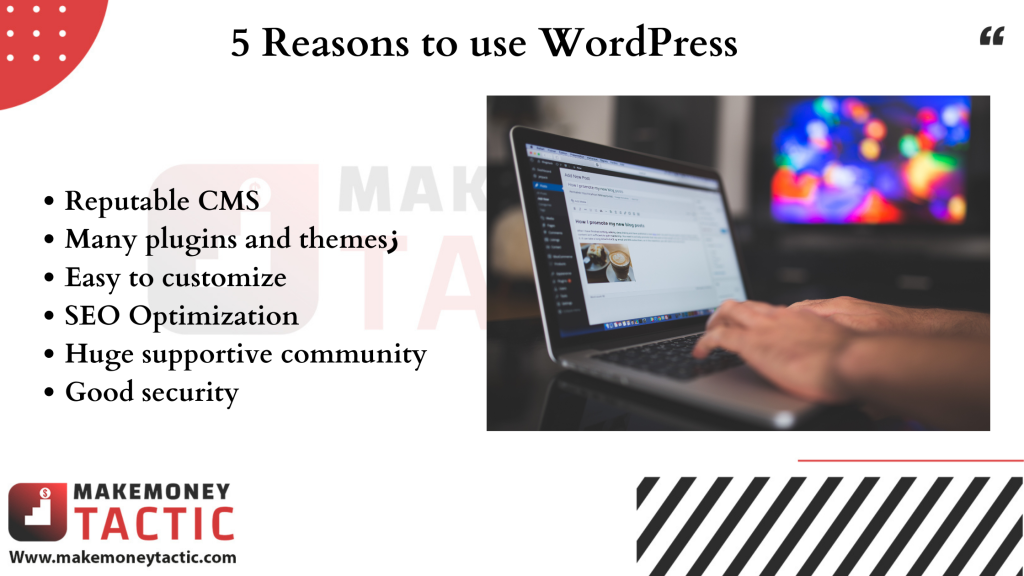 1-

Reputable CMS
WordPress is a reputable CMS platform with a long history. WordPress supports nearly half (43.3%) of the world's websites, leading the list of the most popular website building platforms in the world.
From the history of development and popularity of WordPress, it can be seen that this is a reliable platform, the choice of many individuals and businesses with many purposes when creating a website.
✅ See also: Invideo Intro Maker: Create Professional Videos in 5 Minutes for FREE!
2-

Many plugins and themes, easy to customize
WordPress has a free, open source CMS with a variety of plugins and themes
Want to add a forum to your existing WordPress site? That's okay – just install the bbPress plugin! Want to add a social network? Do not worry! Just use the BuddyPress plugin. You are never tied to a specific set of functions – you can always extend the functionality, customize the look and feel of your site with plugins and themes.
Change the look and feel of your website: you just need to change the theme. There are many theme packs available, both free and paid. Designing a website interface is not simple, at least you must have expertise in HTML, CSS, JavaScript… but with WordPress, you don't need it. The leading theme markets today include 

ThemeForest

 , 

MyThemeShop

 , Theme-Junkies, ..

Change the functionality and features of the website: you just need to change the plugins. A plugin is a functional extension for a website made of WordPress

. This

means that once installed, your website has many new features. For example, if you need to make a website to sell products using WordPress, you will need to install the WooCommerce plugin…
The most important thing that makes WordPress stand out is to allow users to create websites for free. Not only that, the open source of WordPress also offers the ability to customize, manage and customize the content, can integrate and install plugins (free or paid) freely to extend the usability.
WordPress allows users to customize the elements of the website.
The template library with WordPress themes, widgets, etc. makes it easier and faster to design websites for users.
WordPress also includes over 50,000 free WordPress plugins. These plugins will help change the way the user's website works, making the website more optimized and suitable for the user's purpose.
You can create a variety of websites with WordPress such as personal blogs, sales websites, corporate websites, online magazines… all of this can be done easily with a combination of plugins and themes.
3-

SEO Optimization
WordPress offers many features, tools and plugins to help optimize SEO, help your website rank on search engines.

This is one of the reasons that many businesses choose WordPress to build a website, because this platform can help very well in branding and online marketing.
✅See also: Avoid these Common Sentence Errors: Master English Writing
4-

Huge supportive community
As mentioned in the advantages section, WordPress has a huge number of users, so you can find articles on how to use, install plugins, customize settings, etc. easily at technology forums or at the official WordPress forum itself.
✅ See also:  How to Create an Email Newsletter & Make More Money? Complete Guide
5-

Good security
One of the most important factors when creating and managing a website is data security and spam prevention.
WordPress provides settings and plugins that help with web security. You can install ManageWP Worker , VaultPress or security backup plugins to ensure the safety and security of your website.
✅ See also:  Start Your Own Online Business With Zero Audience
Common misconceptions about WordPress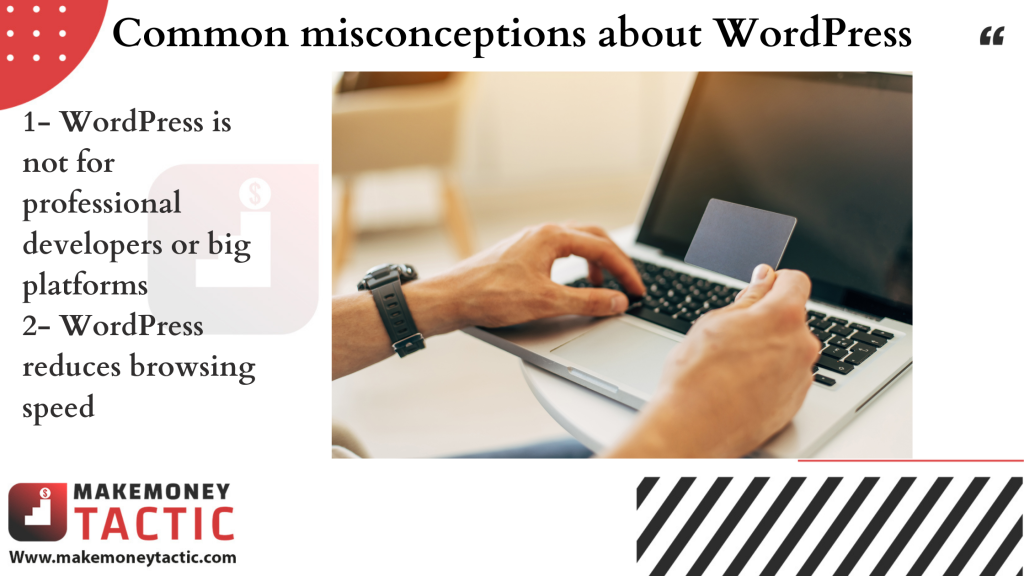 These 2 common misconceptions about WordPress:
WordPress is not for professional developers or big platforms
WordPress allows creating and designing websites for free or low cost, but that does not mean that WordPress websites are of poor quality. The proof is that many large businesses or government organizations have chosen WordPress to build websites.
WordPress is trusted and chosen for its front-end design as well as back-end features. Its open source code, increase flexibility in customizing and setting up the website. In particular, WordPress is very effective for commercial websites and marketing communications thanks to its SEO and trade promotion tools.
WordPress reduces browsing speed
The cause of slow browsing speed may not come from the platform providing the web builder. However, it can also be affected by factors such as slow hosting, network lag, or the website is not optimized for image size. , media, themes or plugins, etc. So, make sure the subjective elements inside your website are optimized to deliver the desired browsing performance.
Should I use WordPress?
While there are still some shortcomings in terms of data processing performance or browsing speed, WordPress is still a powerful tool. It helps you choose to create and design your own website, whether you are a blogger or an online marketer. WordPress is the first choice for you.