People think that running a successful online business requires a big budget or a big number of followers. This is Not True. Actually, you can start your own online business with zero audience and no budget!
I know this seems silly for some of you, but I will explain everything in this blog post and tell you how to start your own online business with zero audience or promote your offline business online. Stay with me.
Why do businesses need online marketing?
Back before the internet, people starting a new business like a store struggled to get a big number of customers. They have to either accept the fact that they will sell their products to local citizens, or they'll have to pay money for newspaper ads and TV commercials.
Today, running an online or even offline business and getting sales has never been easier as promotion methods for businesses are endless without having to pay anything.
Whether you wanna work in affiliate marketing, dropshipping, freelancing, blogging or else, starting an online business with zero audience is very easy. Even if you have an offline business that sells products or services, you can simply create a website of the same niche and promote your offline business's products and services online. It is great to have the Internet!
After more than 5 years in this field, I can assure you that making money online can be divided into 30% building your business, and 70% promoting and getting traffic to your business.
How to Start Your Own Online Business With Zero Audience?
To start your own online business with zero audience needs some time and effort like another business. You just need to follow the steps and work for at least 2 hours a day, then you'll start seeing. results in a few months.
Building a Website
In the past few years, people understood the importance of having an online presence and a website. So, we find that there's a website for everything starting from news, to physical products(like clothes, shoes, accessories, food…), digital products(applications, software, plugins, themes…), offline services (doctors' services, transportation, carpentering…), online services (programming, developing, writing…) and. more.
Moreover, you find that there are hundreds of websites selling the same products and services, so how do all these websites find people to sell them their products and services?
That's why I said before that working online is 30% building a business and 70% promoting the business.
We will talk later about the ways to advertise your products and services, the free methods and paid ones, but let's talk about building a website now.
How to start a website or blog to start your own online business with zero audience?
As a beginner who wants to start a website, you have two options. Either choose a free service or a paid one to create a website.
You really need one for your business as it is the best and most professional way to promote your products or services.
Building a website is the first step to creating an online presence. for your business.
➡ Free Website Builders
There are many free website builders like WordPress, Blogger, Wix, Weebly…etc that allow you to create a website for free. However, I don't recommend that because it lacks many monetization options when it comes to making money online from ads later on.
➡ Free Trials – Paid Services
The second option is to build a website with a domain, hosting and WordPress.
How to build a website?
If you already have a website, you can ignore this section. However, if you are a beginner, you should start your blog by following these steps:
Choose a niche: Make sure to choose a niche you are interested in and have some knowledge about. It must also be profitable. Choose your niche wisely, and read this guide to learn how to choose a profitable niche.
Buy a domain: Make sure to buy a short, meaningful and easy-to-memorise domain. I buy all my domains from Namecheap as they are cheap and secure. Visit Namecheap and choose a domain.
Get good hosting: There are many web hosting out there like Bluehost, Hostinger, Hostgator, etc… I recommend getting a Bluehost for less than 4.95 $ per month. Check Bluehost offers here.
Upload WordPress: Upload WordPress from their official site for Free!
Choose a fast, responsive theme: Choosing a fast, responsive and elegant theme is crucial for a gorgeous look.
Make keyword research: It is essential to look for keywords for your content. Long tail keywords with high searching volume and low difficulty help you rank easily.
Write content: Write at least 20 articles of more than 1000 words. Add images and infographics to your content.
Apply the SEO metrics on your content: Adjusting your keywords, Meta, Alt images, etc… must be set perfectly to get organic traffic.
Connect your blog to Google Analytics and Google Search Console: This will help you analyse and optimize your marketing strategy.
Congratulations! You got a great blog and finished all the key steps. Now, it is time to get some traffic.
After building a business website that displays your products and services, you have to create a blog where you can start writing blog posts relevant to your niche and customise them with images, links and more. The content of your blog will be full of links referring to your products.
Additionally, make sure to put an opt-in form on your blog so your website's visitors can subscribe to your email list. In this way, you'll get an email list of people interested in your products. Then, you can send them emails at any time to provide them with special offers and discounts on your products or services.
Promoting Your Business
Unfortunately, making a website is only the first step and the easier one. Anyone can create a website, but the real struggle is to drive traffic to your website.
Now, let's say that you are just starting your online business, and you don't have a social account with thousands of followers. In this case, you will have to grow your audience from scratch. I know it seems hard a bit in the beginning, but it is not impossible.
Here are the two types of traffic methods:
➡ Free Traffic Methods
Many platforms allow you to drive traffic to your website for FREE! However, these platforms require some patience, consistency and hard work to get free traffic, you should join social platforms, Q&A websites, and Forums. Then, you start publishing valuable posts regularly to build an audience.
You can also build a blog or a Youtube channel and optimise them. with SEO to get free traffic from search engines.
Although this needs some time, patience, time and effort, it works in helping you drive traffic and get sales in your business.
➡ Paid traffic methods
Promoting your business with paid ads is easier and faster than using free methods. Moreover, there are unlimited options like running ads on social platforms (Facebook, Instagram,…), running YouTube ads, running Quora ads and more.
You can also run native ads and push notification ads like MGID, Outbrain, Zeropark or else.
Start your own online business and Grow your own audience for Free
There are a few ways to grow your own audience from scratch. Some of these promotion methods are free while others are paid. Let's know how can you promote your business and increase your website traffic on some of the popular platforms on the Internet:
1. Facebook
Facebook is one of the most popular social platforms in the world. Besides sharing your family posts, you can drive a lot of traffic to your website from this platform in two ways:
Create a Facebook group, add people interested in your niche, publish valuable posts about your business then add links to your posts.
Create a Facebook page, publish valuable posts and boost your posts to reach people interested in your brand.
2. Twitter
Popular people, influencers, and thought leaders use Twitter to spread their ideas and reach a lot of people, so why don't you do the same?
Create a Twitter account and publish tweets regularly with the most searched hashtags in your niche to build your audience.
You can also run Twitter ads targeting audiences interested in your niche to increase your followers and get traffic to your website.
3. Instagram
Instagram is the best place to share your selfies and videos, but this doesn't mean that you can't use it for business.
Add links to your business in your Bio.
Share Instagram posts with hashtags related to your niche to reach a lot of people.
Add links in your story if you have more than 10k followers.
Unfortunately, you can't share links in your posts, so you have to reach the inbox of those who engage with your posts to send them. links to your business.
4. LinkedIn
LinkedIn is a social media channel made for businesses in the first place. People and companies usually look for freelancers and employees on LinkedIn.
Therefore, make sure to complete all info on your LinkedIn profile.
However, if you are interested in driving traffic from LinkedIn, this platform allows you to publish full articles with a lot of links. So, you can fill your account with articles related to your niche or create a group that publishes your content.
5. YouTube
YouTube videos and YouTube shorts can drive a lot of traffic to your business if you add your website's link in their descriptions and comments.
Just create short videos related to your niche and products to attract an interested audience and add your links.
Note:
If you wanna grow your audience from scratch, you have to follow these steps with every social platform:
Sign up for the platform.
Complete all the info on your profile.
Share valuable posts, deep knowledge, advice, answer questions related to your niche and more.
Engage with your followers in the comments and inbox.
Then, after building an audience that trusts you and follows you, you can start adding some links to your website.
Don't forget that you must link your social media profiles to each other.
How to Start your own online business and Grow your own audience with paid ads?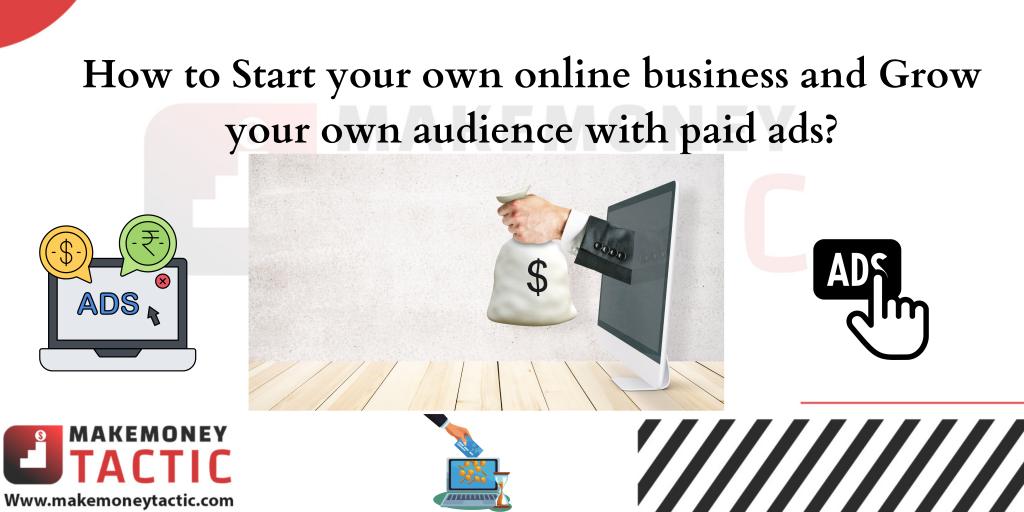 As said before, all the above platforms (Facebook, Instagram, etc…) allow you to create paid ads for promoting your business. Moreover, some advertising networks let you run Native Ads, Pop ads, Push Ads and more.
These platforms include MGID, OutBrain, Google Ads, Propeller Ads, ZeroPark ads, etc…
How to Start your own online business and Grow your own audience with SEO?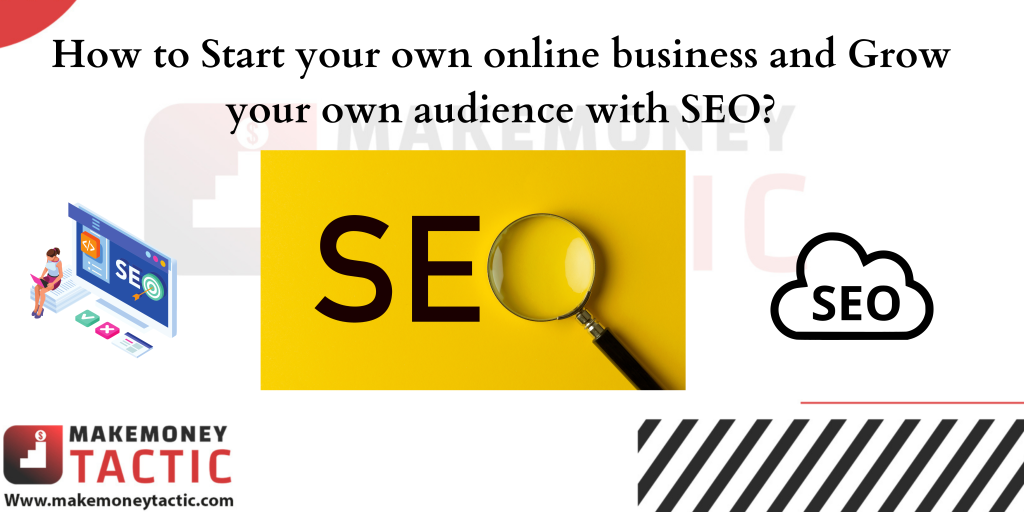 Besides the above free and paid ads, you can optimise your content with SEO. Optimising your content for search engines helps you improve the ranking of your website and web pages in search results. By applying the On-page SEO techniques and Off-page SEO techniques to your content and website, you can guarantee to have a higher position in search results for your targeted keywords.
By that time, SEO will drive natural, organic traffic to your website for FREE! This is even better than any other free or paid traffic. Your business website will appear in image searches, video searches, news searches and more.
Make sure to learn the SEO basics from A to Z with all its secrets and tricks in this SEO Basics Guide. It will help your business website to rank in Google and get free, organic and targeted traffic. This will definitely increase your traffic, conversions and sales.
You'll learn in the SEO Basics guide the importance of keywords and the best keyword research tools that will help you write a blog post that ranks on Google.
After reading this blog post, I hope you got a clear idea about how to grow your audience from scratch with different promotional methods. I would like to hear in the comments which method you already use for your business, so we can discuss together how to get the best results from it