GetResponse is an all-in-one online marketing software for growing your business, engaging with your audience, and boosting your conversions. They have more than 30 tools and integrations, as well as a user-friendly dashboard to help you upgrade your business to the next level and increase your sales. Everything you need to know is here in this GetResponse Review.
Since it was developed in 1997, Getresponse proved to be the best email marketing tool in the industry. It is an all-in-one digital marketing tool
Even after many years, it is still delivering a great performance and providing new updates everyday. 
When it started, email marketing was the best technique used by business owners and affiliates to promote their products and services. 
Even after more than 20 years, email marketing is still the best way for promotions. It is easy, fast, cheap and effective. Moreover, it has improved a lot with the modern marketing strategies and marketing automation tools that help you create an email marketing campaign in a few minutes. 
Here, we will discuss everything about Getresponse email marketing. We will discuss its features, pros, cons and more
After reading this Getresponse review, you will be ready to determine whether it is really helpful for your business or not. 
✅ Learn also: How to Make Money with the Getresponse Affiliate Program?
What is GetResponse used for?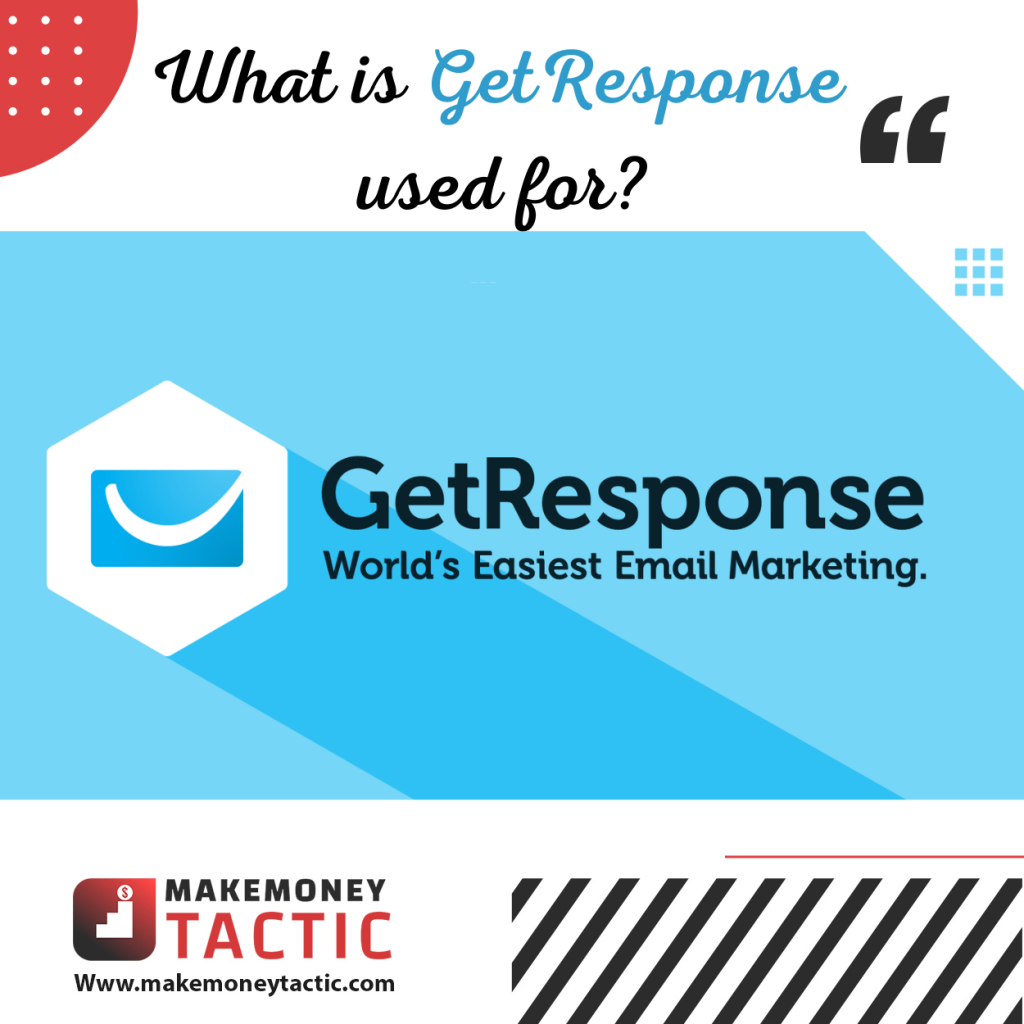 Let's start this GetResponse Review talking about the origin. Getresponse email marketing started as an autoresponder by SEO Simon Grabowski in 1997. Then, he registered the domain after one year and upgraded the website to become the great email marketing tool, GetResponse which we know.
Although it started with limited features and a few members, it was expanding its platform as well as its team to serve users among the whole world. 
This amazing online tool attracted big businesses and helped them upgrade their businesses, promote their products or services and achieve their goals. Many magazines and news websites talked about Getresponse email marketing and its achievements in their publications, and the company has been awarded in 2021 as the second-best email marketing provider.
However, the main question here is how can Getresponse email marketing stands in the competition today with all those email marketing providers in the market. Actually, the answer is easy. Getresponse is the best providing all you need for your email marketing campaigns on one platform. 
In this Getresponse review, we found that Getresponse email marketing focused on two concepts since their development:
To offer its users the best quality services and features for a successful business. 
To provide its users with constant growth and new services for a better email marketing experience. 
In other words, Getresponse was keen to keep its promise by providing the features mentioned in their plan and to try its best to add new features every time. 
GetResponse Review: Try GetResponse for Free
GetResponse Review: Main Features of Getresponse
You must have heard a lot about Getresponse email marketing and how great it is. However, you can't believe that without having all the details. 
Before you judge it, let's break Getresponse's features and discuss each one in detail. 
In this section, we will count the top features and tell you their role and how they work together to boost your business.
✅ Getresponse Email marketing
The main role of Getresponse email marketing in the first place is to create professional email marketing campaigns. Till now, it is still one of the best email marketing providers and provides the best email marketing experience with its pre-designed email templates. 
With Getresponse email marketing you can either design your emails or use one of the provided templates.
Getresponse has something special for those who don't have email writing skills. No need to create a design from scratch. You can choose among the professional templates and edit them according to your needs then use them for your email campaign. Moreover, you can preview each template before using it, so you choose that would work better with your email.
With the Getresponse email marketing category filter, you can search and view only the templates of the category you're working on. This will make choosing the best template much easier. 
How to edit the Getresponse template? 
Editing is easy. Just click on the blocks which you want to edit and do what it needs. 
Thanks to its WYSIWYG editor, you can make changes on the page and preview them immediately to know what your subscribers will see when you finish all your edits. 
You can also tweak the setting of each block or section, then make all the changes in design. Don't worry, you don't need any design skills. You can do all the needed edits like changing the colour, adding new elements, resizing the font size and many more with a few clicks only.
Moreover, you can personalise your template more and more by dragging and dropping all the blocks you want. 
The exciting thing about this email editor is having an Ecommerce section. The e-commerce section allows you to add the Product box to your template. You can also add some recommended products blocks. However, there is one condition to use the Ecommerce section which is setting up your store on Getresponse email marketing.
Use your edited Getresponse template again
If you liked your editing template and wanna use the new design with future campaigns, you can simply save it as a template.
Later on, when you wanna use your saved template, just go to the Design and Content section, your custom design and click on the My templates tab. 
Sending the email through Getresponse
After finishing all the design issues and determining whom you are sending this email to, you must set the date when you want the email to be sent.
You are free to send your email immediately or schedule a specific time to send your email to your recipients. 
In my experience, I would enable Perfect timing. This feature will send the email to the subscribers at the same time. when they opened previous emails from you. This will increase the chance that they will open your email. 
✅ Getresponse Autoresponders
As we all know, it is impossible to send emails manually for your email list, especially if you wanna send a series of emails to a group of people. 
With the Autoresponders feature, you can now send any series of emails to any number of subscribers with a few clicks only. 
Sending bulk emails is easy now with the GetResponse Autoresponders feature.
All you need to do is to create the emails you want to send and configure the date when you want to send the email to your subscribers. 
For example, autoresponders work great when you set automated emails for new subscribers. You can manage a greeting email to be sent for new subscribers to welcome them and explain briefly about your business. This feature has amazing results when combined with other tools on this platform like the marketing automation feature. 
Once you decide what you want the autoresponder to do, you can start designing the emails, publishing them and determining the autoresponder's schedule. 
✅ Getresponse Email analytics
Sending your campaigns with Getresponse email marketing is not the last stone you throw in your email marketing journey. Actually, what matters more is the next step:
Analysing the results. 
When you send the Getresponse email marketing campaign, the receivers act differently according to their interests and behaviours. Knowing how they received your email is very important. 
You may think that your email is perfect, your design is perfect, timing is perfect, and more. However, your subscribers may not share the same vision. 
Therefore, you must know how they react when they receive your message and interact with it to know what right or wrong you did. By determining your strengths and weaknesses, you can work on optimising your next campaign and improving it for better results. 
To analyse your campaign, go to the campaign's analytics and check all the different metrics. Then, you can conclude the overall performance.
Image of Getresponse  dashboard
From the Getresponse email marketing dashboard, you will see a lot of details including the number of emails delivered, the campaign's open rate as well as click-through rates.
You can also dig deeper and discover more information about your campaign including the bounce, unsubscribe rates, and complaints.
Putting all these results together will help you get a clear idea of what you did well and what you missed. Then, you can work on improving your next campaign to get better results.
You can also analyse more variables like demographics, subscription methods, devices and more, you can go to the report section and analyse the graph format on top. 
✅ Getresonse List management
In general, there are many ways to collect subscribers for your email marketing list. For example, you can grow your email list from your website, Instagram account, Quora community and more. To keep your list active and engaged, you must send weekly emails with greetings, offers, gifts, giveaways and more. However, it is better to keep your list organised and your emails personal as much as possible. 
For example, you deal with subscribers from your website differently than those who subscribed from Instagram. 
You can't send them the same offers as each has a different personality and behaviour. 
Getresponse email marketing understands this very well, so it managed the List Management feature to help you segment your subscribers and add different conditions for each. 
Thus, you will be able to segment subscribers according to the platform they signed up from and send them different messages. 
When you create the segments and launch your campaigns, people will start to join and be added to these segments. 
At this stage, you must also create a personalised campaign to be sent for each segment. 
With all these segmentations, your emails will be more dynamic and personal. This will highly increase engagement and result in more visits and even conversions.
You can also manage your subscriber list by putting conditions to differentiate between the groups of subscribers. For example, you can segment the subscribers who belong to a certain location. The condition here is the location. In this case, you can send them personalised emails like emails related to national occasions in their countries. 
 Moreover, if you go to List Management, you can click on each subscriber to know more about them. 
You can also check the emails sent to them, see their latest activity. and analyse some details about them. Furthermore, you can add notes to help you decide how to deal with them in the future for a better chance of getting a conversion from them. 
In a certain way, the Getresponse email marketing tool tries to provide the best for you. It works as a CRM to help you connect details and improve your results. They understand the importance of the provided information in optimising future campaigns and increasing your ROI. 
✅ Getresponse Transactional emails
The reason for using Getresponse email marketing differs from one user to another. Although building email lists and sending emails is the primary goal for everyone using Getresponse, the owners of an e-commerce site need more. When it comes to an eCommerce website owner, you need an advanced tool that helps you send emails to remind those people who forgot to check out their carts with what they have to do. You also send emails containing the receipts to every customer who made a transaction.
Therefore, due to the Transactional Email Feature which is an amazing feature Getresponse email marketing has, you can now activate the feature, connect its API or SMTP, then send emails to your customers. This is called the power of Automation. 
Getresponse understands the importance of automating things, so it allows you to automate this whole system in order to connect everything together and enable the big picture. 
This online tool guarantees a 99% email deliverability rate which ensures keeping your business running 24/24 and never loses a chance. 
Note: Analysing and reviewing the performance of these campaigns every time can give you an overview of the behaviour of your audience, so you can optimise them and improve your sales opportunities.
✅ Getresponse Sign-up forms
If you are starting from scratch, you won't have any subscribers, so you can't create a campaign or send emails without having subscribers. 
No worries, Getresponse email marketing solved this for you and provided you with a sign-up form that allows you to collect subscribers. You just need to choose sign-up forms that ask for the information you need for your list. 
You can create a form in a few minutes. Actually, there is no need to start from scratch as there are many templates to choose from. These templates are classified into categories and ready to be edited to become your professional sign up form. With Getresponse, creating a form has never been easier. 
Editing the sign-up form is so similar to editing an email template. Just customise the layout and the existing fields and layout according to your needs and add new elements if you want. 
After finishing the sign-up form, copy the code and paste it on any page on your website then publish it. 
If you don't have a website, you can use GetResponse servers to host your form. After all, Getresponse email marketing has everything you need for boosting your online business. 
On the other hand, if you don't find your request in the templates, you can go to the tool's List Builder Apps and build one from scratch. Build your sign up and choose the appearance you desire. 
If you have any coding skills, you can take advantage of the option that allows you to create the form from plain HTML, or. you can connect integrations or plugins from WordPress or other platforms. 
✅ Getresponse Landing pages
If your goal is to get customers, sign up forms won't help. You'll need landing pages. That's what we are sure of in this GetResponse Review. 
Creating landing pages is easy due to the big number of available templates. Determine your goal and choose among the organised templates. You"ll see templates classified into promotion, download, sale, etc… 
Thanks to the drag and drop builder, you'll find that building a landing page is very easy. 
You can also click on the plus (+) sign on the top of the page for adding many variants and run A/B testing on your landing pages. 
After running the campaigns, you'll find the one generating higher conversions, and optimise the others for better results. 
After you finish building your landing page, you must choose the domain you want to use for publishing it. Getresponse email marketing offers you 3 preset domains to choose from. 
However, it is recommended to publish your landing page on your website that has your domain for more credibility. This will help you achieve better brand awareness too. 
✅ Getresponse Webinars
If your guides and tutorials are not convincing your customers and generating more sales, this is a sign that you have to try something else. Webinars can be your secret recipe for success. 
Getresponse allows you to launch webinars which are online presentations where you can explain more about your product or services to your audience who can join and watch you. 
As a result, the audience who joined your webinar is highly interested in your topic and can be easily turned into customers. 
Getresponse email marketing webinars are connected with other features to help you set up your webinar easily. Thus, it proved to have the best webinar capabilities in the market. 
Setting up a webinar requires a few steps including repairing the URL of the webinar page, date, duration, and others.
You can also set up the webinar to collect registrants in advance and assign which email list you will put them in.
After finishing the first step, you can start creating your signup forms and landing pages as well so your audience can register for the webinar before its time.
After they pre-register for your webinar, you have to set up the autoresponders which will remind them of the webinar's date and update them with any changes or requirements.
You can also promote your webinar with your email list, newsletter and more. 
To be honest, Getresponse email marketing has all that a webinar needs to be more professional than you can imagine, including taking questions and engaging with your attendees in real-time.
You can also record your webinar for those who missed it and share the link with them so they can watch it later on. 
We, in this GetResponse Review, recommend GetResponse for webinars.
✅ Getresponse Marketing automation
If you want to generate more sales and revenue on autopilot, then you must leverage 
With GetResponse's marketing automation features, you can generate more sales and more revenue on autopilot. 
What is autopilot? It is managing things to work automatically without your interference. 
This means >> less work and more sales. 
As we mentioned above, Getresponse email marketing allows you to create many autoresponders in one campaign. In this way, you can manage the software to work automatically in order to send many emails at scheduled durations to a segment in your list.
To apply the above strategy, you have to build a workflow that works and set up the time and templates you wanna send to achieve your target. 
Getresponse gives you two choices for workflow. Either create your own workflow from scratch or choose a pre-made workflow template from their collection and edit it as you need.
You can view the emails which you are gonna send to your subscribers in the workflow builder. Moreover, you can also edit the templates and add all elements you need from the right of the screen. You have many options for customising and personalising the workflow 
Additionally, Getresponse email marketing allows you to set certain conditions. For example, if a group of subscribers opened your emails while another group didn't, each group will receive a different, next message. 
✅ Getresponse Conversion funnel
The conversion funnel is the best thing we found for this GetResponse Review. It is a feature that combines many other features together to build a bigger picture. Getresponse email marketing  allows you to create a high-converting funnel that will definitely boost your business and turn most of your visitors into customers.
The first step here is to determine the goal of your funnel, then a lead magnet to encourage people to subscribe to your funnel. 
Getresponse already has some templates of professional lead magnets for you to choose from. However, if you have your own, it would be much better. 
Building a lead magnet is very easy, just think of something that would attract your audience and let them subscribe to your email list. 
Your lead magnet can be an ebook, checklist, guide, discount coupon, gift card, etc… 
 After finishing your lead magnet, you can go to the next page. 
With Getresponse email marketing, there is no need to guess. They will lead you along the way to complete all steps and build a sales funnel. 
From creating signup forms to building landing pages and preparing the emails… everything is managed for you. Just fill in the blanks and launch your funnel. 
✅ Getresponse Website builder
Who needs paid website builders, while it is available here as a feature in Getresponse? Yeah, it's true. You can now build a complete website with this feature. 
This is an amazing option to build a simple website in a few minutes. You can choose one of the templates provided depending on the kind of business you're rolling, then customise it with the drag & drop builder.
✅ Getresponse Ecommerce store
The last feature we will mention in this GetResponse Review is the Ecommerce store. Besides building websites, you can also sell digital or physical products with Getresponse email marketing. 
You can integrate everything and start working. 
GetResponse Review: Getresponse Pricing
GetResponse the desire of beginners who start work and. earn money even if they don't have a budget. So, they offer a free plan for up to 500 contacts with access to the most important features like email marketing, website builder as well as landing page builder.
However, there are some limitations to the free account. To get rid of all limitations and use all features you'll have to upgrade to a paid plan. However, you can start now with free Getresponse email marketing and use all the free features for generating new sales.
On the other hand, you can get one of the paid plans to unlock all the features of the program. Notice that each plan has a 30-day free trial.
Getresponse provides discounts that reach 30% on long subscriptions like for 12 or 18 months. 
Let's know more details about Getresponse Pricing:
➡ Getresponse Basic plan
Theis GetResponse Review found that the basic plan requires the lowest cost which is 12.30/month. You can pay monthly, annually or every 2 years. The longer time you pay for, the better the discount you get. This plan has a lot of features like:
Users can take advantage of all features related to email marketing, landing pages, forms/surveys, e-commerce tools, website builder, tracking and templates.
They get limited automation features like building drip campaigns, using the click and open follow-ups, and tagging their contact tagging only.
Subscribers can also build unlimited lead funnels for their business but only one sales funnel.
They can use more than 150 integrations with third-party platforms.
They can (contact the support. 24/7 on live chat and email support
➡ Getresponse Plus plan
This marketing solution is an incredible plan for beginners and experts as well
 It starts at $40.18/month. You can pay each month, year or 2years. It includes all the basic plan's features and:
Users can take advantage of all the automation features and create up to five custom workflows for their business.
They can host unlimited webinars with 100 attendees and unlimited registrants. They can also enjoy three hours of recording storage.
Users can build unlimited lead funnels, while they can build only 5 sales funnels and webinar funnels.
Each account can include up to three users, you and the other two. This works great for teams. 
➡ Getresponse Professional plan
This plan is usually chosen by companies whose work requires many email marketing campaigns as well as webinars with high quality. 
This plan starts at $99 per month ( you would pay only. $81.18 per month if you paid annually, and $69.30/month if you paid for 18 months). The plan has all features including:
All the automation feature tools as well as unlimited custom workflows.
It can host up to 300 webinar attendees and unlimited registrants. 
Users can create unlimited live webinars, and its recording storage reaches 6 hours
No limits for the number of lead funnels, sales funnels, and webinar funnels. That's really awesome. 
You can add 4 members other than you to the account. 
Access to web push notifications will be provided.
You get on-demand webinars.
➡ Getresponse Max plan
This plan is registered according to the users' needs. You have to sign up for a custom quote and contact support to get it. For sure, you get access to all premium features of GetResponse. In addition to the features of the Professional Plan, you get :
You can add 9 users and you in a single account.
You can ask for campaign and deliverability consulting for optimising and getting. maximum results.
You'll get access to transactional emails (paid add-ons)
You can take advantage of the dedicated customer support (contact them 24/7 live chat, email, phone and Slack support).
GetResponse Review: JOIN GetResponse NOW FOR FREE/ GET THE OFFER NOW!
GetResponse Review: pros and cons of GetResponse
Like every software, Getresponse email marketing has pros and cons. Let's check pros and cons of GetResponse below:
Pros of Getresponse
1✔️It is easy to build anything on the platform( signup forms, emails, etc…) thanks to the big number of available templates. 
2✔️Everything can be previewed, no need to imagine your marketing automation workflows, funnels etc… 
3✔️Conversion funnel feature is available to create high-converting funnels in a few steps. 
4✔️No need for a third party webinar tool as Getresponse's Webinar feature can stand on its own and do the job
5✔️You can build your website with a few clicks with the Website builder & AI design tool 
Cons of Getresponse
1❌Building forms is limited. It works great but not as effective as the building emails and landing pages
2❌Only. Max plan subscribers get dedicated customer support. 
✅ Learn also: GetResponse Guide: Best Marketing Automation Tool

Frequently asked questions in GetResponse Review
Is GetResponse a CRM?
No. Getresponse email marketing is not considered a CRM tool at all. It helps you manage your contacts and organise them according to their behaviours toward your emails. 
Is GetResponse free to use from this GetResponse Review?
GetResponse has a free plan for the first 500 contacts. Even if you choose a paid plan starting from 15$/month, you can get a 1month free trial. 
The prices change according to. the chosen plan. 
Is GetResponse good for email marketing according to this GetResponse Review?
Getresponse is an all-in-one digital marketing tool that helps you build your websites and landing pages, create sales and lead funnels, design sign up forms, launch email marketing campaigns and more.
How much is GetResponse monthly?
The price of Getresponse plans start from 15$ per month and reach 99$ according to your plan. However, each plan starts with a free trial for 30 days. You can also work on a free account till getting your first 500 contact
How long is GetResponse free trial?
Getresponse email marketing tool provides its users a 30 day free trial for all plans available.
How many emails can I send with GetResponse?
There is no limit to the number of emails which you can send to your subscribers.
Which is better: Aweber or GetResponse?
Although Aweber, Mailchimp and GetResponse are popular and smart email marketing tools, their features differ a lot.
Getresponse email marketing has a lower and affordable price, better webinar capabilities, a big number of integrations, perfect sales funnel builder, autofunnel, high delivery rates and incredible marketing automation.
These reliable features and more make GetResponse a better choice and more powerful. It is worth every penny.
Conclusion of GetResponse review
Now, let's be realistic. It is very hard to compete with an excellent software like Get response service. It has the best automation and email marketing services in the industry.
Additionally, its free plan helps beginners to launch their business and earn some money to get a better plan. 
Whether you sell digital or physical products, you can use Getresponse to build your site, create your funnels, run your webinars, send your emails and more. 
You can also read this SendinBlue VS GetResponse! Best Email Marketing Tools Comparison before you decide.