People keep looking for Mobidea review and asking themselves "How to Earn Money from Mobidea affiliate," and think it is a hard task.
Okay,  it is not that hard. Let's complete reading this Mobidea review to know everything about Mobidea network, Mobidea payment, Mobidea smartlink, Mobidea academy, Mobidea offers, Mobidea CPA, how to use Mobidea and much more. This Mobidea review will cover everything
Mobidea affiliate network, based in Luxembourg, is a popular mobile phone-based affiliate network. It is specialized in pin submits, application install offers, carrier billings, sweepstakes and many more.
What is Mobidea?
Mobidea affiliate network is a mobile affiliate network that display CPA offers. Affiliate join Mobidea to find offers to promote and make money online.
An affiliate doesn't have to sell a product here. Mobidea has different kinds of of offers like Pin submit, subscriptions, installing apps like games, utilities, music apps, dating ones, etc.  The Mobidea affiliate network also has many important features that allow users to track and optimize their conversions.
It specializes with phone offers and advertisers pays decent payout for given conversions.
How does Mobidea Work?
Currently, the Mobidea affiliate network operates with more than 70,000 affiliates and manages over 1,000 mobile offerings. Also, you would be surprised that over 80% of the revenue share is given to its affiliates. So why not take full advantage of it!
Affiliates and marketers are free to choose direct offers or to use Smartlink technology. With the help of Smartlink technology, the network chooses the offers according to the GEO, browser, language and other features.
However, you always have the option to choose the offers manually by going to 'Individual offers'. Unfortunately, Mobidea's last update stopped the individual offers, unless you contact the support and ask them to give you permission to use them.
You'll find winning mobile offers with the best ratings on Mobidea's network.
How to promote Mobidea offers?
There are variety of ways to promote Mobidea offers like Facebook, Instagram, Twitter, WhatsApp, Telegram and more.
Marketers must choose the desired mobile offer, create landing page, and send traffic to get conversions.
Mobidea review: Mobidea CPA and CPI

After Payments are based on CPA and CPI. CPA basis means that you'll get a commission when any visitor fills out a form or downloads any software. While CPI basis means that you'll get a commission when any user installs games and apps on iOS or Android mobiles.
Mobidea's Dashboard review

Mobidea's dashboard is easy and simple for affiliates. The affiliate can get all updates regarding the number of conversions as well as the revenue earned so far. You can also see the latest news, support for a live chat in the bottom corner and basic navigations.
On the dashboard, you can also see the main menu for viewing Reports, Cashier, Account, and gadgets as well as contact information for customer support. There is also a link to access FAQs that are asked to explain your doubts. You can also find your way to reach out to the network on social media via Facebook, Twitter and LinkedIn.
The reports section tells you all what you need to know about your offers, periods, operators, countries, operating systems, and more.
✅See also: CPA Marketing For Beginners: A Step-By-Step Guide
Mobidea review :How to Earn Money from Mobidea?

As we all know, Mobidea program focuses entirely on mobiles. Thus, most of the offers revolve around installing mobile applications or subscribing to any type of mobile phone service. Here, you need to choose whether you wanna work on an offer or a smartlink, generate your link and start promoting it
Actually, we recommend using a land page for your offers because most websites and social platforms don't allow using your affiliate link directly. Additionally, land pages help you get more conversions, I am sure of this.
Even without getting an account with Mobidea affiliate network, you can still take a look at the guide where all offers are listed to get an idea of ​​what you can find on Mobidea.
The entire list of offers can be easily filtered by OS and country. It can also be filtered by the highest payouts, for example, some eCPMs can go over 100$, and so on. When you check this list, you will see that some offers determine certain carriers too.
Each offer listed shows the conversion requirements and allows you to view the associated banners as well as provide you with screenshots, but to promote any offer you have to apply for it directly.
Review Pros of Mobidea
Here are the pros of Mobidea affiliate network:
Whenever a marketer/affiliate join the network, he can start promoting. 
Try the Smartlink technology where you get a link containing more than 1000 offers for every niche available. 
You get 80% of the revenue share from the network. 
Advanced affiliates enjoy the freedom of choosing their offers by themselves. 
You'll find a lot of mobile offers as said before in this review.
You become VIP when you reach more than €10,000 monthly. 
If you become a VIP, you get access to priority cashout as well as extra tools and no withdrawing fees. 
You can track the performance and revenue earned easily from the dashboard. 
You can ask for payments everyday, and payments are paid on time. They pay on time.
The customer support system has professional and dedicated Mobidea team for answering all your questions as fast and accurately as possible. 
You can ask the manager about anything and get important insights for a better experience.
The Mobidea affiliate network has a high rating and amazing reviews on every platform.
Your main target device is mobile, so you can promote on Facebook, Instagram, Twitter, WhatsApp, Telegram and more.
Start affiliate marketing now with Mobidea!
✅See also: How To Join CPA Network: How To Get Approved For CPA Networks For Beginners
Mobidea review: Increase your earnings with Smartlink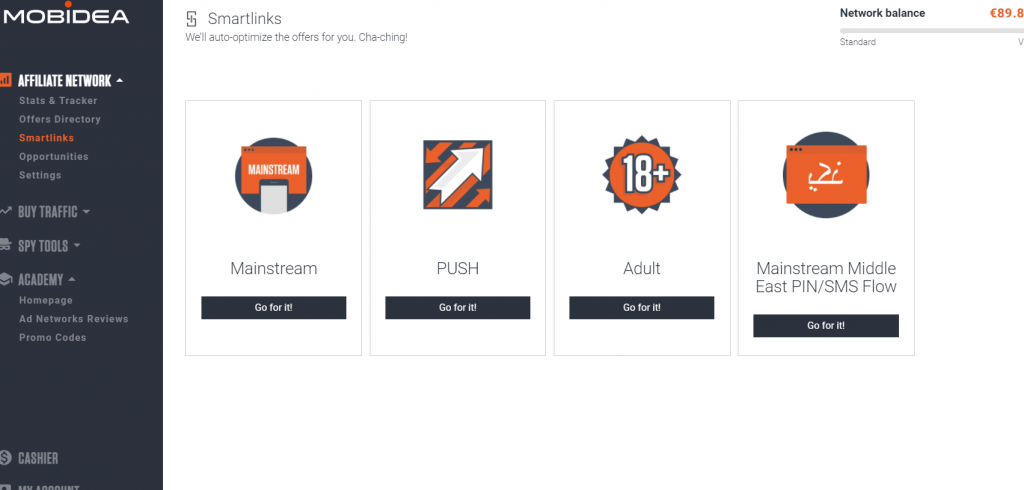 How to Earn Money from Mobidea affiliate network? With Smartlink.
Yeah, Mobidea is a amazing programmatic network with smartlinks. You are a winner with smartlink as Mobidea's algorithms can optimize your traffic and send the best offers which meet each visitor to guarantee a bigger chance of converting. This network is rich with capabilities and trends.
Smartlink is ideal for affiliates/marketers that do not have the time and patience to check out all available offers and test each one of them. With so many offers, if you check them manually, you will certainly miss out on very profitable deals that are really good for your niche, verticality, and audience. So, Smartlink comes as your savior here.
With Smartlinks, if you talk about "mainstream" traffic, it's possible to make around $ 24.37 eCPM.
Furthermore, you can find some advanced features like enable/disable APK offers, add postback URLs for tracking without cookies, enable/disable, auto-download offers and many more.
✅See also: How To Make Money With CPA Marketing on Your Website?
Mobidea Payment Methods

Have you ever been in a situation where you have to wait all the month to withdraw your money? A month is too much for salaries. Unfortunately, this happens to all of us all the time, but not anymore as Mobidea affiliate network pays you whenever you want. As long as you exceed the € 50 minimum, you can ask for payment. Mobidea pays you daily according to the payment method you chose. This includes Payza, PayPal, Paxum or bank transfer.
Finally, this Mobidea review has all what you need to know about this CPA network. Now, you're ready to sign up for Mobidea and start making money online.
Mobidea Academy review
As we said in this review, Mobidea affiliate network is a mobile affiliate network, but there is more integrated here. For beginners looking for education in CPA and especially with the network, Mobidea has a special section called Mobidea Academy. At Mobidea Academy, you can learn a lot of information about the CPA in general and Mobidea particularly. You will find many tips and tricks as well as case studies to earn money online using Mobidea. 
Actually, the big library of tutorials, affiliate news, tips, and events proved to be very helpful for a lot of newbies. Even if you are an experienced media buyer, you can still learn a lot from Mobidea Academy to boost up your marketing skills and improve your strategies. 
What is Mobidea academy?
Mobidea Academy review: Mobidea Academy is a section on Mobidea website where you can learn everything you need to know about affiliate marketing, CPA and lead generations. This is one of the most popular resources on the Internet.
You can also find the affiliate marketing blog within Mobidea academy that introduce you for everything you need to know about affiliate and CPA marketing as well as leading Mobidea platform. There is helpful content and details discussed there.
What is Mobidea Spy?
Mobidea Spy Push review: Mobidea Spy Push is a powerful push ads spy tool of good pricing. It helps affiliates/marketers in their campaigns. Mobidea Spy is an easy-to-use tool that includes millions of ads to give you a clear idea of what is going on, so you can create yours.
The tools is legit. No fraud, prevention or scams with this app.
What is Mobidea Push?
Mobidea Push review: Moreover, besides being Mobidea is a mobile affiliate network and Academy, The network has a part called Mobidea Push for advertising.
Mobidea Push is a single platform from Mobidea that allows users to run push notifications campaigns to promote affiliate and CPA offers. You can check the platform for a clearer Mobidea Push review.
This single dashboard helps you send push notifications campaigns to promote your offers. It is a strong source of traffic with a great ROI.
However, don't forget to use a strong tracker like Voluum or Bemob to optimize your campaigns and improve their performance.
You should stay updated with Mobidea newsletter to find out about the latest Mobidea affiliate coupons, deals, and discounts. You don't know when a special coupon code is active to help you get discounts on the tools.
Unlike Propellerads native and push ads, Mobidea push has less limits when it comes to acceptable title and description for campaigns.
✅See also: Maxbounty Review: How Does Maxbounty Work?
✅See also: Adworkmedia Review: How to Make Money with Adworkmedia Offers
Is Mobidea good?
Actually, Mobidea is one of the best affiliate networks for mobile offers in the market. We highly recommend joining the platform.
Final Thoughts about Mobidea affiliate network in this Mobidea review
For many years, the network Mobidea proved to be a moneymaker for a lot of media buyers as well as webmasters, affiliates and marketers. Making money with Mobidea affiliate network is very easy. Send more traffic to these mobile offers, get more conversions and earn more money.
 It is just easy as we discussed in this Mobidea review. Now, you know how to make money with Mobidea – the most trustworthy CPA/affiliate network.
Millions talked about Mobidea reviews, review the network themselves and gave it the best grade for mobile offers. Is it definitely something worth in affiliate marketing. Hopefully, every marketer or affiliate read this Mobidea affiliate review and join it now to make money online.