Bullet points are summarised ideas written in a form of a list. To avoid writing a lot of blocks in your blog post, you can include some bulleted lists. This will help you grab the readers' attention for longer. 
After all, imagine a blog post of blocks and bulleted lists. Your eyes will recognize the bulleted lists at a glance. They simply stand out from the crowd.
The purpose of Using Bullet Points Effectively
Draws attention to main information
Improves the reader's ability to scan information easily
Communicates information efficiently 
Advantages and Disadvantages of using bullet points
Bullet points have many advantages, but also some disadvantages. 
Advantages of using bullet points
Bullets are designed to shout key points and help the reader scan big amounts of information.
You can start with good intentions when using them, like trying to make it easier for your readers or creating a document that's easy to understand, clean, and modern.
If used correctly, Bullet Points Helps Clarify Writing. They can act as a point of entry for readers, a form of emphasis, or a way to denote importance. Moreover, they can break up long paragraphs of text and add variety to a body of work while providing your reader with easy reference to quick information. Bullets are easy to spot, quick to read, and contain easily remembered knowledge.
Disadvantages of bullet points
The prose is better than the list sometimes. They are used to make a paragraph more effective.
A common mistake is long bulleted lists with no introductory paragraph. Since then, you don't know what's most important and as the information isn't grouped, you have to mentally sort it when reading. You can overlook key information in such lists.
Many writers do a bad thing which is using inconsistent styles for lists.
When all bullet points are related to the same stem statement, you should be able to read them as if they are separate statements.
Numbered lists vs. bulleted lists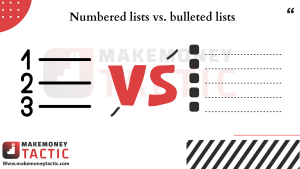 Lists come in two forms: numbered lists and bulleted lists. Here you can see which lists are better as well as some writing tips for using them:
When numbered lists are better?
A numbered list introduces information with a numerical value. These lists are usually used when the order of the items in the list matter. 
Here are some examples:
Making a top 10 list
Writing a step-by-step guide
Listing hypotheses
When bulleted lists are better?
Bullet lists are better than numbered lists if the order of the points doesn't matter. They begin with a special character most commonly resembling dots, like a small filled-in circle or a small outlined circle.
Bulleted lists are better since:
Share content efficiently: Simplify content into its essence to get your point across faster.
Improve readability: Readers enjoy content more when it is easier to skim and read.
Draw attention to the main information: Readers grip valuable information more quickly.
✅See also: Avoid these Common Sentence Errors: Master English Writing
How to write powerful bullet points?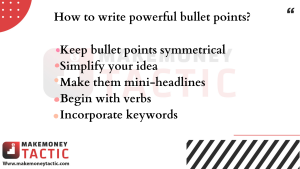 Here's what you need to write bulleted lists that make readers interested in your blog articles:
1. Keep bullet points symmetrical
Keep all the points in your list about the same length. Eye-tracking research shows that symmetrical content holds readers' attention longer. Consistency is the key to readability.
When the second point is longer than the first, it's harder for readers' eyes to follow the second bullet since it strays farther than the first.
2. Simplify your idea 
Bullet points should get right to the point with no added fluff words or ideas. This is done by removing extra words and including only the most important ideas and phrases. 
3. Make them mini-headlines
Think of writing your bulleted lists like you would write a catchy headline. It's important to include the main information first, then the details afterward. You can incorporate power words into your first phrase to add strength to your bullet point. 
4. Begin with verbs 
Verbs pull the reader's attention by offering the most informative words first. Additionally, leading with verbs emphasizes the action which creates more impactful sentences. Strong verbs don't require an accompanying adjective since they are descriptive. 
5. Incorporate keywords 
Emphasizing your keywords help readers find the information they need faster, and increases your article's chances of ranking as a featured snippet. Better SEO gets more traffic to your article and website.
✅See also: How to Write a Blog Post that Ranks in Google
Using bullet points effectively
In this blog post, we will share a few writing tips that can help you write the best bullet points for your blog post:
1- Write in short phrases 
The first rule to writing effective bullet points is to write short and direct sentences. 
After all, long bullets won't be scanned easily and quickly, so they oppose the main goal of bulleted lists. 
2- Don't use too many bullets
Don't add a lot of bullets to your bulleted list. Actually, a lot of bullets act as no bullets at all, so make sure to write a limited number of bullets that provide the important information only. 
3- Look at Punctuation and grammar while using bullet points
Who said that punctuation and grammatical structure don't matter in a bulleted list? They both do. 
Avoid punctuation and grammar mistakes to maintain the quality of your blog post and your own credibility. 
To ensure that you write better articles, follow these punctuation and grammatical guidelines:
➡️ Capitalization
In general, the first word must be capital letters in all your bullet points. This is a common rule among all guidelines in business writing and online content. 
➡️ Sentences
It is your own choice. whether you want to write complete sentences, headlines, short phrases or else. However, what matters is that each bullet list should have the same format for each bullet point. 
Moreover, if your bullet points are not complete sentences, don't put a point at the end of the sentences. 
➡️ Periods
Again, if your bullet point list is made of complete sentences, add a period in the end. 
If your bullet point list is made of phrases or just sentence fragments, don't add a period in the end.
➡️ Colons
We usually write a sentence or two to introduce the bulleted list, then we start the list. These sentences introducing a bulleted list should end with a colon (:). 
4- Remove transition words
As said before, bullet points can be sentences, phrases or even words. Therefore, there is no need to add transition words like "next" or "additionally" to the list. 
5- Ensure continuity 
It is important to make sure that the introductory sentence forms a complete, correct sentence with no grammatical mistakes. 
For example:
I like to spend my weekend:
At the camp
At the river
At the village 
instead of
I go to the camp
We go to the river
I go to the village
✅See also: Learn to Write Well: 8 Lessons to Make You a "Good Writer"
How do bulleted and numbered lists improve readability?
Lists allow you to highlight important ideas and increase the readability of text by simplifying long sentences or paragraphs and adding aesthetic passive space to please the reader.
Include them in your content.