Monetizer is a global CPA network known as a revolutionary monetization platform that helps non targeted traffic sources get the most advantages of their inventory. This Monetizer review will tell you the best monetization methods to monetize your business.
Monetizer has high eCPMs and EPCs offers, easy dashboard, responsive support and smart algorithms. Whether you have targeted or remnant traffic, make sure to try this platform and make money online! You must be asking yourself how to use Monetizer. Don't worry… just complete this honest Monetizer review. 
Monetizer Review: What is Monetizer?
With Monetizer, it is easy to get a piece of the pie whether your traffic has a good quality or not, as they have simple offers for everyone. You can monetize websites, blogs and videos with Monetizer.
Monetizer is a CPA network that has offers and smartlinks to monetize posts and videos. Affiliates join this network/software and start promoting these offers and smartlinks.
Monetizer features all the positive traits of a winning CPA network. It also has the best reviews in the market to encourage you to start working in CPA.
After promoting its offers, Monetizer provides you with the needed data to report and optimize your campaigns.
You can either monetize your website, blog, Youtube channel videos, business and any content with Monetizer offers, promote the offers on social media, or launch paid ads.
New to CPA Marketing? Read this CPA Marketing Guide.
How to learn more about Monetizer and monetize process? 
Monetizer provides all the help you need by the live chat and helpful Monetizer videos. You can search Monetizer videos and blog posts to get your answer, then chat with the support.
It is a very responsive monetization method to monetize a global or local blog, YouTube channel or even a social account.
How to choose the vertical to monetize your campaign? 
Choosing the vertical for your campaign can be determined due to many factors. Your audience, rules of your ad network, your landing page, are a few of them. However, whatever the vertical. you prefer to work on, you will find it in Monetizer. 
Actually, determining the vertical type is the first option you set while creating your Smartlink on Monetizer. 
The verticals available on Monetizer to monetize your business:
Monetizer has a default vertical named 'vAuto'. These offers can monetize any niche in your business. This word stands for 'Vertical Automatically' and it is selected for all campaigns. If you keep it as it is, you will let Monetizer choose the suitable vertical automatically according to the visitors' algorithms. 
To be honest, in 90% of our campaigns, we leave it set to vAuto. We also recommend all our friends to do the same leaving Monetizer free to choose what is the better landing pages, verticals and offers to each visitor access the link. As a result, Monetizer proved every single time that it can choose the best offer for the visitor. 
However, if you want to choose a certain vertical type, make sure to understand what each one of them means. If you don't, here I will give you a brief explanation for each one:
Monetize with Mobile CPA Offers
This kind of offers targets traffic who are using mobile only where those must do a certain action like download something, cell number signup, etc.. . (Not those using Desktop). When they do the action, you get a commission. 
This category is divided into 3 kinds: Mainstream, Adult and Aggressive.
Mainstream offers: This vertical has all the offers with good landing pages that suit almost everyone. They are general and good looking. 
Adult offers: This vertical has all the offers with adult-themed landing pages and offers that are +18. They are made for adult traffic specifically.
Aggressive offers: This vertical has all the offers with aggressive landing pages and offers that encourage the visitor to take action fast. 
Monetize with In-App CPC Offers
These offers are the ones which open inside the browser of your mobile device via a relevant app. In general, they have low-quality offers and they are not recommended for standard publishers.
However, such offers are available for all verticals.
Monetize with Desktop CPA Offers
On the other hand, Desktop CPA offers are made for desktop operating systems like Windows PCs and Apple computers. Such offers are available for all verticals, but they usually come with a low opening rate. 
Monetize with Direct Offers
These offers are usually chosen by contacting the advertizer himself and discussing the offer and requirements. You have to request the deal in the 'Private Offers' sections inside the 'Marketplace' tab.
You will negotiate with the advertizer about a certain direct offer, then you can target it with your campaign. 
✅See also: Types Of Affiliate Marketing Models To Make Money Online
Monetizer Review: How to use Monetizer CPA?
Let's start discussing how to use Monetizer in this Monetizer review.  We'll start byby creating a new account at Monetizer . Monetizer sign up is easy, just put your real information and wait a few days till you get the approval.
You can also add the support on skype, which will make contacting them easier. 
Once you got the approval, follow this Monetizer tutorial to become ready:
I- Log in
Log in to your account using your email and the password you've received in the approval email.
II- Set up your domain
Navigate to the "Campaigns" section in the menu and select "Manage Domains". Monetizer does not provide domain names so you have to set up your own subdomain.
Did you set up your subdomain? Great, now you'll be given an IP address.
It is easy, just go to the server you bought your domain name from ( whether it is Namecheap, Goddady or any another platform) then you have to set up an A record pointing to the IP address which you received previously by Monetizer.
You got your domain name and SSL, you just have to wait 1-24 hours till your domain and SSL are approved. 
Note: You can find a Tutorial video about setting up your domain at the domain section in Monetizer.
III- Create a link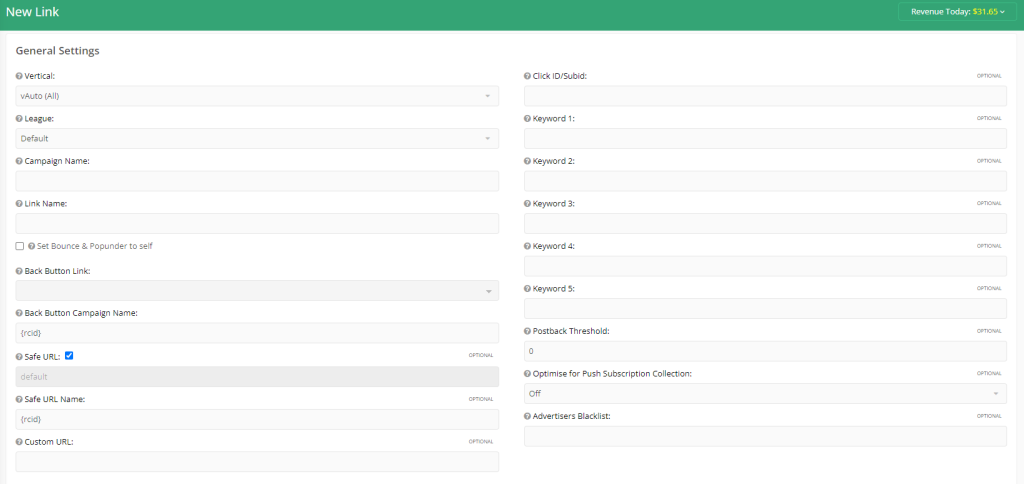 After the approval of your domain, we will create our link:
1- First go to leagues, create New League and rename your league.
2- Go to create link where you will see a few fields that you must fill. 
3- Here are the fields to monetize:
Domain: If you have one domain only, it will be there. If you have many, choose between them.
Campaign name and Link name: you can choose names as you like.
Back Button Link: you can either set the Back Button Link to your campaign, other campaign or stop it.
Traffic type: Choose between mainstream or adult.
Offer Targeting: choose the countries and the Id of the offers, or you can just leave it.
Optimize for Push Subscription Collection: Turn it on so your visitors can get a push notification to subscribe. If they done you'll get extra income.
4- Once all this is done click, you will see a green button down there called "Create Link". Click it and choose your promotion method, which consists of direct link, Geo redirect, mobile redirects, pop-up/under, direct linking, and the unique back button script.
Now, your link is ready to be put in your land page and promoted. Go now to your account and start generation your offer's link or a smartlink then promote it. You can also check our guide about how to see which Monetizer offer from a smartlink converted to optimize your campaigns.
✅See also: What is CPA Marketing All About and Why You Need It?
How to get the best from Monetizer's offers? Monetize with the best offers
To get the best from Monetizer's offers, go to the marketplace and search Monetizer for the best performing offers. Check the list and choose simple ones with high CR and profit.
How to promote Monetizer offers?
You can promote Monetizer's offers with a blog content, social post, social video, podcast, YouTube channel videos, paid sponsored ads, etc.
If your blog post, video or podcast promoting your offer goes viral, you'll get a lot of money. Moreover, a viral video monetizer can generate thousands of dollars.
✅Learn also: How to Promote Affiliate Offers: 20 Ways to make money with Affiliate Offers
Content creators, bloggers and brand owners usually monetize their content with Monetizer offers to make extra money online.
Who can use Monetizer?
Every human being can make money from Monetizer. If you are a person selling products to people or companies, you can share some useful Monetizer offers too.
Even if you are customer, employee or anyone with a social profile on any network, you can share your Monetizer links on this network. You can share these links with targeted and untargeted audience.
The process is easy as we explained in this monetization review. Share the links, get conversions and earn money every month. No company, domain, hosting, product or SEO are needed.
✅Learn also: Traffic Monetizer Review: Download TraffMonetizer and Make Money
Conclusion of Monetizer review
After reading this monetizer review, if you still have any more concerns about how to use Monetizer, feel free to contact the support live chat button at the site. They are very responsive.
Monetizer has all the best reviews in the market to encourage you to start working in CPA. If you still have any doubts, search Google for the legit CPA sites/platforms, and you'll find Monetizer at the top to generate revenue and profit online. Check the reviews too.
Don't worry, no scams at all with this program. It is one of the best programs at all with top ratings and pricing. Monetizer is reviewed by many popular viral video Monetizer and google news sites review, and they all admitted that is 100% legit not scam.
Come on… Sign up to Monetizer now and start earning from the internet.